Christmas in Morocco - 8 days
Christmas in Morocco - 8 days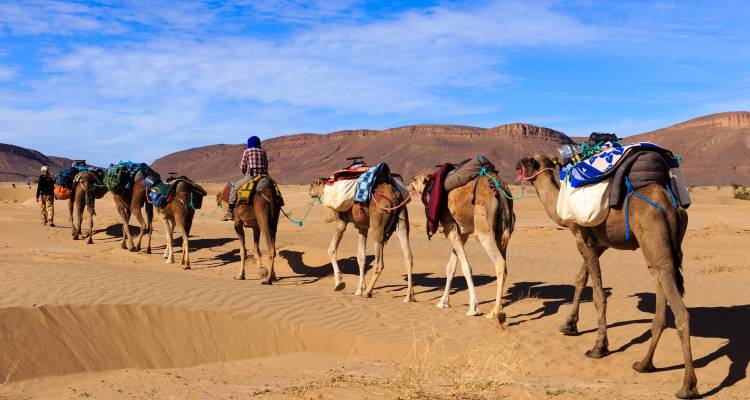 Christmas in Morocco - 8 days
8 Days Starting and ending in Marrakech
Visiting: Marrakesh, Aït Benhaddou, Skoura, Dadès Gorges, Erg Chebbi, Agdz, Ouarzazate
Tour operator:
Age range:
18yrs or 16yrs accompanied by an adult
Special diets catered:
Vegetarians, Please contact On The Go Tours with specific dietary requests
Tour operated in:
English
Trip Styles:
Interests:
Activities:
From:
$715
$692 (USD) BLACK FRIDAY SALE @ Tourhub: $23
Tour Overview
CHRISTMAS TOUR:Make your way to magical Morocco this Christmas, a short hop from Europe but worlds apart. An exotic land of spices, ancient Kasbahs, rolling Saharan sands, verdant valleys and bustling souks.
Highlights
Marrakech - UNESCO-listed Place Djemaa el Fna (ancient medina, souks and market place)

High Atlas Mountains and views of Mt Toubkal - North Africa's highest peak

Dades Gorge - Valley of the roses

Merzouga - Berber village and start point for our camel trek into the great Sahara

Erg Chebbi sand dunes - Beginning of the Sahara

Ouarzazate - Home to Morocco's film industry. Opt for a visit

Ait Benhaddou - UNESCO-listed fortified kasbah city
Itinerary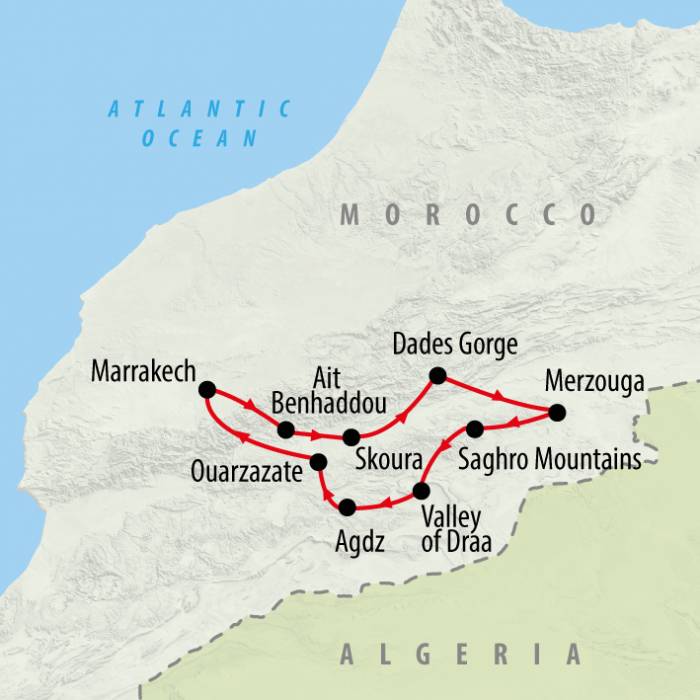 Expand All
Location:
Marrakesh
Accommodation:
Hotel
Accommodation Name:
Adam Park Hotel & Spa
Meals Included:
No Meals
23 December. Welcome to Morocco! Arrival transfer from Marrakech airport to our hotel. This evening (at 19:00) our welcome meeting takes place, where you'll meet your tour leader and fellow travellers.
Location:
Aït Benhaddou, Skoura
Accommodation:
Hotel
Meals Included:
Breakfast, Lunch, Dinner
Marrakech – Ait Benhaddou – Skoura. This morning we drive onwards to the legendary Ait Benhaddou - a 'fortified city' situated along the former caravan route between the Sahara and Marrakech, boasts some beautiful examples of ancient kasbahs. Only a handful of which remain inhabited. Granted UNESCO World Heritage listing, this incredible site had been the setting for many films including Gladiator. After exploring Ait Benhaddou we travel onwards to Skoura where we have an evening at leisure.

Location:
Dadès Gorges
Accommodation:
Hotel
Accommodation Name:
Kasbah Tizzaouirine
Meals Included:
Breakfast, Lunch, Dinner
Skoura – Dades Gorge. Merry Christmas! We spend the morning visiting the kasbah Amridil before continuing to Gorge du Dades in the Dades valley. On arrival we take some time to explore the gorges, palmeries and kasbah ruins. We then have the evening to relax before enjoying a great Xmas dinner in the beautiful surroundings.
Location:
Erg Chebbi
Accommodation:
Camp
Accommodation Name:
Desert Camp
Meals Included:
Breakfast, Lunch, Dinner
Dades Gorge - Erg Chebbi sand dunes. Crossing the Jebel Sarhro, we head down to Erg Chebbi sand dunes, which signify the start of the mighty Sahara Desert. In parts the vast sand pile reaches skyward to heights of 150 metres!



The desert winds ensure this astonishing landscape is forever changing and no two days offer the same panorama. Mounting our camels, we trek across the vast rolling dunes of the Sahara and soak up the breath-taking scenery. Arriving at our simple Berber camp, we enjoy dinner and a night under the Saharan stars. Wrap up warm and remember your winter weight sleeping bag.



If you would prefer the comfort of a hotel with en-suite facilities this evening, opt for our Sahara hotel alternative at no additional cost. Please do let us know your preferred option at the time of booking.
Location:
Agdz, Ouarzazate
Accommodation:
Hotel
Accommodation Name:
Hotel La Perle Du Sud
Meals Included:
Breakfast, Lunch, Dinner
Erg Chebbi – Agdz – Ouarzazate. Today we travel through Mercissi and Nkob in the Saghro Moutain region, passing the incredible rock formations and wells that have been dug over centuries by the nomads to get access to water, along the way. Onwards to the small town of Agdz, with its Palmeries, ancient Kasbahs and incredible views of Jebel Kissane Mountain. Our final stop of the day is Ouarzazate – Morocco's film capital, where we lay our heads for the evening. This evening we enjoy a group meal together.
Location:
Ouarzazate
Accommodation:
Hotel
Accommodation Name:
Hotel La Perle Du Sud
Meals Included:
Breakfast
Ouarzazate – Marrakech. Famous for being a prime filming location for many Hollywood TV shows and Blockbusters, we have the opportunity to explore the World's largest film studio this morning. Be sure to explore the iconic Colosseum used in 'Gladiator' and the prop jet used in 'Jewel of the Nile'. Carrying on we continue to Kasbah Telouet. Built in 1860 this kasbah was once home to the very wealthy Thami El Glaoui until he conspired with French Colonialists to delay Morocco's fight for independence.



Descending into the city of Marrakech, Morocco's pink city. We have the rest of the day at leisure to explore the Medina and the delights of Djemaa el Fna, the exuberant market place, which is a hive of activity, sights and smells at both day and night.

Location:
Marrakesh
Accommodation:
Hotel
Accommodation Name:
Adam Park Hotel & Spa
Meals Included:
Breakfast, Dinner
This morning we tour magical Marrakech, an exotic pink city of snake charmers, steamy hammams, bustling souks and hidden palaces. The focal point and highlight of the city is the Koutoubia mosque and Djemaa el Fna - the central square, which is an extraordinary market place full of colour, music, spicy aromas and traders. Best seen in the evening when the square is overflowing with food stalls, dancers, acrobats, fortune tellers, musicians and henna artists.



This afternoon and evening is free for you to explore independently, soak up the incredible atmosphere and test your bartering skills in the souks. Perhaps pamper yourself with a steamy hammam!

Location:
Marrakesh
Meals Included:
Breakfast
30 December. Our Moroccan adventure concludes after breakfast. Happy travels! If you would like to extend your trip and spend New Year's Eve in Marrakech or by the coast in Essaouira, take a look at our Rock the Kasbah or Surf the New Year tour.
What's Included
Accommodation

3 - 4 star hotels

Breakfast daily, 4 lunches and 5 dinners inclusive of a traditional Berber meal in the Sahara

6 nights 3 - 4 star hotels and 1 night camping at a Berber desert camp in the Sahara (hotel upgrade available)

Guided sightseeing - Merzouga, Dades Gorge, Ait Benhaddou and Marrakech

Camel trek into the Sahara Desert

Escorted by a licensed English speaking Moroccan tour guide

Specialist local guides at some sites

Marrakech Airport arrival and departure transfer on days 1 and 8

All transportation and transfers in private air-conditioned tourism vehicles

All road taxes and tolls
What's Not Included
International flights and visa

Note: On some road journeys, the tour leader may not be in your particular vehicle

Tip for your tour guide and driver. We recommend you allow USD$2-3 per day, per traveller for your guide and USD$1-2 per day, per traveller for your driver. Tipping your guide and driver is an entirely personal gesture

Entrance Fees: USD$30-50pp, paid in USD or local currency
Age Policy
18yrs or 16yrs accompanied by an adult
Check out our Q&As
What is the maximum group size?

Are airport transfers included in this tour?

Marrakech Airport arrival and departure transfer on days 1 and 8

What is the standard of the hotels on this tour?

Are the local guides on the tour English speaking?

What Ethical Travel credentials does the tour company have?

Ensuring our footprint is light and that the benefits of travelling reach the local communities you visit is paramount to us. We're proud to say that when travelling with us, the large majority of your holiday funds remain within the countries you visit, supporting local economies at a grass roots level.
How long has the tour company been trading?

Who will be my travelling companions on the tour?

With English-speaking tours, it's not a huge surprise that most on our travellers are from English-speaking countries or have English as their second language. Our group tours cater for everyone from 18 years old to 70+

Will the accommodation included meet local health and safety regulations?
Reviews From Travellers On This Tour
Avril Barnby
Christmas in Morocco - 8 days
An excellent tour encompassing the stunning Atlas Mountains and a night in the desert - exactly what I wanted. Quite a lot of driving but didn't feel at all arduous with the excellent driving of Yousef and the wonderful scenery and good company of the group. Highlight of trip was our leader, Jamel. Couldn't have been more fun, flexible, caring and professional. Always ready to join in with a joke (and they were a constant feature of our group) but at the same time was always watching out for everyone's happiness and safety. He was a constant source of information about the country and culture and always happy to answer questions and share his knowledge. He is definitely your Tour Guide of the Year - couldn't be bettered!
Tracy Clarke
Christmas in Morocco - 8 days
A great trip, good value and fun! We had a fab guide who made every effort to make the holiday memorable. There were some long days travelling; the only way to pack it all in but worth noting if you don't travel well. We stayed at the hotel rather than do the camel trek- don't worry about missing out if you decide to do the same we still rode in the camels and enjoyed some evening entertainment thanks to our guide and the hotel staff. This was our second trip with on the go and we will definitely consider them again next Christmas and New Year.
Nicole Summerlin
Christmas in Morocco - 8 days
The Christmas in Morocco tour was fantastic. There was quite a bit of travel time but it was paced well and lots of stops to take pictures, see attractions, get food and local flavor. We got many sights in and definitely were exposed to and got a good feel for the country and the people and culture. Our tour guide was very knowledgeable and provided tons of background and cultural information and made some changes to the things we saw and did based on the group's requests. The meals were great and varied, and even with all of the travelling and sightseeing there was still time on our own to relax and do some things on our own as well. It was my first tour solo and I will happily do it again given my experience.
Laurence Hallowes
Christmas in Morocco - 8 days
Great country, great tour and great guide. Really enjoyed it and Jamaal was one of the best guides I have had on a trip like this.
Michael Dowling
Christmas in Morocco - 8 days
We had an absolutely fabulous time in Morocco. The airport pickup was well organised, friendly and very comfortable. When we got to the hotel we met with our guide who greeted us warmly and spent time chatting with us and making sure we had everything we needed. The tour itself was fantastic, our guide was very friendly, funny and knowledgeable. He and the driver made what was sometimes a long day of travelling seem much shorter due to their positive and informative manner. We had a great time on every part of the tour and we fell in love with Morocco. Thank you for a memorable holiday!
Symantha Frewen
Christmas in Morocco - 8 days
Excellent tour. Was very pleased with the variety of places we visited along the way, including historic sites, meetings local people and having demonstrations of how local people make carpets, rose oil & argan oil. Good choice of different accommodation along the way including camping. Hicham Tora was brilliant at organising the tour, and very knowledgeable, and great fun. Was with a great group too. Highly recommended! Only thing I would change would be the amount of travelling, as not used to sitting so much. Fantastic.
Monique Terblanche
Christmas in Morocco - 8 days
Excellent! The tour was very well planned, with enough time to relax, and do some curio shopping at rest stops. The Sahara trek, carpet demonstration (great highlight), Dar Essalam evening (phenominal), Christmas dinner & Essaouira New Years Eve dinner great, Ouarzazate quad bike & studio tour (massive hits!) as well as Ait Benhaddou (incredible to walk through & to the top)The fruit for dessert was not always great, some Moroccan treats would have been nice some times. Each one of the hotels were great, but would suggest looking at proper Wi-Fi access (in rooms also) as travellers are very reliant on this, as well as electric sockets to charge phones & camera batteries (as we had to remove table lamps to do so), but it was not a big deal, you make it work. But might be something to think about.Aircon in the bus, at all times, would be great. We had to ask a couple of times.. as there was no option to open any windows for ventilation.Overall, it was great. We were blessed with a great group of people, which is a big factor on any tour! Service from OTG throughout was fantastic, and Jamal as a guide was outstanding, always looking out for us (I tend to stray off course), and he was always there. When we had a question or request, he was always happy to help. Thank you!!
Sherri Cunningham
Christmas in Morocco - 8 days
We're a family of six from the US who had never done an organized tour previously. Our experience with On the Go Christmas in Morocco was wonderful, and surpassed all expectations. Our tour guide, Ibrahim, was superb, and really made our trip special. He was provided great insight and historical information, and his command of English and sense of humor was incredible. Fantastic trip!!!
Amy McGee
Christmas in Morocco - 8 days
The 2 day camel trek and camping was amazing. The best meal we had was at the hotel in Merzouga (although the heat didn't really work in that hotel). Rock climbing was amazing (although our guide forgot about it so we had to wake up really early the next day to fit it in). More local restaurants would be better - the restaurants chosen for us were a little bland. Also - our schedule was never laid out day to day so it was hard to plan what to wear or if we needed to bring toilet paper or snacks. I'd recommend a white board or poster each morning that details the time we need to leave and approximate stops and meals. Also - we didn't get any information about Morocco - we had to ask a LOT of questions to get basic facts about the stops on the tour and the local Moroccan culture. Id recommend giving the guides 5 facts or so per stop so that we can get more information on the country and the places we're visiting - or let us know ahead of time that we should do our own research. The best parts of the trip were the came ride and camp, rock climbing and visiting the souk in Marrakech. Magical.
Christina Hudson
Christmas in Morocco - 8 days
The tour was really interesting. I found Morocco a fascinating country made more interesting by Jamal who has a deep love and a great knowledge of his country. The hotels were mostly good, the food was very much the same throughout, except for the picnic lunch, which was wonderful and the lunch where we had chicken skewers instead of tagine was a welcome change. Maybe it was because of the places we stayed but the overcooked meat and vegetables we had most days was uninspiring. The dinner we had in the hotel at the Sahara was really lovely. (I opted for the hotel stay rather than the Berber camp) Our guide Jamal was extraordinary. From the 'meet & greet' in the hotel to our final farewell, he was friendly. informative, ON TIME, and managed to keep an enthusiastic and generally rowdy group together and on track. Jamal has a quick wit and added to the fun we had on our trip. He obviously loves his country and was really informative without lecturing us. He's well suited to the job. Jamal treated us as individuals as well as a part of the group. He joined in some of our evening activities and had a good time with us. What a funny man he is. I can't imagine a better group or a better guide. If there were more than five stars in the rating below, he'd get more. He earned every one of them He earned the respect and has the ongoing friendship of us all, I'm sure. I hope Jamal wins the Tour Leader Award, he deserves to be recognised as a terrific tour guide and a great asset to your company
Dates & Availability
Saturday - Saturday
Dec 23, 2023 - Dec 30, 2023
Instant Booking Available
Monday - Monday
Dec 23, 2024 - Dec 30, 2024
Book with Confidence
Transfer as credit to Future Tours

On The Go Tours allows you to transfer existing payments to a future tour to avoid cancellation fees if you can't travel and inform on the go tours, 60 days before departure.

Low Deposit

On The Go Tours requires a minimum deposit of 200 GBP per person or the full booking value, whichever is less, with the final balance not due until 60 days before departure.

Cancellation Policy

We don't charge a cancellation fee, here is a summary of on the go tours charges.

Up to 60 days before tour starts: Forfeit 100% of deposit.

At 59 days before tour starts: Forfeit 50% of booking price.

At 30 days before tour starts: Forfeit 100% of booking price.
Why book with tourhub?
Safe & Secure
Your money is protected in an external trust until you travel.
---
100% Guaranteed Refunds if your trip is cancelled.
---
The safest way to make overseas, multi-currency payments.
Guaranteed Best Value
Industry leading discounts, we won't be beaten on price.
---
No cancellation or amendment fees from tourhub.
(Operator terms may apply)
Expert Knowledge
Reliable & unbiased advice from travel experts.
---
Direct contact with the tour operator via our messaging service.
---
Inspiration & advice from a community of 6000+ real travellers, influencers & content creators.
Trusted Service
Official partners & licensed agents of 1000+ tour operators worldwide.
---
Don't just take our word for it...
"Tourhub: Friendliness, Professionalism & Integrity I would happily give tourhub a 6* review if I could..."
Similar Tours
Travel Guru Features
Our Reviews