Colombia Encompassed - 17 days
17 Days Starting in Bogota and ending in Cartagena
Visiting: Bogotá, Zipaquirá, Ráquira, Villa de Leyva, Zona Cafetera, San Agustín, Popayán, Silvia, Cartagena
Tour operator:
Specialist Group:
Family/Kids
Age range:
Not recommended for under 5yrs.
Trip Styles:
Interests:
Activities:
Tour Overview
Take in the best that Colombia has to offer on this fantastic 17 day tour. Uncover the secrets of the country's ancient history as you visit its many towns and cities, plus numerous archaeological spots - including UNESCO-listed San Agustin. Then feast on the finest Colombian cuisine in Popayan and wander through the market town of Silvia.
Highlights
Popayan - Wander through the city, taking in its beautiful colonial architecture and sampling its varied gastronomy

San Agustin - Explore ancient tombs and structures in this UNESCO World Heritage site that dates back to pre-Colombian times

Silvia - Browse the weekly market in this small but vibrant town, selling everything from chillies and wool to fresh fish

Bogota –Enjoy a tour of Colombia's capital city, taking in Paloquemao's Market, the colonial quarter of La Candelaria and the prominent Plaza de Bolivar. Also visit the Museo del Oro and Museo de Botero

Zipaquira – Marvel at the spectacular Salt Cathedral and Stations of the Cross, all hewn from the salt mine tunnels under the Halite Mountains

Sutatausa – Admire the excellently preserved paintings in the town's colonial church, dating back to the 17th century

Raquira – Visit this artist town, famous for its pottery colourful buildings and colony of artisans. Nearby is the Monasterio La Candelaria, the first convent built in Latin America

Villa de Leyva – Explore this colonial town and its beautiful architectural features, from wooden baloncies and arches to heavy wooden and brass laden doors

Filandia – Overlook the city from the Colinda Illuminada view point

Salento – Visit this charming town with its preserved colonial bahareque architecture and streets lined with restaurants, bars and shops

Cocora Valley – Sample the local cocktail of canelazo and plant a wax palm, Colombia's national tree and the tallest variety of palm tree in the world

Hacienda Combia – Join a shared tour of this coffee farm, allowing you the opportunity to learn about the elements, conditions and the technical processes needed to go Colombian coffee

Botanical & Butterfly Garden – Stroll through this garden home to over 1500 butterflies and a variety of local flora and bird species

Cartagena – Join a walking tour including stops at the Convento de la Popa, the Castillo de San Felipe and a stroll through the markets of La Bovedas

Food Tour – Join a culinary tour of Cartagena, stopping off at seven authentic food stops to sample the local cuisine
Itinerary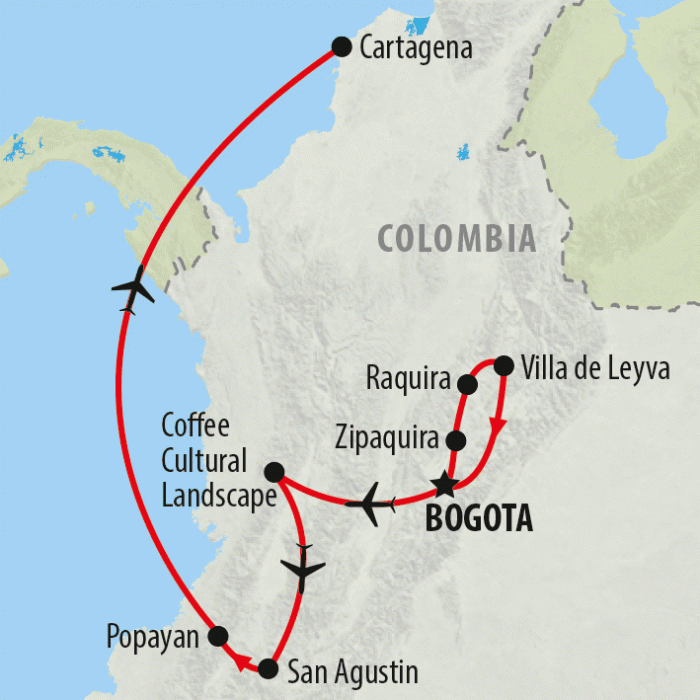 Expand All
Bienvenidos a Colombia! Today is the start of what is sure to be the journey of a lifetime through this magical country. You will be met at the El Dorado International airport and transferred your hotel.
Day 2-3: Bogota City Tours
Location:
Bogotá
Meals Included:
Breakfast, Lunch
Today you will get acquainted with Colombia's capital city, Bogota. The day starts early with a trip to the Paloquemao market, one of the largest and most important of its kind in the country. After meandering through the stalls and trying a few traditional Colombian snacks, you will head to La Candelaria, the old colonial quarter, where you will be able to admire the beautiful architecture of the cathedral and palaces. Next stop is the Cerro de Montserrate, a mountain with a white church located at the top, which commands spectacular views of the city. The day winds up with a visit to two of Bogota's best museums, the Museo del Oro (Gold Museum) and the Botero Museum.



The following day you will embark on a different kind of tour, which will certainly give you a taste for the city. Starting at the National Museum, you will then be taken to four different restaurants in order to sample a handful of Colombia's newest culinary trends. You will get the chance to meet some of the chefs and learn what inspired their gastronomic projects.
Day 4: Zipaquira & Raquira
Location:
Bogotá, Zipaquirá, Ráquira, Villa de Leyva, Bogotá
Meals Included:
Breakfast
Bogota - Zipaquira - Villa de Leyva. Leaving Bogota, you will be driven out towards the small, quaint town of Zipaquira, home of the magnificent Salt Cathedral. Marvel at the numerous sculptures that have been built into the salt mine tunnels under the Halite Mountains before being taken to Sutatausa to explore a beautiful colonial church. After lunch in a traditional Andean restaurant, the next stop is Raquira, a quaint town known for its beautiful pottery, where you will get the chance to visit a clay pot factory and learn all about its production process. To wind up the day you will be taken to an old monastery, Monasterio La Candelaria, which boasts a spectacular collection of artwork within.
Location:
Villa de Leyva, Bogotá
Meals Included:
Breakfast
A hearty American breakfast kicks off the day before you are taken into the heart of Villa de Leyva for a walking tour, during which you will learn all about the town's colonial past. After this, prepare

to be blown away as you witness the exhibits of the Fossil Museum, one of which being the complete 120 million year old Kronosaurus Queenslandicus fossil. In the afternoon, a trip to a monastery is followed by a guided tour of the Marques de Villa de Leyva wine yard, complete with a tasting or two.



The following day you will be able to enjoy a leisurely morning exploring the quiet streets and beautiful surroundings of Villa de Leyva. In the afternoon, you will be taken to the airport in Bogota to catch a flight to the Zona Cafetera.
Location:
Zona Cafetera
Meals Included:
Breakfast, Lunch
Villa de Leyva - Zona Cafetera. On day 7 you will spend the whole day at the Finca Romelia, a beautiful farm that enjoys breathtaking mountain landscapes and a whole host of different hummingbirds and butterflies. You will get to spend the day strolling through the peaceful gardens, admiring the orchids and sipping on the farm's coffee, which is considered one of the best in the world.



The following day you will be taken to Filandia, a traditional village with colonial streets and abundance of fondas (restaurant-bars), then on to Quindio's Viewpoint to look out over the Coffee Triangle. The rest of the day includes learning about wax palms and witnessing the Ritual de la Palma, a way to preserve the trees, in the Cocora Valley and exploring the quaint colonial town of Salento.



The final day in the stunning Zona Cafetera region involves a tour of Hacienda Combia, a coffee farm that teaches its guests all about the essential elements in coffee production, including environmental conditions and technical processes. You will be able to engage in a hands-on fully immersive coffee experience before being whisked away to Quindio's Botanical and Butterfly garden for a dose of natural beauty.
Location:
Zona Cafetera, San Agustín
Meals Included:
Breakfast
Zona Cafetera - San Agustin. In the morning you will be transferred from your hotel to either Armenia or Pereira airport to catch a flight to Neiva. From there you will be driven to San Agustin through the winding Magdalena Valley, stopping regularly to explore and observe tobacco, rice and cacao plantations. Be sure to take in the sublime mountainous landscape as you go.
Day 11-12: San Agustin Tours
Location:
San Agustín
Meals Included:
Breakfast
On the first day in San Agustin, you will be taken to the world famous San Agustin Archaeological Park, a UNESCO World Heritage site that dates back to pre-Colombian times. Here you will be able to explore the ancient tombs and structures of Mesitas sites A, B and C, visit the Forest of statues and wander through the Archaeological Museum.



Day 12 offers you a choice of nature-based activities, including a horse riding tour to different archaeological points (la Chaquira, La Pelota, El Purutal); a tour of Isnos, Alto de los Idolos and the Magdalena Straight in a Chiva – an old fashioned Colombian bus; or a gentle hike of La Chaquira for some amazing views of the Magdalena River.
Day 13: San Agustin - Popayan
Location:
San Agustín, Popayán
Meals Included:
Breakfast
San Agustin - Popayan. After a hearty breakfast you will embark on a six hour journey through stunning, rugged scenery to Popayan. Upon arrival you are free to wander through the city, taking in its beautiful colonial architecture and sampling its varied and sumptuous gastronomy.
Location:
Popayán, Silvia, Cartagena
Meals Included:
Breakfast
Popayan - Silvia - Cartegena. Today you will be transported to Silvia, a small but vibrant town that hosts a weekly market each Tuesday, frequented by the Guambiano community and brimming with chillies, wool, fish and more. After exploring the market, you will be taken to Popayan's airport to catch a flight to Cartagena. At the Rafael Nunez airport our representative will take you to your hotel and assist you with check in. In the evening, why not have a wander through Cartagena's colourful streets, absorbing the city's magical charm.
Location:
Cartagena
Meals Included:
Breakfast, Lunch
Starting at La Boquilla, an old fishing village and former slave colony, you will board a traditional wooden canoe and be steered through the mangrove swamps, home to a range of exotic flora and fauna. Following this experience, you will set off on a walking tour through Getsemani and have the chance to learn all about its colonial architecture and be dazzled by its charm. The afternoon involves even more cultural enrichment as you are guided through Cartagena on yet another tour. This time you will start at the Convento de la Popa, the highest point in the city, and the spot with the best views, before heading towards Castillo San Felipe on San Lazaro Hill. The day concludes with an exploration of the gorgeous jewellery and handicrafts on sale in Las Bovedas and an admiration of the aesthetically pleasing, inner walled section of the city.



Day 16 doesn't kick off until the afternoon when you will be guided through Cartagena on a delicious food tour, stopping at seven eateries along the way. Sample some of the most authentic gastronomic delights that the city has to offer and interact with the locals who frequent these food spots on a daily basis.
Location:
Cartagena
Meals Included:
Breakfast
Today marks the end of your Colombian adventure. You will be transferred from the hotel to Cartagena's airport for your flight home.
What's Included
16 breakfasts and 6 lunches

16 nights STANDARD accommodation. Upgrading to SUPERIOR or DELUXE accommodation options are also available upon request. Accommodation rating – See Trip Notes for details

Airport arrival and departure transfer on day 1 and day 17

Services of local English-speaking specialist guides

Entrance fees to all sites and activities as described in the itinerary

All relevant transfers and transportation

Private services for all included activities (excluding tour of Hacienda Combia, which may be on a shared basis)
What's Not Included
International flights and visas

Tipping – an entirely personal gesture

Laundry, drinks and items of a personal nature

Domestic flights – South American airpasses are available with LATAM and other airline carriers when booked in conjunction with international flights, offering significant savings on domestic flights. Please ask a member of the team for more information.
Check out our Q&As
What Ethical Travel credentials does the tour company have?

Ensuring our footprint is light and that the benefits of travelling reach the local communities you visit is paramount to us. We're proud to say that when travelling with us, the large majority of your holiday funds remain within the countries you visit, supporting local economies at a grass roots level.

How long has the tour company been trading?

Who will be my travelling companions on the tour?

With English-speaking tours, it's not a huge surprise that most on our travellers are from English-speaking countries or have English as their second language. Our group tours cater for everyone from 18 years old to 70+

Will the accommodation included meet local health and safety regulations?
Book with Confidence
Transfer as credit to Future Tours

On The Go Tours allows you to transfer existing payments to a future tour to avoid cancellation fees if you can't travel and inform on the go tours, 60 days before departure.

Low Deposit

On The Go Tours requires a minimum deposit of 200 GBP per person or the full booking value, whichever is less, with the final balance not due until 60 days before departure.

Cancellation Policy

We don't charge a cancellation fee, here is a summary of on the go tours charges.

Up to 60 days before tour starts: Forfeit 100% of deposit.

At 59 days before tour starts: Forfeit 50% of booking price.

At 30 days before tour starts: Forfeit 100% of booking price.
Why book with tourhub?
Safe & Secure
Your money is protected in an external trust until you travel.
---
100% Guaranteed Refunds if your trip is cancelled.
---
The safest way to make overseas, multi-currency payments.
Guaranteed Best Value
Industry leading discounts, we won't be beaten on price.
---
No cancellation or amendment fees from tourhub.
(Operator terms may apply)
Expert Knowledge
Reliable & unbiased advice from travel experts.
---
Direct contact with the tour operator via our messaging service.
---
Inspiration & advice from a community of 6000+ real travellers, influencers & content creators.
Trusted Service
Official partners & licensed agents of 1000+ tour operators worldwide.
---
Don't just take our word for it...
"Tourhub: Friendliness, Professionalism & Integrity I would happily give tourhub a 6* review if I could..."
Similar Tours
Travel Guru Features
Our Reviews