Falls to Cape - 22 days
Start: Victoria Falls Finish: Cape Town
Visiting:
Table Mountain
,
Cape Town
---
---
Duration: 21 Nights
Special diets catered: Vegetarians, Please contact On The Go Tours with specific dietary requests
Tour code: 154/FCA
Tour operator: On The Go Tours
Group size: 2 - 30
Age range: 18 and over.Overland Age Policy:To travel on one of our overland family departure safaris children need to be a minimum age of 6 for Southern Africa safaris (Zimbabwe, Botswana, Namibia, South Africa) and a minimum of 8 years old for East Africa safaris (
Tour operated in: English
---
Tour Overview
Southern Africa at its best. Kick off at Victoria Falls, spot game at Chobe and Etosha National Parks, explore the Okavango Delta in a canoe and wrap up your holiday in colourful Cape Town.
Highlights
Victoria Falls - marvel at the thunderous falls and participate in optional activities including bungee jumping and helicopter rides.
Swakopmund - unwind in Namibia's premier beach resort and enjoy optional activities such as golf and dolphin cruises
Namib Desert - explore the Namib-Naukluft National Park and watch a magical sunrise from the top of dazzling Dune 45
Fish River Canyon - enjoy the view of the world's second largest canyon and stop at several view points along the site
Okavango Delta - take to traditional mokoro canoes to explore the verdant delta, home to amazing wildlife and incredible scenery
Cederberg - sample South African wine, stroll through vineyards and admire the stunning scenery of the Cederberg Mountains
Chobe National Park - camp amongst the wilderness of the national park, and listen out to the nocturnal sounds of the animals
Etosha National Park - spend three nights in the wildlife-rich national park, with numerous game drives in search of lions, elephants and more
Places You'll See
Countries:
Cities & Attractions:
Itinerary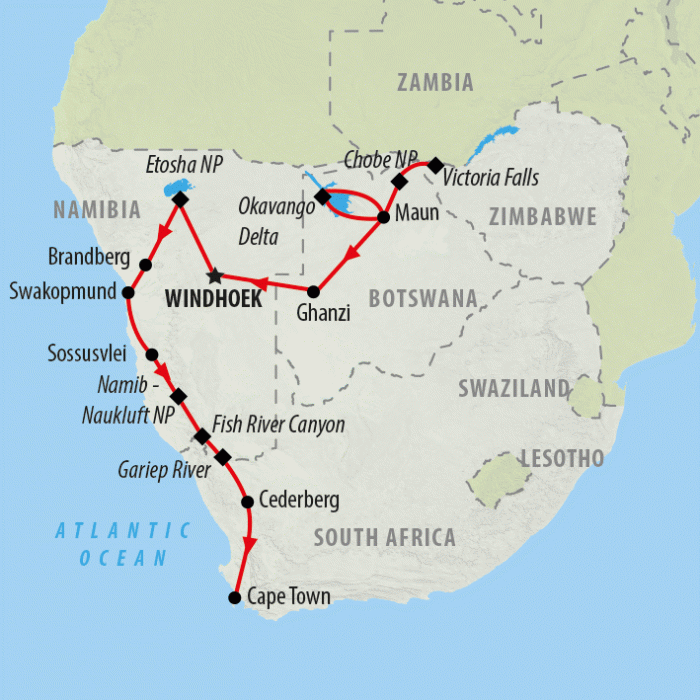 Day 1: Victoria Falls
Saturday. Welcome to Victoria Falls! We'll be there to collect you at Victoria Falls Airport and transfer you to our campsite . Today there will be a pre departure meeting at 17.00 when you will be your fellow travellers and tour leader.
Day 2: Victoria Falls
Today is at leisure for participating in a myriad of optional excursions. Optional excursions include horseback safaris, a visit to the crocodile ranch and boat cruises. Adrenalin junkies can bungee from the Victoria Falls Bridge connecting Zimbabwe and Zambia or abseil down the Batoka Gorge - neither activity is for the faint hearted! All year round, flights in fixed wing, micro light and ultra light aircraft or helicopters provide an incredible aerial view of the falls and white water rafting on the Zambezi is world class!
Day 3-4: Chobe National Park
Meals: Breakfast, Lunch, Dinner
Victoria Falls - Chobe - Kasane (Botswana). After breakfast we cross into Botswana. After lunch we leave for our Chobe National Park Overnight Mobile excursion in the wilds of the Chobe National Park - one of Botswana's premier game parks, renowned for its large elephant herds. Spend the afternoon in search of wildlife while we game drive to our camp within the park where we spend the evening surrounded by the night-time noises of the local wildlife.

After our night in the bush, we head out early to continue our search for wildlife, before returning to camp.
Day 5: Maun
Meals: Breakfast, Lunch, Dinner
Kasane - Maun. Heading out early we continue through Botswana to Maun - our starting point for travel into the Okavango Delta.
Day 6-7: Okavango Delta
Meals: Breakfast, Lunch, Dinner
Maun - Okavango Delta - Maun. On day 6 we take the included overnight excursion into the Delta. After an early rise, we pack our expedition vehicle and from Maun we drive north for a couple of hours to reach the mokoro poler's station. Some of the villages are very remote and can only be reached by the traditional mode of transport – the Mokoro (dugout canoe). At the Mokoro station, we meet our 'Polers' and pack our supplies before heading out into the waterways. After a couple of hours along the waterways, we arrive at our mobile tented camp situated in the heart of the Okavango.

On arrival you will meet the local staff who will be your host during your stay. Relax in the tent with a cold drink or take a paddle in the Delta in a canoe. The activities at the camp include Mokoro trails and guided walking.

The following morning we return to the mainland and our campsite in Maun and have the chance to complete our picture of the Okavango Delta by taking an optional scenic flight over The Delta (dependent on weather conditions & availability).
Day 8-9: Ghanzi & Windhoek
Meals: Breakfast, Lunch, Dinner
Maun - Ghanzi - Windhoek (Namibia). On day 8 we head towards the small village of Ghanzi - home to the San Bushman and we can learn more about them by partaking in the Bushman experience offered by the campsite.

On day 9 we drive to Namibia's capital city - Windhoek.
Day 10: Etosha National Park
Meals: Breakfast, Lunch, Dinner
Windhoek - Etosha. From Windhoek we head to the Etosha National Park arriving about lunchtime, spending the remainder of the day exploring the park's northern area. Keep an eye out for the striking Oryx and Springbok as these are endemic to desert national parks! After dinner why not head to the waterhole where you can sit and observe the animals may come to drink in the evenings.
Day 11-12: Etosha NP
Meals: Breakfast, Lunch, Dinner
On day 11 we make our way 150 km across the park for a full day of game viewing, we exit the park through Anderson gate and head to our campsite just 10kms away; perhaps the chance for a quick dip in the pool before dinner, followed by a relaxing evening in this very interesting bar. Day 12's drive takes us further south through the Namibian countryside to our campsite, located in the vicinity of Etosha National Park.
Day 13: Brandberg
Meals: Breakfast, Lunch, Dinner
Etosha National Park area - Brandberg. Today we head down south to the area of the Brandberg. All depending on the time of arrival we will have the opportunity to explore the area.
Day 14-15: Swakopmund
Meals: Breakfast
Brandberg - Spitzkoppe - Swakopmund. We travel to Swakopmund via Spitzkoppe on day 14. The town has excellent coffee shops, restaurants & bars as well as many arts and crafts shops selling Namibian curios. The following day is spent relaxing or participating in a myriad of optional excursions which include sky diving, quad biking, sand boarding, scenic desert flights, dolphin cruises, horse riding - all bookable locally. We spend 2 nights here.
Day 16-17: Sesriem
Meals: Breakfast, Lunch, Dinner
Swakopmund - Sesriem. Continuing our journey, we enter the Namib-Naukluft Park in one of the oldest deserts in the world. We base ourselves at Sesriem, a great place to experience the Namib and its many moods. A short distance away is Sossusvlei, surrounded by a dramatic sea of sand dunes reputed to be the highest in the world. Magnificent views of the desert can be seen from the top of the dunes, some over 300 m high. We spend the afternoon exploring this amazing area.
Day 18: Fish River Canyon
Meals: Breakfast, Lunch, Dinner
Sesriem - Fish River Canyon. Departing early we see the sunrise over this beautiful desert area before we leave the serenity of the dunes and head south to Fish River Canyon - the second largest canyon in the world. The outer canyon was formed by tectonic activity, while the erosion of the Fish River formed the inner canyon. A road follows the eastern rim, giving us access to several viewing points from where we can take in the spectacular vistas.
Day 19: Gariep River
Meals: Breakfast, Lunch, Dinner
Fish River Canyon - Gariep River (South Africa). This morning we continue south, where, after a short drive, we reach the Gariep River (Orange River) - the natural land border between Namibia and South Africa. We camp on the South African bank of the river.
Day 20: Cederberg
Meals: Breakfast, Lunch, Dinner
Gariep River - Cederberg. This morning we travel south to the mining town of Springbok, and the region known as Namaqualand. We spend tonight in a picturesque campsite surrounded by local wine farms and we have the option to sample some of the nectar of the gods surrounded by the beautiful Cederberg Mountains. Tonight is our last night under the stars.
Day 21: Cape Town
Meals: Breakfast
Cederberg - Cape Town. We leave the scenic Cederberg area and travel to Cape Town. Our first sighting of the Mother's City Table Mountain across Table Bay means we've reached our final destination.
Day 22: Cape Town
Saturday. This morning we exchange addresses and part ways, having just experienced a trip of a lifetime!
What's Included
2 day/1 night Okavango Delta Excursion (camping)

1st night dorm/camping in Victoria Falls and 2 nights twin share accommodation in Swakopmund and 18 nights camping. Tents and sleeping mats provided

19 breakfasts, 16 lunches and 15 dinners

A fully equipped overland truck for transportation and game drives

Sossusvlei transfer for Desert Walk

Accommodation

Camping

Services of 3 person crew (leader, driver, cook)

All road taxes and tolls

All camping fees and appropriate equipment

Park Entry and Game drive - Etosha NP and Chobe NP. Park Entry - Victoria Falls NP

Arrival transfer from Vic Falls Airport on day 1
What's Not Included
Optional activities

International flights and visas

Accommodation upgrade fee - payable locally. Please see trip notes for more details.

Sleeping bag - please bring your own

Local payment - $700pp, paid in USD

Tipping - an entirely personal gesture
Age Policy
18 and over.Overland Age Policy:To travel on one of our overland family departure safaris children need to be a minimum age of 6 for Southern Africa safaris (Zimbabwe, Botswana, Namibia, South Africa) and a minimum of 8 years old for East Africa safaris (Kenya, Tanzania, Uganda, Malawi, Zambia). If a safari includes both East and Southern Africa then the minimum age will be 8 years old. Please note that they will be travelling with the normal group. These are not separate family tours. For family dates look for the icon next to the tour date online. IMPORTANT: South Africa and Botswana regulations aimed at fighting child trafficking:'All parents travelling with children into or out of SA and/or Botswana may be asked to show the child's unabridged (full) birth certificate, and where only one parent is accompanying, parental or legal consent for the child to travel (eg an affidavit from the other parent, a court order or – if applicable – a death certificate). You should travel with these documents in case you're asked to provide them. There are other requirements for children travelling unaccompanied or with adults who are not their parents.' Tell pax to contact the South African High Commission, South African Department of Home Affairs and/or the Botswana High Commission for further information.
Book with Confidence
Low Deposit

On The Go Tours requires a deposit of 20% to secure a place on this tour, and the final balance is not due till 60 days before departure..

Secure payments

All payments to TourHub are deposited into an externally regulated Trust account.
---
Reviews
Falls to Cape - 22 days
Extraordinary experience. Manda did everything to make the stay a great experience, he was always available, answered each and every question, helped out when needed. Great guy.
Extraordinary experience.

Manda did everything to make the stay a great experience, he was always available, answered each and every question, helped out when needed.

Great guy.

;
Falls to Cape - 22 days
The tour was brilliant, lots to see and do. Mwangi was very knowledgeable about the area, he made sure we were all in the right place at the right time, ....more
The tour was brilliant, lots to see and do.

Mwangi was very knowledgeable about the area, he made sure we were all in the right place at the right time, lots of welcome hints tips and suggestions about each area we visited.

Jerad provided excellent meals with little facilities, a welcome feast after a busy day, the cooking hygiene standards were exceptional.

Nic, our driver put in long days, driving on some poor roads and got the truck into some very small spaces.

The trip was packed with things to do and see and these made up for the long hours spent on the truck.

The only negative I have to say is that some of the equipment eg the crockery and sleeping mats are at the end of their life and should be replaced.

All in all, an excellent holiday, now trying to plan the next one, a hard act to follow.

; ....less
Carole Pringle
11-Jul-2018
Falls to Cape - 22 days
Alex was a fine tour guide. Very professional, yet personable. He always had time to answer all questions.Would certainly like to travel on any tours that he was in ....more
Alex was a fine tour guide.

Very professional, yet personable.

He always had time to answer all questions.

Would certainly like to travel on any tours that he was in charge of.

; ....less
Carlos Castillo
22-Dec-2018
Falls to Cape - 22 days
Exceptional experience of Southern Africa - Exceptional service and spot on itinerary, have used On The Go many times before and shall do again. Never an issue with any booking
Exceptional experience of Southern Africa - Exceptional service and spot on itinerary, have used On The Go many times before and shall do again.

Never an issue with any booking ;
Falls to Cape - 22 days
This was a great tour and experience. The group totaled 20, however, it never felt like there were too many and everybody got on well and had a wonderful time ....more
This was a great tour and experience.

The group totaled 20, however, it never felt like there were too many and everybody got on well and had a wonderful time together.

The Tour Lead, Alex Teuling, was excellent, as was the cook, Munyaradzi Shoshore and Driver Bheki Ncube.

It was an excellent team.

Wonderful memories.

; ....less
Cameron McInally
30-May-2018
Travel, Your Way
Good reasons for travelling privately
Personalise your trip

Make changes to the itinerary, accommodation, or transport method

Increased safety during COVID

Spend the majority of time amongst your group to reduce exposure to others

Travel more exclusively

Your tour guide can focus all their attention on your group

Travel for a special occasion

Celebrate an important event by only travelling with your friends or family
Learn more