Galapagos Island Hopping - 6 days
Galapagos Island Hopping - 6 days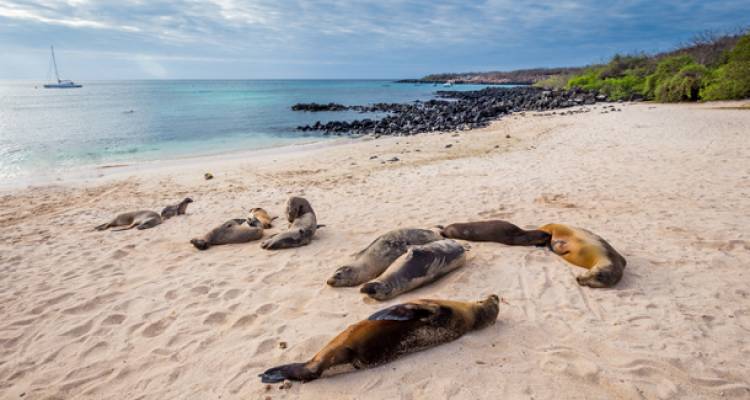 Galapagos Island Hopping - 6 days
6 Days Starting in Galapagos Islands and ending in Baltra Island
Visiting: Baltra Island, Puerto Ayora, Puerto Velazco Ibarra, Puerto Villamil, Sierra Negra
Tour operator:
Tour operated in:
English
Trip Styles:
Interests:
From:
$2065
$1998 (USD) BLACK FRIDAY SALE @ Tourhub: $67
Tour Overview
Discover one of the planet's top wildlife destinations on a 6-day Galapagos island hopping adventure, staying in a choice of standard or upgraded accommodation. From Baltra Island, take in beautiful landscapes and encounter incredible wildlife on the islands of Santa Cruz, Floreana and Isabela, topped off with a hike up Sierra Negra Volcano.
Highlights
Santa Cruz Island - observe Giant Tortoises in their natural habitat at Rancho El Manzanillo farm

Santa Cruz Island – visit the famous Charles Darwin Research Station and see the body of the world-famous turtle Lonesome George

Santa Cruz Island - follow the Tortuga Bay trail to reach one of the most beautiful beaches in the Galapagos, where you can swim and soak up the sun next to the marine Iguanas, boobies and marine birds

Floreana Island – see a colony of sea lions and perhaps some blue footed bobbies, marine iguanas and marine turtles at picturesque Playa Lobos

Floreana Island - walk to historic Asilo de La Paz, where the legendary Witmer family first settled in 1932 and lived in caves

Isabela Island – explore the largest island of the Archipelago, visiting the beautiful beaches of Los Humedales and the Tortoise Breeding Centre

Isabela Island - hike up to the rim of Sierra Negra Volcano to see the 2nd largest caldera in the world
Itinerary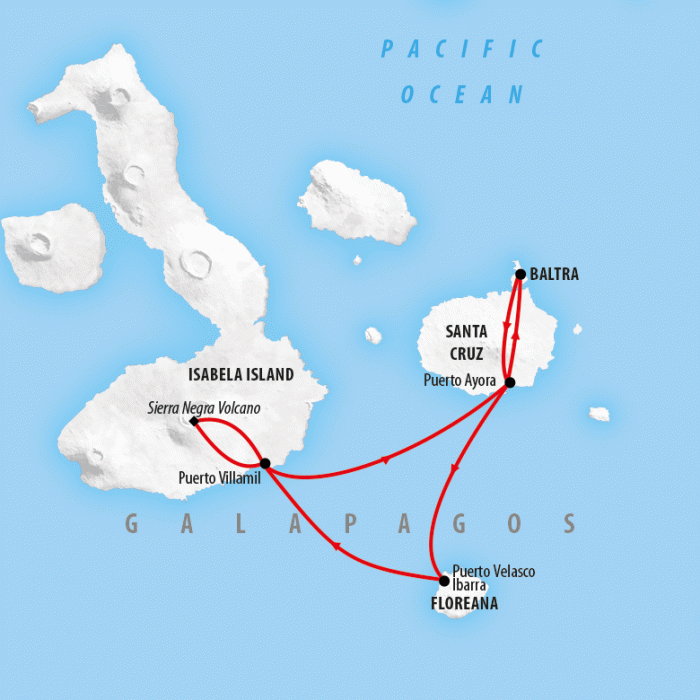 Expand All
Day 1 :

Baltra Island & Santa Cruz
Location:
Baltra Island, Puerto Ayora
Accommodation:
Hotel
Meals Included:
Lunch
Baltra Island - Santa Cruz Island. Upon arrival at Baltra Island airport, you will be met by our guide and transferred to the city of Puerto Ayora, the largest in the Galapagos Archipelago, on the island of Santa Cruz. On the way, we cross the beautiful Itabaca Channel which separates Baltra and Santa Cruz Island. Once on the other side of the channel we transfer up to the highlands of Santa Cruz island to visit a private farm where we will have our first amazing Galapagos experience, observing the giant Galapagos Tortoises in their natural habitat. We'll have lunch at a local restaurant and time permitting, we can also visit one of the lava tunnels in the area. Then transfer back to the hotel in the town of Puerto Ayora and enjoy some free time.
Day 2 :

Santa Cruz & Floreana Island
Location:
Puerto Velazco Ibarra
Meals Included:
Breakfast, Dinner
Santa Cruz Island – Floreana Island. We start the day with a walk up to the Fausto Llerena Tortoise Centre where we learn about the important conservation work carried out here to save the different tortoise populations and offers a wonderful opportunity to see baby tortoises here. The trail continues on to the Charles Darwin Station the operational centre for the foundation which conducts research and now features the Lonesome George exhibit. After enjoying this wonderful walk, we head back to town where you will have time to prepare for your onward transfer Floreana Island.



Early this afternoon we board the shared speed boat taking us to Puerto Velasco Ibarra, a small town located in the legendary Floreana Island. You will have time to walk to Playa Lobos, a beautiful spot on this island where you may be lucky enough to see a colony of sea lions, perhaps some blue footed boobies, marine iguanas and maybe some marine turtles.
Day 3 :

Floreana & Isabela Island
Location:
Puerto Villamil
Meals Included:
Breakfast, Lunch
Floreana Island - Isabela Island. Early morning enjoy breakfast at a small local restaurant before travelling up to the highlands of Floreana in a "Chiva" (artisan rustic bus). We walk to "Asilo de La Paz" (Peace Asylum), a historic place where the German Whitmer family first settled in 1932. Look out for lumbering giant tortoises, see the natural spring that supported Floreana and visit the caves where these first settlers lived. Heading back to town we have an early lunch before boarding a private speedboat for the 2.5hr journey to Isabella Island.



Isabela Island is the largest in the Archipelago. Arriving at the pier of Puerto Villamil we transfer to our hotel for check-in and then go for a walk to the place known as Los Humedales (Wet-Land). This awesome area is characterised by sandy beaches, rocky shores, and mangroves. During the walk we will see all four species of mangroves found in the Galapagos, observe pink flamingos and other migratory birds. Continuing along the path we visit the Turtle Breeding Centre where we find tortoises from all sizes and different subspecies.. We will then be transported back to the hotel and enjoy free time in this scenic town.
Day 4 :

Hiking Sierra Negra Volcano
Location:
Sierra Negra, Puerto Villamil
Meals Included:
Breakfast, Lunch
Isabela Island - Santa Cruz Island. Isabela is known for having the second largest volcanic crater in the world, the first being the Ngorongoro in Africa. This morning we will be taken up to the Galapagos Park checkpoint where we begin a scenic hike up to the rim of this remarkable crater to see the whole 11km diameter of the crater, weather permitting. Afterwards we travel back to town for lunch.



We embark on a shared Tintoreras Tour this afternoon. From the hotel transfer to the pier and take a boat out to the incredible lava islets of Las Tintoreras where you can see blue footed boobies, colonies of marine iguanas, sea lions and penguins swimming in the bay. You can go snorkelling and may also spot marine turtles. The main attraction however is the white-tip sharks, known as Tintoreras, which rest in the water filled crevasses of the islets. After the excursion travel back to Isabela Island and enjoy the evening at leisure.
Day 5 :

Santa Cruz Island
Location:
Puerto Ayora
Meals Included:
Breakfast, Dinner
After breakfast, we travel by speed boat back to Santa Cruz Island and the city of Puerto Ayora. Look out for dolphins on the way! Transfer to the hotel and enjoy some free time.



In the afternoon hike towards the shores of the Pacific Ocean to one of the most stunning beaches in the Galapagos, Tortuga Bay. Renowned for being one of the islands' most pristine sandy stretches, the beach at Tortuga Bay features blue waters, rich wildlife, and there's time for relaxation on the soft white sands, surrounded by marine vegetation and the famed local marine iguanas. There's time to enjoy the beach and perhaps go kayaking (optional) in the beautiful bay of calm waters. Returning to Puerto Ayora there's free time before meeting up for a farewell dinner at a local restaurant.

Location:
Baltra Island
Meals Included:
Breakfast
Santa Cruz Island – Baltra Island. This morning you will be transferred to the airport on Baltra Island for your return flight home, For one final sightseeing trip en route we will stop by the natural formation known as "The twins" (Los Gemelos) Craters which is on the way to the Itabaca Channel. Once we reach the Itabaca Channel we will use the local ferry to cross the channel to the side of Baltra from where you will be taken to the airport.



Please note that we can book your domestic Galapagos flights, accommodation in Quito or Guayaquil and transfers upon request. In addition to this, if you'd like to see more of Ecuador we can tailor-make an itinerary for you. Please contact us for details.
What's Included
Accommodation
3 star hotels & simple community guest house

4 nights 3 star accommodation and 1 night local community guest house on Floreana Island (homestay with private en suite room)

5 breakfasts, 3 lunches and 2 dinners

Guided excursions and walks on Santa Cruz Island, Floreana Island and Isabela Island

Sierra Negra Volcano hike

Professional English/Spanish speaking Galapagos Naturalist Guide

Speed boat transfers on the tourist class Serenity boat

Baltra airport arrival and departure transfer
What's Not Included
Domestic and International flights, airport taxes and visas

Tipping – an entirely personal gesture

Items of a personal nature, drinks and additional meals

Entrance Fees: US$100pp Galapagos park fee, US$20pp transit card and US$10 Isabela Municipality fee, subject to change, paid in USD
Check out our Q&As
What Ethical Travel credentials does the tour company have?

Ensuring our footprint is light and that the benefits of travelling reach the local communities you visit is paramount to us. We're proud to say that when travelling with us, the large majority of your holiday funds remain within the countries you visit, supporting local economies at a grass roots level.

How long has the tour company been trading?

Who will be my travelling companions on the tour?

With English-speaking tours, it's not a huge surprise that most on our travellers are from English-speaking countries or have English as their second language. Our group tours cater for everyone from 18 years old to 70+

Will the accommodation included meet local health and safety regulations?
Dates & Availability
Instant Booking Available
Monday - Saturday
Dec 11, 2023 - Dec 16, 2023
Instant Booking Available
Monday - Saturday
Dec 18, 2023 - Dec 23, 2023
Instant Booking Available
Monday - Saturday
Dec 25, 2023 - Dec 30, 2023
Book with Confidence
Transfer as credit to Future Tours

On The Go Tours allows you to transfer existing payments to a future tour to avoid cancellation fees if you can't travel and inform on the go tours, 60 days before departure.

Low Deposit

On The Go Tours requires a minimum deposit of 200 GBP per person or the full booking value, whichever is less, with the final balance not due until 60 days before departure.

Cancellation Policy

We don't charge a cancellation fee, here is a summary of on the go tours charges.

Up to 60 days before tour starts: Forfeit 100% of deposit.

At 59 days before tour starts: Forfeit 50% of booking price.

At 30 days before tour starts: Forfeit 100% of booking price.
Why book with tourhub?
Safe & Secure
Your money is protected in an external trust until you travel.
---
100% Guaranteed Refunds if your trip is cancelled.
---
The safest way to make overseas, multi-currency payments.
Guaranteed Best Value
Industry leading discounts, we won't be beaten on price.
---
No cancellation or amendment fees from tourhub.
(Operator terms may apply)
Expert Knowledge
Reliable & unbiased advice from travel experts.
---
Direct contact with the tour operator via our messaging service.
---
Inspiration & advice from a community of 6000+ real travellers, influencers & content creators.
Trusted Service
Official partners & licensed agents of 1000+ tour operators worldwide.
---
Don't just take our word for it...
"Tourhub: Friendliness, Professionalism & Integrity I would happily give tourhub a 6* review if I could..."
Similar Tours
Travel Guru Features
Our Reviews