Heart of Seoul City Break - 5 days
5 Days Starting and ending in Seoul
Tour operator:
Physical rating:
Low
Trip Styles:
Activities:
Tour code:
2089/HSCB
Group size:
2 - 24
Age range:
Any age
Tour operated in:
English
Interests:
Recommended For:
From:
$1745
$1662 (USD)
EXTRA tourhub discount: $83
Tour Overview
PRIVATE TOUR: Explore Seoul, the cosmopolitan and vibrant capital of South Korea. See the changing of the guard at the ornate Gyeongbokgung Palace and wander through bustling Insadong, take in the traditional architecture of Bukchon Hanok village and travel to the fascinating Demilitarized Zone on this 5 day city break.
Highlights
Seoul – explore the nation's captivating capital

Gyeongbokgung Palace – explore the ornate royal palace and wear a traditional Hanbok

Insadong – discover traditional restaurants, tea houses and goods in this 'Antique Alley'

Bukchon Hanok – stroll around this enchanting village that houses over 900 traditional hanok houses

N Seoul Tower – dine in authentic Korean restaurant taking in some of the most beautiful panoramic views of the city

Nanta performance – head to the theatre to watch this non-verbal, internationally acclaimed Korean comedy show

The DMZ - visit one of the most heavily militarized borders in the world, visit the Dorasan Observatory and uncover military secrets in the Third Tunnel that lies beneath the North and South Korean border

The War Memorial museum– gain an insight into Korea's turbulent history
Itinerary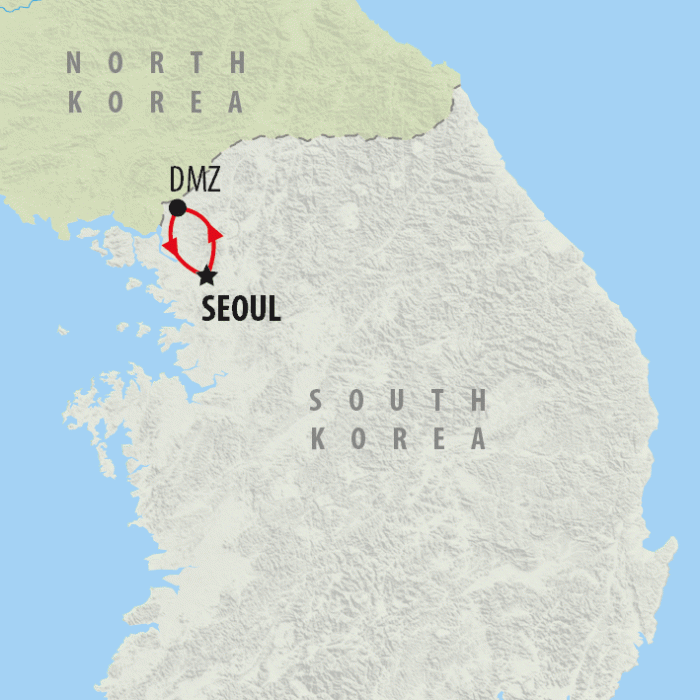 Expand All

Day 1 :

Seoul
Location:
Seoul
Meals Included:
No Meals
Welcome to South Korea! Upon arrival at Incheon International Airport in Seoul you will be met and transferred to your hotel where the remainder of the day is free to relax after your flight or explore the city.

Day 2 :

Seoul
Location:
Seoul
Meals Included:
Breakfast, Lunch
Seoul is a gleaming metropolis with over 500 years of history, where you'll discover Buddhist temples, exquisite palaces and traditional markets, among soaring skyscrapers, chic bars and stylish shops. Take in the highlights of the nation's capital on a full day tour. This morning there's the opportunity to try on a Hanbok - the traditional Korean dress which dates back thousands of years and is worn on special occasions. After dressing for the occasion visit the beautifully ornate Gyeongbokgung Palace which is the largest and most famous of Seoul's Five Grand Palaces. Gyeongbokgung served as the main palace of Joseon Dynasty (1392-1910), the last dynasty of Korea. After a tour of the palace and watching the Changing of the Guard proceed to the lively antique alley of Insadong, where art galleries, antique shops, crafts shops, pottery shops display their traditional goods.
Korea is renowned for its wonderful, healthy cuisine and for lunch today there's the opportunity to sample 'Bulgogi', which is a traditional dish made from thin, marinated slices of beef and pork. This afternoon explore the enchanting Bukchon Hanok Village, which is home to around 900 hanoks - traditional Korean houses, that date back to the Joseon Dynasty. Then take in incredible panoramic views of the city from the 236-meter N Seoul Tower.

Day 3 :

Seoul
Location:
Seoul
Meals Included:
No Meals
Today is free for you to continue to explore Seoul at leisure. We recommend a visit to the National Museum of Korea for a journey through the country's history all the way from the prehistoric period to the Korean Empire period. Other highlights include Bongeun Temple, a Buddhist temple which houses one of the tallest stone statues in the country, Changdeokgung Palace with its beautiful Secret Garden and the serene Cheonggyecheon Stream, where you can enjoy a relaxing stroll. You'll find a host of exciting places to eat, drink, shop and relax, whether you're in Hongdae's chic bars and restaurants or the stylish boutiques of Apgujeong.

Day 4 :

Seoul
Location:
Seoul
Meals Included:
Breakfast, Lunch
Take an exciting coach excursion to the Korean Demilitarized Zone (DMZ) today, which is located 45km north of Seoul and acts as the buffer zone and border between the two nations of North and South Korea. Start with a visit the Third Tunnel of Aggression, which spans over 1,635m and is one of the 4 tunnels under the border of North and South Korea which were used to move thousands of soldiers into South Korea for invasion. It is said that approximately 30,000 could move through the tunnel per hour. Then continue to the Dorasan Observatory which overlooks the Demilitarized Zone and the Dorasan station, a station which connects Northern and Southern Korean rail roads. Next stop is The War Memorial of Korea, a museum which houses and preserves artifacts such as weapons and uniforms from the Korean War. After gaining a great insight into the country's past, you can enjoy a traditional Korean lunch of Bibimbap, a steamed rice dish with assorted beef and vegetables before returning to your hotel for the remainder of the day at leisure.
Please note Coach tours to the DMZ are currently not operating. If the coach tour is unavailable at time of booking a supplement will be payable to upgrade to a private DMZ tour.

Day 5 :

Seoul
Location:
Seoul
Meals Included:
Breakfast
After breakfast and hotel check out, transfer to the airport for your flight home.
What's Included
Accommodation

Our rating: Standard

3 breakfasts, 2 lunches and 1 dinner

4 nights 3 star hotels (4 & 5 star upgrade available, please enquire)

Services of an English speaking guide/driver for all scheduled sightseeing

Transfers and transportation in private air-conditioned vehicles

Entrance fees to all included sites

Airport arrival and departure transfer on days 1 and 5

Coach excursion to the DMZ (Demilitarized Zone) - this is a group excursion where you will join other members of the public

Full day guided tour of Seoul

The Nanta Show

3 breakfasts and 2 lunches
What's Not Included
International flights and visa

Tipping - an entirely personal gesture
Check out our Q&As
Are airport transfers included in this tour?
Transfers and transportation in private air-conditioned vehicles
Are the local guides on the tour English speaking?
What Ethical Travel credentials does the tour company have?
Ensuring our footprint is light and that the benefits of travelling reach the local communities you visit is paramount to us. We're proud to say that when travelling with us, the large majority of your holiday funds remain within the countries you visit, supporting local economies at a grass roots level.
How long has the tour company been trading?
What policies are in place for Covid-19?
Please contact us for latest COVID-19 policies
Who will be my travelling companions on the tour?

With English-speaking tours, it's not a huge surprise that most on our travellers are from English-speaking countries or have English as their second language. Our group tours cater for everyone from 18 years old to 70+

Will the accommodation included meet local health and safety regulations?
Dates & Availability
Instant Booking Available
Instant Booking Available
Instant Booking Available
Instant Booking Available
Instant Booking Available
Instant Booking Available
Instant Booking Available
Instant Booking Available
Instant Booking Available
Instant Booking Available
Instant Booking Available
Instant Booking Available
Instant Booking Available
Instant Booking Available
Instant Booking Available
Instant Booking Available
Instant Booking Available
Instant Booking Available
Instant Booking Available
Instant Booking Available
Instant Booking Available
Instant Booking Available
Instant Booking Available
Instant Booking Available
Instant Booking Available
Instant Booking Available
Instant Booking Available
Instant Booking Available
Instant Booking Available
Instant Booking Available
Instant Booking Available
Instant Booking Available
Instant Booking Available
Instant Booking Available
Instant Booking Available
Instant Booking Available
Instant Booking Available
Instant Booking Available
Instant Booking Available
Instant Booking Available
Instant Booking Available
Instant Booking Available
Instant Booking Available
Instant Booking Available
Instant Booking Available
Instant Booking Available
Instant Booking Available
Instant Booking Available
Instant Booking Available
Instant Booking Available
Instant Booking Available
Instant Booking Available
Instant Booking Available
Instant Booking Available
Instant Booking Available
Instant Booking Available
Instant Booking Available
Instant Booking Available
Instant Booking Available
Instant Booking Available
Instant Booking Available
Instant Booking Available
Instant Booking Available
Instant Booking Available
Instant Booking Available
Instant Booking Available
Instant Booking Available
Instant Booking Available
Instant Booking Available
Instant Booking Available
Instant Booking Available
Instant Booking Available
Instant Booking Available
Instant Booking Available
Instant Booking Available
Instant Booking Available
Instant Booking Available
Instant Booking Available
Instant Booking Available
Instant Booking Available
Instant Booking Available
Instant Booking Available
Instant Booking Available
Instant Booking Available
Instant Booking Available
Instant Booking Available
Instant Booking Available
Instant Booking Available
Instant Booking Available
Instant Booking Available
Instant Booking Available
Instant Booking Available
Instant Booking Available
Instant Booking Available
Instant Booking Available
Instant Booking Available
Instant Booking Available
Instant Booking Available
Instant Booking Available
Instant Booking Available
Instant Booking Available
Instant Booking Available
Instant Booking Available
Instant Booking Available
Instant Booking Available
Instant Booking Available
Instant Booking Available
Instant Booking Available
Instant Booking Available
Instant Booking Available
Instant Booking Available
Instant Booking Available
Instant Booking Available
Instant Booking Available
Instant Booking Available
Instant Booking Available
Instant Booking Available
Instant Booking Available
Instant Booking Available
Instant Booking Available
Instant Booking Available
Instant Booking Available
Instant Booking Available
Instant Booking Available
Instant Booking Available
Instant Booking Available
Instant Booking Available
Instant Booking Available
Instant Booking Available
Instant Booking Available
Instant Booking Available
Instant Booking Available
Instant Booking Available
Instant Booking Available
Instant Booking Available
Instant Booking Available
Instant Booking Available
Instant Booking Available
Instant Booking Available
Instant Booking Available
Instant Booking Available
Instant Booking Available
Instant Booking Available
Instant Booking Available
Instant Booking Available
Instant Booking Available
Instant Booking Available
Instant Booking Available
Instant Booking Available
Instant Booking Available
Instant Booking Available
Instant Booking Available
Instant Booking Available
Instant Booking Available
Instant Booking Available
Instant Booking Available
Instant Booking Available
Instant Booking Available
Instant Booking Available
Instant Booking Available
Instant Booking Available
Instant Booking Available
Instant Booking Available
Instant Booking Available
Instant Booking Available
Instant Booking Available
Instant Booking Available
Instant Booking Available
Instant Booking Available
Instant Booking Available
Instant Booking Available
Instant Booking Available
Instant Booking Available
Instant Booking Available
Instant Booking Available
Instant Booking Available
Instant Booking Available
Instant Booking Available
Instant Booking Available
Instant Booking Available
Instant Booking Available
Instant Booking Available
Instant Booking Available
Instant Booking Available
Instant Booking Available
Instant Booking Available
Instant Booking Available
Instant Booking Available
Instant Booking Available
Instant Booking Available
Instant Booking Available
Instant Booking Available
Instant Booking Available
Instant Booking Available
Instant Booking Available
Instant Booking Available
Instant Booking Available
Instant Booking Available
Instant Booking Available
Instant Booking Available
Instant Booking Available
Instant Booking Available
Instant Booking Available
Instant Booking Available
Instant Booking Available
Instant Booking Available
Instant Booking Available
Instant Booking Available
Instant Booking Available
Instant Booking Available
Instant Booking Available
Instant Booking Available
Instant Booking Available
Instant Booking Available
Instant Booking Available