Istanbul & Gallipoli - 5 days
5 Days Starting and ending in Istanbul
Visiting:
İstanbul
,
Istanbul City Tour
,
Çanakkale
Tour operator:
Special diets catered:
Vegetarians, Please contact On The Go Tours with specific dietary requests
Trip Styles:
Activities:
Tour code:
2375/IAG
Group size:
2 - 24
Age range:
16 years with an accompanying adult
Tour operated in:
English
Interests:
Recommended For:
Private Available:
Request A Private Tour
From:
$1095
$1043 (USD)
tourhub discount: $52
Tour Overview
Head to Turkey for a short break with a difference. Explore cosmopolitan Istanbul, pay your respects at Gallipoli and explore the ruins of legendary Homer's Troy with its famous Trojan wooden horse.
Highlights
Istanbul - The Old City, Blue Mosque, Hagia Sofia, Hippodrome, Underground Cistern and Topkapi Palace

Gallipoli Peninsular - ANZAC Cove, Lone Pine, Chunuk Bair memorials, Johnson's Jolly and The Nek

Gallipoli Region - Battlefields and trenches

Troy - Trojan horse and ancient ruins
Itinerary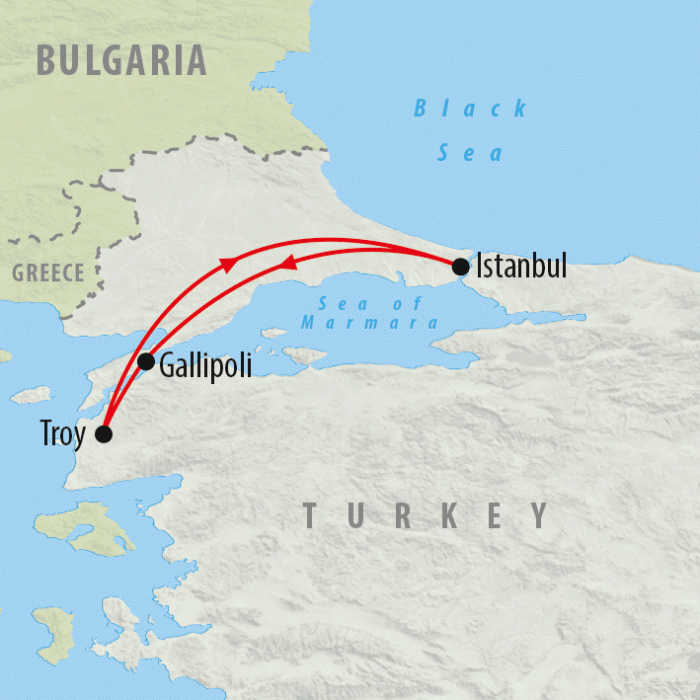 Expand All

Day 1 :

Istanbul
Location:
İstanbul
Meals Included:
No Meals
Welcome to Turkey! Arrive at Istanbul airport and transfer to hotel in Sultanahmet. Consider arriving a day or two earlier or perhaps stay a day or two longer to take maximum advantage of a stay in Istanbul! Rest of day free.

Day 2 :

Istanbul City Tour
Location:
Istanbul City Tour
Meals Included:
No Meals
Istanbul. This morning we enjoy a guided tour of Istanbul's old city. Our tour includes visits to the stunning Blue Mosque famed for it's blue Iznik tiles and unique 6 minarets, the ruinous Hippodrome – now a small park of sorts and once scene of chariot races and political activities in Byzantine times, Hagia Sofia Museum - constructed as a Basilica in the 6th century by Emperor Justinian, Topkapi Palace and the Underground Cistern – an ancient underground water tank - replete with carved and fluted Corinthian columns and a puzzling head of Medusa.



Please note that some sites are closed on certain days in Istanbul. Hagia Sofia - closed on Mondays, Topkapi Palace closed on Tuesdays and Grand Bazaar - closed on Sundays. So only external viewing will be possible on these days.

Day 3 :

Canakkale
Location:
Çanakkale
Meals Included:
Breakfast, Lunch, Dinner
Istanbul – Gallipoli/Canakkale. This morning, we drive to the Gallipoli Peninsular. On 25 April 1915, Allied soldiers including Australian and New Zealand troops (who famously became known as the ANZACs - an acronym for Australian and New Zealand Army Corps) landed at what has since become known as ANZAC Cove to commence the Allied offensive against the Turks with the intention of capturing the Ottoman capital and the road to Eastern Europe during WW1. Some half a million lost their lives in ferocious combat. A lasting legacy of this fateful campaign are the many poignant war memorials including the national memorials of Australia and New Zealand - Lone Pine and Chunuk Bair, along with numerous carefully tended cemeteries, the remains of crudely dug trenches (most often the only form of protection for troops on both sides) and of course ANZAC Cove. Our brave men are remembered annually at the commemorative Dawn Service.

However, Gallipoli is a region that can be visited year-round, affording you the chance to pay your respects, perhaps place a flower on the grave of one of our brave troops and learn about the history of the men who came to be known as the ANZACs on our guided tour of the area.

Day 4 :

Legendary Troy
Location:
İstanbul
Meals Included:
Breakfast
Gallipoli –Troy - Istanbul. Early this morning we continue to Troy. If you've seen the movie - 'Troy' based on poet Homer's 'The Iliad' you'll be familiar with Paris, his prized Helen and Hector on the Trojan side and Agamemnon and Achilles on the Aechaean (Greek) side. The legend of the lost city of Troy and Homer's poetry was brought alive by it's rediscovery in 1863. Subsequent excavations revealed 9 ancient cities, one on top of the other, dating back to 3000BC! We enjoy a tour of the ruins and see a replica of the Trojan wooden horse that helped sack Troy. The tour of Troy finishes in late morning and the rest of the day is spent at leisure in Cannakale until 6pm when you are transferred back to Istanbul with a late evening arrival.

Day 5 :

Istanbul
Location:
İstanbul
Meals Included:
Breakfast
Our Mini stay concludes after breakfast. If you wish to extend your stay to explore the sights in Istanbul and Turkey then please speak to one of our expert staff who can arrange extra nights accommodation and excursions for you.

What's Included
Accommodation

Our rating: Superior

Breakfast daily and 1 hotel dinner

4 nights SUPERIOR hotel. DELUXE hotel options are also available upon request. Accommodation rating – See Trip Notes for details

Guided sightseeing - Istanbul (private), Gallipoli and Troy (with others *)

English speaking, degree qualified Turkish tour guides on days 2, 3 and 4

Airport arrival transfer on day 1

All relevant transfers and transportation in modern air-conditioned touring vehicles/coach

*This tour is operated in conjunction with other operators, not solely On The Go. Travellers may join from a variety of travel companies for touring arrangements each day and may be staying at alternative hotels
What's Not Included
International flights and visa

Tipping - an entirely personal gesture

Entrance Fees: USD$35-45pp, paid in local currency
Age Policy
16 years with an accompanying adult
Check out our Q&As
What Ethical Travel credentials does the tour company have?
Ensuring our footprint is light and that the benefits of travelling reach the local communities you visit is paramount to us. We're proud to say that when travelling with us, the large majority of your holiday funds remain within the countries you visit, supporting local economies at a grass roots level.
How long has the tour company been trading?
What policies are in place for Covid-19?
Please contact us for latest COVID-19 policies
Who will be my travelling companions on the tour?
With English-speaking tours, it's not a huge surprise that most on our travellers are from English-speaking countries or have English as their second language. Our group tours cater for everyone from 18 years old to 70+
Will the accommodation included meet local health and safety regulations?
Travel, Your Way
Personalise your trip

Make changes to the itinerary, accommodation, or transport method

Increased safety during COVID

Spend the majority of time amongst your group to reduce exposure to others

Travel more exclusively

Your tour guide can focus all their attention on your group

Travel for a special occasion

Celebrate an important event by only travelling with your friends or family
Dates & Availability
Instant Booking Available
Instant Booking Available
Instant Booking Available
Instant Booking Available
Instant Booking Available
Instant Booking Available
Instant Booking Available
Instant Booking Available
Instant Booking Available
Instant Booking Available
Instant Booking Available
Instant Booking Available
Instant Booking Available
Instant Booking Available
Instant Booking Available
Instant Booking Available
Instant Booking Available
Instant Booking Available
Instant Booking Available
Instant Booking Available
Instant Booking Available
Instant Booking Available
Instant Booking Available
Instant Booking Available
Instant Booking Available
Instant Booking Available
Instant Booking Available
Instant Booking Available
Instant Booking Available
Instant Booking Available
Instant Booking Available
Instant Booking Available
Instant Booking Available
Instant Booking Available
Instant Booking Available
Instant Booking Available
Instant Booking Available
Instant Booking Available
Instant Booking Available
Instant Booking Available
Instant Booking Available
Instant Booking Available
Instant Booking Available
Instant Booking Available
Instant Booking Available
Instant Booking Available
Instant Booking Available
Instant Booking Available
Instant Booking Available
Instant Booking Available
Instant Booking Available
Instant Booking Available
Instant Booking Available
Instant Booking Available
Instant Booking Available
Instant Booking Available
Instant Booking Available
Instant Booking Available
Instant Booking Available
Instant Booking Available
Instant Booking Available
Instant Booking Available
Instant Booking Available
Instant Booking Available
Instant Booking Available
Instant Booking Available
Instant Booking Available
Instant Booking Available
Instant Booking Available
Instant Booking Available
Instant Booking Available
Instant Booking Available
Instant Booking Available
Instant Booking Available
Instant Booking Available
Instant Booking Available
Instant Booking Available
Instant Booking Available
Instant Booking Available
Instant Booking Available
Instant Booking Available
Instant Booking Available
Instant Booking Available
Instant Booking Available
Instant Booking Available
Instant Booking Available
Instant Booking Available
Instant Booking Available
Instant Booking Available
Instant Booking Available
Instant Booking Available
Instant Booking Available
Instant Booking Available
Instant Booking Available
Instant Booking Available
Instant Booking Available
Instant Booking Available
Instant Booking Available
Instant Booking Available
Instant Booking Available
Instant Booking Available
Instant Booking Available
Instant Booking Available
Instant Booking Available
Instant Booking Available
Instant Booking Available
Instant Booking Available
Instant Booking Available
Instant Booking Available
Instant Booking Available
Instant Booking Available
Instant Booking Available
Instant Booking Available
Instant Booking Available
Instant Booking Available
Instant Booking Available
Instant Booking Available
Instant Booking Available
Instant Booking Available
Instant Booking Available
Instant Booking Available
Instant Booking Available
Instant Booking Available
Instant Booking Available
Instant Booking Available
Instant Booking Available
Instant Booking Available
Instant Booking Available
Instant Booking Available
Instant Booking Available
Instant Booking Available
Instant Booking Available
Instant Booking Available
Instant Booking Available
Instant Booking Available
Instant Booking Available
Instant Booking Available
Instant Booking Available
Instant Booking Available
Instant Booking Available
Instant Booking Available
Instant Booking Available
Instant Booking Available
Instant Booking Available
Instant Booking Available
Instant Booking Available
Instant Booking Available
Instant Booking Available
Instant Booking Available
Instant Booking Available
Instant Booking Available
Instant Booking Available
Instant Booking Available
Instant Booking Available
Instant Booking Available
Instant Booking Available
Instant Booking Available
Instant Booking Available
Instant Booking Available
Instant Booking Available
Instant Booking Available
Instant Booking Available
Instant Booking Available
Instant Booking Available
Instant Booking Available
Instant Booking Available
Instant Booking Available
Instant Booking Available
Instant Booking Available
Instant Booking Available
Instant Booking Available
Instant Booking Available
Instant Booking Available
Instant Booking Available
Instant Booking Available
Instant Booking Available
Instant Booking Available
Instant Booking Available
Instant Booking Available
Instant Booking Available
Instant Booking Available
Instant Booking Available
Instant Booking Available
Instant Booking Available
Instant Booking Available
Instant Booking Available
Instant Booking Available
Instant Booking Available
Instant Booking Available
Instant Booking Available
Instant Booking Available
Instant Booking Available
Instant Booking Available
Instant Booking Available
Instant Booking Available
Instant Booking Available
Instant Booking Available
Instant Booking Available
Instant Booking Available
Instant Booking Available
Instant Booking Available
Instant Booking Available
Instant Booking Available
Instant Booking Available