Mount Toubkal Trek - 8 days
8 Days Starting and ending in Marrakech
Visiting:
Marrakesh
,
Tizi N'Tacheddirt
,
Tizi n'Tichka
,
Lake Ifni
,
Toubkal
Tour operator:
Physical rating:
Low
Trip Styles:
Activities:
Tour code:
2443/
Group size:
2 - 24
Age range:
18yrs or 16yrs accompanied by an adult
Tour operated in:
English
Interests:
Recommended For:
Tour Overview
TREKKING HOLIDAY: Hike to the summit of Mount Toubkal, the highest peak in North Africa, on this wonderful trek across Morocco's rugged High Atlas Mountains. Explore vibrant Marrakech and get off the beaten track to discover spectacular mountain scenery and magnificent high passes, beautiful lakes and picturesque Berber villages.
Highlights
Climb to the summit of Mount Toubkal, the highest peak in Morocco and North Africa with stunning snow-capped views

Take in the incredible panoramic views from the summit across the High Atlas Mountains, Jebel Sahro and the magnificent Sahara Desert

Trek across the backbone of the High Atlas, over magnificent passes and through picturesque valleys

Experience a traditional Berber hammam and visit a local Berber family for tea in the village of Aroumd

Explore the vibrant UNESCO-listed medina of Marrakech on a guided tour, including souks, palaces and captivating Djemma el Fna
Itinerary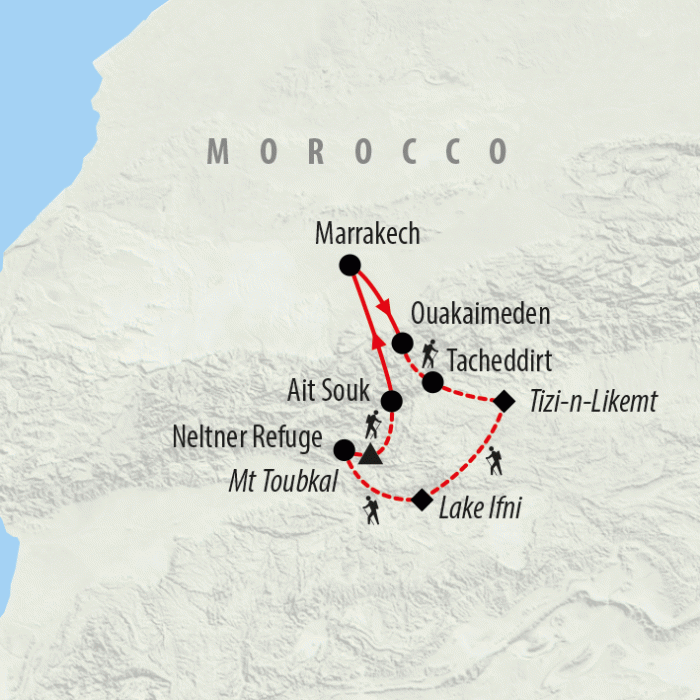 Expand All

Day 1 :

Marrakech
Location:
Marrakesh
Meals Included:
No Meals
Upon arrival at Marrakech Airport you'll be met and transferred to your hotel. The remainder of the day is free to relax or independently explore Marrakech. Perhaps head to Djemaa el Fna, the city's vibrant main square, wander around the souks and see the iconic Koutobia Mosque. There will be a welcome meeting with your guide at 7.30pm.

Day 2 :

Trek to Tacheddirt
Location:
Tizi N'Tacheddirt
Meals Included:
Breakfast, Lunch, Dinner
Marrakech - Oukaimden - Tacheddirt. This morning bid farewell to Marrakech and drive to the foothills of the Atlas Mountains. Climbing the plains of Haouz up into the foothills where the road winds, take the right fork of the road from Ourika Valley and head up to the hidden valley of Oukaimden, which is a popular ski resort in the winter.
In Oukaimden meet the mule team and begin your Toubkal trek. Setting off on a steady ascent, trek past the nomad huts to the pass of Tizi Nou Addi at 2960m. Then descend towards the village of Tacheddirt on the foothills of Adrar Tissi. Camp for the night near the village (2314m). After dinner settle in for the night and enjoy views of the starry night sky.
Trekking Distance: approx 7km Ascent: approx 450m


Day 3 :

Springs, streams & spectacular views
Location:
Tizi N'Tacheddirt, Tizi n'Tichka
Meals Included:
Breakfast, Lunch, Dinner
Tacheddirt - Tizi N Ououraine. Trek up from the green pastures around Tacheddirt village to the valley of Irhzer n Likemt and onto the pass of Tizi Likemt at 3555m today. At the top of this pass, you will be rewarded with spectacular views over the mountains with the peak of Aksoual nearby at nearly 4000m. Then descend along a rocky mule track passing a few springs and streams and onto the next valley, Assif n Tinzer. Stop for a rest and snack near the village of Azib Likemt (2600m) before your final ascent of the day to the campsite near Tizi N Ououraine (3100m).
Trekking Distance: approx 15kmAscent: approx 1200m


Day 4 :

Orchards, lakes & holy Sidi Alebourga
Location:
Lake Ifni
Meals Included:
Breakfast, Lunch, Dinner
Tizi N Ououraine - Lac N' Ifni. This morning continue your journey along the path that winds through rocky terrain. Take in the magnificent views en route with stops to enjoy the scenery and take photos. Then, onward through the fields and orchards of the village of Amsourzerte and onto the Moussem (holy place) of Sidi Alebourga. Then continue to walk along the valley to the village of Ait Igrane, before a final climb zigzagging up to Lac N' Ifni, where you will camp near the lake. Temperature permitting, consider paddling in the cool waters of the lake.
Trekking Distance: approx 15km Ascent:approx 700m


Day 5 :

Spectacular waterfalls & snow-capped peaks
Location:
Lake Ifni
Meals Included:
Breakfast, Lunch, Dinner
Lac N' Ifni - Neltner (Base camp). Time to start climbing again. From the west side of the lake ascend to the valley of Assif n Moursaine and stop to enjoy spectacular waterfalls and stunning picturesque snow-capped views en route to the pass of Tizi n Ouanaoumss at 3684m. From here it is a short walk through the valley to the Toubkal Refuge at Neltner (3207m), our camp near Base camp.
Trekking Distance:approx 9kmAscent: approx 1300m

Day 6 :

Mt Toubkal Summit day!
Location:
Toubkal
Meals Included:
Breakfast, Lunch, Dinner
Base camp - Toubkal summit - Aroumd. Get up early, perhaps even before the sun has properly risen and start the trek to Toubkal summit at 4167 m. The climb is unrelenting up the valley between the main and the west peak of Toubkal. The route is quite rocky but well trodden and at top take in the views over the southern High Atlas, the Lac D Ifni and the desert in the distance. Take plenty of photos and enjoy a picnic lunch at the summit before starting the steep descent back down the slopes of the mountains. Trek down the side of Taouount mountain to Sidi Chamarouch and reach the village of Aroumd.
This afternoon there's free time to relax or perhaps experience a traditional Berber hammam in the village before visiting a local Berber family for tea. This evening have dinner and spend the night at a local gite.
Trekking Distance:approx 20kmAscent:approx 1000m


Day 7 :

Marrakech
Location:
Marrakesh
Meals Included:
Breakfast, Lunch
Aroumd - Marrakech. It's just a short (40 min) walk down to the village of Imlil this morning, through apple orchards and fields of grain and clover. Bid a fond farewell to the mule team here and drive back to Marrakech, stopping en route for lunch. The rest of the day is free to you to relax or explore the old medina of Marrakech. You can barter for souvenirs in the souks, soak up the atmosphere in bustling Djemaa el Fna or perhaps visit the beautiful Majorelle Gardens. We also offer an optional Marrakech city tour which you can book locally.

Day 8 :

Marrakech
Location:
Marrakesh
Meals Included:
Breakfast
Your Moroccan adventure comes to an end after breakfast and hotel check-out. A departure transfer can be arranged on request.
What's Included
Accommodation

Camping, 4 star hotel & local gite

Breakfast daily, 6 lunches and 5 dinners

2 nights 4 star hotel in Marrakech, 1 night simple gite (dormitory room with shared facilities) and 4 nights basic camping

Marrakech Airport arrival transfer day 1

5 day Mount Toubkal trek with a trekking crew (cook, Muleteers/camel handlers and backstop guide)

Camping equipment - 3 person tents for 2 person occupancy, mattresses, a mess tent, toilet tent, eating and washing facilities

Escorted by an English speaking local tour guide

Tea with a Berber family and traditional hammam in Aroumd

All transportation and transfers in private air-conditioned tourism vehicles
What's Not Included
International flights and visa

Tip for your guide and trekking crew

Sleeping bag

Airport departure transfer - bookable locally
Check out our Q&As
Are the local guides on the tour English speaking?
What is the standard of the hotels on this tour?
Camping, 4 star hotel & local gite
Are airport transfers included in this tour?
Marrakech Airport arrival transfer day 1
What Ethical Travel credentials does the tour company have?
Ensuring our footprint is light and that the benefits of travelling reach the local communities you visit is paramount to us. We're proud to say that when travelling with us, the large majority of your holiday funds remain within the countries you visit, supporting local economies at a grass roots level.
How long has the tour company been trading?
What policies are in place for Covid-19?

Please contact us for latest COVID-19 policies

Who will be my travelling companions on the tour?

With English-speaking tours, it's not a huge surprise that most on our travellers are from English-speaking countries or have English as their second language. Our group tours cater for everyone from 18 years old to 70+

Will the accommodation included meet local health and safety regulations?
Book with Confidence
Free Date Changes

On The Go Tours allows you to make 1 free date changes, as long as the change is made at least 60 days before the start of the tour.

Transfer as credit to Future Tours

On The Go Tours allows you to transfer existing payments to a future tour to avoid cancellation fees if you can't travel and inform on the go tours, 60 days before departure.

Low Deposit

On The Go Tours requires a minimum deposit of 20% or the full booking value, whichever is less, with the final balance not due until 60 days before departure.

Cancellation Policy

We don't charge a cancellation fee, here is a summary of on the go tours charges.

Up to 60 days before tour starts: 100% of deposit.

At 59 days before tour starts: 50% of booking price.

At 30 days before tour starts: 100% of booking price.

SAFE TOURING

Health and safety protocols have been reviewed in all destinations, and increased hygiene policies are being implemented locally in accordance with new national regulations and recommendations from the World Travel & Tourism Council's (WTTC) Safe Travel Protocols for tour operators.

COVID-19 Vaccination requirements:
To travel with On The Go Tours all travellers over the age of 18 must provide proof of COVID-19 vaccination, unless travelling to the following destinations: Croatia, Estonia, Finland, Greece, Greenland, Iceland, Lithuania, Norway, Poland and Turkey. We recognise any vaccine that has been authorised for use?in the country where the vaccine was administered.?This includes vaccines such as AstraZeneca, Pfizer-BioNtech, Sinopharm, Sinovac, Sputnik, Johnson & Johnson, Moderna, and?Covaxin.

In all cases, you?must be fully inoculated. This means you must receive the full dosage of the COVID-19 vaccine and allow a minimum of 14 days before travelling in order for immunity to take effect. ?Each COVID-19 vaccine has different dosages and time frames for inoculation, so please check the related medical advice associated with your vaccine. We will not accept?travellers?on trips?who have received only a partial dose (for example, one part of a two-dose vaccination) of?a?vaccine.

Children?under 18 years of age are not currently required to provide any COVID-related documentation to travel with On The Go Tours.

If you are unwilling or unable to be vaccinated for medical reasons, you may apply for an exemption. Exemptions will be assessed on an individual basis. To apply, you must provide supporting documentation from a medical professional. In addition, those who qualify for a medical exemption are still required to produce proof of a negative test in the form of written documentation (in English) conducted no more than 72 hours before day 1 of their trip, the details of which need to be emailed to info@onthegotours.com prior to the commencement of your trip.

Traveller health information will be kept securely and only retained in compliance with the retention schedules of privacy laws and regulations. Proof of COVID-19 immunisation must be provided to us no less than 4 weeks prior to travel. We accept COVID-19 digital certificates, vaccination record cards, or COVID passes. Alternatively, vaccination history can be uploaded by travellers directly via our traveller login. The information you will need to upload includes: Administering national authority or government, document No, name of Vaccine, date/s of vaccination.

Failure to provide proof of vaccination 4 weeks prior to travel could result in the cancellation of your booking with no recourse for refund or compensation. The pertinent documentation may also be checked at the welcome meeting on Day 1 of the Tour, and at various intervals during your stay. Our highest priority is the health and safety of our travellers, leaders, crew, suppliers, and local communities. We have a duty of care to ensure our travellers safety. By making the decision that travellers with an elevated risk of serious disease from COVID-19 must be fully vaccinated prior to travel with us, we are reducing the risk of harm to those travellers. In addition, as an ethical tour operator, we have a responsibility to ensure that we are not adding additional and avoidable strain to any country's healthcare system.
Mount Toubkal Trek - 8 days
8 Days Starting and ending in Marrakech
Visiting:
Marrakesh
,
Tizi N'Tacheddirt
,
Tizi n'Tichka
,
Lake Ifni
,
Toubkal
Tour operator:
Physical rating:
Low
Trip Styles:
Activities:
Tour code:
2443/
Group size:
2 - 24
Age range:
18yrs or 16yrs accompanied by an adult
Tour operated in:
English
Interests:
Recommended For:
Why book with tourhub?
Safe & Secure
Your money is protected in an external trust until you travel.
---
100% Guaranteed Refunds if your trip is cancelled.
---
The safest way to make overseas, multi-currency payments.
Guaranteed Best Value
Industry leading discounts, we won't be beaten on price.
---
No cancellation or amendment fees from tourhub.
(Operator terms may apply)
Expert Knowledge
Reliable & unbiased advice from travel experts.
---
Direct contact with the tour operator via our messaging service.
---
Inspiration & advice from a community of 6000+ real travellers, influencers & content creators.
Trusted Service
Official partners & licensed agents of 1000+ tour operators worldwide.
---
Don't just take our word for it...
"Tourhub: Friendliness, Professionalism & Integrity I would happily give tourhub a 6* review if I could..."