Discover the Douro
Start: London Gatwick Finish: London Gatwick
Visiting: Portugal
---
---
Tour Operator: Rail Discoveries
---
Tour Overview
The magnificent Douro is Iberia's most famous waterway, and this cruise reveals the innate and timeless beauty of this fantastic river. Discover sublime wines, resplendent villas and ancient cities from your five-star ship. This tour is operated by our sister company Great Rail Journeys.
Highlights
Excursion to Mateus Palace & Gardens with a tour
Vintage port wine opening ceremony and tasting
Visit to the Spanish city of Salamanca with a tour and a flamenco show
Portuguese folk dance performance
Sightseeing tour of Lamego
Excursion to Castelo Rodrigo with a tour
Unique flexible excursion allowing you to choose how you spend your day with options including: city tour of Porto or a sightseeing tour of Guimarães
Places You'll See
Countries:
Itinerary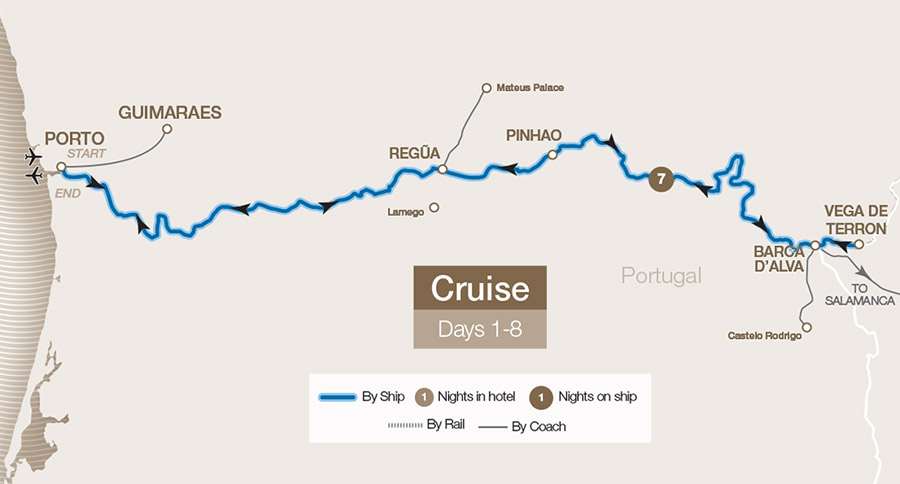 Day 1 :

Days 1-2 - To Portugal & Lamego
We meet today at the airport, where you and your group board your flight for Porto. Upon arrival in this fantastic Portuguese city, we are escorted by coach to our ship, the Douro Serenity. After settling into our cabins, we are welcomed with a cocktail. Later, we sit down to our first on-board meal, after which you are free to enjoy your first night on the ship. Perhaps enjoy the views from the sun deck or live music in the lounge area.
We dock in Regua on Day 2 and pay a visit to Lamego, a picturesque village near the banks of the Douro for a guided tour. The cathedral is the centrepoint of Lamego, a remarkable example of Baroque architecture. Arguably more impressive however, are 700 steps which lead up to its doors, decorated in cheerful white and blue tiles. Enjoy dinner at a local wine estate later. These marvellous vineyards provide the sublime Port wines which are such an integral part of the Douro's viticulture. Many of them are housed in delightful, sprawling farmland, lending an memorable touch to our meal this evening.
Day 3 - Castelo Rodrigo
Our ship sails to Barca d'Alva today where we dock. After lunch, we embark on an excursion to the historical town of Castelo Rodrigo. This charming destination offers a look into the medieval past of Portugal and the Douro region, with a history that goes all the way back to the Roman period. All the different eras are evident from the fascinating buildings which line the streets, including a synagogue and the remains of medieval townhouses. We enjoy a tour here, which takes in the old castle. Afterwards, you have time to wander the ancient streets and discover stories that breathe life into Castelo Rodrigo.

Day 3 :

Days 4-5 - Salamanca
Our travels today take us across the border into Portugal's beautiful neighbour, Spain. We travel through enchanting countryside to the golden city of Salamanca, in the Castille y Léon region. Salamanca is the academic capital of Spain, which is evidenced in the sandstone university buildings that make up one of the most prestigious centres of learning in the country. Our tour takes us to see these buildings, as well as the decorative House of Shells, and the thriving Plaza Mayor. Enjoy free time afterwards before we sample a traditional Spanish lunch at a local restaurant. Our entertainment during the meal is a dazzling flamenco show, where trained dancers perform this iconic Spanish dance of passion and finesse. On our return to the ship, we enjoy a BBQ dinner on the sun deck (weather permitting).
Day 5 is spent cruising through to Peso de Regua. After dinner, we sample some of the region's vintage Port following a traditional opening ceremony.

Day 4 :

Days 6-7 - Mateus Palace & Porto
We pay a visit to the gorgeous Mateus Palace today and its stunning gardens. This 18th-century stately home is a delight to explore with its classic, Italianate exterior, decorative interiors and beautifully manicured gardens. We take a tour before free time to visit the property's chapel and winery. On our return to the ship, we sit down with the captain for a resplendent gala dinner, offering a chance to reminisce about our adventures on Portugal's finest river. After our meal, we enjoy a traditional folk dance performance from a local troupe.
Arriving into Porto on Day 7, you have a choice of excursions to explore this famous port city that marks the end point of the Duoro River. Your first option is an insightful tour of the city both by coach and on foot. The tour takes us along the winding streets, cutting between the city's superb architecture, historical townhouses, regal churches, and crossing the famous iron bridge. We continue to the district of Foz at the mouth of the Douro, where we see the impressive villas which dot the hills here.
Your second option is to travel to the nearby city of Guimarães, with its fantastically well-preserved medieval buildings, dating back to the 10th century. We enjoy a tour through the colourful streets and the lively squares before visiting the castle and its gardens. In the afternoon you can relax on board before our 4-course farewell dinner.
Day 8 - Return Home
After a final breakfast, disembark and transfer to the airport. Here you board your flight back to the UK, where your Portuguese adventure comes to an end.
What's Included
Transfer to ship

Return flights from London to Porto with return transfers from the airport to your ship

7-night cruise on board the Douro Serenity

Escorted throughout your cruise by an on board Tour Manager and Cruise Director
Your Peace of Mind Options
Low Deposit

Rail Discoveries requires a deposit of 20% to secure a place on this tour, and the final balance is not due till 60 days before departure..

Secure payments

All payments to TourHub are deposited into an externally regulated Trust account.
---