New England in the Fall
From London Heathrow to London Heathrow
Visiting: USA
---
---
Tour Operator: Rail Discoveries
---
Tour Overview
Spectacular colours and beautiful mountain scenery come together on an autumn adventure along America's East Coast. We stay in Cape Cod, Boston and the White Mountains, experiencing the region's terrific scenic railways on a seasonal tour that brings out the very best of stunning New England.
Highlights
Enjoy nostalgic journeys on the North Conway Scenic Railroad and the Mount Washington Cog Railway
Take a coach journey through the White Mountains, one of North America's most beautiful landscapes
Discover the historical town of Plymouth, visiting the spot where early Pilgrims first set foot on land in 1620
Enjoy a day trip to the island of Nantucket
Visit fashionable Newport and see The Breakers mansion, a former Vanderbilt family summer home
Get to know the vibrant city of Boston on an insightful guided tour, seeing sights including the USS Constitution
Places You'll See
Countries:
Itinerary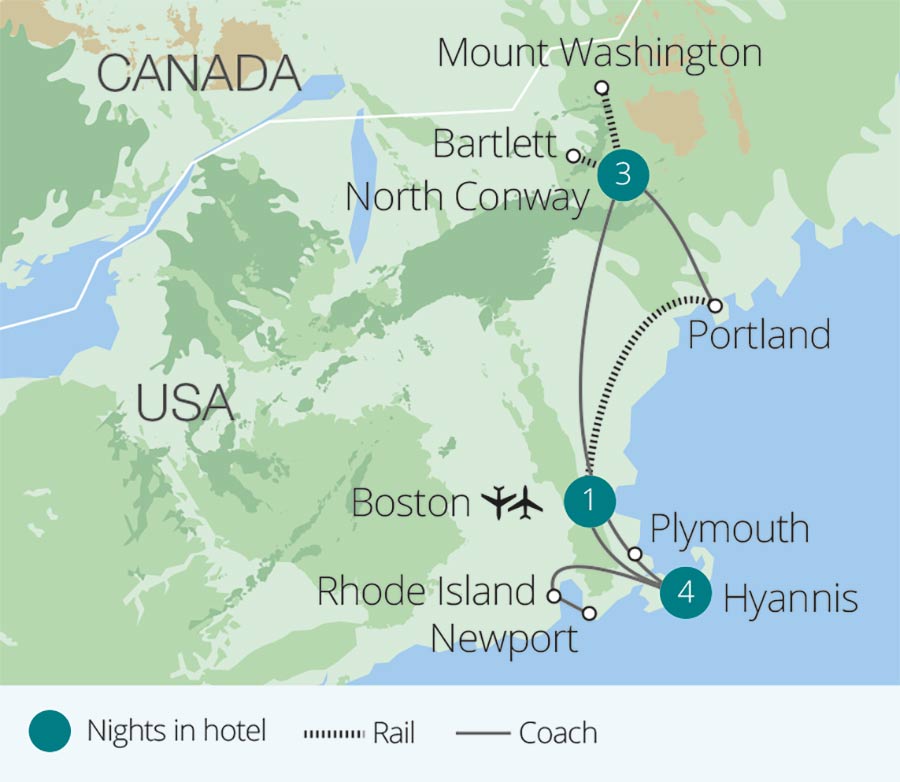 Day 1 :

Days 1-2 - London, Boston and North Conway
We fly from London Heathrow to Boston, the capital of Massachusetts and New England's largest city, where we check into our hotel for the night.
We enjoy a guided sightseeing tour on Day 2, taking in the main sights of a city known for its 'old world' charm. Our tour takes in selected parts of the city's famed Freedom Trail. We drive through the Back Bay area, past the historic USS Constitution to Copley Square and Beacon Hill for an insight into stylish Boston's history. 
This afternoon we join Amtrak's Downeaster service for the journey north. Named after the sailing vessels built by Maine's shipbuilders, the Downeaster takes us on a 116-mile journey through beautiful New England to Portland, Maine. From here we continue by coach into the White Mountains, one of North America's most beautiful landscapes. Our journey takes us through Maine and New Hampshire during their golden season, when the trees are stunning shades of red and orange. We arrive in North Conway, where we spend three nights.
Day 3 - Mount Washington Cog Railway
This morning we board the Mount Washington Cog Railway - the world's first cog railway, which opened in 1869. The train climbs the 6,228 feet up Mount Washington. During the fascinating steam-hauled journey, we enjoy a short stop at the summit to enjoy panoramic views of the surrounding White Mountain Range. We make our return journey by coach, enjoying a scenic drive through the spectacular scenery of the White Mountains. We see Crawford Notch and call into Faddens Maple Sugarhouse in North Woodstock for lunch. Our journey continues along the Kancamagus Scenic Highway, known as one of the best spots to admire the fall foliage. Here, a breathtaking tapestry of colour - from deep, dark reds to delicate, pale yellows - lines our route.
*Please note: steam-hauled where possible. On occasion the 3-mile trip is made by bio-diesel locomotive.
Day 4 - North Conway Scenic Railroad
We experience another of the region's fantastic railways today, as we enjoy a trip on the North Conway Scenic Railroad. Our journey begins in North Conway, at the charming Victorian station that dates back to 1874. From here, we relive the legend that lives on in railroad history as we follow a route first taken by train over 132 years ago. Boarding the train, we settle into a relaxing journey that takes us through the scenic Saco River Valley to Bartlett, admiring New Hampshire's scenery as it's covered in a stunning blanket of dark red, yellow and brown. We return to the hotel by coach and enjoy the rest of the day to relax.

Day 4 :

Days 5-6 - Plymouth and Cape Cod
We make the journey to Hyannis today. On the way, we stop in Plymouth to discover the highlights of this historical town. We see Plymouth Rock, the spot where early Pilgrims first set foot on land in 1620 after their ship, the Mayflower, brought them to the New World. We also see the Founding Father's Monument, a striking national monument that celebrates the Mayflower Pilgrims. We continue to Hyannis, on the Cape Cod peninsula. We spend three nights here. 
On Day 6, you're free to relax or explore Cape Cod and the surrounding region. Named for its peculiar shape, Cape Cod offers scenic beauty year-round. Martha's Vineyard, a famous summer resort popular with New England's wealthy population, is a short ferry ride away. 'Vineyarders', as the island's residents are known, are fiercely protective of the island's traditions and heritage; the usual 'big business' franchises have yet to make an impression here, so Martha's Vineyard has the look and feel of a bygone age, making it fascinating to discover.
Day 7 - Rhode Island and Newport
We discover Rhode Island today, a place known for its stunning sandy beaches and Colonial-era seaside towns. We head to fashionable Newport, long since a destination for affluent visitors from across America. Like many towns and cities in this region, Newport was one of the first cities built in America by European settlers. 
Newport is home to some marvellous mansions, and we tour one of its most famous today. The Breakers was built in 1895 as a summer home for Cornelius Vanderbilt II, Chairman and President of the New York Central Railroad system and a member of the wealthy Vanderbilt family. Today, the striking Italian Renaissance-style home is a National Historic Landmark. 
We continue to the Mystic Seaport Museum, an outdoor museum that recreates a 19th century New England whaling village. Strolling along the re-imagined waterfront here, we enjoy a unique glimpse back in time at the USA's maritime history. 

Day 6 :

Days 8-10 - Boston and London
Today takes us by ferry to Nantucket, home to dune-backed beaches, cedar-shingled buildings, high-end boutiques and steepled churches. We take a walking tour of the quaint Main Street ahead of a free afternoon in which you could visit the town's Whaling Museum. We return to Boston on Day 9, and there's free time to visit the city's Public Garden, the oldest in the USA and a delight to stroll around. This evening, we board our flight to London Heathrow, arriving on Day 10.
Please note that outside of the main fall season (mid September - mid October), the fall foliage is unlikely to be as visible, however the attractions of the area are delightful at any time.

Day 7 :

Please note
Please note that while every departure of this tour will feature the same excursions, the order may differ from that shown above.
What's Included
7 nights' 3 and 4-Star hotel accommodation

Return flights from London Heathrow to Boston

Heritage Rail Excursions

All rail and coach travel throughout your tour

Standard Class Rail

The services of a professional UK Tour Manager from start to finish
Want to read it later?
Download this tour's PDF brochure and start tour planning offline
Download