Secrets of Provence
From St Pancras International to St Pancras International
Visiting: France
---
---
Tour Operator: Rail Discoveries
---
Tour Overview
Sublime, sun-drenched towns and cities rich with history and glittering waterways await on this fabulous cruise holiday. This fabulous cruise brings you the very best of France's elegant Provence region. This tour is operated by our sister company Great Rail Journeys.
Highlights
Aigues Mortes
Arles & The Camargue
Palavas-Les-Flots
Sète
MS Anne-Marie
Sainte-Marie-De-La-Mer
Places You'll See
Countries:
Itinerary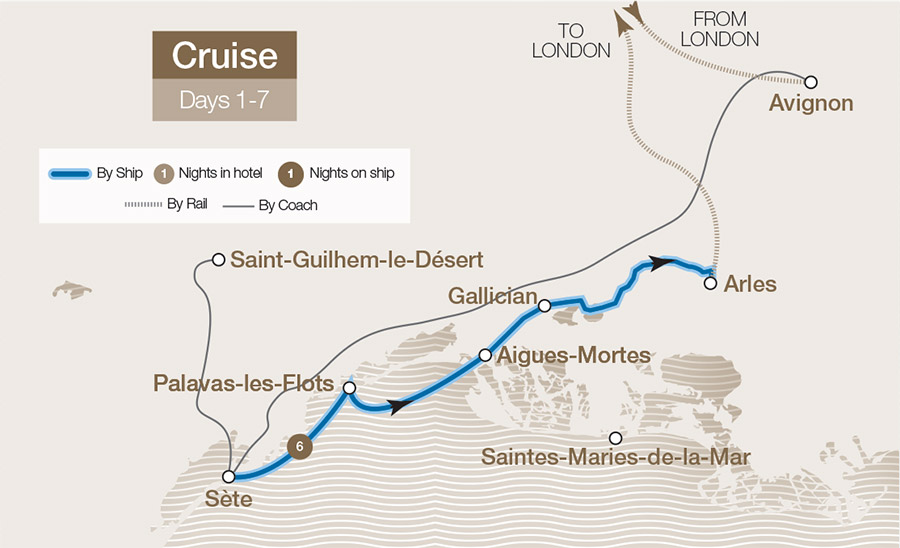 Day 1 - To Sete
Early this morning we meet at our dedicated Departure Office at St Pancras International and depart on the Eurostar direct to Avignon. On arrival we transfer to Sete, in the afternoon we board our home for the next seven days, the delightful Anne-Marie, a stylish hotel barge. We are presented to the crew and enjoy a welcome drink on board before we enjoy dinner together this evening.
Please Note: For departure CSR2104 you will travel on the Eurostar to Paris before changing trains to Avignon.
Day 2 - Étang De Thau & Saint-Guilhem-le-Désert
This morning takes us to Étang De Thau, world-famous for its shellfish. We visit the Étang De Thau Museum, where we learn about the history of the shell-fishing trade and discover how the farmers and fishermen made their living. We sample some of the freshly caught shellfish while savouring the beautiful scenery from a terrace along this unique seascape. This afternoon we enjoy an excursion by coach to Saint-Guilhem-le-Désert, a beautiful French village tucked away in the folds of a verdant valley and boasting a wealth of medieval treasures. Here we embark on an informative guided tour that helps soak up the atmosphere of this destination that feels frozen in time. Some of the town's most impressive sights include its Romanesque abbey and the Devil's Bride which spans a turquoise stretch of the Hérault River, and dates back to the 11th century when Saint-Guilhem-le-Désert was frequently visited by pilgrims following the St James' Way
Day 3 - Palavas-Les-Flots
Today we visit an authentic 'manade' farm and discover the life of its herders, taking part in a bull sorting routine. We enjoy snacks made fresh on the farm and sample local produce before returning to the ship.
Day 4 - Aigues Mortes
Today we take a tour of Aigues-Mortes, perhaps one of the most beautiful sites in Provence. Encased by square medieval walls, this ancient fortified city is symmetrically perfect, white-washed terracotta topped houses contrast charmingly with the surrounding green countryside, in fact Aigues-Mortes is also famous for its nearby salt marshes which we discover by tourist train. Roman Legionnaires stationed nearby were paid a portion of their wage in salt from these very marshes - an intriguing facet of local history. What makes this sight spectacular is the marshes glow a pink colour, due to the microscopic algae in its waters.
Day 5 - The Camargue
Today we visit the Camargue, home to 140,000 hectares of natural wetlands, showcasing an array of different wildlife. This is a paradise for nature lovers as we see wild white horses and even the odd flamingo. Additionally this region is also home to some unusual paddy fields which produce red rice - a fascinating sight. We continue on to Sainte-Marie-la-Mer.
You have free time to explore here; perhaps visit the fortified church which was built in the 9th century as an imposing bastion to deter pirate raiders along the coast, located in a strategic position near the mouth of the Petit-Rhone. The church holds a towering presence over the village and can be seen as far as 10km inland.
Day 6 - Arles
Today we enjoy a guided tour of historic Arles, the home of some of Europe's best Roman ruins. With a long history dating back to Celtic times, Arles' heritage of conquest over the years has left it with a rich variety of architecture, which we explore during our visit. We take in the stunning Roman Amphitheatre and enjoy the myriad of Romanesque architecture and sun-baked houses.
Arles was the inspiration for some of Van Gogh's artistry and its heritage harks back to the glory days of Julius Caesar. Once a major Roman port, Arles rose to prominence after Caesar plundered Marseille for backing his political opponent, and evidence of that prosperity is preserved wonderfully for us to see. Following our tour we travel inland to learn about olive oil production in Provence and we sample some of the local produce. Tonight we enjoy a farewell Gala dinner back on board the Anne-Marie, as a perfect way to round off our wonderful French adventure.
Day 7 - To London
This morning we enjoy a buffet breakfast on board before making our way to Arles station. Here we will take the train to Paris via Nimes, then change for our Eurostar service back home to London.

Day 8 :

Shore Excursions - Included in your Tour
Arles
Our fabulous guided tour of historic Arles takes in the Roman Amphitheatre and a grand collection of other Romanesque architecture. We also have a chance to sample some of the local produce in Arles.
Aigues-Mortes
We enjoy time in the walled city of Aigues- Mortes. This city's walls are contrasted against the pink glowing salt marshes nearby and make for a marvellous sight.
Palavas-Les-Flots
Our time here is spent visiting a fascinating 'manade' farm, where we discover the lives of its herders and have chance to sample some of the produce made on site.
Étang De Thau
The shellfish capital of Étang De Thau comprises the largest stretch of lagoons along the French coast and is a prime spot for the local shell-fishing trade. We have a chance to sample the locally caught shellfish.
What's Included
UK Tour Manager up to embarkation & from disembarkation of the MS Anne-Marie

Authentic farm visit including bull sorting and local produce tasting

All coach transfers

Standard Class Rail

All Inclusive Board Basis

6 Breakfasts, 5 Lunches, 6 Dinners

Exclusive meeting point at our dedicated St Pancras Departure Office

6-night cruise on board the MS Anne-Marie
Want to read it later?
Download this tour's PDF brochure and start tour planning offline
Download
Your Peace of Mind Options
Low Deposit

Rail Discoveries requires a deposit of 20% to secure a place on this tour, and the final balance is not due till 60 days before departure..

Secure payments

All payments to TourHub are deposited into an externally regulated Trust account.
---