Springtime Tulips and Keukenhof Gardens (Fly & Cruise)
Start: London Heathrow Finish: London Heathrow
Visiting:
Belgium
,
Holland
---
---
Tour Operator: Rail Discoveries
---
Tour Overview
Embark on a cruise across the rivers of the Netherlands and Belgium, uncovering enchanting towns, sombre battlefields and the floral displays of the Keukenhof Gardens, with a talk from the BBC's Charlie Dimmock. This tour is operated by our sister company Great Rail Journeys.
Highlights
Excursion to the spectacular Keukenhof Gardens
Excursion to the Battlefields of Ypres
City tours of Ghent & Bruges
Unique flexible excursions allowing you to choose how you spend your day with options including: A tour of Amsterdam, a journey on the Medemblik Steam Train, an excursion to the Hartenstein Airbourne Museum and a visit to the Dutch Open Air Museum
Itinerary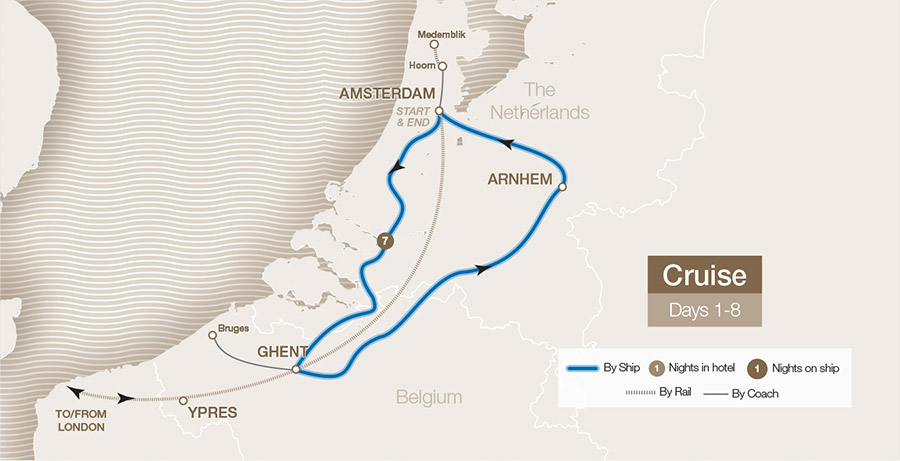 Day 1 - To Amsterdam
Fly* from your closest airport to Amsterdam, where you'll be met by a Great Rail Journeys representative who will escort you to the ship.
Once on board, take some time to settle into your comfortable cabin and relax in your new surroundings. We enjoy a welcome drink in the lounge before a sumptuous 5-course dinner in the panoramic restaurant, followed by live music.
*If you would like to travel by rail, view our Rail & Cruise option here.
Day 2 - Amsterdam
After waking up to our first morning and breakfast on board, you have a choice between 2 fascinating excursions. Your first option is a guided sightseeing tour of Amsterdam, taking in all the sights which make this enigmatic port city one of the most loved in Europe. Discover the Royal Palace, Dam Square and the pretty canals for which Amsterdam is famous. Your second option is a visit to the town of Hoorn where you embark on a nostalgic steam train trip aboard the wonderful Medemblik Steam Railway.
Day 3 - The battlefields of Ypres
Our vessel arrives in Ghent, in Flemish Belgium. This morning, Colonel Piers Storie-Pugh will come aboard to deliver a fascinating talk about the battlefields in the region, using his expertise in the field to take us back in time. In the afternoon, our excursion takes us to the infamous Ypres Battlefields, a key battlefront in the First World War. We are accompanied by experts who take us through some of the most poignant sites, including Tyne Cot Cemetery where many of the combatants were buried. We return to the ship later for dinner.
Day 4 - Ghent
Discover the attractive town of Ghent this morning, as we venture into the narrow streets and pretty boulevards for a guided tour. Built in an instantly identifiable style, the architecture lends an elegant grandeur to the buildings here, and we discover some of the finest examples on our tour, which includes the ever impressive St Bavo's Cathedral and the Belfry.
After lunch, your time is your own to explore more of Ghent.
Day 5 - Bruges
Today we pay a visit to the fairytale city of Bruges. An exceptional example of a medieval town which takes great pride in its history, Bruges is a truly an enchanting city. With winding streets opening up to large squares, often filled with locals enjoying the cafés that serve up plenty of Belgian delicacies. Here we discover the canals, churches and noble old townhouses famous across Europe. Later, after our day in Bruges, we enjoy another delicious dinner on board.
Day 6 - The history of Arnhem
We arrive into Arnhem this morning. After some free time, you have another choice of 2 excursions. Your first option is to visit the excellent Hartenstein Airborne Museum, in nearby Oosterbeek, for a guided tour. This institution focuses on the fierce Battle of Arnhem in WWII, and was the setting of the war film 'A Bridge too Far'. The museum features a collection of various artefacts from the battle itself.
Alternatively, you may wish to visit the interactive Netherlands' Open Air Museum, recounting the storied history of this proud European country. Tonight, we sit down to an elegant gala dinner with our captain.
Day 7 - The Keukenhof Gardens
This morning we arrive back in Amsterdam. We are joined on board by the wonderful Charlie Dimmock, star of BBC's Ground Force.
We enjoy a presentation as well as a question and answer session with her, learning about her time at the BBC and her tips on horticulture and garden care.
Afterwards, we experience a true highlight of our cruise, visiting the colourful and enjoyable Keukenhof Gardens. Filled with all manner of glorious tulip displays, this is one of the best floral displays in Europe. Following dinner this evening, we're serenaded by a traditional Dutch sea shanty choir.
Please Note: For departure NEZ2102 the guest speaker will be Joe Swift
Day 8 - Homeward bound
After a buffet breakfast, your cruise comes to an end and you are transferred to the airport for your flight home.
What's Included
2 exclusive on board events

Talk from Charlie Dimmock

Flights from London to Amsterdam and from Amsterdam to London, with return transfers from the airport to your ship

20 meals including 7 Breakfasts, 6 lunches and 7 dinners

On board live music every night

Escorted throughout your cruise by an on board Tour Manager and Cruise Director

Complimentary Wi-Fi on board

Dinner drinks included every night of your cruise

Transfer to ship

7-night cruise on board the MS Amadeus Silver III, Imperial or Star
Your Peace of Mind Options
Low Deposit

Rail Discoveries requires a deposit of 20% to secure a place on this tour, and the final balance is not due till 60 days before departure..

Secure payments

All payments to TourHub are deposited into an externally regulated Trust account.
---