Sun & Safari 2021-22
Start: Nairobi Finish: Dar es Salaam
Visiting:
Kenya
,
Tanzania
---
---
---
Tour Overview
Is this trip for me? EXHILERATING. EVOCATIVE. WHOLE-HEARTED.
*Press play on Toto's Africa*
So, you wanna feel real? Then allow us to introduce you to this two-week, all-encompassing, UN-FOR-GETTABLE African extravaganza. Travelling from Nairobi to Dar es Salaam, you'll dive headlong into pulse-quickening game drives. Eye-opening island discoveries. And local interactions that'll nourish your soul. By the time you get home, you'll be a whole new person. Well, you'll still be you. Just better.
Itinerary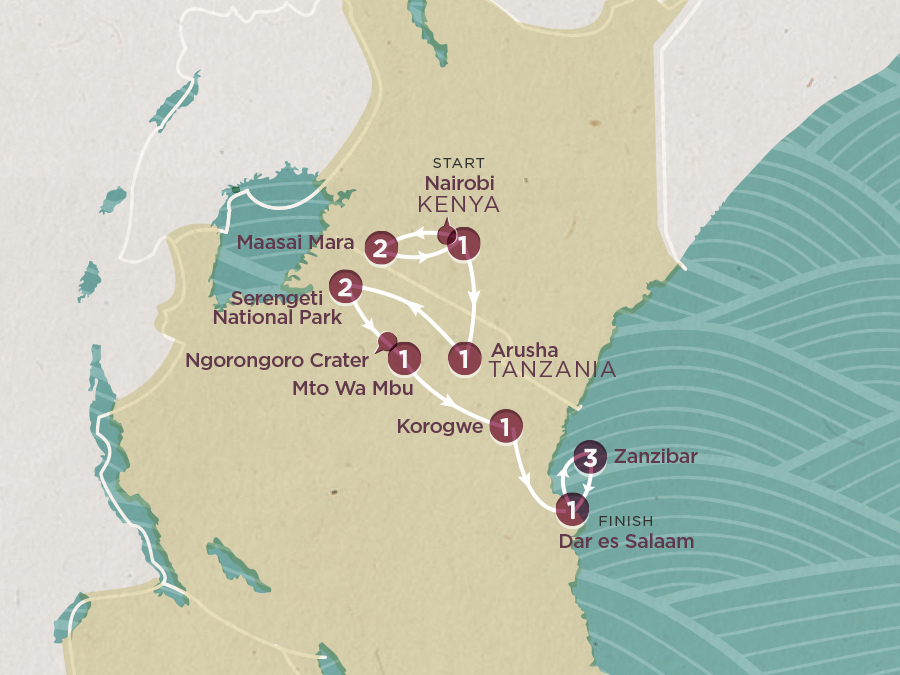 Day 1: Nairobi to Maasai Mara National Reserve, Kenya 
Touch down in Nairobi, meet the group and don't forget to pinch yourself – you're actually here. We're kick-starting the adventure by travelling across the mesmerising Great Rift Valley to the Maasai Mara National Reserve – Kenya's best-known game park. Looking for the real Africa? This is it. Before the day's done, we'll get our first taste of the great Kenyan outdoors on a game drive. Hold up – is that an elephant? This is going to be two wild weeks.
Day 2: Maasai Mara National Reserve
You wanted free time to delve deeper – so here it is. You've got a full day to soak up the Mara's rolling grasslands and broad horizons. Oh, and the Big Five? They're here too. Goosebumps at the ready. There's even time to visit a local Maasai village, if you're keen. Prep your peepers for an explosion of colour, 'cos the shukas (blankets) and jewellery that the locals make are seriously bright and beautiful. While you're here, you may even get the chance to watch a traditional dance performance – and if you're really lucky, you might be invited to join in...Tonight, we'll tuck into another dinner under the stars. This is livin'.
Day 3: Maasai Mara National Reserve to Nairobi
Leave the incredible natural wonderland of the Maasai Mara behind as we hit the road back to the chaotic city of Nairobi. Tonight, you're free to explore your way. Get schooled on Nairobi's rich history at the National Museum. Explore the rainbow-coloured stalls at Maasai Market. Or just chill around the pool. Pro tip: head to Carnivore for the chance to try ostrich roasted on a traditional Maasai sword. It's about as authentic as it gets.
Day 4: Nairobi to Arusha, Tanzania
Next stop, Tanzania. Fun fact: this unforgettable country is home to over 120 tribes – who speak over 120 languages. Try and wrap your vocal cords around a new phrase or two as we make our way to Arusha (Tanzania's 'safari capital'). This bustling city is filled with colourful markets and sits pretty at the foot of Mt Meru. You've got the afternoon to chill at our campsite or explore the town with your Trip Leader. Fill your wrists with beaded souvenirs at the Maasai Women's Fair Trade Centre or sip on rich arabica brews at a local coffee shop. Don't stress about dinner tonight – it's waiting for us back at camp.
Day 5: Arusha to Serengeti National Park
Wave bye-bye to the truck – today we'll switch to 4X4 Jeeps as we head west across the Great Rift Valley to Serengeti National Park. With a name like 'the place where the land moves on forever', you know it's going to be epic. Wear your khaki greens, 'cos we're going all-out safari mode – keep an eye out for lions and hyenas on the drive in. Tonight, tuck into dinner with the gang under a star-studded night sky. This is what you came for.
Day 6: Serengeti National Park
Rise and shine – we're gonna make like Dora and explore the Serengeti plains on an incredible sunrise game drive. Safari fact: the animals here are usually more active during the cooler hours of the day – so the early rise will be oh' so worth it. We'll head back to camp for lunch and maybe sneak in a siesta – then, you've got the afternoon free to just do you. Take a hike. Sign up for an optional extra. Or sit back and enjoy the great African outdoors with your trip mates. Tonight is our last camping overnight in wildlife-paradise so make the most of it.
Day 7: Serengeti National Park to Mto wa Mbu via Ngorongoro Crater
Ever wondered what the Garden of Eden looked like? Our destination today comes pretty darn close. Kick things off with a 4X4 game drive inside the Ngorongoro Crater. Boasting its own unique ecosystem – we'll past riverine forests, wide open plains and alkaline lakes as we search for the Big Five (who tend to be less shy here than in other wildlife reserves, FYI). You'll be dreaming of zebras, cheetahs and rhinos after hitting the hay in Mto wa Mbu tonight.
Day 8: Mto wa Mbu to Korogwe
No lies – today is a bit of a drive. BUT it's a chance to catch up on some zzz's, text the 'rents (you'll be too busy later) and compare safari pics with your trip mates. Who's got the AUX cord? We might get lucky and spot the snow-capped peak of Mt Kilimanjaro on the way – but no promises. Overlanding like Attenborough builds up the appetite, so fuel up at dinner and hit the hay. You'll be having island-shaped dreams tonight.
Day 9: Korogwe to Dar es Salaam
Hear that? It's tropical paradise calling our name. We'll roll south to the bustling seaport city of Dar es Salaam this afternoon – where a full evening of relaxing in the balmy ocean breeze awaits. Our accomm is right on the beach, so you'll have heaps of time to cool off in the crystal clear waters or verse your trip mates at a not-so-friendly game of beach volleyball. After dinner tonight, get the gang together and pull up a pew at the Kipepeo Beach Bar for cold cocktails and an incredible sunset. Bliss.
Day 10: Dar es Salaam to Stone Town, Zanzibar
Wave goodbye to our trusty Overland truck – we're getting the ferry over to palm-fringed paradise. Dump your stuff at the hotel and don your Birks, time to explore. If you want a local insight, opt in for the guided city tour and wander around the Old Fort, mosques, palaces, bazaars and winding alleyways of this UNESCO Heritage-listed city. Can you smell that? That'll be the spices. Head out on an optional spice tour to learn more about the fragrant vanilla, cinnamon, pepper, ginger and nutmeg that are grown here. Or spend your free time doing your own spontaneous this-is-what-I-came-for thing. Tonight, dinner is up to you – but if you need some suggestions, our expert Trip Leader knows what's good.
Day 11: Zanzibar
You've seen the Insta-version of Zanzibar's white sandy beaches and sparkling turquoise waters – now you've got two full days to experience it for yourself. Don't waste a second. After a short drive to the northern beaches – we'll get stuck into some of the best optional extras. Ready to find Nemo? Explore some of the top snorkelling spots in the area. We're talking over 500 marine species including the odd turtle or dolphin (if you're lucky). Or head off the coast to check out the giant sea tortoises on Prison Island. There's even a dhow cruise (think: traditional wooden boat) with your name on it, if you want. When in Zanzibar, right?
Day 12: Zanzibar
Another day, another bunch of sun-soaked, wildlife-filled optional activities. Try your hand at scuba diving. Or explore the Jozani Forest with a local guide – keeping your eye out for resident Skyes' monkeys, bush pigs, tree hyraxes and red Colobus monkeys. Rather do your own thing? No worries. There's a plenty of shady coconut palms to settle under – good book in hand. Or hunt down a local haunt for some fresh AF seafood. Tonight is your last one with the gang (no crying). So, why not get everyone together for a round of sunset dhow cruising and beachside bevvies. We'll give this incredible adventure the send-off it deserves.
Day 13: Zanzibar to Dar es Salaam
Time for one last dip – we're heading back to Dar es Salaam after breakfast. Swap those socials on the ferry and pick a date for next year's reunion trip. We'll say our choked up goodbyes back on the mainland – but no one said the adventure has to end here. Where to next?
What's Included
Accommodation

-3 nights in hotels, 9 nights in 2-person dome tents or twin-share accommodation

Meals

12 breakfasts, 9 lunches, 8 dinners
Game drives in Maasai Mara National Reserve
Game drives in Serengeti National Park
4X4 Ngorongoro crater game drive
Three-night island stay in Zanzibar
-3 nights in hotels, 9 nights in 2-person dome tents or twin-share accommodation
Overland safari truck – lockers included. 4X4 safari Jeeps. Local ferry to Zanzibar.
12 breakfasts, 9 lunches, 8 dinners
Your Peace of Mind Options
Low Deposit

Topdeck requires a deposit of 60 GBP to secure a place on this tour, and the final balance is not due till 60 days before departure..

Secure payments

All payments to TourHub are deposited into an externally regulated Trust account.
---