Delve Deep: Egypt 2022-23
9 Days Starting and ending in Cairo
Visiting:
Cairo
,
Aswan
,
Abu Simbel
,
Luxor
,
Hurghada
Tour operator:
Physical rating:
Low
Special diets catered:
Vegetarians
Trip Styles:
Activities:
Tour code:
TEECC2
Group size:
10 - 20
Age range:
18-39
Tour operated in:
English
Interests:
Recommended For:
Tour Overview
(Previously called: Egypt Express)TRIP VIBE = iconic sights and in-depth adventures with a local Trip Leader.The pyramids, the Sphinx, the Nile... they're all here. But where are you?You've seen them in books. You've seen them in documentaries. You've seen them in movie after movie after movie. But experiencing them in real life = a whole different level of AMAZING. Ancient, archaeological and wall-to-wall ICONIC, this sure as hell isn't your average holiday. But then - you're not your average traveller.
Highlights
Walking tour of the pyramids and Sphinx with Trip Leader

Visit Aswan Bazaar

Overnight stay on a traditional Felucca (sleeping bag recommended)

Visit the Temple of Hatshepsut

Visit the Colossi of Memnon
Itinerary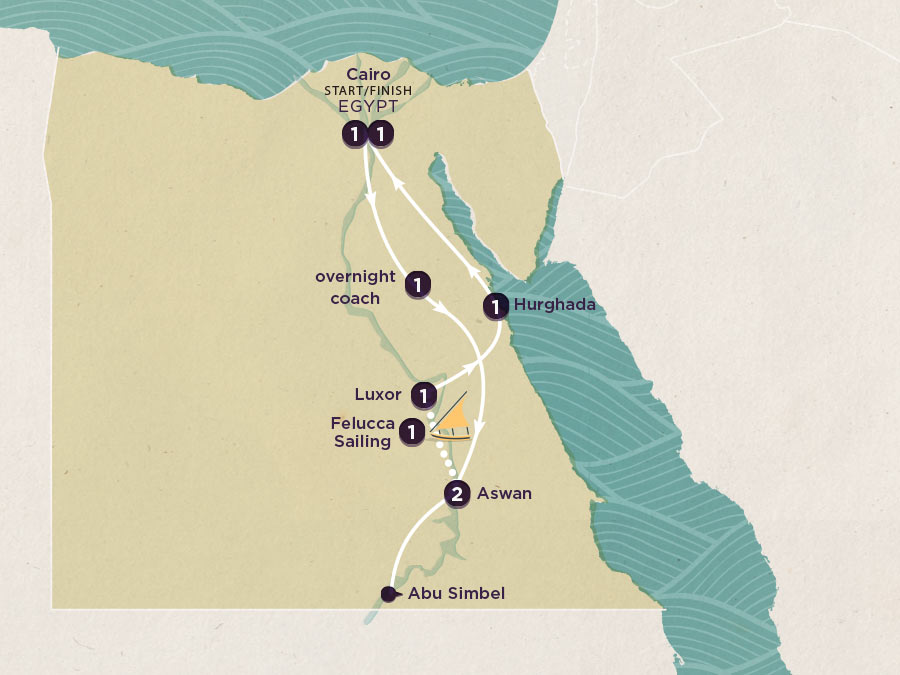 Expand All

Day 1 :

Cairo, Egypt
Location:
Cairo
Accommodation:
Hotel
Meals Included:
Dinner
This is your chance to delve deeper, to explore more. To experience a new and exotic destination to the absolute fullest. Ladies and gents – welcome to Egypt. Spot your Topdeck Rep at the airport (hint: they're holding a placard with your name on it). Then: dump your stuff at the hotel and meet your fellow explorers by the pool. Tonight, we'll dig into our first included group dinner at a local restaurant. Time to talk tombs, swap pharaoh facts, and discover how many times everyone's watched The Mummy.

Day 2 :

Cairo to Aswan, via overnight coach
Location:
Cairo, Aswan
Accommodation Name:
Overnight coach
Meals Included:
Breakfast
You've read about them in books. Seen them in documentaries. And watched them play backdrop to movie after movie. But today, you're gonna experience the AMAZING Pyramids of Giza in real life. First though, we'll get the low-down on the world's largest collection of Pharaonic antiquities at the Egyptian Museum. Then: prepare to feel insignificant (in the best possible way) as you stand before the Great Pyramids and the legendary Sphinx. We mentioned your Trip Leader is a qualified Egyptologist, right? So, our walking tour is gonna be filled with allll the fascinating facts. Win! After a full day of exploring, we'll jump on an overnight coach to Aswan. Note to self: bring a neck pillow and plenty of snacks – this one's a long one.

Day 3 :

Aswan
Location:
Aswan
Accommodation:
Hotel
Meals Included:
No Meals
Disembark our noble steed, freshen up at the hotel and slip on your Birks – we're gonna take a wander around the jumble of antique storefronts and brightly coloured stalls of Aswan Bazaar. Then? The rest is 100% up to you. But if you need some suggestions, we got you. You could explore the Temple of Isis in nearby Philae. Or head out on the Nile for a spot of kayaking. Keen to delve a bit deeper into the unique culture here? Opt in to visit a Nubian village and tuck into dinner with the locals. This is as authentic as it gets.

Day 4 :

Aswan, including Abu Simbel
Location:
Aswan, Abu Simbel
Accommodation:
Hotel
Meals Included:
Breakfast
Crank the ancient history knob a little higher – today we're exploring the great temples of Abu Simbel. Carved within the mountains on the bank of the Nile, these babies are full of WOW factor. Take it alllll in as we wander through the great halls of the Great Temple of Ramses II and gape at the detail within the Temple of Hathor – dedicated to Ramses' favourite wife: Queen Nefertari. Later, get the gang together for a wander along Aswan's Corniche in search of a riverside terrace for dinner. Our Trip Leader knows where to get the best fattah. Or watch the sunset from the Ferial Gardens. This is livin'.

Day 5 :

Aswan to Felucca sailing
Location:
Aswan
Accommodation:
Hotel
Meals Included:
Breakfast, Lunch, Dinner,
Imagine: the sun on your back, the wind in your sails and THE BEST people you could ever hope to meet sharing stories, food and music in one rug-strewn love-in. Today, we're ditching the wheels and embarking on a journey down the Nile – aboard a traditional wooden felucca boat, of course. Pull up a cushion, turn off the tech and lose yourself in the moment as we watch rural Egyptian life play out along the banks of this mighty river. After plenty of home-cooked food, swim stops and games of UNO with the gang – we'll spend the night under a star-filled sky. This is the real Egypt. *Felucca facts: You're spending the night on a traditional wooden boat. Meaning? No cabins. The boat's broad canvas sails offer shade and protection from the elements by day. And by night, we'll sleep outdoors on comfy mattresses – so don't forget a sleeping bag. And for other…things? DW there's a toilet and shower on board.

Day 6 :

Felucca sailing to Luxor
Location:
Luxor
Accommodation Name:
Felucca Sailboat
Meals Included:
Breakfast
Wake to the sun rising slowly over the Nile and enjoy the fresh air lapping at our felucca's sails. After breakfast, we'll make a pit stop at Kom Ombo for an optional look at the Temple and Crocodile Museum. Then? It's onwards to INCREDIBLE Luxor. They say this place is the world's greatest open-air museum – and you've got all afternoon free to uncover what 'they' mean. Explore the ancient temple of Karnak on an optional visit – stick around for the sound and light show later if you want. Or do your own thing and head to Egypt's largest Pharaonic temple or the fascinating Luxor Museum. Tonight, dinner is on you – so get the crew together and hunt down a local restaurant for some fiteer (aka Egyptian pizza). Mmmm.

Day 7 :

Luxor to Hurghada
Location:
Luxor, Hurghada
Accommodation:
Hotel
Meals Included:
Breakfast
Another day, another bucket-list item well-and-truly ticked off the list. Insert: Valley of the Kings. We'll spend the morning getting schooled on the funerary rites of the ancient Egyptians and the many hieroglyphics painted throughout three significant royal tombs – including Hatshepsut Temple and the Colossi of Memmon. Give a silent salute to Queen Hatshepsut (who ruled ancient Egypt for 20 years), before we jump back on the coach and hit the road to Hurghada. Want to explore? We got you. An optional walking tour with a local guide will give you alllll the inside knowledge on this coastal paradise. Or spend the afternoon horizontal by the pool or beachside and quiz each other's newfound Egyptology knowledge.

Day 8 :

Hurghada to Cairo
Location:
Hurghada, Cairo
Accommodation:
Hotel
Meals Included:
Breakfast, Dinner
Disclaimer: we're out of here this afternoon. So don't waste a sun-soaked second. Spend the morning discovering the Old Town of El Dahar, chock-full of local restaurants, shops, and a traditional souk (read: market) selling leather, spices and shisha pipes. Heard about the incredible Red Sea diving here? Yeah, us too. Jump aboard an optional snorkelling boat trip and explore the abundance of marine life and coral reefs for yourself. Waterlogged and sunkissed, finally we'll make a beeline back to Cairo for our last group dinner at a local eatery. What. A. Week.

Day 9 :

Cairo
Location:
Cairo
Meals Included:
Breakfast
You came. You saw. You embraced it all. And now, just like that, it's all over. Get down to breakfast and swap those digits with your trip mates – you'll be catching up later for sure. Where to next? We've got Delve Deep trips in Morocco and Turkey, timed perfectly so you can hop straight over. Just saying...
What's Included
Transport

Air-conditioned coach

Tipping and Gratuities

Accommodation

Fully Guided

Meals

7 Breakfasts, 1 Lunch, 4 Dinners
What's Not Included
Country Entry Visas

International Travel

Airport Transfers at Destination
Check out our Q&As
Do you require a visa for this holiday?
This will vary from your country of origin. Please seek advice locally
What currencies are required for this tour?
Will I know the names and details of all the accommodation before I depart?
This will be provided on all documentation
Are airport transfers included in this tour?
Spot your Topdeck Rep at the airport (hint: they're holding a placard with your name on it)
Are flights included in this tour?
Can you assist with pre or post tour accommodation?

Is the tour coach air conditioned?

Are children permitted to take part in the tour?

What is the tipping policy?

Will passengers from another country be participating in the tour?

Yes from all over the world

Are all entrance fees included in the price?

What is the maximum group size?

Is there a supplement for solo travellers?

Single pricing is available on all tours

Are the local guides on the tour English speaking?

All guides are English Speaking

Will there be an escort accompanying this tour?

We will have our Tour Leader with you every day

Who will be my travelling companions on the tour?

Curious? Open-minded? Same. Topdeckers are a mixed bunch, but that's what makes us special. They come from all over the globe and are aged between 18 and 39. Like you, they're looking to feel real. To experience more. To embrace the unknown. To grow and connect – without judgement.

How long has the tour company been trading?

What policies are in place for Covid-19?

https://www.topdeck.travel/resources/booking-flexibility

Do you operate a "single share" option and how does it work?

We operate Single Share across across all touring styles and will match you with someone of the same gender

What documents will I receive before I travel?

E-Documentation will be sent

Will the accommodation included meet local health and safety regulations?

Yes, we work dilligenltly with our partners to acheive this

Can I join the tour once it has departed?

Yes you can on European Tours
Dates & Availability
Instant Booking Available
Book with Confidence
Free Date Changes

Topdeck allows you to make 1000 free date changes, as long as the change is made at least 60 days before the start of the tour.

Transfer as credit to Future Tours

Topdeck allows you to transfer existing payments to a future tour to avoid cancellation fees if you can't travel and inform topdeck, 60 days before departure.

Low Deposit

Topdeck requires a minimum deposit of 60 GBP per person or the full booking value, whichever is less, with the final balance not due until 60 days before departure.

Cancellation Policy

We don't charge a cancellation fee, here is a summary of topdeck charges.

Up to 60 days before tour starts: 100% of deposit.

At 29 days before tour starts: 50% of booking price.

At 7 days before tour starts: 100% of booking price.

Covid-19 Vaccination Policy

Updated: 01-Jan-2023

The world of travel has changed since we introduced our COVID-19 Vaccine Policy. That's why the policy came to an end on 31 December 2022.

This means you no longer need to be vaccinated against COVID-19 to join a Topdeck trip.

BUT bear in mind some countries and airlines will have different requirements – it's your responsibility to keep up to date with these (Google is your friend).
Delve Deep: Egypt 2022-23
9 Days Starting and ending in Cairo
Visiting:
Cairo
,
Aswan
,
Abu Simbel
,
Luxor
,
Hurghada
Tour operator:
Physical rating:
Low
Special diets catered:
Vegetarians
Trip Styles:
Activities:
Tour code:
TEECC2
Group size:
10 - 20
Age range:
18-39
Tour operated in:
English
Interests:
Recommended For:
Why book with tourhub?
Safe & Secure
Your money is protected in an external trust until you travel.
---
100% Guaranteed Refunds if your trip is cancelled.
---
The safest way to make overseas, multi-currency payments.
Guaranteed Best Value
Industry leading discounts, we won't be beaten on price.
---
No cancellation or amendment fees from tourhub.
(Operator terms may apply)
Expert Knowledge
Reliable & unbiased advice from travel experts.
---
Direct contact with the tour operator via our messaging service.
---
Inspiration & advice from a community of 6000+ real travellers, influencers & content creators.
Trusted Service
Official partners & licensed agents of 1000+ tour operators worldwide.
---
Don't just take our word for it...
"Tourhub: Friendliness, Professionalism & Integrity I would happily give tourhub a 6* review if I could..."