Delve Deep: Mexico 2022-23
11 Days Starting in Cancun and ending in Playa del Carmen
Visiting:
Cancún
,
Isla Holbox
,
Chichén-Itzá
,
Mérida
,
Cenote San Ignacio
,
Campeche
,
Palenque
,
Escárcega
,
Bacalar
,
Tulum
,
Playa del Carmen
Tour operator:
Physical rating:
Low
Special diets catered:
Vegetarians
Trip Styles:
Activities:
Tour code:
TMUEB2
Group size:
10 - 20
Age range:
18-39
Tour operated in:
English
Interests:
Recommended For:
Tour Overview
TRIP VIBE = iconic sights and in-depth adventures with a local Trip Leader.Thought Mexico was all sun-kissed beaches, tacos and drinking fruity cocktails from a bucket? Well yeah, there's that. But the REAL Mexico - filled with looming temples, fascinating culture, otherworldly natural wonders and ancient Mayan heritage - that's the one you'll find here. Want all the swim stops, mouth-watering cuisine, awe-inspiring scenery and adventure-filled activities - plus plenty of free time to do your own thing? This is it.
Highlights
Tour of Chichén Itzá with Trip Leader

Visit Cenote San Ignacio (including lunch)

Cookery demonstration in Escárcega

Tour of Tulum archaeological site with Trip Leader
Itinerary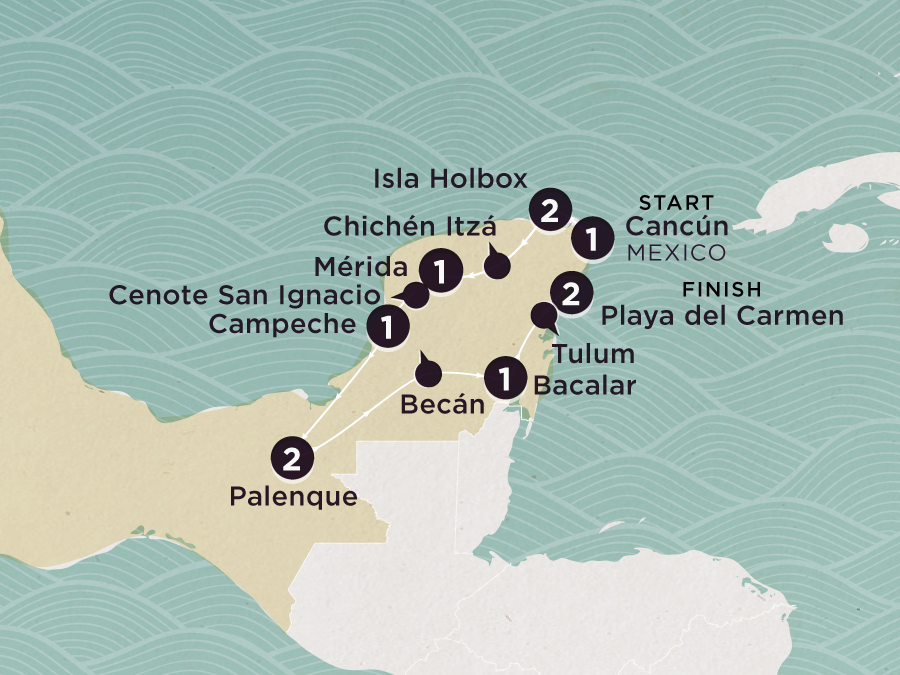 Expand All

Day 1 :

Cancún, Mexico
Location:
Cancún
Accommodation:
Hotel
Meals Included:
Dinner
¡Bienvenido a México! First: say hola to the small bunch of explorers sharing the adventure. Then: it's our first included group dinner – time to tuck into authentic Mexican eats. But, actually IN Mexico. Sh*t's got wild. Ready to meet the locals? Say yes to culture? Yes to history? Yes to the new and the exotic? You're in EXACTLY the right place.

Day 2 :

Cancún to Isla Holbox
Location:
Cancún, Isla Holbox
Accommodation:
Hotel
Meals Included:
Breakfast
Wave adiós to Cancún – after brekkie we're making tracks for Isla Holbox ('ole-bosh'). This car-free island is an absolute mood: think sun-bleached beaches and emerald waters so dreamy even the Little Mermaid would want to stay here. And the best way to soak it all up? An included boat tour around the islands, obvs. Float through Yalahau Lagoon and try spot the resident iguanas, crocodiles, flamingos and dolphins. Take a dip at Yala-Hau, where legend has it the fresh water will make you feel 10 years younger (ready to re-live those awkward early teens?). And chill amid the tropical vibes of Passion Island. Yep, you're really here.

Day 3 :

Isla Holbox
Location:
Isla Holbox
Accommodation:
Hotel
Meals Included:
No Meals
What's that? A free day to explore paradise? Oh, go on then. Take to two wheels, feel the breeze whip through your hair and discover the island on an optional bike tour. Hunt down some mouthwatering marquesitas – crispy crepes filled with chocolate, jam or cheese. Three of each, pls. Stroll through the rustic thatched buildings and colourful street art of charming AF Holbox village. Or head to Punta Coco Beach for an afternoon lounging in hammocks and making sand angels. This is your chance to unplug and embrace the slow pace the locals love so much.

Day 4 :

Isla Holbox to Mérida, via Chichén Itzá
Location:
Isla Holbox, Chichén-Itzá, Mérida
Accommodation:
Hotel
Meals Included:
Breakfast
Act cool: today we're leaving island life behind and heading to one of the New Seven Wonders of the World – Chichén Itzá. Our Trip Leader will show us the ins and outs of this iconic complex of ancient Mayan ruins, ticking off the likes of the Temple of Kukulkan ('El Castillo'), the Platform of the Skulls, the Plaza of a Thousand Columns and the Sacred Cenote. Back in the present, next we've got our sights set on Mérida – the buzzing capital of Yucatán. A city steeped in colonial and Mayan heritage, here the evening's yours for exploring. Make a beeline for Hidalgo Square's lively café and bar scene. Or seek out Parque Santa Lucía to catch some local music (and flowery costumes). Later, gather your trip mates and track down a plate of mukbil pollo aka 'buried chicken' – traditionally offered to deceased relatives on Day of the Dead. But also tasty for the living.

Day 5 :

Mérida to Campeche, via Cenote San Ignacio
Location:
Mérida, Cenote San Ignacio, Campeche
Accommodation:
Hotel
Meals Included:
Breakfast, Lunch
You picked this trip specially for its out-of-this-world experiences, right? Well: here's another. First up today, the Cenote (that's 'sinkhole' to you and me) San Ignacio – a stalactite-filled cave complete with a crystal-clear natural pool. Float gracefully (read: doggy paddle) in the sparkling turquoise water before an included traditional Yucatán lunch. And then? Onwards to the walled port city of Campeche for more colonial architecture, Mayan history and bonus pirate legends. This evening: engage explorer mode, get lost in a maze of pastel-coloured streets, and snack yourself silly on coconut shrimp and salsa. Mmm...

Day 6 :

Campeche to Palenque
Location:
Campeche, Palenque
Accommodation:
Hotel
Meals Included:
Breakfast
Leave Percy the parrot in the coach – there's a strict no-pirate rule this morning. We're off to Fort San Miguel, built in the late 18th century to keep the seafaring baddies out of the city. After we've roamed the ramparts and checked the canons with our fact-filled Trip Leader, it's on to the ancient city of Palenque. Here the evening's yours for the taking, so swing by a not-so-ancient local eatery and spice up your life with a fill of tacos, tortillas and tamales. Yes. Please.

Day 7 :

Palenque
Location:
Palenque
Accommodation:
Hotel
Meals Included:
Breakfast, Dinner
Want the kind of mind-blowingly awesome archeological site that Indiana Jones WISHES he'd been to? Enter: Palenque. Not to boast, but the ruins of this ancient Mayan city are some of the most impressive in the world. Nestled in thick, misty jungle, this incredible complex was built without metal tools or even the wheel (WTF, right?), and the grey stone would have been painted flashy red, blue and yellow. Gawp at the remains of The Palace and brush up on your hieroglyphs at the 7th-century Temple of the Inscriptions. Then: prepare to get the blues in the best possible way at the dazzling Agua Azul Waterfalls, where there's time for a dip in the azure waters. And later? Another included group dinner at a local restaurant's on the cards. This day in one word = epic.

Day 8 :

Palenque to Bacalar, via Escárcega
Location:
Palenque, Escárcega, Bacalar
Accommodation:
Hotel
Meals Included:
Breakfast
Tums filled after another group breakfast, this morning we're jumping back on the coach and setting course for the beaut lakefront town of Bacalar. But first: a pit stop at a restaurant in the mini city of Escárcega for a chef's masterclass in Mexican dips. Avocados WILL be harmed in the process. Later, when we roll into Bacalar the evening is free for doing your own sweet thing. Want local recommendations? Your expert Trip Leader's got your back. Rather see where the night takes you? You got it. Either way, you can't miss the stunning 'Lagoon of Seven Colours' running along the town. Spoiler: all the colours are blue. But you're still gonna love it.

Day 9 :

Bacalar to Playa del Carmen, via Tulum
Location:
Bacalar, Tulum, Playa del Carmen
Accommodation:
Hotel
Meals Included:
Breakfast
All aboard, amigos! This morning we're discovering a more remote part of Bacalar Lagoon by boat. Expect: shimmering swim stops and seasonal snacks. Forget: filters and fakery. Once back on dry land, we're heading north to one of the last cities built by the Mayans. Discover the who's who of Tulum with a guided tour – including the pyramid temple of El Castillo, the Temple of the Frescoes and the Templo Dios del Viento. Google it and get excited. Finally, we'll end the day in Playa del Carmen, where you're free to explore the vibrant 5th Avenue or chill with the palm trees along the beach. These guys are living the dream.

Day 10 :

Playa del Carmen
Location:
Playa del Carmen
Accommodation:
Hotel
Meals Included:
Dinner
White sands. Aquamarine water. Gently swaying trees. Hear that? It's the sound of our last day together (and waves crashing). When you've finished siesta-ing on the beach, there are plenty of local bars to pull up a pew. Or check out the Frida Kahlo Museum for an insight into the famed artist's life. If you're keen to delve a bit deeper, take up the offer of a Sian Ka'an biosphere reserve tour. The coastal wetland is teeming with local flora and fauna – perfect for David Attenborough wannabes. Or go deeper still with an optional visit to the magical Rio Secreto caves and underground river. Jam-packed with stalactites and stalagmites, Mother Nature was REALLY showing off with this one. Tonight, it's time for one last fiesta with the gang. Salud to this adventure of a lifetime!

Day 11 :

Playa del Carmen
Location:
Playa del Carmen
Meals Included:
Breakfast
You came. You saw. You cultured. Wash the salt from your hair and shake the sand from your undies. It's time to say so long to Mexico – and your trip mates. But who says the fun has to stop now? We're booking the next flight to LA... coming?
What's Included
Transport

Air-conditioned coach

Accommodation

Fully Guided

Tipping and Gratuities

Meals

8 Breakfasts, 1 Lunch, 3 Dinners

Free Wi-Fi at Accommodation
What's Not Included
Airport Transfers at Destination

Country Entry Visas

International Travel
Check out our Q&As
Are all entrance fees included in the price?
What is the maximum group size?
Will there be an escort accompanying this tour?
We will have our Tour Leader with you every day
Is there a supplement for solo travellers?
Single pricing is available on all tours
Are the local guides on the tour English speaking?
All guides are English Speaking
Are children permitted to take part in the tour?

Can you assist with pre or post tour accommodation?

Will I know the names and details of all the accommodation before I depart?

This will be provided on all documentation

What is the tipping policy?

What currencies are required for this tour?

Is the tour coach air conditioned?

Are airport transfers included in this tour?

Will passengers from another country be participating in the tour?

Yes from all over the world

Are flights included in this tour?

Who will be my travelling companions on the tour?

Curious? Open-minded? Same. Topdeckers are a mixed bunch, but that's what makes us special. They come from all over the globe and are aged between 18 and 39. Like you, they're looking to feel real. To experience more. To embrace the unknown. To grow and connect – without judgement.

How long has the tour company been trading?

What policies are in place for Covid-19?

https://www.topdeck.travel/resources/booking-flexibility

Do you operate a "single share" option and how does it work?

We operate Single Share across across all touring styles and will match you with someone of the same gender

What documents will I receive before I travel?

E-Documentation will be sent

Will the accommodation included meet local health and safety regulations?

Yes, we work dilligenltly with our partners to acheive this

Can I join the tour once it has departed?

Yes you can on European Tours
Dates & Availability
Instant Booking Available
Instant Booking Available
Book with Confidence
Free Date Changes

Topdeck allows you to make 1000 free date changes, as long as the change is made at least 60 days before the start of the tour.

Transfer as credit to Future Tours

Topdeck allows you to transfer existing payments to a future tour to avoid cancellation fees if you can't travel and inform topdeck, 60 days before departure.

Low Deposit

Topdeck requires a minimum deposit of 60 GBP per person or the full booking value, whichever is less, with the final balance not due until 60 days before departure.

Cancellation Policy

We don't charge a cancellation fee, here is a summary of topdeck charges.

Up to 60 days before tour starts: 100% of deposit.

At 29 days before tour starts: 50% of booking price.

At 7 days before tour starts: 100% of booking price.

Covid-19 Vaccination Policy

Updated: 01-Jan-2023

The world of travel has changed since we introduced our COVID-19 Vaccine Policy. That's why the policy came to an end on 31 December 2022.

This means you no longer need to be vaccinated against COVID-19 to join a Topdeck trip.

BUT bear in mind some countries and airlines will have different requirements – it's your responsibility to keep up to date with these (Google is your friend).
Delve Deep: Mexico 2022-23
11 Days Starting in Cancun and ending in Playa del Carmen
Visiting:
Cancún
,
Isla Holbox
,
Chichén-Itzá
,
Mérida
,
Cenote San Ignacio
,
Campeche
,
Palenque
,
Escárcega
,
Bacalar
,
Tulum
,
Playa del Carmen
Tour operator:
Physical rating:
Low
Special diets catered:
Vegetarians
Trip Styles:
Activities:
Tour code:
TMUEB2
Group size:
10 - 20
Age range:
18-39
Tour operated in:
English
Interests:
Recommended For:
Why book with tourhub?
Safe & Secure
Your money is protected in an external trust until you travel.
---
100% Guaranteed Refunds if your trip is cancelled.
---
The safest way to make overseas, multi-currency payments.
Guaranteed Best Value
Industry leading discounts, we won't be beaten on price.
---
No cancellation or amendment fees from tourhub.
(Operator terms may apply)
Expert Knowledge
Reliable & unbiased advice from travel experts.
---
Direct contact with the tour operator via our messaging service.
---
Inspiration & advice from a community of 6000+ real travellers, influencers & content creators.
Trusted Service
Official partners & licensed agents of 1000+ tour operators worldwide.
---
Don't just take our word for it...
"Tourhub: Friendliness, Professionalism & Integrity I would happily give tourhub a 6* review if I could..."