European Wonder 2021
Start: London Finish: London, UK
Visiting:
London
,
Paris
,
Swiss Alps
,
Florence
,
Rome
,
Venice
,
Munich
,
Berlin
,
Amsterdam
,
Vatican City
---
---
Duration: 13 Nights
Physical rating: Low
Special diets catered: Vegetarians, Please contact Topdeck with any specific dietary requirements
Tour Operator: Topdeck
Group size: 10 - 39
Age range: 18-39
Tour operated in: English
---
Tour Overview
Is this trip for you? Iconic. Whirlwind. Awesome.
So your boss only gave you two weeks leave? Lucky for you this firecracker of a Euro trip fits so perfectly into 14 days it's almost too good to be true. Get a taste of Europe with the big-gun cities, the bucket-list items and alllllll the carb-loaded, cheese-topped, sugar-filled delights that only Europe can deliver. There's not really a better introduction to Europe than this.
Highlights
Driving tour of Paris
Driving tour of Berlin
Visit Pisa and see the famous Leaning Tower
Walking tour of Rome
Walking tour of Munich
Walking tour of Florence with a local guide
Walking tour of Venice
Places You'll See
Countries:
Cities & Attractions:
Itinerary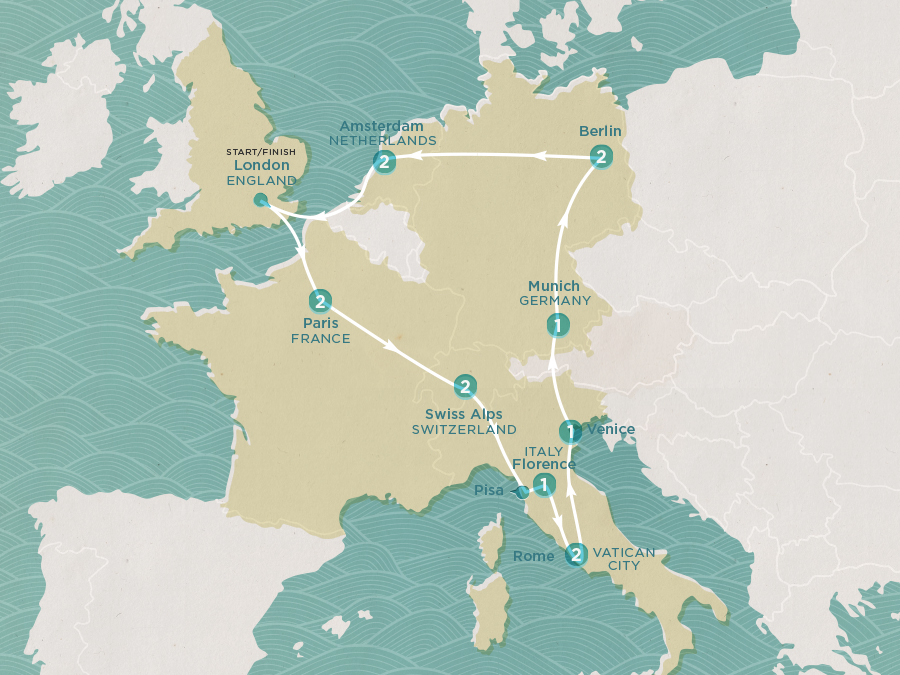 Day 1: London, England to Paris, France (or join in Paris)
Location: London
Meals: Dinner
Meet the crew in London and load up the coach - we're hitting the road early to jump across the channel. Flights cheaper to Paris? Meet us there tonight if you want. The home of Coco Chanel, the Mona Lisa and world's craziest roundabout - Paris deserves its rep as the European capital for all things culture, fashion and bloody good food. Get to know the City of Love with a driving tour before tonight's first dinner together.
Day 2: Paris
Location: Paris
Meals: Breakfast
This is your day, your way. So make every second count. Create a solid dent in your bucket list with a visit to the Louvre (get your tix in advance!). Snap a pic of the Arc de Triomphe. Wander the Champs Elysées. Or discover the hidden back-streets on your own. Walking not your thing? Stretch out those legs on an optional bike tour. Or jump aboard an optional river cruise down the Seine. Tonight, dress to impress for an optional cabaret show. Or head up the Montparnasse observation tower to see why they call this place the City of Lights.
Day 3: Paris to Swiss Alps, Switzerland
Location: Swiss Alps
Meals: Breakfast, Dinner
Trade in Parisian streets for snowy peaks. Warm up those vocal cords, we'll be blasting some tunes on the ride into the mountains - stopping for a few pics on the way. Home to the 'Top of Europe', 72 waterfalls and one of the largest nature conservations in Switzerland - tonight we're bunking down in the lush valley of Lauterbrunnen. After dinner, sit back in the fresh Alpine air with a cold beverage. This is livin'.
Day 4: Swiss Alps
Location: Swiss Alps
Meals: Breakfast
If the Swiss Alps had a Tinder bio, it'd be: fun, outdoor enthusiast - looking for a fellow adrenaline junkie to share adventures with. And we'd swipe right. Hiking. Biking. Skydiving. Helicopter-ing. It's all here. If you're wanting something a bit more low key - strap on the Nikes and walk the valley floor. Or hop on board the Jungfraubahn railway for an optional visit to the Jungfrau Mountain summit. Expect plenty of fairytale villages en route. Haven't had cheese fondue yet? Go. Now.
Day 5: Swiss Alps to Florence, Italy
Location: Florence
Meals: Breakfast, Dinner
Buy that mini-fondue set. Down your coffee. And wave goodbye to Switzerland – we're off to the land of the long boot. Get your creative juices flowing for THAT photo at Pisa, then make your food baby sing as we roll into the birthplace of gelato: Florence. Tonight, it's time tuck into some of that hearty Tuscan cuisine you've been dreaming about – plus a scoop (or two) of the good stuff. Challenge: decide on your favourite flavour in two days.
Day 6: Florence to Rome
Location: Rome
Meals: Breakfast, Dinner
Florence has more stories than Bilbo Baggins, more culture than a London hipster, AND it gave the world David (the massive marble naked guy FYI). We'll get the lay of the land on an in-depth walking tour with a local guide. Then: la bella Roma awaits! Dump your stuff at the hostel and prepare for a walking tour to end all walking tours. Pass by the Pantheon, throw our two cents in the Trevi Fountain, sit on the Spanish Steps and check out the mighty Colosseum – getting the scoop on allllllll the ancient history as we go. You're in Disneyland for foodies, so you know dinner tonight is gonna' be good.
Day 7: Rome
Location: Rome
Meals: Breakfast
Time to live out your Eat. Pray. Love. fantasies – today is all about Vespas, espresso, two-cheeked kisses and pizza (the way it's supposed to taste). There's an optional guided tour of Vatican City on the cards, if that's your thing. Or head up to Capitoline Hill for awesome views of the Roman Forum and Colosseum. Feeling something a bit more relaxed? Do as the locals do and indulge in a little dolce far niente (delicious idleness) at a local cafe or piazza. Tonight, shake out those fat pants for round two. Thought you'd tried all the gelato flavours? Head to Fatamorgana – and think again.
Day 8: Rome to Venice
Location: Venice
Meals: Breakfast
Order one more espresso in poor Italian (hey, you tried!) – we're off to Venice after breakfast. You know it as The Floating City, but this place is actually sinking (slowly). Check out the usual suspects on a walking tour with our Trip Leader – ticking off the likes of St Mark's Square, Doge's Palace and Accademia Bridge. Then: take an optional gondola ride down the Grand Canal. When in Venice, right? Dinner tonight is on you, what delicious carb-laden Italian meal haven't you tried yet? Order two.
Day 9: Venice to Munich, Germany
Location: Munich
Meals: Breakfast
Next up? A country where beer is officially considered an essential food group (right next to sausage and sauerkraut). Helloooo Germany! We'll kick things off with a walking tour of Munich then it's the moment you've been waiting for – an appropriate occasion to wear lederhosen. Head to the 428-year-old Hofbräuhaus for a royal Happy Hour experience or find the Chinese beer garden (or any beer garden for that matter) for a stein-sesh with your trip mates. Prost!
Day 10: Munich to Berlin
Location: Berlin
Meals: Breakfast
Another day, another food-obsessed European city. Berlin we love you. Prep yourself for currywurst, bratwurst and more hipsters per capita than anywhere else. We'll drive you around to see the main sights including (what's left of) the Berlin Wall, Zoo Gardens, the Holocaust Museum, Charlottenburg Palace and Alexanderplatz. Then: the afternoon is 100% up to you! Our suggestion? Head to Burgermeister: a public toilet turned best-burger-joint-in-Berlin. Trust us.
Day 11: Berlin
Location: Berlin
Meals: Breakfast
You've got 24hrs here. Make the most of it. Our advice? Opt in for a historic walking tour that's, you know – not boring. Get a local insight into what the city was like under Nazi rule and tick off the likes of the Reichstag, Checkpoint Charlie and Brandenburg Gate. Or put those taste buds to the to the ultimate test on an awesome AF food tour. We're talking kebabs, pastries, currywurst, pierogi and local beers (this is Germany after all). Tonight, it's time to see whether the nightlife here really lives up to the hype.
Day 12: Berlin to Amsterdam, Netherlands
Location: Amsterdam
Meals: Breakfast
Ok, nobody panic – we've only got two days left. But the adventure sure as hell isn't over yet! We've got our eye on Amsterdam next – time to hit the cobblestones and explore. Check out the likes of the Dam Square, the Royal Palace and the National Monument with your free time. This place is a foodie's haven – so you'll have no trouble finding somewhere to settle in for dinner. Later, there's an optional show in the Red Light district. Or for a more local experience – head to a canal-side wine bar or brewery.
Day 13: Amsterdam
Location: Amsterdam
Meals: Breakfast, Dinner
This is our last full day. So, don't hang about – get on your bike! Check out Amsterdam's iconic canals, bridges and parks on an optional bike tour. Or for the culture fiends – delve a bit deeper with a visit to the Anne Frank House (don't forget to book in advance!) or the Van Gogh and Rijksmuseum. Whatever you get up to, make sure you're back in time for tonight's group dinner – we'll be going out with a bang.
Day 14: Amsterdam to London, England
Location: London
Meals: Breakfast
Two weeks. Six countries. Countless good times. What-an-epic-trip. After breakfast, it's time to hit the road back to ol' Blighty. Blast the Trip Song one last time and swap Insta handles – you'll need them to organise next year's reunion trip!
What's Included
Meals

13 breakfasts, 0 lunches, 5 dinners

Fully Guided

Transport

Modern air-conditioned coach with free Wi-Fi

Accommodation

Guide
What's Not Included
International Travel

Country Entry Visas

Airport Transfers at Destination
Book with Confidence
Low Deposit

Topdeck requires a deposit of 60 GBP to secure a place on this tour, and the final balance is not due till 60 days before departure..

Secure payments

All payments to TourHub are deposited into an externally regulated Trust account.
---
Reviews
European Wonder 2021
Best purchase I could have made
Best purchase I could have made;
European Wonder 2021
European Wonder 2021
I wish there were a few more inclusions - but it was still great!! The occasional included lunch was awesome.
I wish there were a few more inclusions - but it was still great!! The occasional included lunch was awesome.

;
European Wonder 2021
European Wonder 2021
La mejor experiencia como tour
La mejor experiencia como tour;
European Wonder 2021
Amazing places, great leader, great value for money!
Amazing places, great leader, great value for money!;
European Wonder 2021
European Wonder 2021
It's worth the money I spent
It's worth the money I spent;
European Wonder 2021
I already talked a bit abt the trip above. The food was good. Specially the itinerary was excellent for the trip and the biggest plus point of the trip is ....more
I already talked a bit abt the trip above.

The food was good.

Specially the itinerary was excellent for the trip and the biggest plus point of the trip is that enough time was given to go around city and explore.

; ....less
European Wonder 2021
Wasn't too fond of the accommodations in Switzerland, but that was the only real downside
Wasn't too fond of the accommodations in Switzerland, but that was the only real downside;
Travel, Your Way
Good reasons for travelling privately
Personalise your trip

Make changes to the itinerary, accommodation, or transport method

Increased safety during COVID

Spend the majority of time amongst your group to reduce exposure to others

Travel more exclusively

Your tour guide can focus all their attention on your group

Travel for a special occasion

Celebrate an important event by only travelling with your friends or family
Learn more