Best of Italy
Best of Italy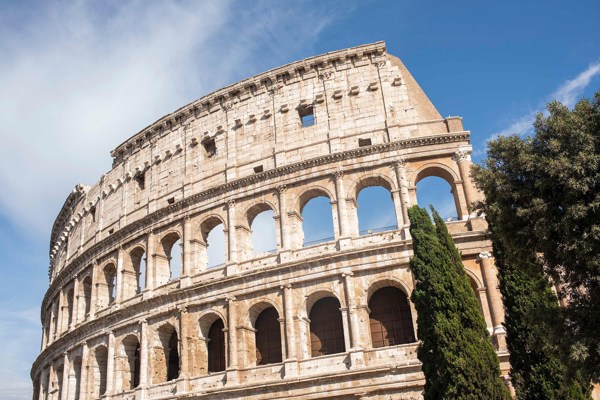 Best of Italy
13 Days Starting and ending in Rome
Visiting: Rome, Vatican City, Pompei, Sorrento, Capri, Assisi, Venice, Verona, Milan, Como, Pisa, Florence, San Gimignano
Tour operator:
Special diets catered:
Vegetarians
Tour operated in:
English
Trip Styles:
Interests:
Activities:
Tour Overview
Discover the Best of Italy, from the ancient treasures of Rome to Renaissance Florence and everything in between. Imagine staying overnight in a renovated Franciscan monastery in Assisi, lapping up the chic lifestyle on Capri, and taking a private guided visit to Pompeii to see a Roman city frozen in time.
Highlights
Rome: During an orientation with your Travel Director see the medieval buildings, Renaissance palaces and Baroque churches scattered throughout the city.

Vatican: Visit Vatican City and tour St. Peter's Basilica with a Local Specialist. Witness the early genius of Michelangelo as you take in the Pietà.

Pompeii: Walk with a Local Specialist through the cobbled streets of this ill-fated town, frozen in time since the 1st century.

Capri: Join a Local Specialist on a walk through elegant Capri to gain insight into the island's local culture and historic landmarks.
Itinerary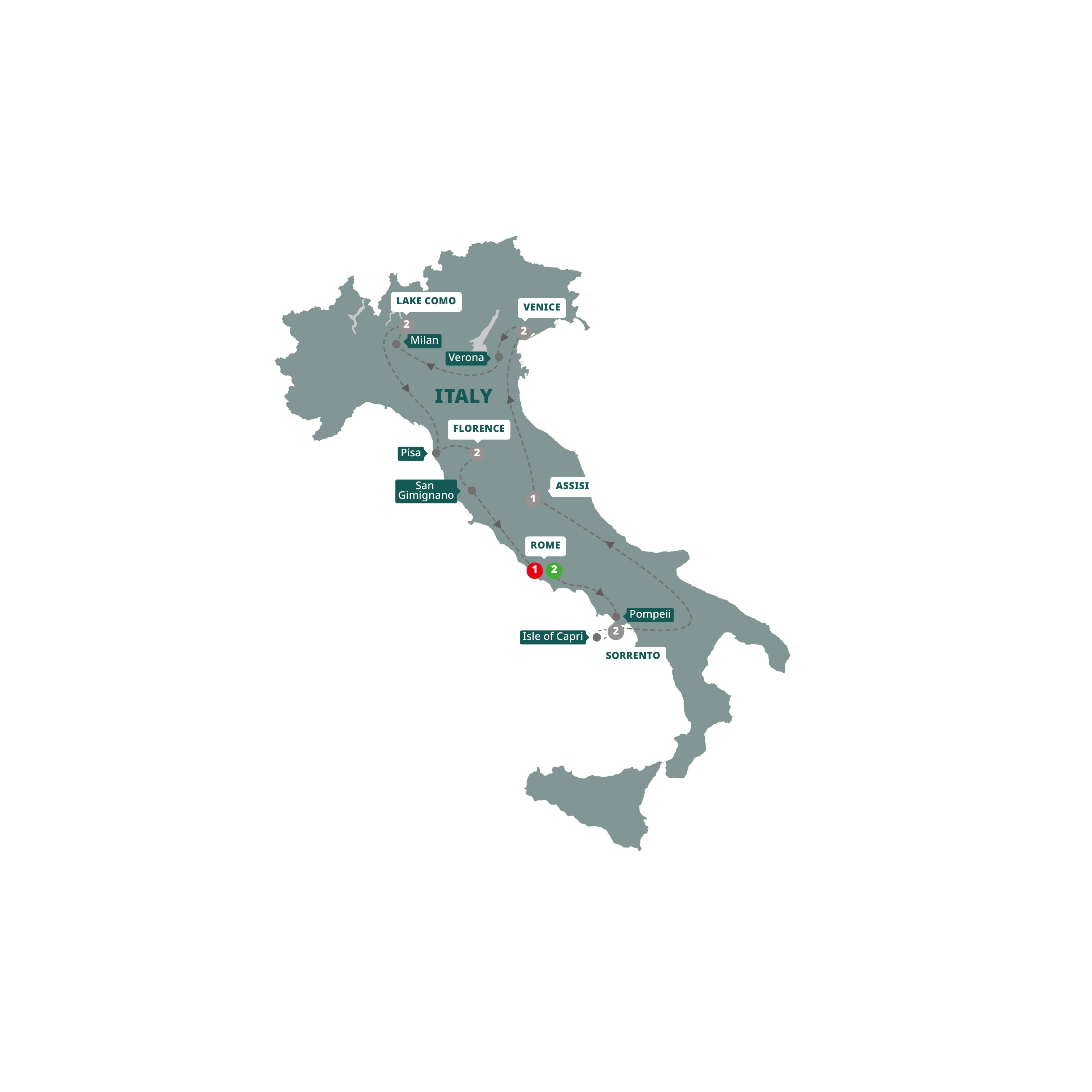 Expand All
Location:
Rome
Accommodation:
Hotel
Accommodation Name:
Grand Tiberio
Meals Included:
No Meals
Ciao Roma! Explore this imperial city of emperors and senators, gods and goddesses, before joining your companions and Travel Director for a Welcome Reception. Our introduction to the 'Eternal City' is an evening orientation drive to view some of the sights which await us tomorrow.

Day 2 :

Discover Ancient Rome And The Vatican City Dive Into Culture
Location:
Rome, Vatican City, Rome
Accommodation:
Hotel
Accommodation Name:
Grand Tiberio
Meals Included:
Breakfast
The Holy See takes centre stage today as we join a Local Specialist for an included sightseeing tour in the Vatican Museums. Dive Into Culture and admire the Bramante Staircase, created for Pope Julius II in the early 16th century, and Michelangelo's magnificent frescoed ceiling in the Sistine Chapel. See the marble masterpiece of the Pietà, housed in St. Peter's Basilica before crossing the Tiber into Ancient Rome. Visit the famous Colosseum and see Circus Maximus, once the site of celebrated chariot races. This afternoon, enjoy free time to explore Rome. Indulge in an espresso in the Piazza Navona or clamber up the Spanish Steps.

Day 3 :

Explore The Ruins Of Pompeii And Sorrento
Location:
Pompei, Sorrento
Accommodation:
Hotel
Accommodation Name:
Johanna Park
Meals Included:
Breakfast, Dinner
We journey south to the well-preserved ruins of Pompeii. Here we join a Local Specialist who will share details of the devastation caused by the eruption of Mount Vesuvius as we wander through the ancient paved roads of a city that was frozen in time. Later, we arrive at our hotel in the clifftop town of Sorrento where we'll dine tonight.

Day 4 :

A Day On The Isle Of Capri
Location:
Capri
Accommodation:
Hotel
Accommodation Name:
Johanna Park
Meals Included:
Breakfast
We cross the Bay of Naples today by ferry to the glamorous Isle of Capri to visit some of its landmark sights. Wander past the chic boutiques and pavement cafés in Capri town in the company of a Local Specialist before taking your time to soak up the sophistication of this lovely island. Later, we return to the mainland.

Day 5 :

Onwards To Assisi Stays With Stories
Location:
Assisi
Accommodation:
Hotel
Accommodation Name:
Cenacolo
Meals Included:
Breakfast, Dinner
See the Benedictine Abbey of Cassino, which featured as the site of the Battle of Monte Cassino in 1944, before heading north to the slopes of Mount Subasio. We arrive in the mystical town of Assisi, the birthplace of St. Francis, under whose protection this medieval city is said to remain. We join our Local Specialist for a visit of Basilica of St. Francis, before some free time to explore this fascinating hilltop town. Tonight, we'll stay at one of Trafalgar's Stays With Stories – a fully renovated old Franciscan monastery.

Location:
Venice
Accommodation:
Hotel
Accommodation Name:
Principe
Meals Included:
Breakfast, Dinner
We journey through the glorious countryside of the Emilia Romagna region. This area is also renowned for its gastronomy and is credited with being the origin of tortellini, mortadella and parmesan cheese. Arrive later in Venice, the 'Queen of the Adriatic', where we'll enjoy a dinner at your hotel.

Day 7 :

St. Mark's And More In Venice Make Travel Matter
Location:
Venice
Accommodation:
Hotel
Accommodation Name:
Principe
Meals Included:
Breakfast
Cruise your way through Venice by private launch to soak up the sights and sounds of what was once one of the world's greatest ports. Your MAKE TRAVEL MATTER® Experience with the master craftsmen of Venice follows. Watch as they share their centuries-old glassmaking traditions. Your visit helps to preserve this delicate craft for which Venice is justifiably famous and you'll want to remember your visit by purchasing a souvenir or two to display at home. From there, continue past the Bridge of Sighs and the Doge's Palace to St. Mark's Square where we will view the impressive square and Basilica. Consider an Optional Experience to see the colourful fishermen's houses on the Island of Burano or search for a cosy bacaro and indulge in some tasty Venetian treats, starting with that refreshing Venetian Spritz which is the local drink of choice.

Day 8 :

On To Verona, Milan And The Scenic Italian Lakes
Location:
Verona, Milan, Como
Accommodation:
Hotel
Accommodation Name:
Metropole Suisse Como
Meals Included:
Breakfast, Dinner
Travel to Verona, the home of Shakespeare's star-crossed lovers, then cross the lush green plains of Lombardy to sophisticated Milan, Italy's capital of design and fashion. An orientation tour takes us past the intricate Gothic Duomo, La Scala Opera House and the famous Galleria. Later arrive in the Italian Lakes where we'll enjoy dinner served tonight at our hotel.

Day 9 :

Stroll Around Lake Como
Location:
Como
Accommodation:
Hotel
Accommodation Name:
Metropole Suisse Como
Meals Included:
Breakfast
The glistening blue waters of Lake Como welcome us today. We'll enjoy some free time to explore the lakeside lifestyle and beautiful scenery which has enchanted visitors for centuries. Spend this morning exploring Como's historical quarter, relax with a cappuccino, take the funicular for spectacular views of the lake or consider a cruise on the lake.

Day 10 :

Admire Pisa And On To Florence
Location:
Pisa, Florence
Accommodation:
Hotel
Accommodation Name:
Grand Mediterraneo
Meals Included:
Breakfast
Tuscany lures us across the forested Apennine Mountains, past the marble quarries of Carrara to the famous city of Pisa and its Square of Miracles where we will enjoy an opportunity to view the Leaning Tower. Our next stop is Florence, the 'Cradle of the Renaissance'.

Day 11 :

Experience Art And Architecture In Florence Connect With Locals
Location:
Florence
Accommodation:
Hotel
Accommodation Name:
Grand Mediterraneo
Meals Included:
Breakfast
Delve into the extravagant history of the Medici family, whose legacy of art and architecture are explored in the company of a Local Specialist. We visit Piazza della Signoria with its exquisite statues and palazzi and enjoy spectacular panoramic views of the beautiful skyline of Florence, dominated by the elegant Duomo and the almost 700-year-old Ponte Vecchio, from Piazzale Michelangelo. Later, learn about the quality and workmanship of two of this city's historic industries at demonstrations of Florentine leathercraft and 18-carat gold. This evening, Connect With Locals over dinner at a Be My Guest experience, a castle set within a celebrated wine and olive oil estate.

Day 12 :

Treasures Of San Gimignano And Return To Rome
Location:
Florence, San Gimignano, Rome
Accommodation:
Hotel
Accommodation Name:
Shangri-La
Meals Included:
Breakfast, Dinner
This morning we stop at the Florence American Cemetery and Memorial. Continuing south, we visit the charming Tuscan hill-town of San Gimignano, with its extraordinary medieval architecture and rich history. Venture to the centre of town to view the Piazza del Duomo, surrounded by medieval towers and 13th century city walls. This evening in Rome we enjoy a Farewell Dinner in the company of newfound friends and our Travel Director.

Location:
Rome
Meals Included:
Breakfast
Our discovery of the best of Italy has come to an end. Find out more about your free airport transfer at trafalgar.com/freetransfers.

What's Included
An expert Travel Director and professional Driver

Cherry-picked hotels, all tried and trusted

All porterage and restaurant gratuities

All hotel tips, charges and local taxes

Breakfast daily and up to half of your evening meals

Must-see sightseeing and surprise extras

Audio headsets for flexible sightseeing

Luxury air-conditioned coach with Wi-Fi in most countries or alternative transportation (such as rail journeys)

Return cruise to the Isle of Capri

Optional Experiences and free time
Check out our Q&As
Will passengers from another country be participating in the tour?

Are airport transfers included in this tour?

Trafalgar is pleased to offer complimentary airport transfers at any time either on the starting and ending day of the trip or on other days in conjunction with pre and post-trip accommodation booked through Trafalgar

Are children permitted to take part in the tour?

Is there any free time to explore places during the tour?

As detailed in the itinerary

What is the maximum group size?
Will there be an escort accompanying this tour?

Who will be my travelling companions on the tour?

The beauty of taking a guided holiday with us is that you'll have the opportunity to meet and travel with people from all over the globe.

What policies are in place for Covid-19?

Vaccination against Covid-19 is not mandatory to travel with Trafalgar. However, we strongly recommend that guests are vaccinated before travelling. Please note that airlines and/or other authorities may have different requirements. It is the guest's responsibility to comply with these requirements at all times.

How long has the tour company been trading?

What Ethical Travel credentials does the tour company have?

Trafalgar is a founding partner of the TreadRight Foundation, a not-for-profit organisation established in 2008. So far, the charity has donated more than US$2 million to help underprivileged communities and support sustainable tourism around the world.

Will the accommodation included meet local health and safety regulations?
Book with Confidence
Low Deposit

Trafalgar requires a minimum deposit of 350 USD per person or the full booking value, whichever is less, with the final balance not due until 90 days before departure.

Cancellation Policy

We don't charge a cancellation fee, here is a summary of trafalgar charges.

Up to 91 days before tour starts: Forfeit 100% of deposit.

At 90 days before tour starts: Forfeit 50% of booking price.

At 29 days before tour starts: Forfeit 80% of booking price.

At 1 days before tour starts: Forfeit 100% of booking price.

Terms and Conditions
Why book with tourhub?
Safe & Secure
Your money is protected in an external trust until you travel.
---
100% Guaranteed Refunds if your trip is cancelled.
---
The safest way to make overseas, multi-currency payments.
Guaranteed Best Value
Industry leading discounts, we won't be beaten on price.
---
No cancellation or amendment fees from tourhub.
(Operator terms may apply)
Expert Knowledge
Reliable & unbiased advice from travel experts.
---
Direct contact with the tour operator via our messaging service.
---
Inspiration & advice from a community of 6000+ real travellers, influencers & content creators.
Trusted Service
Official partners & licensed agents of 1000+ tour operators worldwide.
---
Don't just take our word for it...
"Tourhub: Friendliness, Professionalism & Integrity I would happily give tourhub a 6* review if I could..."
Similar Tours
Travel Guru Features
Our Reviews