Ancient Israel
Ancient Israel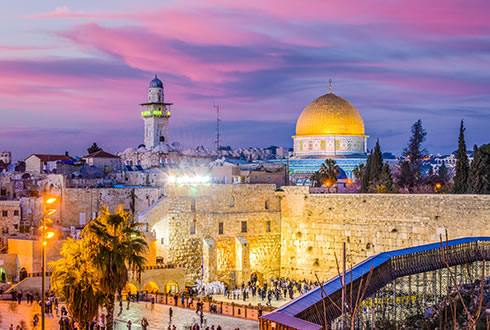 Ancient Israel
8 Days Starting and ending in UK
Visiting: Tel Aviv-Yafo, Tiberias, Tabgha, Capernaum, Dead Sea, Masada, Bethlehem, Jerusalem
Tour operator:
Special diets catered:
Vegetarians, Meat
Tour operated in:
English
Trip Styles:
Interests:
Activities:
Tour Overview
Our extensive tour of the Holy Land takes you through some of Israel's most famous cities and sites. Begin in cosmopolitan Tel Aviv, home to the bustling Mediterranean port district of Jaffa. Visit Roman ruins and mountain village's en route to the Sea of Galilee. Learn of the mystery surrounding the Dead Sea Scrolls before a cable car journey to Masada Fortress for panoramic views across the land. Stop in Bethlehem, in Palestinian Territory, before a triumphant end to your tour in illustrious Jerusalem.
Highlights
Discover Jaffa, a fascinating historical district of vibrant Tel Aviv.

Tour the Roman ruins of Caesarea

Stay by the sleepy Sea of Galilee

Take a cable car up to magnificent Masada Fortress

Explore Jerusalem, new and old

Enjoy an authentic shabbat dinner experience.
Itinerary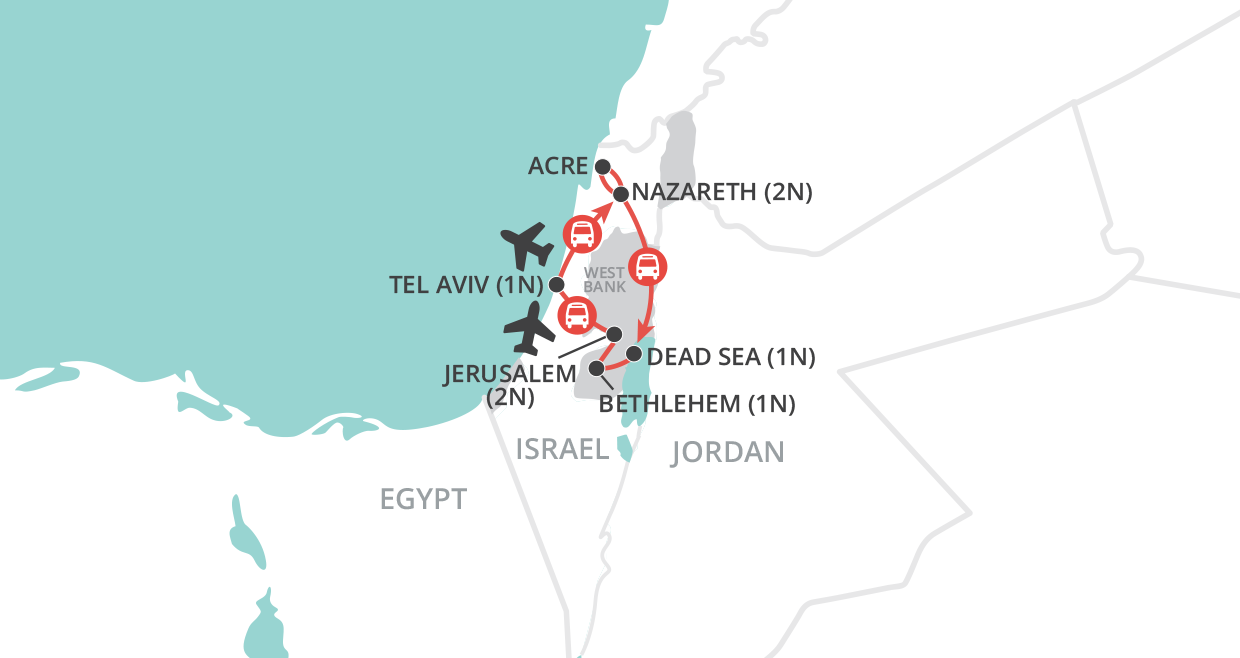 Expand All
Location:
Tel Aviv-Yafo
Accommodation:
Hotel
Meals Included:
Dinner
Fly to Tel Aviv. You will be met on arrival and transferred to your hotel. The remainder of the day is at leisure.
Day 2 :

Travel To Galilee
Location:
Tiberias
Accommodation:
Hotel
Meals Included:
Breakfast, Lunch, Dinner
The day begins with exploring Jaffa, the world's oldest active harbour. Continue to Caesarea to view the fascinating Roman ruins. Visit the Druze Villages on the slopes of Mount Carmel before a stop at the street bazaars to interact with the local community, then drive to Mukhraga for a view of the Holy Land. Finish the day in Tiberias, on the shores of the famous Sea of Galilee
Location:
Tabgha, Capernaum, Tiberias
Accommodation:
Hotel
Meals Included:
Breakfast, Lunch, Dinner
Visit Kibbutz Degania B to learn about its development, before continuing to Tabgha, the site of the miracle of the Loaves and Fishes. Head to Capernaum to visit the Ancient Synagogue and House of St Peter. Mount of Beatitudes is where the Sermon on the Mount took place and visit a hilltop town with a rich heritage of Jewish mysticism before returning to Tiberias this afternoon.
Location:
Dead Sea
Accommodation:
Hotel
Meals Included:
Breakfast, Lunch, Dinner
Drive through the scenic Jordan Valley, into Palestinian Territory, to Qasr El Yahud, and then in Jericho take a cable car journey to the Quarental Monastery on the Mount of Temptations. A drive to the Dead Sea to float in the mineral-rich waters is the perfect end to this day.
Location:
Masada, Bethlehem
Accommodation:
Hotel
Meals Included:
Breakfast, Lunch, Dinner
Drive to Masada this morning where you will take a cable car to the top of Masada Fortress, whereas well as the wonderful view, you will learn of the last stand by Jewish rebels against the Romans. Drive to Qumran for lunch and a visit to where the Dead Sea scrolls were discovered. You will continue your journey to Bethlehem, in Palestinian Territory, for a one night stay. Enjoy a Palestinian dancing show during dinner this evening
Day 6 :

Garden Of Gethsemane
Location:
Jerusalem
Accommodation:
Hotel
Meals Included:
Breakfast, Lunch, Dinner
Visit the Church of Nativity before driving to Mount Zion where you will visit the Cenacle, King David's Tomb and Dormition Abbey. After lunch continue to Mount of Olives to visit Pater Noster Church and the Church of Ascension. Visit the garden of Gethsemane before venturing into Western Jerusalem to see the Hebrew University, Parliament House and the Supreme Court.
Location:
Jerusalem
Accommodation:
Hotel
Meals Included:
Breakfast, Lunch, Dinner
Explore Jerusalem today by driving to Dung Gate to visit Temple Mount, the famous building of the Dome of the Rock and the Al Aksa Mosque. Continue to the Western Wall, the holiest place of Judaism, and Tunnel, taking a journey back in time walking the Stations of the Cross to the Church of the Holy Sepulchre. End the day with a Shabbat dinner prepared by a local Rabbi.
Day 8 :

Fly Jerusalem To Uk
Location:
Jerusalem
Meals Included:
Breakfast
Transfer to Ben Gurion Airport for your onward arrangements.
What's Included
Accommodation

7 nights in 3+/4 star

Airport Transfers at Destination

All Domestic Transportation (including internal flights)

Country Entry Visas

Entrance Fees

Fully Guided

International Travel

Local Taxes

Meals – Full Board

Breakfasts: 7, Lunches: 6, Dinners: 7

Fully Inclusive

Touring with Guides and entrance fees
What's Not Included
Tipping and Gratuities

Tipping in Israel is a way to show satisfaction with the service of guides and drivers.

It is not always clear who it is appropriate to tip and how much.

Furthermore, travellers may not have the right amounts of cash available at the right time.

Therefore, in order to avoid any inconvenience, Wendy Wu Tours operates a tipping policy where a stated amount in US dollars is given to your National Escort at the beginning of your tour and tips are disbursed throughout your tour.

The amount is designed to be at a reasonable level for travellers while being fair to the local people and includes a gratuity for the National Escort.

If you are travelling in a smaller group, we ask for slightly higher amounts per traveller, to be fair to the guide(s).

We generally find that most customers appreciate the convenience of our tipping policy, but we do recognise that it may not suit everyone.

However, as this is a group tour we ask that everyone follows the same protocol to be fair to other group members and to ensure smooth operation of your tour.



Drinks with Meals
Check out our Q&As
Are children permitted to take part in the tour?

Are airport transfers included in this tour?

Are flights included in this tour?

Are all entrance fees included in the price?

Are all the relevant entry visa's included in the price of the tour?
Are the local guides on the tour English speaking?

What happens if I need to change my holiday date once I've booked?

If, after our confirmation invoice has been issued, you wish to change your travel arrangements in any way, we will endeavour to make these changes, but it may not always be possible. Any changes to confirmed bookings need to be sent to us in writing via your travel agent. Please refer to our booking conditions for further information and fees.

Do you operate a "single share" option and how does it work?

Customers booking to travel solo can choose our 'Happy to Share' option, which may enable them to share a twin room with other solo customers of the same gender who also request Happy to Share, thus avoiding the need to pay single room supplements. Note that 'Happy to Share' requests can be received when you make your booking with us but will not be confirmed until your final payment due date.

What documents will I receive before I travel?

Your Final Travel Documents are usually sent to you 2-3 weeks prior to your departure. Your travel pack will include your tour itinerary, hotel details, flight e-tickets and a travel guide. If you have booked with a travel agent, your tickets will be dispatched to your travel agent unless we have been otherwise informed.

Will I be travelling with passengers from other countries?

Our passengers generally enjoy the mixture of British, Australian and American clients on tour. Occasionally we are joined by English-speaking passengers from other countries.

Do you allow children on your tours?

We allow children 12 years and over on our group tours. We recommend that families with children of any age take advantage of our private or tailormade tours. This will give you more flexibility while on tour.
Dates & Availability
Instant Booking Available
Saturday - Sunday
May 04, 2024 - May 12, 2024
Instant Booking Available
Saturday - Sunday
May 11, 2024 - May 19, 2024
Instant Booking Available
Saturday - Sunday
Oct 19, 2024 - Oct 27, 2024
Instant Booking Available
Saturday - Sunday
Nov 02, 2024 - Nov 10, 2024
Instant Booking Available
Saturday - Sunday
Nov 16, 2024 - Nov 24, 2024
Instant Booking Available
Saturday - Sunday
Nov 23, 2024 - Dec 01, 2024
Book with Confidence
Free Date Changes

Wendy Wu allows you to make 1 free date changes, as long as the change is made at least 0 days before the start of the tour.

Low Deposit

Wendy Wu requires a minimum deposit of 350 GBP per person or the full booking value, whichever is less, with the final balance not due until 75 days before departure.

Cancellation Policy

We don't charge a cancellation fee, here is a summary of wendy wu charges.

Up to 75 days before tour starts: Forfeit 100% of deposit.

At 74 days before tour starts: Forfeit 30% of booking price.

At 41 days before tour starts: Forfeit 60% of booking price.

At 27 days before tour starts: Forfeit 90% of booking price.

At 14 days before tour starts: Forfeit 100% of booking price.

How we Keep you safe on our Tours

Your safety and well-being will always be our Number 1 priority which is why we've instituted the most stringent COVID health and safety protocols on all of our tours. Here is a brief summary of the steps we are taking to ensure you will be safe, secure and satisfied when you travel with us.


Guides and National Escorts
Our National Escorts and guides will conduct a Health and Safety briefing with you before the tour begins and will help everyone ensure they adhere to social distancing, hygiene practises and local regulations. They will carry a supply of face masks and hand sanitiser for you to use free of charge and will, of course, observe the highest level of personal hygiene at all times.

Should anyone on the group fall ill your National Escort will ensure the individual receives swift medical attention and can only return to the group once cleared to do so.


Transport & Sightseeing
Vehicles will be thoroughly cleaned with disinfectant after each excursion service, overnight and between different groups.

You will always have at least one seat between you and your fellow tourers, hand sanitiser will be given to the group on each embarkation and vehicles will be thoroughly ventilated prior to passengers boarding.

Drivers will always embark vehicles after clients, disembark the group vehicle prior to clients disembarking, and maintain social distancing and a high level of personal hygiene at all times.

Your guides will assess the situation on the ground avoiding large crowds – where possible, alter timings and splitting the group into smaller sizes.


Accommodation
Wendy Wu Tours will only offer hotels that have undergone a detailed hygiene assessment, have specific COVID-19 protocols in place and comply with government standards.

We will ensure these protocols include staff practising social distancing and wearing appropriate PPI, regular cleaning and disinfection of high frequency touch points in all areas and food safety.


Dining
All the restaurants we visit will be researched and inspected regularly to ensure that they follow the strictest health, cleanliness and safety guidelines.

All waiting staff will wear face masks and gloves and we will arrange à la carte dining, waiter-served meals or waiter-assisted buffets throughout the tour. We will not share open-buffet meals with other hotel or restaurant guests.

Hand sanitiser will be provided to the group before and after every food and beverage service.
Why book with tourhub?
Safe & Secure
Your money is protected in an external trust until you travel.
---
100% Guaranteed Refunds if your trip is cancelled.
---
The safest way to make overseas, multi-currency payments.
Guaranteed Best Value
Industry leading discounts, we won't be beaten on price.
---
No cancellation or amendment fees from tourhub.
(Operator terms may apply)
Expert Knowledge
Reliable & unbiased advice from travel experts.
---
Direct contact with the tour operator via our messaging service.
---
Inspiration & advice from a community of 6000+ real travellers, influencers & content creators.
Trusted Service
Official partners & licensed agents of 1000+ tour operators worldwide.
---
Don't just take our word for it...
"Tourhub: Friendliness, Professionalism & Integrity I would happily give tourhub a 6* review if I could..."
Similar Tours
Travel Guru Features
Our Reviews