Bali, Rinjani Climb & Gili Islands
Bali, Rinjani Climb & Gili Islands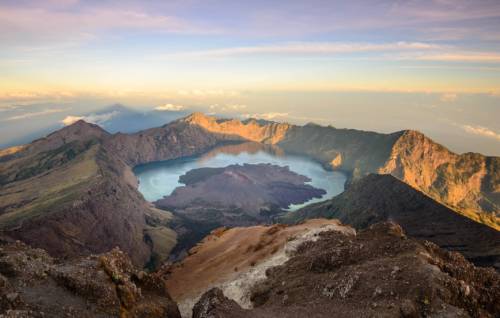 Bali, Rinjani Climb & Gili Islands
11 Days Starting in Lombok and ending in
Tour operator:
Physical rating:
Introductory to Moderate
Tour Overview
The small island of Lombok is dominated by the spectacular Mount Rinjani (3726m), Indonesia's second highest volcano, semi active and held in awe by the islanders. Trekking through tropical forest and scenic valleys we appreciate the incredible views. This tour includes time to cycle around Ubud and a scenic trek of Mt Batur. We then travel by boat to the tranquil Gili Islands where we can indulge in some snorkelling or just relax on its beautiful beaches. We complete this exciting journey on Lombok.
Highlights
Swim, snorkel and relax after your trek on beautiful Gili Island

Trek to the summit of trek of Mt Batur and enjoy the views

Hike to a spectacular viewpoint over Segara Anak, the crater lake

Climb to the undulating caldera rim of the Wild Flower Walk

Discover the culture of Lombok

Experience a bike trip around Ubud

Watch the ever changing scenery as you trek through tropical forests

Trek to the summit of Mt Batur and enjoy the views
Itinerary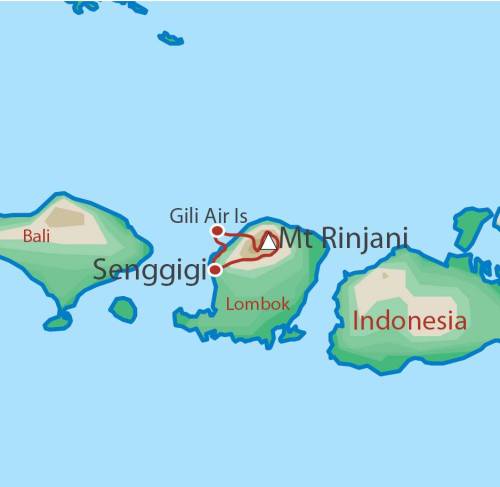 Not what you're looking for?
People that have booked this tour have also searched for the following:
Tours in Indonesia
Expand All
Day 1 :

Arrive Into Bali, Transfer To Ubud
Upon arrival today you will be met at the airport with a transfer to your hotel. Your guide will provide a trip briefing and answer any questions you may have. Ubud is Bali's artistic heart and the center of cultural events. Surrounded by a beautiful landscape it is easy to see where the artists find inspiration. For those wishing to know more about Balinese art, a visit to one of the local museums would be a great way to spend the remainder of the day. Cultural events such as ceremonies, dances and temple festivals occur frequently and you are always very welcome to observe. Ubud has many good restaurants where visitors can savour a wide range from simple Balinese food to sophisticated European dishes.
Overnight: Nick's Pension or similar
Day 2 :

Ubud By Bike (Cycle 2-3 Hrs)
This morning after breakfast we'll venture on bikes to explore the area surrounding Ubud. Following small rural roads, bicycles are the perfect way to experience this area. There will be many opportunities to stop along the way to learn about the local customs and lifestyles, your guide will be happy to explain their culture. After a couple of hours riding, you will have the option to ride on for another hour or jump in the vehicle and drive to the lunch spot. A delicious traditional Balinese lunch will be served in a small local restaurant set among the rice-fields. After enjoying lunch and a rest, you will then be driven back to your hotel in Ubud in the late afternoon to enjoy the remainder of the day at leisure.
Cycling: 2–3hrs (15km)
Overnight: Nick's Pension or similar
Day 3 :

Hike With The Widya Guna Foundation (Walk 4-5 Hrs)
At 8:30 this morning, you'll meet your guide from the Widya Guna Foundation in the hotel lobby. Today, we'll explore the outskirts of Ubud, starting with a hike from Campuhan Bridge near the famous Caphun ridge walk to Subak Sok Wayah. Along the way, we'll witness the daily activities of Ubud's communities, meet local farmers, and visit Sari Organic garden. We'll take a tea/coffee break at the garden before continuing to Subak Juwuk Manis, where we'll see more farmer group activities, local village life, and ancient Hindu temples. Throughout the hike, we'll take short breaks to rest and enjoy fresh coconuts.
After the hike, we'll meet with our driver and vehicle and head to a Balinese family compound that also serves as a Yayasan Widya Guna foundation. This foundation provides education, food, and shelter to underprivileged Balinese children, including those with physical and/or mental disabilities and street children. We'll have lunch here and learn more about the foundation's work to support these children in need.
We'll arrive back at your hotel around 3:00pm, and the rest of the evening is yours to enjoy at leisure.
Trekking: 4-5hrs
Overnight: Nick's Pension or similar
Day 4 :

Trek Mount Batur (Walk 6-7 Hrs)
Today you will be picked up in the morning around 6:00am. Your driver will take you to an amazing lookout point so you can witness one of the most beautiful views of Batur while enjoying breakfast. Once we have finished breakfast around 8:00am we begin our trek of Mt Batur. The walk starts of quite flat, walking through plantations such as tomato and onion. Next we start our ascent to the Point through volcanic sand and rock. Once we reach the point you can sit back and relax with a well-earned coffee break with a view of the Batur Lake, the enormous crater and weather depending a view of Lombok in the distance. At your own leisure its time to explore the fumaroles and caves and keep an eye out for the local Monkeys that live inside the largest crater, or if you want you can make it all the way to the summit which will take another 40 minutes uphill through volcanic sand. Our descent can take a bit longer as it is downhill and a little tricky in some places. We will arrive back at the lookout point at around midday where you can enjoy a delicious lunch before returning to your hotel.
Trekking: 6-7hrs
Overnight: Nick's Pension or similar
Day 5 :

Boat To Lombok, Transfer To Sembalun
Today you will be transferred to Padang Bai and take the fast boat to Lombok. Upon arrival in Lombok, you will be transferred to Sembalun. Sembalun is one of the two key gateway villages to Mount Rinjani. However, there is a lot more to this area as it boasts an abundance of natural beauty, towering mountains rising either side of patchwork rice paddy valleys.
Overnight: Nusantara or similar
Day 6 :

Trek Rinjani, To Crater Rim (Walk 8-9 Hrs)
In the early morning you'll have to register yourself at the Rinjani Information Centre (RIC) in Sembalun Lawang (1,156m). Here you will visit the Volcanology Center to check the seismograph, learn about the volcano, how the caldera and lake Segara Anak were formed and its patterns of eruption. Afterwards the RIC will prepare a briefing for you, describing the route details, safety procedures, rubbish management, the local traditions and the things you might see along the way. The trek starts with a gently ascending walk through open grassland used by cattle to graze. After about 3 hours we reach Pos 2 Tengengean (1,500m) from where you can enjoy magnificent views upon Rinjani's summit. We start a steep 3.5 hour climb towards the campsite on the crater rim. Along the way you will see pine-like Casuarina's, wild pigs and maybe even macaque monkeys.
Trekking: 8-9hrs / approx 10.5kms
Overnight: Tented camp
Day 7 :

Trek To Rinjani Summit 3,726M (Walk 11-12Hrs)
An early morning start is necessary for the exhausting three hour climb to the summit (3,726m). Once there, you will hopefully see an amazing sunrise. Around 6.30am we return to the crater rim for a well deserved breakfast. After a rest we will begin our descent to the crater lake, where the rest of the day is spent relaxing and swimming. There is plenty of time to explore the hot springs, which are said to have healing powers. Tonight you camp by the lakeside.
Trekking: 11-12hrs
Overnight: Tented camp
Day 8 :

Descend To Senaru (Walk 5-6Hrs), Boat To Gili Air
After breakfast, we start a three-hour steep climb to Plawangan 1 Senaru crater rim (2,461m). You will find edelweiss along the path and enjoy the view of the lake from the other side. From the crater rim you will have amazing views over Bali and over the Segara Anak. We start the descend to Senaru village through grassland and tropical rainforest. The trek concludes at the Rinjani Trekking Centre in Senaru, approximately seven hours from the rim. Upon arrival in Senaru the driver is waiting for you and drop you to the harbour (approx 2hrs/87km drive) where you will board by local boat to Gili Air (30-45mins).
Trekking duration: 5-6hrs / approx 9kms
Overnight: Royal Regantris Villa Karang or similar
Day 9 :

At Leisure On Gili Islands
You have a full day to yourself to unwind and relax. Take in the peaceful, sun-drenched beaches of this tropical paradise, or cool off in the refreshing swimming pool at the hotel.
Overnight: Royal Regantris Villa Karang or similar
Day 10 :

At Leisure On Gili Islands
Today is another day for you to enjoy at your leisure. Whether you prefer to relax on the peaceful beaches of this tropical paradise or take a refreshing dip in the hotel's swimming pool.
Overnight: Royal Regantris Villa Karang or similar
Day 11 :

To Lombok, Trip Concludes
Following breakfast this morning, you will be transferred to Teluk Kodek and continue to Lombok International Airport where the trip concludes.
What's Included
Accommodation
8 nights hotel/guesthouse

10 breakfasts, 7 lunches and 2 dinners

Airport transfers (day 1 and 11 only)

Comfortable accommodation on a twin share basis

Fully supported camping while trekking - tents, sleeping mats, sleeping bags and cooking equipment

Sightseeing and entrance fees as listed in itinerary

Private air-conditioned vehicle

Medical kit

Expert local bilingual driver

Boat transfers where required

Local guide throughout for groups of 8 and above
What's Not Included
International flights

Items of a personal nature such as laundry, postage, alcoholic beverages

Sightseeing and entry fees not listed in the itinerary or listed as optional

Additional transport required due to any emergency situation

Visa fees

Departure taxes

Tips and gratitudes
Accommodation
8 nights hotel/guesthouse
We use quality guesthouses. They are not luxury Inns but we make sure they offer you a truly authentic experience. You'll also enjoy our fully supported camping in quality two person tents erected in scenic wilderness.
What You Carry
When staying in hotels/guesthouses you will be required to carry all your luggage to and from our transport to the hotel and sometimes up 2-3 flights of hotel stairs. During the trek you will just have to carry your small day pack with essential items such as sunglasses, sunscreen, water etc. Porters are employed to carry the rest of your gear on the trek. Please keep gear to a minimum while on the trek.
Grading
These trips involve a combination of what is described in our INTRODUCTORY and MODERATE levels. The emphasis is on introductory activity with some moderate stages.
Check out our Q&As
Who will be my travelling companions on the tour?

We have offices on three continents which means your travelling companions will be just that – international and wonderfully eclectic. Part of small group travel means that although travellers come from various locations and backgrounds, you will be travelling with like-minded companions who, like you, are keen to share the experience and forge lifelong friendships.

What about environmental impact?

We believe that adventure travel revolves around establishing a strong relationship with the people and environments in which we operate. Our responsible travel policies have been carefully developed to ensure that we minimise the impact of our presence and help to protect the regions we visit while contributing positively to the local community.

What should I pack?

Your pre-departure documents include a detailed packing list with items that you need to bring. While most of the equipment for daily activities is included in your tour cost, some items like helmets and hiking boots are best brought from home. The pre-departure documents also include information on layering and recommended brands for various items to ensure you are fully prepared for your trip.

Do you operate a "single share" option and how does it work?

Yes. World Expeditions does not require single travellers to pay a surcharge for travelling alone on the vast majority of our trips. Our holidays are primarily on a twin share basis, so if you are joining the group as a solo traveller, we will match you with someone of your own gender. The choice is yours however; if you prefer not to share, we do offer single supplements for private occupancy.

Are tips included in my trip price?

Tips are not included in the tour cost. Tipping is a personal thing, do not worry about how much, or when, to tip. Tipping guidelines are provided for certain destinations in our pre departure information upon booking, however the best advice will be provided by your tour leader.
Am I suited to small-group travel?

We recognise that many of our travellers have not been on a 'group trip' before. Yet what our departures provide is both structure and flexibility, allowing you plenty of freedom within the framework of the itinerary. You'll find that with our maximum group size at 16, you'll travel in a minimal impact style with a great group of like-minded travellers.

Can you advise which vaccinations are recommended?

While our pre-departure kit provides information on vaccinations, we suggest that you consult your doctor, local government inoculation centre or a travel medical specialist in order to get the most current advice regarding vaccination requirements.
Book with Confidence
Transfer as credit to Future Tours

World Expeditions allows you to transfer existing payments to a future tour to avoid cancellation fees if you can't travel and inform world expeditions, 70 days before departure.

Low Deposit

World Expeditions requires a minimum deposit of 250 GBP per person or the full booking value, whichever is less, with the final balance not due until 70 days before departure.

Cancellation Policy

We don't charge a cancellation fee, here is a summary of world expeditions charges.

Up to 70 days before tour starts: Forfeit 100% of deposit.

At 69 days before tour starts: Forfeit 50% of booking price.

At 35 days before tour starts: Forfeit 100% of booking price.
Why book with tourhub?
Safe & Secure
Your money is protected in an external trust until you travel.
---
100% Guaranteed Refunds if your trip is cancelled.
---
The safest way to make overseas, multi-currency payments.
Guaranteed Best Value
Industry leading discounts, we won't be beaten on price.
---
No cancellation or amendment fees from tourhub.
(Operator terms may apply)
Expert Knowledge
Reliable & unbiased advice from travel experts.
---
Direct contact with the tour operator via our messaging service.
---
Inspiration & advice from a community of 6000+ real travellers, influencers & content creators.
Trusted Service
Official partners & licensed agents of 1000+ tour operators worldwide.
---
Don't just take our word for it...
"Tourhub: Friendliness, Professionalism & Integrity I would happily give tourhub a 6* review if I could..."
Not what you're looking for?
People that have booked this tour have also searched for the following:
Tours in Indonesia
Similar Tours
Travel Guru Features
Our Reviews