Best of Peru
Best of Peru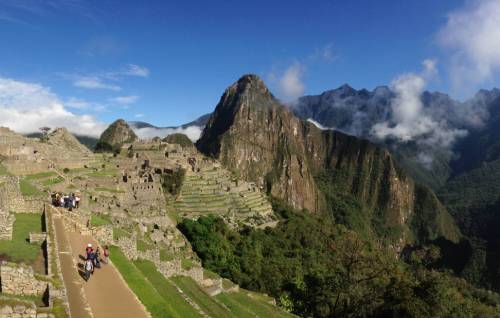 Best of Peru
16 Days Starting in Lima and ending in
Tour operator:
Physical rating:
Introductory
Tour Overview
Peru offers so much variety and this itinerary combines it all. From colonial Lima, we fly across the Andes to our Amazon jungle lodge and with our naturalist guides explore this diverse environment. While in Cusco and the Sacred Valley we wander some of South America's best markets and discover a variety of Spanish and Inca heritage. The discovery of Machu Picchu in 1911 revealed an incredible Inca architectural masterpiece, and this startling find provides a grand finale to our trek along the Inca Trail. On the trail, we ascend from the jungle to the snow capped Andean peaks to complete our spectacular approach to Machu Picchu. Travelling onto Lake Titicaca, we visit the Uros Indians who live on floating reed islands and enjoy a night in a homestay on an island before returning to Lima.
Highlights
Undertake the quintessential Peruvian trek, the Inca Trail to Machu Picchu and experience dramatic mountain views

Experience iconic Machu Picchu on two occasions to fully appreciate this new world wonder

Explore the Amazon jungle and its amazing rainforest and wildlife

Enjoy the cultural delights and vibrant markets of Cusco

Visit the stunning Sacred Valley and see ancient Inca salt pans

Experience picturesque Lake Titicaca and floating Uros Islands
Itinerary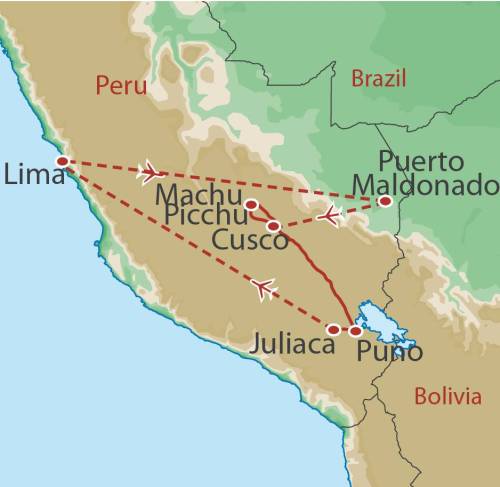 Not what you're looking for?
People that have booked this tour have also searched for the following:
Tours in Peru
Expand All
You will be met at the airport and transferred to the hotel where you are free to rest in the hotel or just wander around Miraflores, the area of Lima where our hotel is located. Some of Lima's best galleries and shops and restaurants are located in this area. Founded by Francisco Pizarro in 1535, Lima is the oldest capital in South America, with a superb combination of Spanish Colonial and 19th century European architecture. If you have time to visit a museum we would recommend the brilliant Larco Herrera Museum which also has an excellent onsite restaurant or the Museo de La Nacion.
Overnight: Casa Andina Standard Miraflores Centro or similar.
NOTE: This evening, please be sure to re-pack your luggage for the jungle. Dependent on your accommodation in the jungle the luggage policy differs. Please see pre-departure information (under 'luggage') for more details. You will also be advised on arrival in Lima on the applicable luggage regulations.
Day 2 :

Fly Across The Andes To Puerto Maldonado In The Amazon Jungle
Transfer to the airport for your flight to Puerto Maldonado. This provides an opportunity to experience a real jungle frontier town. On arrival you will be met at the airport and taken to the office of the lodge to leave our main bags to be stored for our return. We continue to the river wharf where we board a 30-40 foot open launch for a short river journey to one of our lodges. During this journey which can take between 45 minutes and 2 hours (depending upon the lodge and availability) we can relax and watch the river bank and jungle canopy for the particularly abundant bird life in this region. Among the birds we may expect to see (dependent on weather and river height) are horned screamers, raptors, plovers, terns, macaws, parrots, kingfishers and toucans. Depending on the lodge you are staying at, you may walk for approximately 1 hour to Lake Sandoval and take a canoe for a 25 minute journey on the lake before you arrive at your lodge in the middle of the jungle. The lodges we use are beautifully positioned and apart from being our jungle home, they also serve as a base for naturalists to work from. The rainforest (both pristine primary and secondary growth forest) surrounding the lodges are a naturalist's paradise. During the remainder of the day we go for walks with our naturalist guide along forest trails. After dinner we get a chance to relax and discuss with resident naturalists the research projects taking place in the area. Serenaded by a chorus of jungle noises we go to sleep in our comfortable bedroom.
NOTE: It is important to be aware that the lodges are comfortable but basic - only some of the lodges have electricity or hot water for a few hours a day. Please note that due to demand it is sometimes necessary to use an alternative lodge in this area. While staying at the jungle lodge you may be with other people from other operators worldwide in a group.
The day is spent enjoying jungle walks to find monkeys and capybaras and also taking canoes out on to some of the jungle lagoons in the area. There is a particularly abundant bird life - including anhinga, hoatzin, horned screamers, raptors, plovers, terns, macaws, parrots, kingfishers and toucans. We can almost guarantee we will see lots of monkey including troops of capuchin, dusky titi, spider & howler, plus possibility of seeing large caymans and giant river otter. Before the evening meal we head out for a short river trip using torches to look for caymans - this always proves to be exciting.
PLEASE NOTE: The program may vary according to flight schedules, weather, river height, group sizes, etc and participants should be aware there is no guarantee of seeing specific animals or birds and in general you may not see much wildlife since the rainforest provides such good camouflage for its inhabitants - but you will have a good chance to experience true Amazon rainforest first hand.
Early morning departure after breakfast for the downriver trip to Puerto Maldonado and the short flight back to Cusco 11,200' (3,400m), arriving there around midday. After your transfer to our hotel located in the historic centre you will have some time to explore the city and also enjoy a few hours of rest, essential to initiate successful acclimatisation to the altitude. In the evening you will meet with your guide and others joining the trip at 6pm at your hotel for a trip briefing.
Overnight: Casa Andina Standard Cathedral or similar.
Day 5 :

Tour Of Cusco And The Nearby Ruins
Today we have a guided tour of Cusco and its nearby ruins. The city, once capital of the extensive Inca Empire, has seen many changes since Francisco Pizarro's men took the city with such apparent ease in November 1533. The tour starts with a visit to Santo Domingo Convent, a large Renaissance-baroque complex, which was built over the Inca Coricancha temple. It was one of the most important temples dedicated to worshipping of the sun, and its foundations are still prominent at the base of the convent. Ancient chronicles say the temple was covered in gold leaf and filled with golden representations of nature. Then, visit the Cathedral, the most famous monument of the Main Square. Head to the hills above Cusco to visit the remains of the fortress of Sacsayhuaman. The impressive ramparts offer a stunning panoramic view of Cusco, and the ruins of the temple and amphitheatre of Qenqo, where it is believed the Incas practised agricultural rituals. Admire Qenqo and then finally visit Puka Pukara ('Red fortress' in Quechua), an Inca military complex located on a prominent hill. Its dwellings, squares, bathrooms, aqueducts, walls, and towers can still be appreciated. Afterwards, we return to our hotel. In the afternoon you may have time to explore some of the central parts of the city and have a chance to look at some of the great varieties of local craft work on sale in open-air artisan markets and shops.
Overnight: Casa Andina Standard Cathedral or similar.
Day 6 :

Drive And Walk Down Into The Sacred Valley Of The Incas
We leave Cusco and head to the Chinchero Plateau to explore Chinchero, an important town in Inca times. The most striking remnant of this period is the massive stone wall in the main plaza which has ten trapezoidal niches. There are beautiful views overlooking the Sacred Valley of the Incas, with the Cordillera Vilcabamba and the snow-capped peak of Salcantay dominating the western horizon. Chinchero is believed to be the mythical birthplace of the rainbow. Next we visit the mysterious concentric circular terraces of Moray which, according to some scholars, could have been an agricultural research centre. From here we head to the salt mines of Maras. This village is a salt-producing centre that dates back all the way to Pre-Inca times. There are thousands of salt pools all carved into the mountain side. Due to a change in regulations, visitors are not allowed to walk through the salt mine anymore to avoid contamination of the salt. We will go to a lookout point from where we have stunning views of the salt pools. From here we will walk for about 1 hour mainly downhill to Pichingoto. Enjoy this rarely walked path and soak up the incredible setting of the Sacred Valley. Our car will be waiting for us in Pichingoto and we drive to our hotel in Ollantaytambo. The rest of the afternoon is free to relax and enjoy the beauty of this famous town.
Overnight: Tika Wasi Hotel or similar.
Day 7 :

Second Day In The Sacred Valley Of The Incas
Today we enjoy another day in the beautiful Sacred Valley with a tour of Ollantaytambo. During our time in Ollantaytambo we visit its remarkable temple/fortress set high on a ridge above the village. We also explore the quaint village itself with a fascinating mixture of Inca and Colonial architecture. This evening we have a pre-trek briefing with our trekking guide at our hotel and prepare for the trek. Here you will receive your kitbags and jackets for your trek.
Overnight: Tika Wasi Hotel or similar.
Day 8 :

Inca Trail Trek Commences
You will be picked up early from your hotel in the Sacred Valley for the drive to Chilca or Piscacucho where we start our first day of trekking. At this point we meet our cooks, porters and camp staff before setting off on this famous 'Royal Highway of the Incas', built more than 500 years ago. The first day involves approximately five to six hours of walking. During the first few hours of walking we follow the course of the famous Urubamba River before stopping to admire the archaeological site of Patallacta 2750m (9,020ft) – an ancient Inca city built on a series of terraces below the trail. From here we continue to follow the narrow valley of the Cusichaca River to camp at one of two sites near the village of Huayllabamba 3,100m (10137ft). This means we avoid the very crowded camp sites within the village used by most of the trekkers on the Inca Trail. We will walk approx 12km (5-6 hours).
Overnight: Campsite.
*Important: Please be aware that, because of the Peruvian authorities' rules on the Inca Trail, there may be changes in the actual trek itinerary and the campsites we use.
Day 9 :

Trek Towards First Pass
After breakfast, we begin the most difficult part of the trek. We continue up this narrow valley on the left bank of the river - whose source is one of the great glaciers of Mt Salcantay. We then start the steep climb up our first pass, Warmihuañusca, which is also the highest point of the journey at 4,200m (13,700ft). After a rest at the pass and time to take in the spectacular views we descend steeply into the Pacamayo Valley 3,500m (13,700ft) where we spend our second night on the Inca Trail. We will walk approx 11km (6-7 hours).
Overnight: Campsite.
Day 10 :

Trek Over Second And Third Pass To Wiñay Wayna
Today is the longest day (eight to nine hours of walking) but also the most impressive and interesting because of the amount of archaeological complexes and cloud forest we will find as we walk. After breakfast in our campsite in the verdant Pacamayo Valley we start ascending towards the small but impressively set ruins at Runkuraqay and on to Cochapata set just below the second pass at 3,900m (12,800ft). From here we walk the short distance to the pass and then descend past a mysterious small green lake to the large ruins of Sayacmarca and on to the last pass at 3,800m (12,450ft) which is more like a low ridge-line than a true pass. From here we get a great view down into the forested gorge of the Urubamba River set more than 1700 metres below us. A short hike from here takes us over the Phuyupatamarca Pass at 3,700m (12,140ft), aptly named the 'City in the Clouds'. We walk down along an incredibly well preserved section of the Inca Trail with great white granite slab walls and staircases all impressively set in high jungle to our final campsite at Wiñay Wayna 2,679m (8,790ft). We will walk approx 16km (8-9 hours).
Overnight: Campsite.
Day 11 :

Final Day Of Trek To Machu Picchu, Guided Tour Of Machu Picchu, To Aguas Calientes
After breakfast we walk the last few kilometres to finally reach Inti Punku (The Gateway to the Sun) awe-inspiringly set above the 'lost city' of Machu Picchu 2,400m (7,900ft). Your first view of the ruins really does take your breath away! We will enjoy a guided tour of the sanctuary followed by time to explore this fascinating site at your own pace (with the accompaniment of the guide). We return by bus down to Aguas Calientes for lunch (at your own expense, there are many options to choose from) and check in to our hotel to recharge or this is a good time for a well deserved soak in the nearby hot springs (optional). We say farewell to our guide and some of the Inca Trail trekkers returning to Cusco this afternoon. We will walk approx 3km to the Gateway of the Sun (2 hours).
Overnight: El Mapi Hotel or similar.
*Important: Peruvian authorities have implemented entry restrictions to protect Machu Picchu from the impact of its immense popularity. There are three time slots in which patrons can enter Machu Picchu for a maximum of four hours and must follow one of three predetermined routes. Admission is not allowed after 4pm. Additionally, all visitors must be accompanied by a guide at all times. These changes have been made to improve the visitor experience and in an effort to deal with overcrowding. World Expeditions endeavours to ensure you get the most of your Machu Picchu experience regardless of these restrictions.
Day 12 :

Explore Machu Picchu And Return To Cusco
This morning we get up early to savour the views and atmosphere of the mystical morning light over Machu Picchu. We are treated to a unique second visit to Machu Picchu including another guided tour (conducted by a local guide) visiting the sites that you may have missed yesterday in this colossal sanctuary. In the afternoon or early evening we depart from Machu Picchu for the train ride back to Ollantaytambo where we transfer to our vehicle for the drive back to Cusco.
Overnight: Casa Andina Cathedral Hotel or similar. NB - depending on train schedules, we may arrive into Cusco very late at night.
OPTIONAL HUAYNA PICCHU CLIMB OR MACHU PICCHU MOUNTAIN CLIMB - For the adventurous, you can purchase a permit for Huayna Picchu or Machu Picchu Mountain climb (ask for costs) and forego the guided tour of Machu Picchu, which is non-refundable and non-transferable. Both climbs are steep, slippery, and exposed with vertiginous drops. Huayna Picchu has narrow trails and reaches 2,963m, while Machu Picchu Mountain has a wider path and reaches 3,082m. The climbs are not guided and takes a minimum of 3 hours return. Before purchasing the non-refundable and non-transferable permit, passengers must sign a waiver form. There are limited Huayna Picchu permits available and they sell out quickly, so contact us as soon as possible if interested.
Day 13 :

Cusco - Free Day
A good day to relax, do your washing and re pack after the trek and perhaps a chance to do some 'tourist shopping', selecting from a great variety of expertly made craft work - including alpaca sweaters and hats, ceramics, weavings and traditional Andean instruments. In the evening we prepare for the next stage of our journey through the Andes.
Overnight: Casa Andina Cathedral Hotel or similar.
Day 14 :

Overland Journey To Puno And Lake Titicaca
We depart early in the morning for the 8 to 10 hour journey by first class public bus to Puno, set on the shores of Lake Titicaca at 12,630' (3,820m). The road takes us through the wonderful Andes scenery. First, we stop in Andahuaylillas, a town located 40 kilometres from Cusco with the Church of Andahuaylillas as the main attraction. The church is nicknamed the 'Sistine Chapel of America', due to its impressive art inside. After this, we stop in Checacupe, a beautiful town known for its hanging bridges and rock bridges. We continue the route to Racchi, where the Wiracocha Temple is located, a surprising 30-meters wide by 20-meters high construction of rectangular shape. Enjoy a tasty box lunch in Sicuani, followed by a brief stop in La Raya, the highest point between Puno and Cusco, over 4,313 metres above sea level. In the afternoon we arrive at the town of Pucara, where the Pucara Lithic Museum is located. Developed between the years 100 and 300 AC, this town was the first proper urban settlement of the lacustrine highlands. Finally, arrive in the city of Puno. Our first glimpses of lake Titicaca reminds us that this is hardly a lake - its more like a vast inland sea that also happens to be the highest navigable lake in the world! We spend our night at our hotel in Puno.
Overnight: Hotel in Puno.
Day 15 :

Lake Titicaca, Uros Islands And Island Homestay
Puno is a typical high Andean town, set on the great altiplano that surrounds the lake and stretches all the way to La Paz. After breakfast we head down to the old lake port with its century old steamers still tied up at the wharf. From here we board small motor boat to cruise out to visit the famous Uros Islands. These islands often given the misnomer of 'floating islands' are in fact tortora reed mats that grow out of the shallower waters of the vast bay of Puno. The islands have for centuries been occupied by the small Uros community who continue their traditional methods of 'farming' and fishing the lake. From here we continue to the islands of either Taquile or Amantani where we spend a night in a local island home. These islands have been occupied by traditional farming communities and spending a night gives us a good chance to learn more about the Andean people and their traditional lifestyles.
Overnight: Homestay
Day 16 :

Drive To Juliaca Airport, Trip Concludes
Return by boat to Puno and drive to Juliaca airport for flight to Lima airport where your services end. Please don't book flights out of Juliaca before 1pm.
What's Included
Accommodation
11 nights hotel/jungle lodge

15 breakfasts, 7 lunches and 6 dinners

Airport transfers if arriving on the first day and departing on the last day of the trip

Expert bilingual guide for each section

Inca Trail Permit (please check availability with us at the time of booking)

Comfortable and central hotels

Private internal transportation (except drive from Cusco to Puno - we use a first class public bus to Puno for small groups of up to 5 people)

The use of a gear pack for the trek including sleeping bag, fibre filled jacket, thermarest and head torch

Group camping equipment

Sightseeing and site entrance fees as listed (including Machu Picchu entrance fee)

Porters to carry personal gear
What's Not Included
International flights and taxes

Internal flights Flights Lima/Puerto Maldonado/Cusco and Juliaca/Lima are not included.

The domestic flights in Peru will be quoted separately as they can often change considerably and depends on the international airline that you fly with to Peru. Certain airlines flying to Peru offer special discounted fares for domestic flights if booked

Excess baggage costs

Cost of laundry and alcoholic beverages

Medical treatment

Visa Costs

Travel Insurance (compulsory)
Accommodation
11 nights hotel/jungle lodge
While in Lima or Cusco, you will typically stay at a Casa Andina hotel, or another property of a similar style. The Casa Andinas specialise in integrating the characteristics of each destination such as architecture, decoration, gastronomy and music to create an authentic experience for our travellers. They are centrally located and come with good service and comfort. Most of the hotels and lodges we use can be described as 3 star accommodation, some of them are categorised as 4 stars. In smaller towns and villages hotel options are often limited and we might have to use more basic accommodation with a lower or without star rating. Please note that the star rating in South America is very fluid and can't be compared to a western standard star rating, however you can be assured of clean, comfortable and well located lodgings. While in the jungle the lodges we stay at are basic though comfortable and they beautifully blend into the natural surroundings. At times, electricity can be sporadic or limited however most of our travellers attest to the joy in being unplugged and in the inky darkness of the Amazon basin (albeit with a torch or candle!). Expect mosquito nets and at times rooms which are partially open to the outdoors. During the trekking section, enjoy our fully supported camping experience in quality two person tents with plenty of personal space and storage for your luggage. Our team are on hand to ensure your comfort and safety with a dining tent, separate cooking tent and where appropriate, toilet tent erected. On this trip you will be accommodated for one night in an authentic village homestay on one of the islands of Lake Titicaca. Homestays are where a local family will open their home providing a wonderful insight into the local culture. When staying with a local family please bear in mind their way of life differs markedly from our own. The accommodation is simple and can be on a multishare basis without private bathroom facilities. Homestays are a wonderful way to see local village life. Animals wander in and out of the villages and small cottage gardens with flowers and vegetables surround the houses. Whilst amenities are basic, you will be sleeping in a normal bed with bedding, pillow and linen for a comfortable night's rest. Your evening meal will be prepared for you by the homestay owners. Please note that a single supplement is compulsory for this trip if you are travelling alone. If you prefer to share, please advise us at the time of booking and we will try to match you with another person of the same gender and also willing to share. If a match does happen we will refund the single supplement cost before departure.
What You Carry
In your daypack you will need to carry extra warm clothing (depending on the altitude, location and weather), a rainjacket, water bottle, camera gear, valuables and personal items such as sunscreen, lip-eze etc. Porters and mules carry all group gear and your trek pack. Please note, the following items are prohibited in Machu Picchu: drones, selfie sticks, tripod for cameras, walking stick without rubber tip, backpack that exceeds 40cm x 35cm x 20cm, aerosol spray, heals, sharp objects, banners or posters. As of December 2018, single-use plastic bottles and any other single-use plastics (bags, cups, straws, etc) are prohibited in the Historic Sanctuary of Machu Picchu, on the Inca Trail and all other protected natural areas in Peru. This regulation was established by the Ministry of Environment, following the Sustainable Tourism Regulation which aims to conserve these protected natural areas. Please ensure to bring your reusable water bottle on all our Peru trips. Water refill stations have been installed in areas near Machu Picchu and other national parks. Your guide will brief you where you can refill your water bottles with drinking water.
Grading
Introductory adventures are designed with the first time trekker in mind. They are challenging enough to make it a real adventure holiday, however the daily physical exercise is around six to eight hours and altitudes generally less than 4,200m. Introductory adventures are not necessarily easy. There will be some long steep ascents and some rough ground to cover. Remember trekking rarely involves flat terrain. Two to three months prior to departure you should spend thirty minutes to one hour exercising, three or four times per week eg. Hard walking, jogging or cycling. To prepare for a walking holiday we recommend you take every opportunity to walk up and down stairs and/or hills, for leg strengthening and aerobic fitness. Please remember the fitter you are the more you will enjoy your holiday.
Check out our Q&As
Who will be my travelling companions on the tour?

We have offices on three continents which means your travelling companions will be just that – international and wonderfully eclectic. Part of small group travel means that although travellers come from various locations and backgrounds, you will be travelling with like-minded companions who, like you, are keen to share the experience and forge lifelong friendships.

What about environmental impact?

We believe that adventure travel revolves around establishing a strong relationship with the people and environments in which we operate. Our responsible travel policies have been carefully developed to ensure that we minimise the impact of our presence and help to protect the regions we visit while contributing positively to the local community.

What should I pack?

Your pre-departure documents include a detailed packing list with items that you need to bring. While most of the equipment for daily activities is included in your tour cost, some items like helmets and hiking boots are best brought from home. The pre-departure documents also include information on layering and recommended brands for various items to ensure you are fully prepared for your trip.

Do you operate a "single share" option and how does it work?

Yes. World Expeditions does not require single travellers to pay a surcharge for travelling alone on the vast majority of our trips. Our holidays are primarily on a twin share basis, so if you are joining the group as a solo traveller, we will match you with someone of your own gender. The choice is yours however; if you prefer not to share, we do offer single supplements for private occupancy.

Are tips included in my trip price?

Tips are not included in the tour cost. Tipping is a personal thing, do not worry about how much, or when, to tip. Tipping guidelines are provided for certain destinations in our pre departure information upon booking, however the best advice will be provided by your tour leader.
Am I suited to small-group travel?

We recognise that many of our travellers have not been on a 'group trip' before. Yet what our departures provide is both structure and flexibility, allowing you plenty of freedom within the framework of the itinerary. You'll find that with our maximum group size at 16, you'll travel in a minimal impact style with a great group of like-minded travellers.

Can you advise which vaccinations are recommended?

While our pre-departure kit provides information on vaccinations, we suggest that you consult your doctor, local government inoculation centre or a travel medical specialist in order to get the most current advice regarding vaccination requirements.
Reviews From Travellers On This Tour
J. Barrett(Brighton, VIC)
Best of Peru
Fantastic trip- well organised all round with a good balance of activities- adventure hiking and sight seeing. Our first view of Machu Picchu in the distance, after we had walked for 4 days was truly remarkable. We felt so much a part of the spectacular landscape rather than just another pack of tourists. The camping on the trek was comfortable, lovely warm bedding and the meals excellent. Other accommodation was perfect, especially in the Sacred Valley and Amazon basin - both were luxurious and in stunning locations (but also eco friendly). Knowledgeable guides gave us so much history and local information. An exceptional trip I would highly recommend to any reasonably fit person.
I. Urquhart(Burwood, VIC)
Best of Peru
The Best of Peru was memorable... from the wildlife in the Amazon, the scenery on the Inca Trail, the home stay on Lake Titicaca, our group and guides and especially the amazing friendliness of the people of Peru. A great tour, visiting so many different places. Probably the best thing was hiking the Inca Trail to Machu Picchu ...magical!
W. Swaik(Melbourne, VIC)
Best of Peru
We have just returned from the Best of Peru tour. We would highly recommend it for the variety of settings: Amazon jungle, Macchu Picchu trek and islands in Lake Titicaca. The tour was excellently led by a variety of guides but the highlight was definitely the impossibly beautiful and challenging Inca Trail. The whole team of guides (Jeiko and Hector) and chefs and porters were so supportive and encouraging that it turned into an amazingly spiritual and satisfying experience. Hard to get permits now so book early and get training!
L. Moltoni(Nedlands, Western Australia)
Best of Peru
Magic trip! Very well organised- great guides, great food and excellent sites.
Anthony and Pennie Chelmsford(Essex, UK)
Best of Peru
We cannot recommend this trip more highly. It provided us with a truly memorable combination of South American experiences; the Amazon Rain forest ecology with our lovely guide 'Sol', the Inca ruins of Cusco (and it's chocolate museum!) the fascinating sacred Valley and 4 amazing days trekking under canvas with Henry up the Trail to reach our 'iconic destination, Machu Picchu. Then finally the high lake of Titicaca in a local farmer's homestay (Peruvian hat comes in handy as no central heating or hot water but still superb!) on an island there. We also enjoyed some Peruvian cuisine worthy of 'Masterchef'. All the staff could not have been kinder or more professional in their assistance: the hotels were well chosen and with just one night's exception, provided us with excellent accommodation. We are now planning our return to the continent next year.
M. Hutton(Boondall, QLD)
Best of Peru
Our family (parents and 2 teens) had the most amazing experience during this holiday. From the Amazon jungle to Cusco (Sacred Valley) to the highlight of the trip, trekking the Inca Trail, we had friendly knowledgeable guides, more than comfortable accommodation and experiences to last a lifetime. I'll never forget the sight of Macchu Picchu from the Sun Gate on the last day of the trek. Making sure we were fit beforehand made all the difference to the trek.
J. Crowley(Parkside, South Australia)
Best of Peru
Best of Peru is a fantastic opportunity to experience various aspects of this spectacular, friendly country. It included the challenge of the 4-day Inca Trail, but much much more including village markets, museums, textile making, jewellery workshops and a myriad of incredible sights. Sandoval Lake with its muddy entrance was a highlight as was the home stay on Lake Titicaca.
M. Stringfellow(Gosford, NSW)
Best of Peru
All parts of the trip were great. The hotel staff and trekking crew were incredible. Well worth the time.
J. Clarke(Australia)
Best of Peru
The Best of Peru - alternate to the Inca Trail - Salcantay Trek travelled with my son was the most enjoyable, varied and interesting adventure I've ever experienced. There was nice balance between sightseeing and trekking. It is hard to decide on the trip's highlight, I loved the Amazon's jungle & wildlife, the beauty of the Andes, the cities, like magnificent Cusco, the cultural heritage sites and the magic of Lake Titicaca. All were fabulous! So thank you World Expeditions for making it possible.
A. Lee(Melbourne, VIC)
Best of Peru
Particularly like the Jungle stay/ experience in the Amazon Basin at Lago Dandoval and the Inca Trail. Cusco and Ollantaytambo were lovely, the cultural experiences great. Staff were prompt all the time, very thorough and helpful. Transport good. Overall a wonderful experience.
Book with Confidence
Transfer as credit to Future Tours

World Expeditions allows you to transfer existing payments to a future tour to avoid cancellation fees if you can't travel and inform world expeditions, 70 days before departure.

Low Deposit

World Expeditions requires a minimum deposit of 250 GBP per person or the full booking value, whichever is less, with the final balance not due until 70 days before departure.

Cancellation Policy

We don't charge a cancellation fee, here is a summary of world expeditions charges.

Up to 70 days before tour starts: Forfeit 100% of deposit.

At 69 days before tour starts: Forfeit 50% of booking price.

At 35 days before tour starts: Forfeit 100% of booking price.
Why book with tourhub?
Safe & Secure
Your money is protected in an external trust until you travel.
---
100% Guaranteed Refunds if your trip is cancelled.
---
The safest way to make overseas, multi-currency payments.
Guaranteed Best Value
Industry leading discounts, we won't be beaten on price.
---
No cancellation or amendment fees from tourhub.
(Operator terms may apply)
Expert Knowledge
Reliable & unbiased advice from travel experts.
---
Direct contact with the tour operator via our messaging service.
---
Inspiration & advice from a community of 6000+ real travellers, influencers & content creators.
Trusted Service
Official partners & licensed agents of 1000+ tour operators worldwide.
---
Don't just take our word for it...
"Tourhub: Friendliness, Professionalism & Integrity I would happily give tourhub a 6* review if I could..."
Not what you're looking for?
People that have booked this tour have also searched for the following:
Tours in Peru
Similar Tours
Travel Guru Features
Our Reviews