Bhutan Cultural Journey
Bhutan Cultural Journey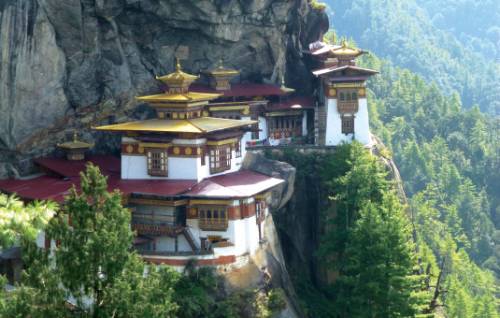 Bhutan Cultural Journey
13 Days Starting in Paro and ending in
Tour operator:
Physical rating:
Adventure touring
From:
$6265
$6090 (USD) WINTER SALE @ Tourhub Discount: $175
Tour Overview
This unique itinerary is packed with cultural experiences and a blend of varied day walks which will appeal to those who like to keep active whilst engaging with the rich culture and history that Bhutan has to offer. We begin our journey in the serene Paro Valley and drive to Haa Valley via the Chele La Pass, the highest motorable road in Bhutan. From here we take a walk to the Kila Gompa with views of the sacred Jomolhari peak. We visit the well known Gangtey Valley and enter central Bhutan, well known for its many monasteries. We undertake day hikes through bamboo and pine forests to surreal viewpoints over the valleys and wetlands. This area is the breeding ground to the elusive Black-necked crane in November to February. We spend some time exploring Trongsa and the lush and fertile valley of Bumthang valley. From here, we continue onwards to Punakha via Dochu La Pass and the magnificent Punakha Dzong. We visit the nation's capital of Thimphu, and visit the renowned Cheri Monastery and a school that upholds the traditional practice of painting. We return to Paro and conclude a memorable journey in the land of the thunder dragon with a hike up to Taktsang Monastery.
Highlights
Explore Paro and visit the famous Taktsang 'Tiger's Nest' Monastery

Cross high mountain passes to the Gangtey Valley, winter home to the Black Necked Crane and Trongsa

Witness the majesty of the Himalaya including the sacred Jomolhari peak (7326m)

Traverse through the picturesque Haa Valley, Bumthang and Punakha

Discover the ancient dzongs (fort-monasteries) and Lhakkhangs of central Bhutan on ancient trails

Learn about Bhutanese culture at Paro's National Museum
Itinerary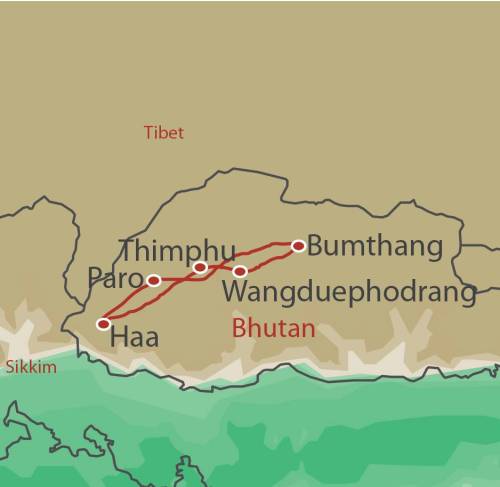 Not what you're looking for?
People that have booked this tour have also searched for the following:
Tours in Bhutan
Expand All
Day 1 :

Join Paro (2200M)
After clearing customs and immigration in Paro, you'll be met by our group leader. There's time to freshen up and have lunch before heading out to hike to Zuri Dzong (2,600m). This scenic small hike to the Dzong will serve as an acclimitization walk as offer a glimpse into the beautiful landscapes of Bhutan. After the hike, we check into the hotel for a trip briefing and a welcome dinner.
Overnight: Hotel Drukchen or similar
Day 2 :

Drive To Haa Valley (70Km; 3Hrs)
After breakfast we drive towards the Haa valley via Chele La Pass, the highest motorable road in Bhutan. Before making it to Chelela, we visit Kila Gompa Nunnery, reputedly the oldest nunnery in Bhutan consisting of a series of buildings pressed against the cliffs. Around 50 nuns pursue higher Buddhist college studies here. We then embark on a scenic 1.5-2hr hike to Chele La, passing serene forests, chortens and fluttering prayer flags. Our transport will pick us up from the pass and transfer us to the below valley of Haa.
Arriving at Haa, we visist Lhakhang Karpo & Nakpo, established in the 7th century by Tibetan King Songtsen Gempo in his missiong to build 108 temples in one day to pin down the giant ogress who was obstructing against the spread of Buddhism in the Himalayan region. Lhakhang Karpo has been renovated recently and also hosts the annual Haa Tshechu. A short distance away is Lhakhang Nakpo, where it is believed a hidden lake is below the shrine.
There is an opportunity to stroll down the small town of Haa and its one-street town. We check into our heritage lodge and its traditional architecture. Try the hot stone baths that are renowned in Bhutan.
Overnight: Soednam Zingkha Heritage Lodge or similar
Day 3 :

Drive To Gangtey (6Hrs)
After breakfast we drive to Gangtey (approx. 6 hrs drive), which is a wide and beautiful valley the open grassland and thickets of dwarf bamboo, designated as conservation zone within the Jigme Singye Wangchuk National. It is a natural habitat for wildlife, including nesting grounds for endangered black-necked cranes that migrate from Central Asia in the winter (late October and stay till March). We visit the Crane Centre created to provide information on this elusive species.
Overnight: Hotel Dewachen or similar
After breakfast at leisure, drive up to visit the Gangtey Monastery on a forested hill overlooking the green expanse of the entire Phobjikha valley. Black neck cranes circle this monastery before landing in the valley and taking off for Tibet in February end for 110 km non-stop journey.
From this monastery, we embark on a hike (approx 2hrs) starting by the Mani stone wall, through pine and bamboo forests and ends in Khewa Lhakhang. Views over the Phobhikha Valley and wetlands are endless and breathtaking.
Overnight: Hotel Dewachen or similar
Day 5 :

Drive To Bumthang (68Km, 4-5Hrs)
Today we cross the Pele La pass (3,420m) on the Black Mountain range towards Trongsa. Enroute we pass the beautiful 18th century Chendebji Chorten, erected to subdue harmful, anti-religious demons. Upon arriving at Trongsa, the ancestral home of Bhutan's ruling dynasty. After lunch we visit the Ta Dzong Museum that houses a rare collection of historical artifacts belonging to the Royal Family.
We continue to Bumthang, the spiritual heartland of Bhutan and stop at Zungney village mid way. Bhutan is well known for their bright coloured wooled fabrics known as Yathra and we will visit a factory where ladies weave these vibrant fabrics in different patterns and shapes.
Overnight: Rinchenling Lodge or similiar
Legend has it that throughout the Buddhist Himalayas, valleys hidden from the outside world exist. Sheltered and protected, together these regions could become the last bastions of traditional Tibetan Buddhism. Shangri-La in James Hilton's Lost Horizons is based on this very idea. There remain few places more suited than Bumthang, Bhutan's spiritual heartland, to stand as symbols of such ideals.
We will be dropped off at Jambay Lhakhang, from where we still start our sightseeing tour on foot. Jambay Lhakhang was built in the 7th century by the Tibetan king Songtsen Gampo, on the same day as the Kyichu temple in Paro. This temple has been repaired and rebuilt several times of the year and is of significance to Buddhist tales. On our hike, we also visit Kurjey Lhakhang, Tamshing Lhakhang and the Kenchosum Lhakhang - all traditional temples that have been preserved and restored.
We end the day with a visit to the Swiss Cheese Factory. Taste the local cheese and try Panda beer, produced by the Swiss Brewery.
Overnight: Rinchenling Lodge or similar
Day 7 :

Bumthang - Tang Valley
Tang is the most remote of Bumthang's valleys with not as much agriculture as the valley below, although in places where the soil is fertile and deep the Arcadian scenes are picture perfect. Terton Pema Lingpa the famous saint responsible for discovering many treasures as prophesized by Guru Rimpoche was born in this valley. The people of this valley raise sheep and at higher elevation, yaks.
We visit the Ogyencholing Museum that was restored in the 19th Century. This museum offers a glimpse into history with exhibits that capture the ambiance and lifestyle of the former Governor.
In the afternoon we start a hike on the ancient trails of local merchants and traders. We cross Baetely La (pass) at 2900m and end at the famous Kharchu Dratsang where our car will drive us to the hotel.
Overnight: Rinchenling Lodge or similiar
Day 8 :

To Punakha (6Hrs)
Today we will head to the warmer valley of Punakha. Visit the village of Lobesa where a short walk ends at Chimi Lhakhang, the auspicious fertility monastery built in 1499. We will also visit the impressive Punakha Dzong - a fortress monastery which acts as the winter residence of the monastic order's head, with numerous rooms and grand courtyards to be explored.
Overnight: Meri Puensum Resort or similar
After breakfast we commence the drive towards Thimphu, the nation's capital. Thimphu is the largest city with a population of 1.2m and also without traffic lights! It is home to the Government, royal family and has an interesting mix of Himalayan and western influence.
Later in the afternoon, we visit the tallest sitting statue of Buddha Dodenma (52m). This statue fulfills an ancient prophecy dating back to the 8th Century A.D of emanating an aura of peace and happiness to the entire world. We also visit the Jungshi paper making factory where you can observe the traditional process of producing hand made paper passed down through generations. This type of paper was originally used by monasteries for manuscript books and writing prayer books. This factory continues to preserve and promote this ancient tradition.
Day 10 :

Morning Hike To Cheri Monastery
This morning, we will drive for 45 minutes to the start of the hike to Cheri Monastery (about 2hrs walk return). This monastery was established in 1620 and is now a major centre for the Drukapy Kagyud sect of Buddhism, the state religion. This significant site serves a monastic school for the study of Buddhist philosophy, metaphysics, mathematics, poetry and other Buddhist studies. After a riverside lunch, we return to town (45 minutes) to visit National Institute for Zorig Chusum (painting school), where students are taught the traditional arts and crafts of Bhutan. We conclude the day by visiting the Royal Textile Academy which displays the significance of textile weaving as an important component of Bhutanese culture and tradition.
After a morning of exploring the town, we drive to Paro. In the evening head out to visit Kyichu Lhakhang, a contemporary of Jambay Lhakhang in Bumthang. Legend says that a giant demoness lays across the whole area of Tibet and the Himalayas and was obstructing the spread of Buddhism. So in order to control her, King Songtsen Gampo of Tibet is believed to have built 108 temples which are places on all points of her body. Kichu Lhakhang was one of the 108 monasteries (pinning her left sole of the feet).
Overnight: Hotel Drukchen to similar
Day 12 :

In Paro, Visit Tigers Nest Monastery
We drive to the foot of the Taktsang Monastery - the famous Tigers Nest Monastery (3120m) said to have been one of the divine resting places of the Guru Ringpoche. This Monastery was blessed and sanctified as one of Bhutan's most sacred religious sites. It hangs on a cliff and stands above a beautiful forest of blue pine and rhododendrons at 10,000 ft. Today Paro Taktsang is the most sacred site for pilgrimage for Buddhists around the world and a special hiking place.
The main street, only built in 1985, is lined with colorfully painted wooden shop fronts and restaurants and handicrafts for souvenirs. Paro remains one of the best Bhutanese towns to explore on foot and is worth an hour or two's stroll at the end of a day of sightseeing.
Overnight: Hotel Drukchen to similar
After breakfast our trip concludes with a transfer to the airport for onward arrangements.
What's Included
Accommodation
12 nights hotel

English speaking local guide

13 breakfasts,12 lunches,13 dinners

good quality accommodation on a twinshare basis throughout

private internal transport throughout

all airport transfers

sightseeing & sight entry fees as listed

Bhutan visa
What's Not Included
Bottled water

International flights & taxes

Aerated and alcoholic drinks

Tips

Items of a personal nature such as phone calls, laundry, etc.

Airport & departure taxes

Travel insurance
Grading
This adventure tour involves remote travel at high altitude (up to 3750m altitude) where facilities are often basic. at least one night is in basic lodging (farmhouse style lodging). The tour involves long journeys on some rough roads. Sightseeing and optional day walks are included with some hiking above 3000m for up to 5 hours. Some sections of the walk up to Taktsang Monastery will not be suitable for sufferers of Vertigo. To enjoy this trip we recommend you are reasonably fit, healthy, have an active lifestyle and a positive attitude.
What You Carry
In your daypack you will need to carry extra warm clothing (depending on the altitude, location and weather), a rainjacket, water bottle, camera gear, valuables and personal items such as sunscreen, lip-eze etc.
Check out our Q&As
Who will be my travelling companions on the tour?

We have offices on three continents which means your travelling companions will be just that – international and wonderfully eclectic. Part of small group travel means that although travellers come from various locations and backgrounds, you will be travelling with like-minded companions who, like you, are keen to share the experience and forge lifelong friendships.

What about environmental impact?

We believe that adventure travel revolves around establishing a strong relationship with the people and environments in which we operate. Our responsible travel policies have been carefully developed to ensure that we minimise the impact of our presence and help to protect the regions we visit while contributing positively to the local community.

What should I pack?

Your pre-departure documents include a detailed packing list with items that you need to bring. While most of the equipment for daily activities is included in your tour cost, some items like helmets and hiking boots are best brought from home. The pre-departure documents also include information on layering and recommended brands for various items to ensure you are fully prepared for your trip.

Do you operate a "single share" option and how does it work?

Yes. World Expeditions does not require single travellers to pay a surcharge for travelling alone on the vast majority of our trips. Our holidays are primarily on a twin share basis, so if you are joining the group as a solo traveller, we will match you with someone of your own gender. The choice is yours however; if you prefer not to share, we do offer single supplements for private occupancy.

Are tips included in my trip price?

Tips are not included in the tour cost. Tipping is a personal thing, do not worry about how much, or when, to tip. Tipping guidelines are provided for certain destinations in our pre departure information upon booking, however the best advice will be provided by your tour leader.
Am I suited to small-group travel?

We recognise that many of our travellers have not been on a 'group trip' before. Yet what our departures provide is both structure and flexibility, allowing you plenty of freedom within the framework of the itinerary. You'll find that with our maximum group size at 16, you'll travel in a minimal impact style with a great group of like-minded travellers.

Can you advise which vaccinations are recommended?

While our pre-departure kit provides information on vaccinations, we suggest that you consult your doctor, local government inoculation centre or a travel medical specialist in order to get the most current advice regarding vaccination requirements.
Reviews from Travellers on this Tour
Eric Atkins(Darlinghurst, NSW)
Bhutan Cultural Journey
Excellent trip. Plenty of action with many and varied activities. Our guide and driver were exceptional in every way.
Michael Carpenter(Burlington, Ontario, Canada)
Bhutan Cultural Journey
The Bhutan Cultural Journey was outstanding! Sonam, our leader, was not only professional and knowledgeable, but was easily able to cater the daily activities to best meet the needs of the group. Everything went smoothly from start to finish. Bhutan is an incredibly beautiful country, and the itinerary of this trip provided an excellent overview of the country and it's culture.
Marilyn Surtees(St Ives, NSW Australia)
Bhutan Cultural Journey
The Bhutan Cultural Journey was wonderful. Our guide Singye and driver Narwong were first class. Singye's knowledge of Bhutanese culture and religion was outstanding and he was always looking for ways to add to our experience. Bhutan is a beautiful country and the people are extremely friendly. This trip had a great balance between culture, walking, scenery and local experiences-we loved every minute of it.
Eric Atkins(Darlinghurst, Australia)
Bhutan Cultural Journey
An excellent trip in every way. Our guide and driver were exceptional and made our Bhutan experience so interesting and exciting.
Peter Surtees(St Ives, NSW Australia)
Bhutan Cultural Journey
Great guide; very knowledgeable, a font of great information ; and spoke very good English. Excellent driver. Modern very clean vehicle. Good accommodation and food.
Dates & Availability
Instant Booking Available
Tuesday - Sunday
Jan 23, 2024 - Feb 04, 2024
Instant Booking Available
Monday - Saturday
Feb 26, 2024 - Mar 09, 2024
Instant Booking Available
Sunday - Friday
Mar 10, 2024 - Mar 22, 2024
Instant Booking Available
Friday - Wednesday
Mar 22, 2024 - Apr 03, 2024
Instant Booking Available
Tuesday - Sunday
Apr 09, 2024 - Apr 21, 2024
Instant Booking Available
Tuesday - Sunday
Sep 17, 2024 - Sep 29, 2024
Instant Booking Available
Wednesday - Monday
Sep 25, 2024 - Oct 07, 2024
Instant Booking Available
Sunday - Friday
Oct 13, 2024 - Oct 25, 2024
Instant Booking Available
Tuesday - Sunday
Nov 12, 2024 - Nov 24, 2024
Book with Confidence
Transfer as credit to Future Tours

World Expeditions allows you to transfer existing payments to a future tour to avoid cancellation fees if you can't travel and inform world expeditions, 70 days before departure.

Low Deposit

World Expeditions requires a minimum deposit of 250 GBP per person or the full booking value, whichever is less, with the final balance not due until 70 days before departure.

Cancellation Policy

We don't charge a cancellation fee, here is a summary of world expeditions charges.

Up to 70 days before tour starts: Forfeit 100% of deposit.

At 69 days before tour starts: Forfeit 50% of booking price.

At 35 days before tour starts: Forfeit 100% of booking price.
Why book with tourhub?
Safe & Secure
Your money is protected in an external trust until you travel.
---
100% Guaranteed Refunds if your trip is cancelled.
---
The safest way to make overseas, multi-currency payments.
Guaranteed Best Value
Industry leading discounts, we won't be beaten on price.
---
No cancellation or amendment fees from tourhub.
(Operator terms may apply)
Expert Knowledge
Reliable & unbiased advice from travel experts.
---
Direct contact with the tour operator via our messaging service.
---
Inspiration & advice from a community of 6000+ real travellers, influencers & content creators.
Trusted Service
Official partners & licensed agents of 1000+ tour operators worldwide.
---
Don't just take our word for it...
"Tourhub: Friendliness, Professionalism & Integrity I would happily give tourhub a 6* review if I could..."
Not what you're looking for?
People that have booked this tour have also searched for the following:
Tours in Bhutan
Similar Tours
Travel Guru Features
Our Reviews