Bhutan Explorer & Paro Tshechu Festival
Bhutan Explorer & Paro Tshechu Festival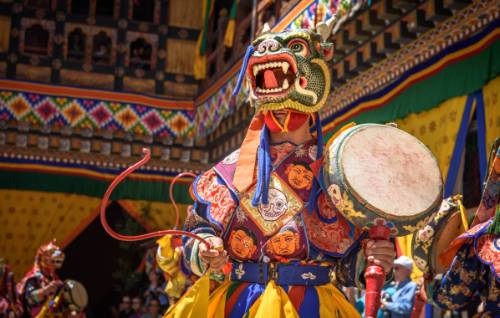 Bhutan Explorer & Paro Tshechu Festival
12 Days Starting in Paro and ending in
Tour operator:
Physical rating:
Adventure touring
From:
$6010
$5842 (USD) WINTER SALE @ Tourhub Discount: $168
Tour Overview
The remote Himalayan Kingdom of Bhutan is well known for it's untouched wilderness, rich Buddhist culture and a history steeped in mystique and legend. Our journey encompasses all that Bhutan has to offer taking in the 'must see' highlights of both western and central Bhutan. Our tour begins in the picturesque Paro Valley, home to the Tigers Nest (Taktsang) monastery. Here we attend the famous Paro Tshechu festival before driving across the dramatic Dochu La into central Bhutan, to Bumthang. It is widely regarded that Bhutanese Buddhism first took hold here and the legacies are the many ancient and magnificent monasteries which we will explore.
Highlights
Experience the colourful Paro Tshechu Festival

Explore Gangtey Valley, the largest wetland in Bhutan and home to the Black-Necked Crane

Immerse yourself in the cultural heart of Bhutan at Bumthang

Climb high above the Paro Valley to the famous Tiger's Nest Monastery

Revel in views of Jomolhari (7314m), Bhutan's most sacred mountain

Learn about Bhutanese culture at Paro's National Museum
Itinerary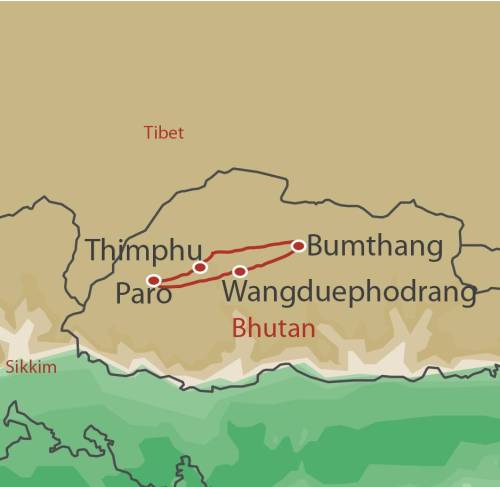 Not what you're looking for?
People that have booked this tour have also searched for the following:
Tours in Bhutan
Expand All
On your arrival at Paro airport you be met by your World Expeditions' leader who will transfer you to the hotel for a pre-trip briefing. The remainder of your afternoon will be at your leisure, offering an opportunity to explore one of the major cities of Bhutan and acclimatise to the higher elevations (Paro is 2280m above sea level).
Overnight: Tenzinling Resort or similar
Day 2 :

Paro Valley & Tshechu
After breakfast we make our way to the impressive Paro Rimpung Dzong and have a full day to immerse ourselves in the festivities. Tscechus are Buddhist religious festivals held around the Dzong (fortress monastery) and generally last several days. It is a bright, colourful affair with hundreds of people from the city and surrounding countryside filling the courtyards and temple grounds to watch and participate in the event.
Masked dances are performed by trained Buddhist monks depicting life events of an historic Buddhist teacher, Padmasambhava. Other dances include that of the Nobleman and Ladies, where flirting princesses are punished for their indiscretions. The stag dance tells the story of a hunter who gives up his profession and converts to Buddhism, whereas the Barco dance reminds the Bhutanese that their past and present deeds are responsible for their future destiny. The costumes of the dancers are as bright and colourful as the clothes of the local people who have come dressed for this important occasion.
Over the two days we spend time sightseeing in and around Paro and immersing ourselves in the Tshechu Festival. Further along the beautiful Paro Valley we come to the watch tower known locally as Ta-Dzong, which now houses the National Museum of Bhutan. The seven-storey museum highlights various aspects of Bhutanese culture and history dating back to the 7th century. There are excellent displays of all facets of the country's rich cultural history including traditional costumes and battle dress, priceless jewellery and specimens of the kingdom's unique flora and fauna. We take a short walk downhill to the Rinpung Dzong which serves as the administrative centre and school for monks, before walking a little further and crossing the traditional bridge into Paro Town.
Overnight: Tenzinling Resort or similar
Day 4 :

Trek To Taktsang Monastery (Walk Approx. 5Hrs Return)
After breakfast we drive to the base of Taktsang, famously known as the Tiger's Nest Monastery, perched on a vertical granite cliff 2000 feet above the valley floor of pine, oak and rhododendrons forests. The legend of Taktsang dates from 747 CE, when Guru Rinpoche, in the wrathful form of Guru Dorji Droloe, arrived here on the back of a tiger and subdued the evil spirits of the region. The walk is a sustained climb but the views are absolutely stunning and rewarding and is a "must-do" when visiting the land of the Thunder Dragon.
Later in the evening if time permits, we visit one of the oldest Kyichu temples built in 7th century. This is one temple that truly feels ancient in the Himalayas.
Overnight: Tenzinling Resort or similar
Day 5 :

Cross Dochu La To Punakha (Drive Approx. 4Hrs)
In the morning we will follow the course of Pachhu river and reach Thimphu, Bhutan's capital. We make a quick stop at the National Textile Museum, established in 2001 and home to a substantial collection of antique textiles and other works including the royal robes on display. Thimphu is one of the few capitals in the world without any traffic lights and you will observe the dancing policemen controlling traffics. We continue the drive gradually winding up across 10,223-foot Dochu La, which in good weather offers 360-degree vistas across 200 miles of Himalayan peaks including Bhutan's tallest peak and some of the highest unclimbed mountains in the world. There are 108 stupas adorning the pass and the scenic spot for photographers. We drive through forests of rhododendrons and magnolias, before the road descends into the warmer lowlands around Punakha just in time for lunch.
In the afternoon, we visit Punakha Dzong, which once served as the old capital of Bhutan. This remarkable fortress was built in 1637 between two rivers and has survived many glacial floods and fire. Every February there is a procession known as the Punakha Serda to commemorate the victory over the Tibetans.
Overnight: Hotel in Punakha
Day 6 :

To Trongsa (Drive Approx. 4.5Hrs)
In the morning, we continue our journey to Trongsa. Here lies the largest fortress in the kingdom, the Trongsa Dzong, powerhouse of ancient Bhutan. Strategically located on the east-west mule tracks, the governors of Trongsa were the most powerful leaders in the medieval age, that gave birth to the monarchial systems in Bhutan which shaped the history of the country. We visit the precious watch tower known as the Ta Dzong, now converted into a museum. We venture inside to find a small chapel dedicated to King Gesar, an epic hero of Tibetan history, as well as an excellent museum dedicated to the monarchs of Bhutan.
Overnight: Yangkhil Hotel or similar
Day 7 :

To Bumthang (Drive Approx. 2.5Hrs)
Today we drive to Central Bhutan, which is Bhutan's spiritual heartland. Comprised of four smaller valleys, the deeply spiritual region of Bumthang is shrouded in religious legend. It is believed to be the first part of Bhutan to be inhabited and tales of Guru Padmasambhava (aka Guru Rinpoche), who lived here in the 8th century, and his reincarnation Tertons, still linger. Bumthang is also known for its hand-spun, hand- woven woollen cloth called "yathra", which can be seen hanging for sale outside houses. Today we will explore the valley on foot visiting some of the ancient temples in the country; the 7th century Jambay Lhakhang, and the Kurjey, Tamshing and Kunchosum monasteries. End your day with Bhutan's panda beer brewed in a Swiss Factory.
Overnight: Hotel in Bumthang
Early morning drive to the Tang Valley - the most remote of Bumthang's valleys. Terton Pema Lingpa, the famous saint responsible for discovering many treasures as prophesied by Guru Rimpoche, was born in this valley. Tang Valley combines immense natural beauty with the mystique of playing host to the greatest collection of eminent spiritual practitioners. One such person, Longchen Rabjam and his descendants have built the Ogyenchholing Museum, which was restored in the 19th century. Today it houses the Family Museum, a place that will transport visitors to another world and time. The museum houses exhibits recreated to capture the ambience of the lifestyle of the Trongsa Penlop (Governor) - Tshokye Dorji and his household. It also serves as a retreat for those engaged in religious history. Afterwards we drive to Pema Choling Nunnery, where nuns undergo several years of religious studies and live celibate lives. We may be lucky enough to meet and interact with some of the nuns, or even sit in the shrine and hear them chant mantras with bells and drums. If time permits, we may visit the Membartsho "Burning Lake". The legend of Pema Lingpa, Bhutan's "treasure discoverer," lives on in Membartsho, where in the 15th century he is said to have uncovered terma - Buddhist teachings that were hidden for discovery by future generations. In the late afternoon we return back to Bumthang for the night.
Overnight: Hotel in Bumthang
Day 9 :

To Gangtey Valley (Drive Approx. 5-6Hrs)
Today we drive to the Gangtey Valley, the largest wetland in the country. This valley is a designated conservation area which borders the Black mountain ranges, and is home to rare Black Necked Cranes that migrate from the high Tibetan plateaus each winter. About 500 cranes flock to this valley and the numbers have been increasing each year due to conservation efforts. As we descend the valley, the presence of the Gangtey Gompa is hard to ignore. The gompa has a central monastery, meditation hall, living quarters for monks and a courtyard. The surrounding villages, forests and farms are also home to monks from this gompa. We may get a chance to meet a senior monk and learn from his pursuit of enlightenment and Buddhist teachings. Later in the afternoon, we continue down the valley to the Crane Information Centre and learn of the elusive species and how locals are living harmoniously with them as their population slowly increases.
Overnight: Hotel in Gangtey
Day 10 :

Explore Gangtey Valley (Walk Approx. 2Hrs)
In the morning we drive to Gangtey Shedra (Buddhist College) where about 100 monks undergo 9 years of Buddhist Studies, philosophies and meditation. Shortly after visiting this college, we begin our nature hike near the entrance to Gangtey monastery. The trail leads through rustic villages and fields of potatoes and turnips. The trail meanders through rhodendron, pine and dwarf bamboo forests and it is hard not to immerse yourself in the crisp clean air and the tranquility of nature. Our hike ends at Khewang Lhakhang, where a catered lunch welcomes us with expansive views of the valley and skies. We embark on a short drive to Khebethang - a traditional village where their main output is potatoes, cattle and sheep rearing. There is an opportunity to visit one of the farmhouses to gain an insight into their lifestyle and to interact with locals. If time permits, the host will teach you how to make suja - local yak buttered tea with salt over puffed rice and snacks. The village is connected with a farm road and further down, there is also a nunnery where there are many nuns practising Buddhism and meditation.
Overnight: Hotel in Gangtey
Day 11 :

Drive To Thimphu Via Lobesa (Drive Approx. 4.5Hrs)
We begin early to enable us to spend some time at the capital of Thimphu. There will be stops along the way for photography opportunities. We will stroll and explore the city on foot. Thimphu is one of the few capitals in the world without any traffic lights and you will observe the dancing policemen controlling traffic. We can spend the evening walking the Norzin Lam and shopping for souvenirs and gifts for friends and family back home, before enjoying a farewell dinner with your guide and driver.
Overnight: Hotel in Thimphu
Day 12 :

Trip Concludes In Paro
Our trip officially ends after breakfast with a transfer to the airport.
What's Included
Accommodation
11 nights hotel

11 breakfasts, 11 lunches, 11 dinners

English-speaking local guide

Quality accommodation on a twin share basis

Private internal transport

Sightseeing and entry fees as listed

All airport transfers

Bhutan Government visa and sustainability fees

Pre-departure Information Guide
What's Not Included
Bottled water, aerated and alcoholic drinks

International flights

Items of a personal nature such as phone calls, laundry, etc

Tips

Airport and departure taxes

Travel insurance
Grading
Although there is no commitment to extended walking on this journey we nonetheless want to keep the 'accent on the active'. We therefore advise some physical training before undertaking the trip to enable you to participate in optional activities and to ascend to Taktsang Monastery. As for any trip, the fitter you are the more you will enjoy your experience.
Check out our Q&As
Who will be my travelling companions on the tour?

We have offices on three continents which means your travelling companions will be just that – international and wonderfully eclectic. Part of small group travel means that although travellers come from various locations and backgrounds, you will be travelling with like-minded companions who, like you, are keen to share the experience and forge lifelong friendships.

What about environmental impact?

We believe that adventure travel revolves around establishing a strong relationship with the people and environments in which we operate. Our responsible travel policies have been carefully developed to ensure that we minimise the impact of our presence and help to protect the regions we visit while contributing positively to the local community.

What should I pack?

Your pre-departure documents include a detailed packing list with items that you need to bring. While most of the equipment for daily activities is included in your tour cost, some items like helmets and hiking boots are best brought from home. The pre-departure documents also include information on layering and recommended brands for various items to ensure you are fully prepared for your trip.

Do you operate a "single share" option and how does it work?

Yes. World Expeditions does not require single travellers to pay a surcharge for travelling alone on the vast majority of our trips. Our holidays are primarily on a twin share basis, so if you are joining the group as a solo traveller, we will match you with someone of your own gender. The choice is yours however; if you prefer not to share, we do offer single supplements for private occupancy.

Are tips included in my trip price?

Tips are not included in the tour cost. Tipping is a personal thing, do not worry about how much, or when, to tip. Tipping guidelines are provided for certain destinations in our pre departure information upon booking, however the best advice will be provided by your tour leader.
Am I suited to small-group travel?

We recognise that many of our travellers have not been on a 'group trip' before. Yet what our departures provide is both structure and flexibility, allowing you plenty of freedom within the framework of the itinerary. You'll find that with our maximum group size at 16, you'll travel in a minimal impact style with a great group of like-minded travellers.

Can you advise which vaccinations are recommended?

While our pre-departure kit provides information on vaccinations, we suggest that you consult your doctor, local government inoculation centre or a travel medical specialist in order to get the most current advice regarding vaccination requirements.
Reviews from Travellers on this Tour
K. Oates(Western Australia)
Bhutan Explorer & Paro Tshechu Festival
Great trip. Knowledgeable and friendly guides. Great way to see the country by road. Festival alone is well worth a visit to Bhutan.
O. Schuermann(Belconnen, Australian Capital Territory)
Bhutan Explorer & Paro Tshechu Festival
Wonderful trip with great local guides and accommodation. The colourful clothes and friendliness of the Bhutanese during the Paro Festival was wonderful. Travelling to the centre of the country highlighted the diverse nature of the landscapes and peoples. It isn't all about the mountains, dramatic as they are of course!
Louise Williams(Budrim, QLD Australia)
Bhutan Explorer & Paro Tshechu Festival
An amazing trip, well organised and the staff went above and beyond to ensure we had the experience we wanted. Fascinating country and the guide was knowledgeable and well organised.
T. French(Costa Mesa, California)
Bhutan Explorer & Paro Tshechu Festival
Great way to see country amazing guide and driver, truly once in a lifetime experience.
Dates & Availability
Instant Booking Available
Wednesday - Sunday
Mar 20, 2024 - Mar 31, 2024
Book with Confidence
Transfer as credit to Future Tours

World Expeditions allows you to transfer existing payments to a future tour to avoid cancellation fees if you can't travel and inform world expeditions, 70 days before departure.

Low Deposit

World Expeditions requires a minimum deposit of 250 GBP per person or the full booking value, whichever is less, with the final balance not due until 70 days before departure.

Cancellation Policy

We don't charge a cancellation fee, here is a summary of world expeditions charges.

Up to 70 days before tour starts: Forfeit 100% of deposit.

At 69 days before tour starts: Forfeit 50% of booking price.

At 35 days before tour starts: Forfeit 100% of booking price.
Why book with tourhub?
Safe & Secure
Your money is protected in an external trust until you travel.
---
100% Guaranteed Refunds if your trip is cancelled.
---
The safest way to make overseas, multi-currency payments.
Guaranteed Best Value
Industry leading discounts, we won't be beaten on price.
---
No cancellation or amendment fees from tourhub.
(Operator terms may apply)
Expert Knowledge
Reliable & unbiased advice from travel experts.
---
Direct contact with the tour operator via our messaging service.
---
Inspiration & advice from a community of 6000+ real travellers, influencers & content creators.
Trusted Service
Official partners & licensed agents of 1000+ tour operators worldwide.
---
Don't just take our word for it...
"Tourhub: Friendliness, Professionalism & Integrity I would happily give tourhub a 6* review if I could..."
Not what you're looking for?
People that have booked this tour have also searched for the following:
Tours in Bhutan
Similar Tours
Travel Guru Features
Our Reviews