Baja Kayak Expedition 9D/8N (Cooperatively Catered)
9 Days Starting in La Paz (MX), Mexico and ending in La Paz, Mexico
Visiting: La Paz, Espiritu Santo Island
Tour operator:
Tour operated in:
English
Trip Styles:
Interests:
Activities:
Tour Overview
Join us for this expedition and go sea kayaking around Espiritu Santo island. The rugged shoreline, offshore islands, series of headlands and deep bays make for a new adventure each day! Snorkel in one of the world's most diverse natural aquariums and go for hikes exploring canyons with amazing rock formations and fascinating plant life. Participate in all the camping and cooking duties, under the leadership of your guides.
Highlights
Sleep under the stars at pristine beaches

Kayak surrounded by iconic natural beauty

Swim alongside playful sea lion pups
Itinerary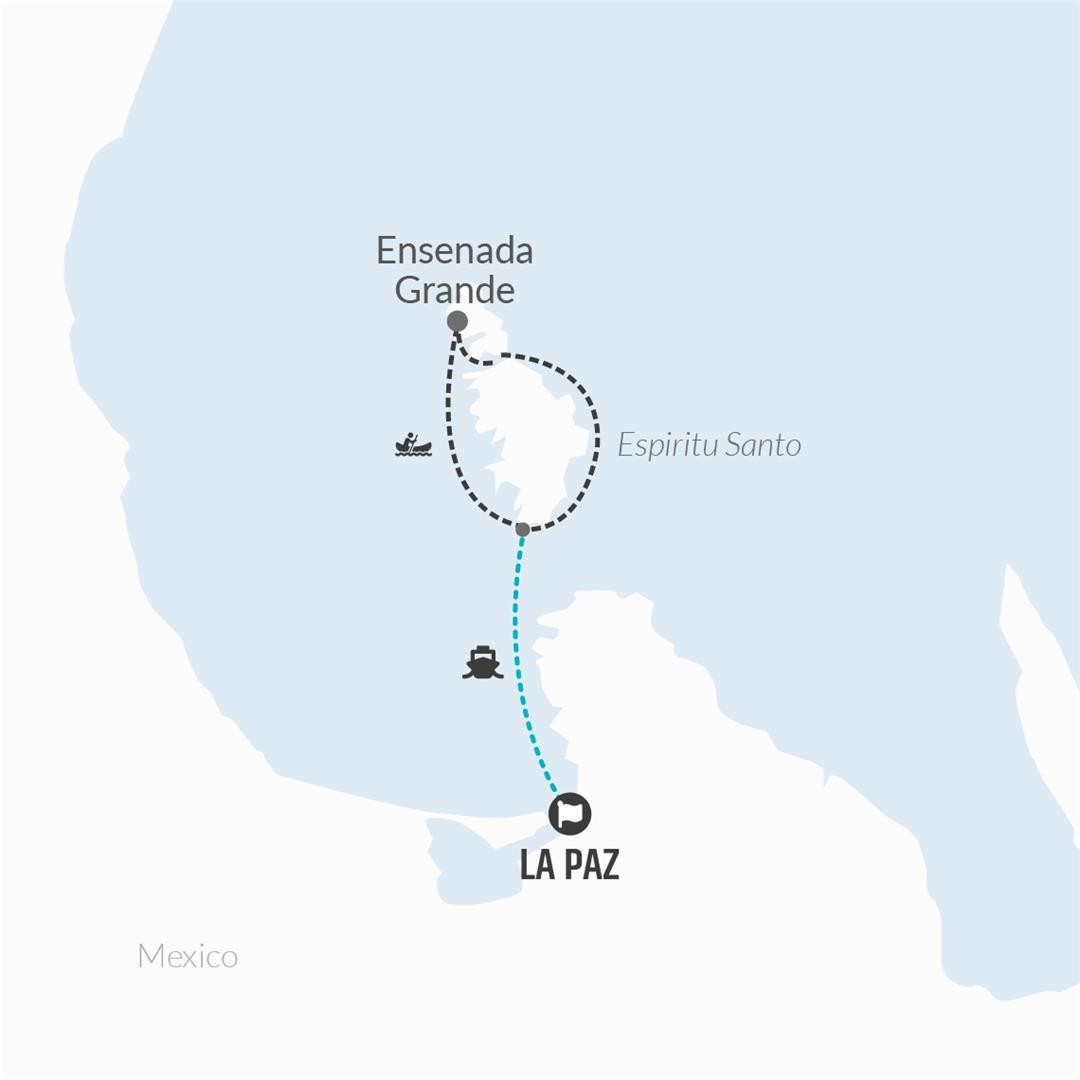 Expand All
La Paz Accommodation Check-in

Upon arrival to La Paz, make your own way to your accommodation for check-in. Get settled in and enjoy the rest of the day at your leisure. At 9:00 pm you will meet your guides for your kayak adventure briefing. Overnight in La Paz.
Please note that you will paddle between 2-3 hours a day on the west coast and between 3-4.5 hours while on the east coast.

Day 2: La Paz - Espiritu Santo Island, Mexico
Location:
Espiritu Santo Island
Transfer to Espiritu Santo Island and Baja Sea Kayaking Adventure (B/L/D)
Today you will be picked-up from your La Paz Accommodation and transferred to Espiritu Santo Island in a high speed motor boat. Guides will discuss points of safety and will provide beginners with the basics of sea kayaking. Go for your first paddle adventure in the afternoon beneath spectacular volcanic cliffs and arrive to the first of many beautiful beaches to set up camp.

Day 3: Espiritu Santo Island, Mexico
Location:
Espiritu Santo Island
Baja Sea Kayaking Adventure (B/L/D)
Continue in our kayaks exploring a new section of coastline with small off shore islands where numerous sea birds nest. Our next bay has an intriguing canyon with dry waterfall and a fresh water well where we can enjoy a refreshing rinse! Camp on a new beach.

Day 4: Espiritu Santo Island, Mexico
Location:
Espiritu Santo Island
Baja Sea Kayaking Adventure (B/L/D)
Today we will kayak to the north end of the island crossing over to Isla Partida and setting base camp for two days in Ensenada Grande.

Day 5: Espiritu Santo Island, Mexico
Location:
Espiritu Santo Island
Sea Lion Pups Islet (B/L/D)
Today is time to relax those paddling muscles! Take a boat to an exquisite offshore islet that is home to a large sea lion colony, here you can experience the amazing thrill of swimming with sea lion pups and snorkel amongst thousands of tropical fish.

Day 6: Espiritu Santo Island, Mexico
Location:
Espiritu Santo Island
Baja Sea Kayaking Adventure (B/L/D)
Today you will continue your paddling adventure around the north end of the island for your first paddle along the east coast. Expect a sharp contrast in scenery with spectacular towering cliffs. Paddle through a narrow channel between Espiritu Santo and Isla Partida to discover a perfect setting - a natural turquoise swimming pool and the location for your next camp spot.

Day 7: Espiritu Santo Island, Mexico
Location:
Espiritu Santo Island
Baja Sea Kayaking Adventure (B/L/D)
The paddling today will be beneath towering cliffs that rise up to over 2000ft. You will be rewarded with sea caves which skillful navigators can paddle right through. In the afternoon you will arrive to the incredible camp spot for the day: a magnificent 2 mile stretch of superb sweeping white sand.

Day 8: Espiritu Santo Island - La Paz, Mexico
Transfer to La Paz (B/L/D)
This morning go for your final paddling adventure to complete the circumnavigation. Enjoy lunch in paradise before your transfer back to La Paz. Check-in to your accommodation upon arrival and enjoy the rest of the day at your leisure, before your included farewell dinner with your new friends!

La Paz Accommodation Check-out (B)
Today your adventure comes to an end as you check-out from your accommodation. Safe travels!

What's Included
Transport

Shuttle and boat transfers

Accommodation

8N in 3-star hotels and camping

Activities

All activities as per itinerary

Meals

8 Breakfast(s), 7 Lunch(es), 7 Dinner(s),

Extras

Single and/or double kayaks

Guides

English-speaking guide

Experiences
What's Not Included
Sleeping bags (Available for rent)

Airport Transfers and flights

Tips

Snorkel sets and wet suits (Available for rent)

Personal Expenses
Reviews of this Operator
Jonas Nesset(Norway)
The company is exceptional. When I had questions, I always got prompt and professional answers. The excursions that Bamba organized were fantastic! Thank you once again for everything!
Shane Alce(United Kingdom)
Marian Reder(Germany)
To this day, this is the best tour we've ever done together as a couple! The fun activities, great hotels and nice guides worth the money! We were always taken care of and they made sure that we had a good time. This tour is definitely worth taking.
Tanja Ottosen(Denmark)
The Bamba Team really made my journey one of the most memorable experiences of my life! Still so nice and supportive! They handled everything and responded to each question within a few minutes. I wholeheartedly recommend it to everyone. Especially if you want to do a lot of activities and travel to a lot of different places without feeling rushed. They've also helped me with specific issues that weren't covered by the tour, as well as answering general questions. Thank you so much for making my journey so enjoyable!
Braiden Rowe(United States)
The tour was fantastic; I was able to visit some of Japan's most beautiful locations, and the accommodations were excellent, with convenient access to the city's best attractions. Also, our tour guide was fantastic. I will pick bamba again and recommend the tour to anyone who wants to see Japan while having a good time!!
Aaron Davies(Australia)
I only have good words about our trip to Kenya. The entire experience was totally magical and I struggle to say how fantastic it was. We were fortunate enough to have a brilliant vehicle for ourselves, but we had great luck with David for our guide too. He was very knowledgeable, courteous and nice. Thank you for helping to create this fantastic safari experience. I Highly recommend this company.
Matteo Hoffmeister(Germany)
Bamba Experience has been the best tour guide I've ever had. Every tour has been a thrilling experience. There are so many things to choose from. Bamba has been extremely helpful in providing us with all of the necessary information for our departures and activities! Bamba has made this a simple and enjoyable experience. I'll certainly tell my friends and family about it! Thank you very much, Bamba!!
Melanie Liu Chang(Australia)
We organized a trip through Thailand, Laos, Vietnam, and Cambodia on the hop-on, hop-off bus. It made the trip so much simpler for us as first-time travelers because we just had to send an email to arrange the bus, which avoided the hassle of looking for the best price and so on! We also had a number of tours included, they were all amazing and saved us the trouble of trying to find the best offers on our own; it also meant we got to see a lot of stuff we wouldn't have seen otherwise. Overall, it was a fantastic experience that I will strongly suggest and use again!
Marius Halvorson(Norway)
Our Bamba tour of Vietnam was fantastic. We had a lot of new experiences and all of the help we needed to make this a stress-free vacation. The well-organized accomodation and transportation were excellent. We will certainly use Bamba in the future.
Alexis Helman(Australia)
I had booked our Uyuni Salt Flats & Desert Adventure 3D/2N (Uyuni to Atacama) tour via an Australian travel agency, but they had made an error and refused to assist us or take responsibility. This was very difficult for us because we wanted to have a stress-free honeymoon. I contacted Bamba and I asked if we could talk on the phone so they made the improvements to our tour reservation that our travel agent declined to make. The quality of service was exceptional and they generously offered to us a complimentary gift because it was our honeymoon. I can't say enough good things about Bamba.
Dates & Availability
Instant Booking Available
Saturday - Sunday
Jan 06, 2024 - Jan 14, 2024
Instant Booking Available
Saturday - Sunday
Feb 24, 2024 - Mar 03, 2024
Instant Booking Available
Saturday - Sunday
Mar 09, 2024 - Mar 17, 2024
Book with Confidence
Free Date Changes

Bamba Travel allows you to make 2 free date changes, as long as the change is made at least 60 days before the start of the tour.

Transfer as credit to Future Tours

Bamba Travel allows you to transfer existing payments to a future tour to avoid cancellation fees if you can't travel and inform bamba travel, 60 days before departure.

Low Deposit

Bamba Travel requires a minimum deposit of 20% or the full booking value, whichever is less, with the final balance not due until 30 days before departure.

Cancellation Policy

We don't charge a cancellation fee, here is a summary of bamba travel charges.

Up to 60 days before tour starts: Forfeit 100% of deposit.

At 30 days before tour starts: Forfeit 50% of booking price.

At 15 days before tour starts: Forfeit 100% of booking price.
Why book with tourhub?
Safe & Secure
Your money is protected in an external trust until you travel.
---
100% Guaranteed Refunds if your trip is cancelled.
---
The safest way to make overseas, multi-currency payments.
Guaranteed Best Value
Industry leading discounts, we won't be beaten on price.
---
No cancellation or amendment fees from tourhub.
(Operator terms may apply)
Expert Knowledge
Reliable & unbiased advice from travel experts.
---
Direct contact with the tour operator via our messaging service.
---
Inspiration & advice from a community of 6000+ real travellers, influencers & content creators.
Trusted Service
Official partners & licensed agents of 1000+ tour operators worldwide.
---
Don't just take our word for it...
"Tourhub: Friendliness, Professionalism & Integrity I would happily give tourhub a 6* review if I could..."
Similar Tours
Travel Guru Features
Our Reviews