India Northern Group Exploration 13D/12N
Start: New Delhi, India Finish: Mumbai, India
Visiting:
Delhi
,
Varanasi
,
Agra
,
Jaipur
,
Jaisalmer
,
Jodhpur
,
Mumbai
---
---
Duration: 12 Nights
Physical rating: Mildly Challenging
Special diets catered: Vegetarians, Please contact Bamba Travel with any specific dietary requirements
Tour Operator: Bamba Travel
Group size: 1 - 16
Tour operated in: English
---
Tour Overview
Explore the rich, vibrant, and diverse culture of India, from New Delhi to Mumbai, on this 13-day North India adventure tour.
Highlights
Treat your taste buds to an abundance of delicious food
Experience iconic major landmarks like the Taj Mahal and the spiritual ancient city of Varanasi
Venture into the desert for a camel safari
Itinerary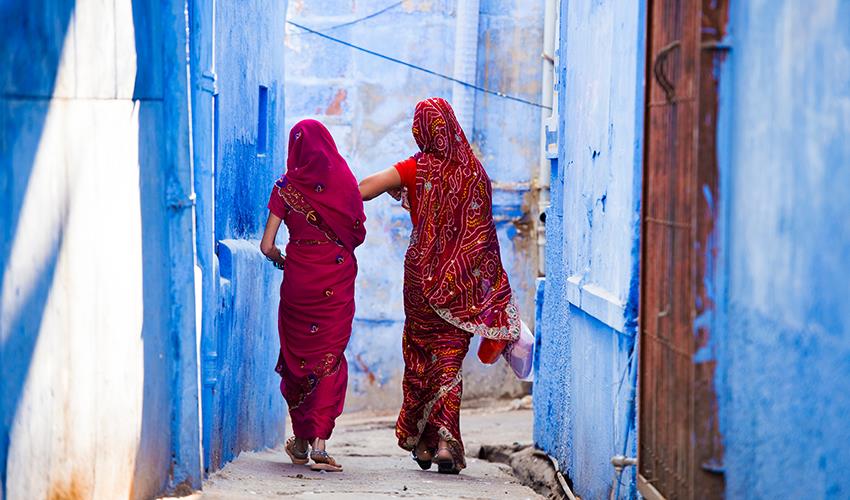 Day 1: Delhi, India
Location: Delhi
Pre-Departure Briefing
Meet your guide at 7pm at the hostel for a pre-departure briefing. Have dinner and then take your first Hindi class. Afterwards, walk to Sri Bangla Sahib Gurdwara and explore the temple.

Day 2: Delhi, India
Location: Delhi
Delhi Tour, Night Train to Varanasi
Take a tour of Old and New Delhi. Walk through The Lodi Garden Park and see Lodhi Colony Street Art. Follow your guide for delicious Momos on the street at Lodhi Knights. Take a night train to Varanasi.

Day 3: Varanasi, India
Location: Varanasi
Arrive in Varanasi, Ghat Tour
Arrive in the morning in Varanasi via an overnight train. Explore the street food scene with your guide, trying lots of tasty snacks for breakfast.On your way back to the hostel your guide will take you to some of the very best lassi's so you can sip on this delicious drink as you walk. In the afternoon, take a ghat tour and watch Ganga Aarti Ceremony. After the ceremony walk for optional group dinner (at own expense) before walking back to the hostel.
Optional: Ghat Tour on boat and watch Ganga Aarti Ceremony. See all major Ghats including Burning Ghat.

Day 4: Varanasi - Agra, India
Location: Agra
Varanasi Sunrise Boat Tour. Optional activities.
Take a Varanasi Sunrise boat tour to see this ancient city from a different perspective. In the evening, take a train to Agra.
​Optional: Sarnath Buddhist and Hindu archaeological site

Day 5: Agra, India
Location: Agra
Optional activities
Arrive in Agra in the morning and spend the day exploring the town and optional activities. Have dinner and drinks with the group at your own expense.
Optional: Agra Fort, Relax on a roof top pool.

Day 6: Agra - Jaipur, India
Location: Jaipur
Taj Mahal Sunrise Tour, Jaipur Transfer, Hindi Class
Visit the Taj Mahal at sunrise for a truly spectacular experience before transferring to Jaipur. Take your second Hindi lesson in the afternoon after checking in to your accommodation.
Optional: Nahagarth Fort

Day 7: Jaipur, India
Location: Jaipur
Monkey Temple Tour
In the morning, tour the Monkey Temple with your guide. The rest of the afternoon is free to explore the optional activities available to you in Jaipur.
Optional: Bollywood Movie Experience, Food Court Tour, Night out in Jaipur

Day 8: Jaipur - Jaisalmer, India
Location: Jaisalmer
Night Train to Jaisalmer
Spend the day at your own leisure, relaxing or exploring more of Jaipur and the optional activities before catching your night train to Jaisalmer.
Optional: Explore the Pink City and visit City Palace, Art Class

Day 9: Jaisalmer, India
Location: Jaisalmer
Camel Safari
Arrive in Jaisalmer at noon and get picked up from the train station by the Camel Safari guides. Take a shower in the company house and get ready for your desert adventure. Head out to the desert around 3:30 and drive for an hour. Take a short camel ride to the campsite and enjoy a delicious vegetarian dinner as the sun sets.
Spend the night out in the open on the sand dunes and experience the night sky like never before.

Day 10: Jaisalmer - Jodhpur, India
Location: Jodhpur
Camel Safari and visit to a desert village
Enjoy a vegetarian breakfast and enjoy an unforgettable sunset. Hop on your camel and head to one of the desert villages, where you can visit the homes of the locals. Later, drive back to the company house and relax.
You can spend the afternoon exploring the Jaisalmer Fort (600 INR), one the few "living forts" in the world, home to a quarter of the city's population, or visiting the Gadsisar Sagar Lake or a nearby viewpoint (100 INR). At 4 pm you will be picked up from the hostel for your private transfer to Jodhpur. You'll arrive by late evening.

Day 11: Jodhpur, India
Location: Jodhpur
Guided Walking Tour
Go for a guided walking tour of the Old City. Learn about Jodhpur's history and see the iconic Toorji's Step Well. Depending on the level of the water, you will see the amazing step brickwork from the 1940's or the local children jumping in from great heights! Take a break the The Step Well Café before taking a tuk-tuk back to the hostel.
If you're feeling adventurous, test your nerves on a flying fox zip wire over the battlements of the Mehrangarh Fort (1999 INR). Take in the views of the city on each of its six stations. If you prefer something less extreme, join a cooking workshop (1500 INR) and learn how to prepare ten traditional dishes of the Rajasthan cuisine.
Optional: Stepwell cafe, Flying Fox

Day 12: Jodhpur - Mumbai, India
Location: Mumbai
Flight to Mumbai, Optional Activities
Fly to Mumbai in the morning. Take a walking tour of Mumbai with your group leader and see the Gateway of India and the Colaba District. If you choose to, spend the night out in Mumbai and have a blast on your last night in India.
Optional: Night out in Mumbai

Day 13: Mumbai, India
Location: Mumbai
Free day and end of trip
Congratulations on finishing your epic journey through India! Spend the rest of the day exploring the city before saying goodbye to your guide and new friends!

What's Included
Guides

English speaking guide

Experiences

Extras

Tips and surcharges

Accommodation

12 nights in mixed accommodation

Meals

1 Breakfast(s), 1 Dinner(s),

Transport

All transport during the trip

Activities

Sunrise boat ride down the River Ganges
What's Not Included
Personas expenses

Travel insurance

Other meals and drinks

Optional activities
Book with Confidence
Low Deposit

Bamba Travel requires a deposit of 20% to secure a place on this tour, and the final balance is not due till 30 days before departure..

Free Date Changes

Bamba Travel allows you to make 2 free date changes, as long as the change is made at least 60 days before the start of the tour.

Transfer as credit to Future Tours

Bamba Travel allows you to transfer existing payments to a future tour to avoid cancellation fees if you can't travel and inform Bamba Travel, 60 days before departure.

Cancellation Policy

If you need to cancel your tour, here is a summary of Bamba Travel charges.

| | |
| --- | --- |
| Up to 60 days before tour starts: | 100% of deposit |
| At 30 days before tour sarts: | 50% of tour cost |
| At 15 days before tour sarts: | 100% of tour cost |

Secure payments

All payments to TourHub are deposited into an externally regulated Trust account.
---