Salta to La Paz Salt Flats Adventure 10D/9N
Start: Salta, Argentina Finish: La Paz, Bolivia
Visiting:
Salta
,
San Pedro de Atacama
,
Uyuni
,
La Paz
---
---
Duration: 9 Nights
Physical rating: Easy
Tour Operator: Bamba Travel
---
Tour Overview
Check out some of the best sights Argentina, Chile, and Bolivia have to offer on this non-stop, action-packed tour of the beautiful region around Salta, the gorgeous landscapes near San Pedro de Atacama, the Bolivian salt flats of Uyuni, and the high-altitude city of La Paz!
Highlights
Marvel at some of the most breathtaking scenery surrounding Salta
Spend some time in the surreal landscape of the Atacama Desert
Lose your breath (in a good way) in the high altitude city of La Paz
Itinerary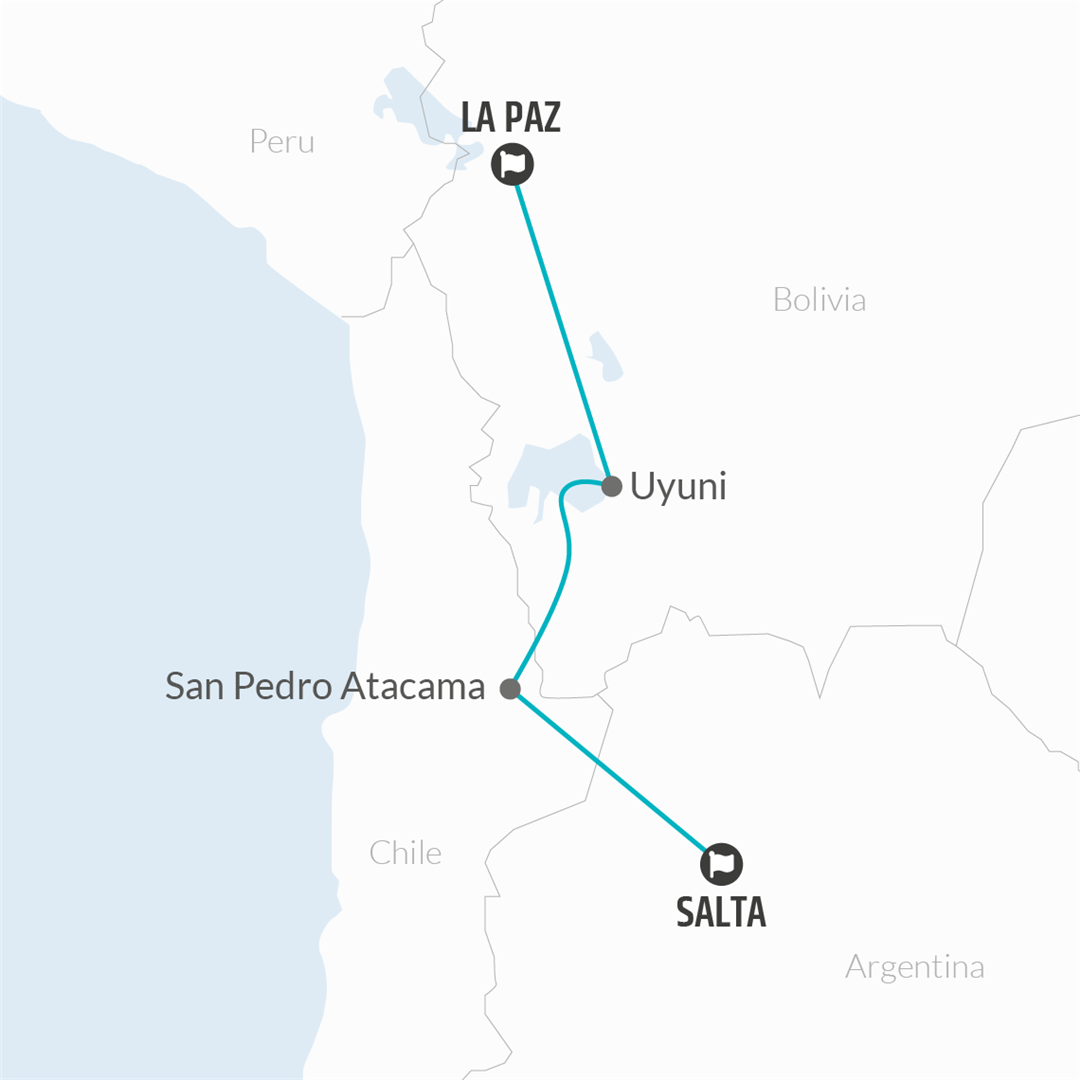 Day 1: Salta, Argentina
Location: Salta
Airport Transfer
Upon arrival at Salta airport, you will be met by our representative and escorted to your hotel. Our representative will assist you with check-in procedures and provide you with a detailed itinerary, covering all the services included in your tour and additional information on the organization of your Argentina trip. You will also receive a contact information sheet with all the hotel details, as well as our offices contact information and a 24-hour emergency number.

Day 2: Salta, Argentina
Location: Salta
Cafayate Excursion (B)
The journey starts from Salta city to the south, through route 68, traversing the Lerma Valley and its historical towns. We will reach Quebrada de las Conchas (the Shell´s Gorge), where wind and water erosion carved curious shapes on the rocks (The Amphitheater, Devil's throat, The Toad, The Castles, among others). When we arrive in Cafayate, we visit some wineries, famous for their production of Torrontes, with special characteristics due to the particularities of the climate and land.

Day 3: Salta, Argentina - San Pedro de Atacama, Chile
Location: San Pedro de Atacama
Transfer to San Pedro de Atacama (B)
Today, you'll be transferred to the bus station to catch a bus to San Pedro de Atacama Bus Station. From there, we'll pick you up and bring you to your accommodation in a private transfer.

Day 4: San Pedro de Atacama, Chile
Location: San Pedro de Atacama
Half Day Moon Valley (B)
We arrive at the Valley with a wide panoramic view of the Andes Mountain Range, the Great Atacama Salt Flat, San Pedro Oasis and the entire Salt Mountain Range. Its dunes transport us to a true landscape of another planet, with the ever-present Licancabur as a backdrop. The first stop is in the Salt Caves, impressive caves where it is possible to appreciate the heart of salt, plaster and clay of the Cordillera de la Sal. We continue in the Valley, crossing it transversally, and visiting the Amphitheater, the Three Marias, to finish finally seeing the sunset in the viewpoint of the Stone of the Coyote with a beautiful view of the Mountain range of the Andes. Return and arrival to San Pedro de Atacama.

Day 5: San Pedro de Atacama, Chile - Uyuni, Bolivia
Location: Uyuni
Begin your Uyuni Salt Flats Adventure (B/L/D)
Today you'll begin your first day of your 3-day Uyuni Salt Flats and desert adventure. Depart San Pedro de Atacama at 6:30 am by minibus for an exciting 3-day excursion. Cross into Bolivia, passing by the Chile and Bolivia immigration offices. Once on the Bolivian side, at 4400m above sea level, we change vehicles to a 4WD Jeep with a maximum capacity of 6 people. We start off in the Bolivian high plains, visiting places like the Green Lagoon (toxic copper water) and Laguna Blanca, located at the foot of the big Licancabur volcano at 6000m. Continue on to Dali Desert, where Salvador Dali found his inspiration from boulders sprinkled in the middle of the desert. There you can admire surrealistic landscapes, thermal water pools, the Sol de Mañana geysers – intermittent springs coming up at a 100º C. Walk carefully next to fumaroles and steaming craters filled with boiling pots of mud at 150-200Cº. The journey ends up at Laguna Colorada, an intense red-colored lake which acts as the main nesting center for thousands of flamingos of 3 different species.

Day 6: Uyuni, Bolivia
Location: Uyuni
Siloli Desert and Chiguana Salt Flat (B/L/D)
Have an early breakfast and depart around 8:00 am this morning. Pass by the Siloli Desert at 4,550 meters (the highest and driest in the world) where there are a set of rock formations as a result of wind erosion. Take a photo next to a huge lava rock formation in the shape of a tree. Continue on to high plain lagoons also known as coloured lagoons; Laguna Honda, Chiarcota and Cañapa. Then we make our way to Chiguana salt flat, on the south side of Uyuni salt flat and surrounded by volcanoes. The night is spent at the Salt Hotel (a hotel made of salt), in double or triple rooms.

Day 7: Uyuni - La Paz, Bolivia
Location: La Paz
Uyuni Salt Flats and Incahuasi (B)
Depart at 8:00 am and cruise along the vast white expanse of salt today. Visit Incahuasi (Fish Island), located in the middle of the salt flat, with beautiful cactus and rock formations made of petrified coral. Take time to organize your group for fun perspective and proportion-distorted photos on the blinding white surface of the salt flats. Pass by piles of salt at the small village of Colchani, a salt miners workshop next to the salt flats. End your unforgettable trip in the town of Uyuni around 3:00 pm and catch your overnight bus back to La Paz in the evening.

Day 8: La Paz, Bolivia
Location: La Paz
Free Day in La Paz
Transfer from La Paz Bus station to your selected accommodation and enjoy the rest of the day exploring on your own.

Day 9: La Paz, Bolivia
Location: La Paz
La Paz City Tour (B)
The city of contrasts, both topographically and culturally. Topographically, La Paz has an impressive setting and the view is staggering. It lies at the bottom of a huge canyon with triple-peaked snow-covered Illimani Mountain providing a dramatic backdrop. The multicultural and multiethnic contrast is also fascinating. In no other capital of Latin America are there such differences between their inhabitants; from indigenous women in traditional bowler hats and voluminous skirts, selling Andean crops on the sidewalks, to businessmen hurrying to their modern office buildings. La Paz also holds an important colonial port; Jaen Colonial street is one of the most preserved colonial streets home also to four small museums clustered together; the Precious Metals Museums houses impressively presented salon of pre- colonial silver, gold and copper works and pieces from Tiwanaku. The Murillo Museum, once home of Pedro Domingo Murillo, a leader in La Paz Revolution of July 16, 1809 against Spanish colony, displays a collection of colonial art, furniture and household items. In the colonial city center stands the Plaza Murillo, home of both the Presidential Palace and the Parliament building, around this square a fair number of colonial buildings still survive. Also in the colonial city center there is the Witches Market. Provides a fascinating window on the usually secretive world of Aymara mysticism and herbal medicine. The stalls here are heavily laden with a colorful cornucopia of ritual and medicinal items, ranging from herbal cures for minor ailments like rheumatism or stomach pain to incense, colored sweets, protective talismans and dried llama fetuses. These items are combined in packages known as mesas or "pagos" and burned or buried as offerings to placate the various tutelary spirits and magical beings that are believed to hold sway over all aspects of daily life. There's no clear border between the medicinal and magical. One of the most awesome things to do in Bolivia is certainly taking a ride in a Cable Car in La Paz. It is the world's first cable car used on a primary transport network rather than subways or trains. Situated La Paz in a deep valley, the topography is steep full of hills all over the city, the city itself in area-crowded and chaotic; so, soaring above in an eight-person cabin with panoramic and spectacular birding eye views of the sparkling city.

Day 10: La Paz, Bolivia
Location: La Paz
Airport Transfer (B)
Today, after your breakfast and check-out, we'll transfer you across to La Paz Airport.

What's Included
Meals

8 Breakfast(s), 2 Lunch(es), 2 Dinner(s),

Accommodation

9N in hostels or hotels and night bus

Experiences

Guides

English-speaking guide for some activities

Extras

Handy extras and accessories

Activities

Excursions and multiday experiences

Transport

Shuttle and boat transfers
What's Not Included
Personal expenses and gratuities

Meals not specified in the itinerary

International and domestic flights

Other activities
Book with Confidence
Low Deposit

Bamba Travel requires a deposit of 20% to secure a place on this tour, and the final balance is not due till 30 days before departure..

Free Date Changes

Bamba Travel allows you to make 2 free date changes, as long as the change is made at least 60 days before the start of the tour.

Transfer as credit to Future Tours

Bamba Travel allows you to transfer existing payments to a future tour to avoid cancellation fees if you can't travel and inform Bamba Travel, 60 days before departure.

Cancellation Policy

If you need to cancel your tour, here is a summary of Bamba Travel charges.

| | |
| --- | --- |
| Up to 60 days before tour starts: | 100% of deposit |
| At 30 days before tour sarts: | 50% of tour cost |
| At 15 days before tour sarts: | 100% of tour cost |

Secure payments

All payments to TourHub are deposited into an externally regulated Trust account.
---
Travel, Your Way
Good reasons for travelling privately
Personalise your trip

Make changes to the itinerary, accommodation, or transport method

Increased safety during COVID

Spend the majority of time amongst your group to reduce exposure to others

Travel more exclusively

Your tour guide can focus all their attention on your group

Travel for a special occasion

Celebrate an important event by only travelling with your friends or family
Learn more