Amsterdam for New Year
Amsterdam for New Year
Amsterdam for New Year
4 Days Starting and ending in London
Visiting: London, Dover, Calais, Amsterdam, Edam
Tour operator:
Trip Styles:
Interests:
Activities:
Tour Overview
If New York is the city that never sleeps, then Amsterdam is the city that never forgets to throw a good New Year's. With 4 days on your side you'll uncover the hidden clubs, find the best cafes and have plenty of time to enjoy the endless cuteness of the city in between festivities. Did we mention free drinks?
Highlights
1 Dinner (D)

3 Breakfast (B)

Dover: See the iconic chalk-white coastline. So special that it's had songs dedicated to it.

Amsterdam: Grab entry to a nightclub on NYE including some drinks.

Edam: Visit a clog maker and a cheese farm. It may be a cliché, but it's so much fun we're not even slightly apologetic.
Itinerary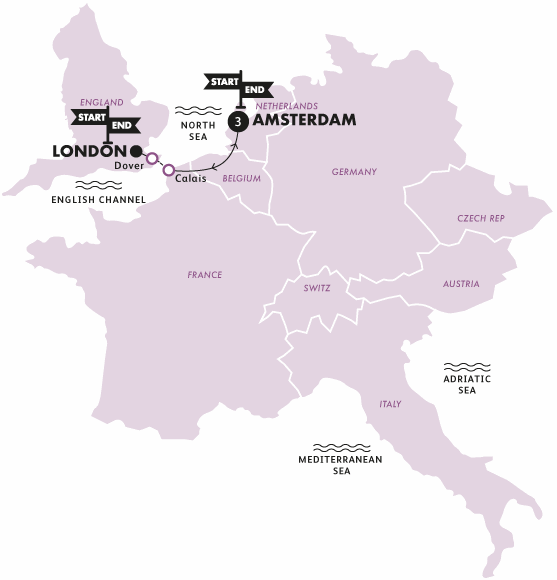 Expand All
Day 1: London To Amsterdam
Location:
London, Dover, Calais, Amsterdam
Accommodation:
Via Hostel Amsterdam (or similar)
Meals Included:
Dinner
Today we'll meet in the heart of London, throwing high fives to each other in recognition of the epic decision we all made to kick off the new year in Amsterdam. Let's do this!  A tour of the city to get the facts on the city and all it's glory is up first, then it's dinner are on us. Later, the night is yours to start getting familiar with the scene that will ring in your best night of the year - we're calling it early!

Location:
Amsterdam, Edam, Amsterdam
Accommodation:
Via Hostel Amsterdam (or similar)
Meals Included:
Breakfast
Amsterdam - We have a lot to pack into the last day of the year! This morning we head out of the city for something more agri-cultural!
You know the cheese, and now you're going to know the place that pioneered it. Nestled in the Dutch countryside we'll get acquainted with all things Edam, visiting a local clog and cheese makers house.
Heading back into the 'Dam' for an afternoon to explore the endless museums of the city like the Rijks or the Van Gogh, taste the local Heineken drop in its true home, make a sobering stop at Anne Frank House, and that's just the tip of the iceberg of goodness to be found. For those that like the laid-back approach, do some shopping, or just kick back amongst the famed cafe culture. Tonight we search for a local spot for dinner - think Dutch sate, bitteballen, stamppot and poffertjes (to name-drop just a few). Don't worry, your Trip Manager will point you in the right direction! Then hit the clubs complete with some free drinks and free entry. Here's to making this sort of VIP treatment a common theme of the New Year.

Location:
Amsterdam
Accommodation:
Via Hostel Amsterdam (or similar)
Meals Included:
Breakfast
NY in the NL, and you can celebrate with a free day of exploration. Time to dig out your bucket list. Later this evening, we'll treat ourselves to drinks as we cruise through the canals, we'll see the city illuminated by night.

Day 4: Amsterdam To London
Location:
Amsterdam, Calais, Dover, London
Meals Included:
Breakfast
Pack your bags and get ready for a nice long nap, or a lot of reminiscing with the squad and a chat about a reunion tour for next year on our ride back to London.  Amsterdam NYE friends, we salute you! You rang in the new year in ultimate wanderlusting spirit by kicking it in Amsterdam. Carry on adventuring your way through the next 12-months and you can't go wrong.

Check out our Q&As
How long has the tour company been trading?

In 1961, a guy called John Anderson founded Contiki in New Zealand. Whilst later bought by The Travel Corporation, the tour company had already been using the name 'Contiki' since its inception.

What policies are in place for Covid-19?

Please contact us for latest COVID-19 policies

Will the accommodation included meet local health and safety regulations?

What Ethical Travel credentials does the tour company have?

MAKE TRAVEL MATTER® is our commitment to protect people, wildlife and the incredible planet we all share. Powered by The TreadRight Foundation, a non-profit organisation and Contiki's guiding hand when it comes to making travel matter.

What documents will I receive before I travel?

All documentation will be sent via email around 21 days prior to your trip departure. You can also access information on your trip by signing up to My Contiki via the top right icon of the homepage.
Reviews of this Operator
Trusted Customer
Northern Choice plus Kaikoura
The trip ran so smoothly and was well organised! The extra add ons were amazing and all the services were spot on. Food places were reasonable. I'm definitely booking my next contiki trip again soon!
Feefo Trusted Reviews
Sophie
Exceptional customer service
Contiki were exceptional in providing customer service. They provided me with lots of information and were quick in responding to all my questions. I found that they were super helpful.
Feefo Trusted Reviews
Trusted Customer
First time traveling with Contiki. Highly recommend! You'll have a blast
First time traveling internationally since Covid and glad I spent the trip with Contiki. The travel, lodging, meals, activities everything was planned effortlessly. Going to Greece in may with contiki. Highly recommend
Feefo Trusted Reviews
Trusted Customer
Amazing trip. Made great friends and memories. Can't wait for my next trip
I had 24 people on my contiki and I think it was the perfect number, we all got to know each other well and got along great. Our tour guide was fun and knowledgeable, the hotels were nice and in great locations.
Feefo Trusted Reviews
Tanner Stokes
My amazing trip to Africa
Sherif was an excellent tour guide. He was extremely knowledgeable about every single small detail at each site that we visited. In addition to his great service, he has a glowing spirit that made me feel like I had family with me the entire trip. Anything that I was concerned about, he always had an answer and was there to help. I truly enjoyed my experience and will purchase a tour with him in the future
Feefo Trusted Reviews
Dates & Availability
Instant Booking Available
Saturday - Tuesday
Dec 30, 2023 - Jan 02, 2024
Instant Booking Available
Sunday - Wednesday
Dec 29, 2024 - Jan 01, 2025
Book with Confidence
Transfer as credit to Future Tours

Contiki allows you to transfer existing payments to a future tour to avoid cancellation fees if you can't travel and inform contiki, 60 days before departure.

Low Deposit

Contiki requires a minimum deposit of 200 USD per person or the full booking value, whichever is less, with the final balance not due until 60 days before departure.

Cancellation Policy

We don't charge a cancellation fee, here is a summary of contiki charges.

Up to 61 days before tour starts: Forfeit 100% of deposit.

At 60 days before tour starts: Forfeit 25% of booking price.

At 21 days before tour starts: Forfeit 50% of booking price.

At 7 days before tour starts: Forfeit 75% of booking price.

At 1 days before tour starts: Forfeit 100% of booking price.

Terms and Conditions
Why book with tourhub?
Safe & Secure
Your money is protected in an external trust until you travel.
---
100% Guaranteed Refunds if your trip is cancelled.
---
The safest way to make overseas, multi-currency payments.
Guaranteed Best Value
Industry leading discounts, we won't be beaten on price.
---
No cancellation or amendment fees from tourhub.
(Operator terms may apply)
Expert Knowledge
Reliable & unbiased advice from travel experts.
---
Direct contact with the tour operator via our messaging service.
---
Inspiration & advice from a community of 6000+ real travellers, influencers & content creators.
Trusted Service
Official partners & licensed agents of 1000+ tour operators worldwide.
---
Don't just take our word for it...
"Tourhub: Friendliness, Professionalism & Integrity I would happily give tourhub a 6* review if I could..."
Similar Tours
Travel Guru Features
Our Reviews