Active Jordan in Style
9 Days Starting and ending in Amman
Visiting: Amman, Jerash, Ajloun Forest Reserve Visitor Center, Wadi Musa, Wadi Rum, Red Sea Dive Center, Aqaba, Dana Reserve, Dead Sea, Mujib Dam
Tour operator:
Physical rating:
Moderate
Special diets catered:
Please inform Exodus of specific dietary requirements
Tour operated in:
English
Trip Styles:
Interests:
Tour Overview
Swap grey cityscapes for middle eastern mystique on a dazzling nine-day introduction to Jordan. Expand your mind as you delve back in time to learn about ancient civilisations. And remind yourself how good silence sounds as you sleep under the stars in a luxury desert camp and forest cabin.And enjoy on this Edits: Desert to Dead Sea in Jordan tour.
Highlights
Swap your usual car or bike for a jeep and camel to explore Wadi Rum desert

Scramble through the canyons of the Mujib Siq Trail

Have your very own Indiana Jones adventure and discover the magical city of Petra 
Itinerary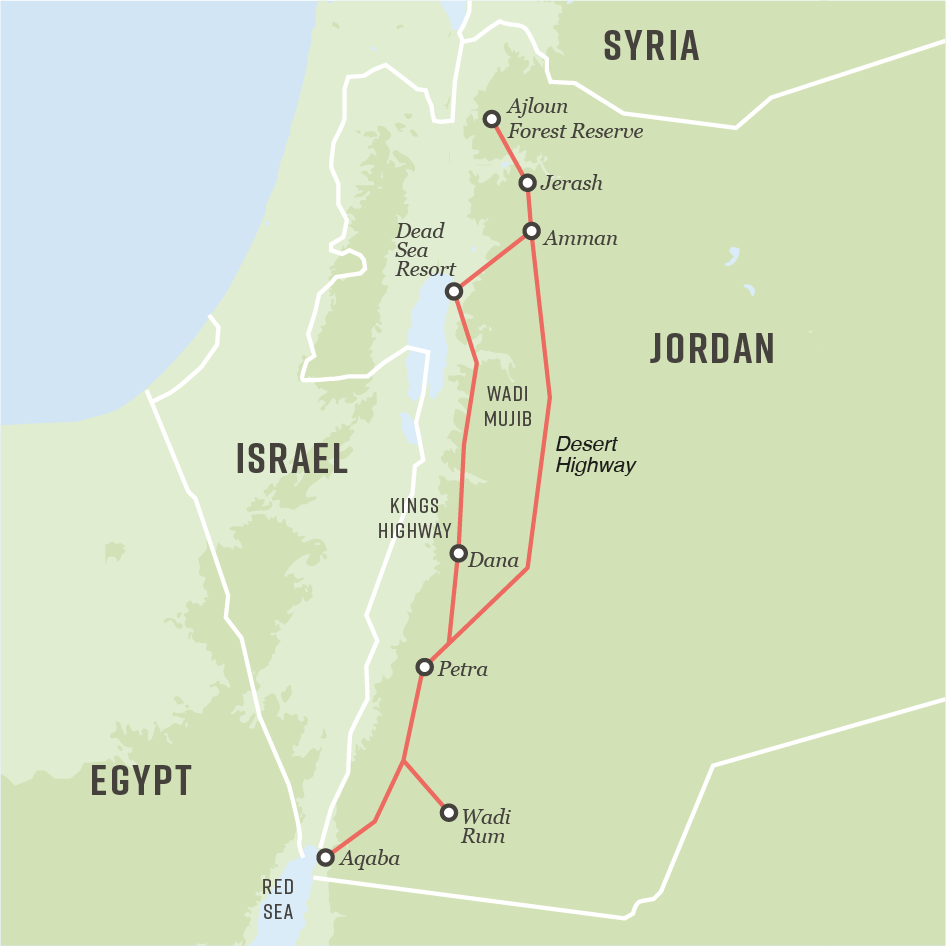 Expand All
Day 1 :

Arrive Amman, Capital Of Jordan
Location:
Amman
Accommodation:
Hotel
Accommodation Name:
Hotel Rum Art
Meals Included:
No Meals
Start your Jordan discovery in the country's capital Amman.  You'll be met
at the airport and transfered to your hotel in the Sweifieh district.



Day 2 :

Travel To The Tranquillity Of The Ajloun Forest
Location:
Jerash, Ajloun Forest Reserve Visitor Center
Accommodation:
Hotel
Accommodation Name:
Hotel Ajloun Forest Cabins
Meals Included:
Breakfast
After breakfast you'll be transported back in time with a tour of the Roman
ruins at Jerash. The day continues at pace, with a hike through the Ajloun
Forest Reserve, a haven for roe deer, wild boar and grey wolves. Along the
way, you'll stop at the Soap House to see how local women make Orjan soap
from olive oil and herbs. At the House of Calligraphy, try writing your name
in Arabic letters. Then sample local Jordanian delicacies at the Biscuit
House. Tonight, you'll check into eco-friendly cabins for a night in
peaceful forest surroundings.

Day 3 :

Drive South To Magical Petra
Location:
Wadi Musa
Accommodation:
Hotel
Accommodation Name:
Hotel Movenpick Nabatean castle
Meals Included:
Breakfast
Leaving Ajloun after breakfast, you'll travel south through desert landscapes
and stunning canyons and try local mint tea with spectacular views.  Later
arrive in Wadi Musa the gateway to the mystical ancient city of Petra.
Tonight, there's the option of trying a Turkish Bath. Otherwise, settle
into the Movenpick Nabatean Castle and enjoy the views of the Rift Valley
from this fortress-style hotel. 



Day 4 :

Check Out The Ancient City, And Climb A Mountain 
Location:
Wadi Musa
Accommodation:
Hotel
Accommodation Name:
Hotel Movenpick Nabatean castle
Meals Included:
Breakfast, Lunch
Chances are you're used to an early alarm, which is just as well - you'll
be up before dawn this morning. You'll start by walking through the 1.2km
Siq, a stunning canyon that reveals an Ancient City as the sun rises.
You'll see the Treasury, an imposing ancient tomb, then it's upwards to the
High Place of Sacrifice for fantastic views over the rose-red city.  Heading
down the mountain on another route we stop for tea at the Garden Tomb then
hike through Wadi Farasa to our picnic lunch stop.  Hidden high in the hills
is another legendary monument, the Monastery.  To get there we head up 850
stone steps which is an effort but trust us - it's worth it. After our
climbing adventures it is time to wind our way back along the city streets
passing the Royal Tombs and the 2000-year-old Nabataean Theatre, carved out
of the mountain-side and finally we return to the Siq.  Your time in Petra
is sure to be a day you will never forget. 



Day 5 :

Sunset Jeep Safari In Wadi Rum; Sleep Under The Stars 
Location:
Wadi Rum
Accommodation:
Wadi Rum UFO camp
Meals Included:
Breakfast, Dinner
Today its on to Wadi Rum, characterised by deep red sands and mars-like
landscape this desert will captivate you.  After checking into your geodesic
dome pod in Wadi Rum (yes, it's as exciting as it sounds), take a jeep
safari into the vastness. You'll arrive at the right spot just in time for
sunset, then return to camp for dinner under a canopy of stars. Heavenly.



Day 6 :

Early Morning Camel Ride; Swim In The Red Sea
Location:
Red Sea Dive Center, Aqaba
Accommodation:
Hotel
Accommodation Name:
Hotel Daytree by Hilton
Meals Included:
Breakfast
Take an early morning camel ride across the desert and commit the last of the
captivating views to memory (and your camera phone) before the hour-long
drive to the Red Sea coast. The rest of the day is spent in Aqaba, a small
town on the red sea coast where you can stretch out on the beach and try
snorkelling over a coral reef.

Tonight, the nightlife of Aqaba beckons...



Day 7 :

Hike In Dana Reserve; Lunch With Villagers
Location:
Dana Reserve, Dead Sea
Accommodation Name:
Hotel Hilton Dead Sea Resort
Meals Included:
Breakfast, Lunch, Dinner
After breakfast, its on to the 15th-century village of Dana for a hike in the
Biosphere Reserve. Join local villagers for lunch before continuing to the
Dead Sea the lowest place on earth (431m below sea level, to be exact). Take
time to enjoy the facilities of our resort but don't miss the experience of
floating in the Dead Sea. The high salt content of the water makes swimming
impossible. But it's perfect for bobbing about it and letting your skin
take advantage of the mineral-rich mud. 




Day 8 :

Mujib Biosphere Siq Trail
Location:
Mujib Dam, Dead Sea
Accommodation Name:
Hotel Hilton Dead Sea resort
Meals Included:
Breakfast, Dinner
This morning you'll hike the Wadi Mujib Siq Trail, running parallel to the
Dead Sea. You'll wade and scramble through a gorge to reach a dramatic
waterfall. If you're lucky, you might spot some Nubian Ibex. The final
afternoon is yours to unwind, maybe treating yourself to a spa treatment or
another soak in the Dead Sea before your thoughts turn to the journey home.



Day 9 :

Transfer To The Airport
Location:
Amman
Meals Included:
Breakfast
After breakfast, a transfer will return you (reluctantly, most likely) to the
airport.


What's Included
Tour Leader throughout

All breakfasts, 2 lunches, 3 dinners

All transport and listed activities

Meals

8 breakfasts, 2 lunches, 3 dinners.
What's Not Included
Flights

Travel insurance

Tips for leaders and staff

Visas and vaccinations
Food
* All breakfasts, two lunches and three dinners included * This trip visits local restaurants, including those serving mezze style meal. These have fast service and good quality food for the group and usually cost 10-15 JD per person * If you are vegetarian, main meals may be limited in choice, but mezze is almost always available in restaurants and is a filling option.  * As Jordan is a Muslim country alcohol is not available in all restaurants and many hotels.   
Accommodation
Centro Mada by Rotana, Amman

A comfortable hotel with a pool and restaurant. Well located for our journey north the next day.

Ajloun Forest Reserve Cabins

Cosy log cabins in the Aljoun Highlands with fabulous views. There's no TV and no Wi-Fi in the cabins, ideal for the ultimate switch-off.

Movenpick Nabatean Castle

Standing proud on a hilltop overlooking the Rift Valley, Movenpick Nabatean Castle has comfortable rooms and a raft of facilities for a relaxing stay.

Saraya Camp Wadi Rum

Unrivalled comfort in the desert – each cabin has a well-fitted bathroom, heating and air-conditioning. Watch sunrise from your private veranda.

DoubleTree by Hilton Aqaba

A large, sleek hotel that overlooks the Gulf of Aqaba. This resort has a choice of restaurants, fitness facilities, pools and a rooftop lounge.

Hilton Dead Sea Resort

In the heart of the Jordan Valley on the eastern shores of the Dead Sea, this swish resort has modern rooms, excellent facilities and beach access.
Check out our Q&As
Are children permitted to take part in the tour?

Are airport transfers included in this tour?

Are the local guides on the tour English speaking?

Are children permitted to take part in the tour?

What happens if I need to change my holiday date once I've booked?

If you wish to make any changes to your booking, particularly if you need to alter any flights booked through us, please let us know as soon as possible. There is a booking or flight amendment fee of £40 per change and flight amendments often incur extra airline costs depending on the changes to be made and if the ticket has been issued or not.
How long has the tour company been trading?

Exodus has been trading since 1974

What documents will I receive before I travel?

Your final joining instructions and flight details, if booked with us, will then be sent out 2 to 3 weeks before departure. If you would like a hard copy posted, or if you require these any earlier, please contact the customer operations team. We advise that if you are booking connecting travel before receiving these, please ensure you leave plenty of time.

Do you operate a "single share" option and how does it work?

Travellers are welcome to opt to share a room with a tour member of the same gender for no additional charge. If you'd like your own room, we can request a single supplement so that you will have your own room throughout.

Can I join the tour once it has departed?

You are welcome to meet the group after the tour has departed however there is no reduction in rate for joining a tour after the departure date.
Reviews from Travellers on this Tour
An excellent tour of an amazing country
This trip really does do a great job of showcasing what an amazing country Jordan is - taking you to some of its more well-known sites (e.g., Petra, the Dead Sea) and some of its lesser-known ones (I had never heard of the Wadi Mujib Siq Trail before but it was my favourite part of the trip). The trip strikes a great balance between fun activities and time to relax. The first hotel (Rum Art) is a little basic, but the standard improves as the week goes on which means you appreciate the later ones even more. I have never had longstanding ambitions to go to Jordan but, after this trip, I can't recommend it highly enough.
Excellent!
An excellent trip. Enjoyed every moment of it and was so sad to leave at the end. Laughed more than I have done in years and feel like I was away for months. We saw so much in the 9 days. I felt at home in Jordan from the moment I arrived. I will definitely be heading back to Jordan and booking another Exodus Edits trip! Thanks for having me!
Spectacular
This is a wonderful and magical trip from start to finish with a great mix of culture, hiking, delicious food, welcoming people and breath-taking beauty of the landscape and archaeological sites.
The most wonderful time in a mesmerising country
From the moment of booking the trip to arriving back to London everything was a super organised. When we arrived in Amman we were greeted by an Exodus representative, who helped us through security and took us to the taxis. The first hotel gave a great indication of what 'Active Jordan in style' will mean. Our hotels and accommodation were of a high standard. The huds in the Ajloun Forest Reserve were basic but nice. On our first morning Ab, our guide, gave us an overview on what to expect for the next 7 days. It was the beginning of the most wonderful week. I cannot imagine a better way of experiencing Jordan. We had a great mixture of sightseeing and activities to enjoy & experience the richness of Jordan: Jaresh, Aljoun Forest, Mount Nebu, Petra, Wadi Rum, Red Sea, Dana, Dead Sea and Wadi Mujib. Our driver Sami and guide Ab made sure we arrived safely and felt cared for at any point.
Action packed week!
Really busy trip but the pace calms down after Petra! Lots to see and amazing food to try too. Petra is as stunning as everyone says (I'd skip Petra by night, very busy expensive and stinky!) but Jerash is also absolutely beautiful and huge. The Dead Sea is a complete mind boggling experience you just can't help but float. Lots of optional extras available for this trip - Turkish bath, cookery class, star watching, Petra by night.
Dates & Availability
Instant Booking Available
Saturday - Sunday
Mar 30, 2024 - Apr 07, 2024
Instant Booking Available
Saturday - Sunday
Apr 13, 2024 - Apr 21, 2024
Instant Booking Available
Saturday - Sunday
May 25, 2024 - Jun 02, 2024
Celebrate Exodus' 50th anniversary! This departure includes a cooking class at Beit Khairat Souf, a local birthday celebration and a special edition Exodus kitbag
Saturday - Sunday
Sep 07, 2024 - Sep 15, 2024
Instant Booking Available
Saturday - Sunday
Sep 28, 2024 - Oct 06, 2024
Instant Booking Available
Saturday - Sunday
Oct 19, 2024 - Oct 27, 2024
Instant Booking Available
Saturday - Sunday
Nov 09, 2024 - Nov 17, 2024
Instant Booking Available
Saturday - Sunday
Nov 23, 2024 - Dec 01, 2024
Book with Confidence
Transfer as credit to Future Tours

Exodus allows you to transfer existing payments to a future tour to avoid cancellation fees if you can't travel and inform exodus, 43 days before departure.

Low Deposit

Exodus requires a minimum deposit of 25% or the full booking value, whichever is less, with the final balance not due until 90 days before departure.

Cancellation Policy

We don't charge a cancellation fee, here is a summary of exodus charges.

Up to 42 days before tour starts: Forfeit 100% of deposit.

At 20 days before tour starts: Forfeit 100% of booking price.
Why book with tourhub?
Safe & Secure
Your money is protected in an external trust until you travel.
---
100% Guaranteed Refunds if your trip is cancelled.
---
The safest way to make overseas, multi-currency payments.
Guaranteed Best Value
Industry leading discounts, we won't be beaten on price.
---
No cancellation or amendment fees from tourhub.
(Operator terms may apply)
Expert Knowledge
Reliable & unbiased advice from travel experts.
---
Direct contact with the tour operator via our messaging service.
---
Inspiration & advice from a community of 6000+ real travellers, influencers & content creators.
Trusted Service
Official partners & licensed agents of 1000+ tour operators worldwide.
---
Don't just take our word for it...
"Tourhub: Friendliness, Professionalism & Integrity I would happily give tourhub a 6* review if I could..."
Similar Tours
Travel Guru Features
Our Reviews