Canyons and Navajo Lands
8 Days Starting and ending in Las Vegas
Visiting: Las Vegas, Zion National Park, Bryce Canyon National Park, Glen Canyon, Oljato-Monument Valley, Grand Canyon National Park, Seligman
Tour operator:
Physical rating:
Leisurely / Moderate
Special diets catered:
Please inform Exodus of specific dietary requirements
Tour operated in:
English
Trip Styles:
Interests:
Activities:
Tour Overview
This 8 day tour to the Grand Canyon from Las Vegas visits the best National Parks and Native American lands that Southwest USA offers. Travel along the Grand Staircase taking in the towering red sandstone cliffs of Zion National Park and the supernatural hoodoos of Bryce Canyon National Park. Enjoy a two-night stop at the breathtaking and awe-inspiring Grand Canyon, a truly unrivalled natural wonder. Visit the spiritual heart of the Navajo Nation, Monument Valley, where a Navajo guide takes you on a 4x4 journey into the backcountry to learn how the landscape shaped Native American myths and hear stories of Navajo legends.
Highlights
Grand Canyon sunrise or sunset

Navajo guided backroads tour in Monument Valley

Zion's sandstone cliffs & Bryce Canyon's rock hoodoos

Three breathtaking national parks
Itinerary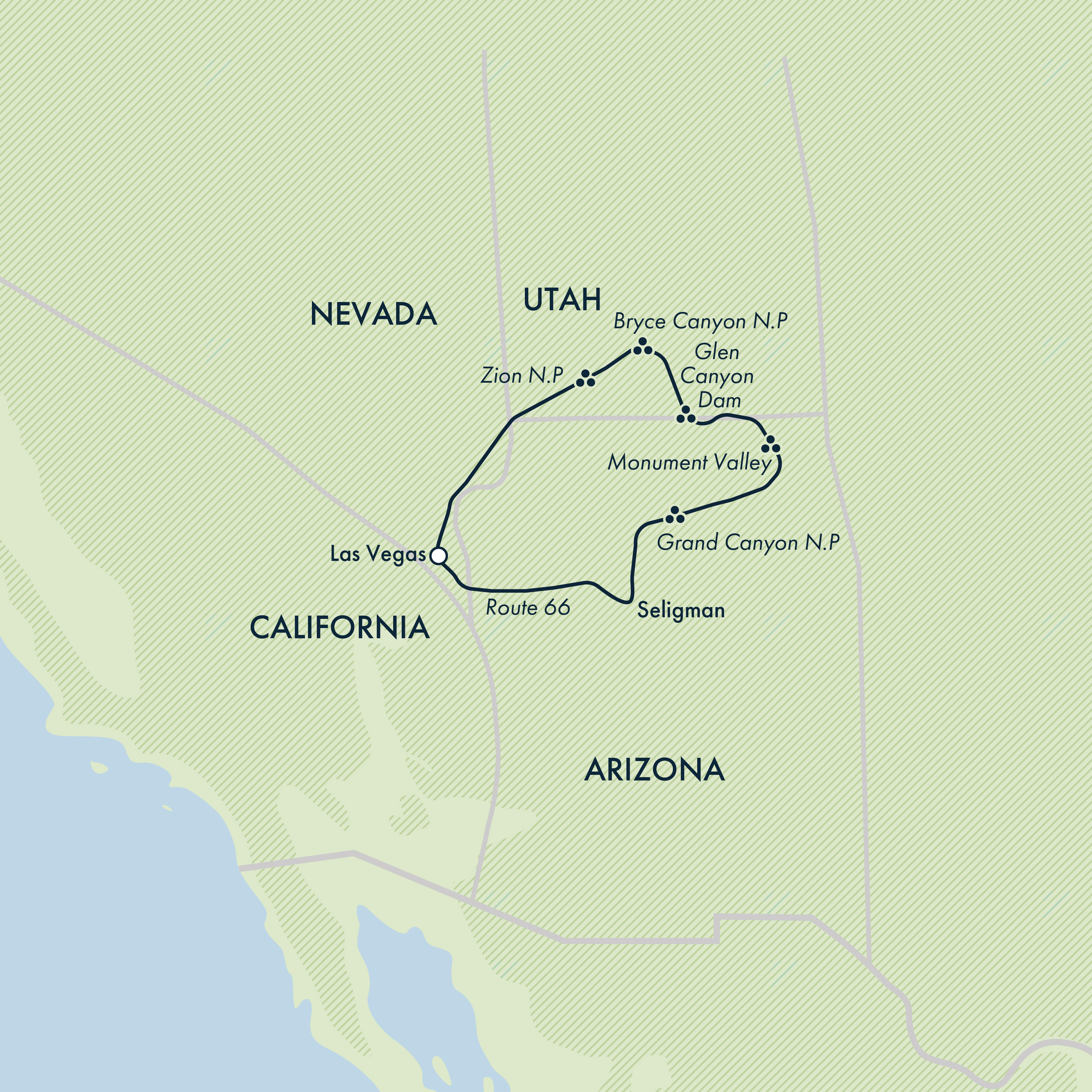 Expand All
Location:
Las Vegas
Accommodation:
Hotel
Accommodation Name:
Bally's Las Vegas Hotel & Casino (or similar)
Meals Included:
No Meals
Welcome to the 'Neon City' in the Nevada desert, a place everyone should
experience at least once in their life. The opportunities here are endless
and you'll have a full day to explore, so why not try your luck on the
tables, see one of the many world-class shows or sample an all-American
buffet? Join us at 18:00 hrs for a welcome meeting with your group and tour
leader. Afterwards you're free to take in the cityscape at night or wander
along The Strip.

*Optional Activities: *
Helicopter flight US$104
Day 2 :

Las Vegas To Zion National Park.
Location:
Las Vegas, Zion National Park
Accommodation:
Hotel
Accommodation Name:
La Quinta Inn & Suites (or similar)
Meals Included:
No Meals
Zion effortlessly mixes peaceful beauty with powerful landscapes and the tree
lined Virgin River supports fragile flora and fauna as it meanders below
massive, cathedral-like sandstone walls. Zion Canyon was named by the early
Mormon settlers of Utah who thought of it as their 'promised land' and it
offers some of the best hiking in the Southwest USA. 
Day 3 :

Zion National Park.
Location:
Zion National Park
Accommodation:
Hotel
Accommodation Name:
La Quinta Inn & Suites (or similar)
Meals Included:
Breakfast
You have a full day to further explore the delights of Zion National Park.
There are various hikes to choose from, ranging from easy to strenuous. Of
all the walks within the park, one you simply must do is the famous and
challenging hike to Angels Landing. Once you've conquered this epic trail
you'll be greeted with one of the most breathtaking panoramas you've ever
laid eyes on. For a less strenuous walk, take one of the short hikes from the
valley floor to view the Lower Emerald Pools then continue on to the
sparkling Upper Emerald Pools, passing a waterfall along the way to discover
Zion's 'beach'. Cool off from the summer sun by exploring the riverside walk
section of the Virgin River. If weather conditions permit, you may choose to
hike deep into the Zion Narrows. Staying dry is not an option as you wade
through the Virgin River between towering walls. The cool waters and the
shadow of the canyon can provide a much-needed respite from the scorching
sun. 

Day 4 :

Bryce Canyon National Park.
Location:
Bryce Canyon National Park
Accommodation:
Hotel
Accommodation Name:
Best Western Plus Ruby's Inn (or similar)
Meals Included:
Breakfast
Leaving Zion National Park, you climb in elevation to almost 8,296 feet and
traverse a high plateau to Bryce Canyon National Park. "Mysterious",
"breathtaking" and "out of this world" are just a few of the descriptions
offered by past visitors to describe this fascinating natural amphitheatre of
pink, orange and white sandstone spires, known locally as hoodoos.

There are a variety of scenic overlooks and trails that range from easy to
moderate in difficulty. The Navajo or Peek-a-Boo Loop trails will enable you
to hike right in amongst these unique rock formations. Wherever you walk,
you'll encounter a kaleidoscope of colours and a fantasy land of rock spires
that'll leave you mesmerised. For the photographers, you may prefer to remain
on the rim and photograph the ever-changing shadows and hues as the sun makes
its way across the wide-open sky. These are the picture-perfect moments
you've been waiting for. 

*Optional Activities: *
Western horseback riding US$65-$90


Location:
Glen Canyon, Oljato-Monument Valley
Accommodation:
Hotel
Accommodation Name:
Kayenta Monument Valley Inn (or similar) 
Meals Included:
No Meals
Today you travel southeast along the border of Utah and Arizona and make a
stop at the immense Glen Canyon Dam en route to Monument Valley in the heart
of the Navajo Nation. This is sacred land to those who call it home and the
red sandstone monoliths and spectacular sunsets and sunrises have been the
backdrop to countless Westerns. Explore the incredible array of rock
formations on an included guided back roads tour to learn the magic and myth
of the rich Native American culture. 
Day 6

-

7 : Grand Canyon National Park.
Location:
Grand Canyon National Park
Accommodation:
Hotel
Accommodation Name:
Holiday Inn Express - Tusayan (or similar)
Meals Included:
No Meals
Continue south through the Navajo Reservation to the Cameron Trading Post to
shop for local jewellery, crafts and cultural souvenirs. Traverse the eastern
entrance of the mighty Grand Canyon where you'll catch your first glimpse of
it at Desert View. This incredible spectacle is difficult to comprehend, even
as you stand at the rim or hike down into the canyon. Carved over several
millennia, this massive wonder of nature is 277 miles (445km) long, up to 18
miles (29km) wide and over one mile (1.6km) deep. Snaking through the canyon
floor is the mighty Colorado River, which runs 1450 miles (2330 km) through
seven US states and two Mexican states.

In your free time, we highly recommend a scenic helicopter flight over the
canyon, offering perspectives you simply can't see by just visiting on foot.
Alternatively, stroll the easy meandering South Rim Trail, hike your way down
the more challenging trail to Plateau Point, or simply relax at the canyon's
edge and enjoy a spectacular sunset over one of the world's most fantastic
natural wonders. 

*Optional Activities:*
Helicopter flight US$289 


Day 8 :

Route 66 - Las Vegas.
Location:
Seligman, Las Vegas
From the epic Grand Canyon, you'll travel onto Seligman, where you'll stop
for an optional lunch at the Snow Cap Diner along a section of the iconic
Route 66. Prepare to be dazzled all over again by the bright lights of Las
Vegas - a memorable end to a fantastic eight days!

This tour ends at our gateway hotel at approximately 17:00 hrs. We recommend
booking post-tour accommodation if time allows. If you are planning to fly
tonight, please do not book a flight that departs before 21:00 hrs. 


What's Included
We can include flights from the UK.  Please contact us for a quote.

2 breakfasts 

All accommodation

All transport and listed activities

Tour leader throughout
What's Not Included
Optional activities

Visas or vaccinations

Arrival & departure transfers

Flights

Travel insurance

Single accommodation (available on request)
Accommodation
Accommodation will be in clean, comfortable hotels, chosen for their friendly atmosphere and proximity to the highlights of the region. You will room with a fellow passenger of the same sex on a twin-share basis (two people per room) unless you are travelling as a couple.

There are no compulsory single supplements on our tours; however, if you'd like your own space, you can request a single room for an additional fee.
Food
There are two breakfasts included on this trip Most meals will be taken in local restaurants. To help you budget for your meals on average hotel breakfasts cost from US$6-12, lunches from US$8-15 and dinners from US$13-30; this does not include alcoholic beverages. Wine costs approximately US$5 per glass and beer US$4 per bottle. Please also be aware that a tip of approximately 15%-20% is added to group meals in North American restaurants. Applicable taxes will also be added to all listed menu prices. Your tour leader may offer your group the option to operate a 'lunch only' food kitty, this has proven to be a popular alternative to three daily restaurant meals. Leaders will explain this option while on your tour, and the whole group will have to agree for this system to run. Please make sure we are aware of any special meal requirements before travelling. We will do all we can to accommodate for various dietary requirements but in certain parts of North America certain food types can be limited.
Check out our Q&As
Are vaccinations required for this tour?

There are no mandatory vaccinations required for this trip.

Are airport transfers included in this tour?

What is the maximum group size?

Are children permitted to take part in the tour?

Minimum 16 years age people can go on this tour.

Are the local guides on the tour English speaking?
What is the standard of the hotels on this tour?

Are vaccinations required for this tour?

There are two breakfasts included on this trip

What happens if I need to change my holiday date once I've booked?

If you wish to make any changes to your booking, particularly if you need to alter any flights booked through us, please let us know as soon as possible. There is a booking or flight amendment fee of £40 per change and flight amendments often incur extra airline costs depending on the changes to be made and if the ticket has been issued or not.

How long has the tour company been trading?

Exodus has been trading since 1974

What documents will I receive before I travel?

Your final joining instructions and flight details, if booked with us, will then be sent out 2 to 3 weeks before departure. If you would like a hard copy posted, or if you require these any earlier, please contact the customer operations team. We advise that if you are booking connecting travel before receiving these, please ensure you leave plenty of time.

Do you operate a "single share" option and how does it work?

Travellers are welcome to opt to share a room with a tour member of the same gender for no additional charge. If you'd like your own room, we can request a single supplement so that you will have your own room throughout.

Can I join the tour once it has departed?

You are welcome to meet the group after the tour has departed however there is no reduction in rate for joining a tour after the departure date.
Dates & Availability
Instant Booking Available
Saturday - Saturday
Jun 29, 2024 - Jul 06, 2024
Instant Booking Available
Saturday - Saturday
Sep 07, 2024 - Sep 14, 2024
Book with Confidence
Transfer as credit to Future Tours

Exodus allows you to transfer existing payments to a future tour to avoid cancellation fees if you can't travel and inform exodus, 43 days before departure.

Low Deposit

Exodus requires a minimum deposit of 25% or the full booking value, whichever is less, with the final balance not due until 90 days before departure.

Cancellation Policy

We don't charge a cancellation fee, here is a summary of exodus charges.

Up to 42 days before tour starts: Forfeit 100% of deposit.

At 20 days before tour starts: Forfeit 100% of booking price.
Why book with tourhub?
Safe & Secure
Your money is protected in an external trust until you travel.
---
100% Guaranteed Refunds if your trip is cancelled.
---
The safest way to make overseas, multi-currency payments.
Guaranteed Best Value
Industry leading discounts, we won't be beaten on price.
---
No cancellation or amendment fees from tourhub.
(Operator terms may apply)
Expert Knowledge
Reliable & unbiased advice from travel experts.
---
Direct contact with the tour operator via our messaging service.
---
Inspiration & advice from a community of 6000+ real travellers, influencers & content creators.
Trusted Service
Official partners & licensed agents of 1000+ tour operators worldwide.
---
Don't just take our word for it...
"Tourhub: Friendliness, Professionalism & Integrity I would happily give tourhub a 6* review if I could..."
Similar Tours
Travel Guru Features
Our Reviews