Castles, Hadrian's Wall & the Lake District
Castles, Hadrian's Wall & the Lake District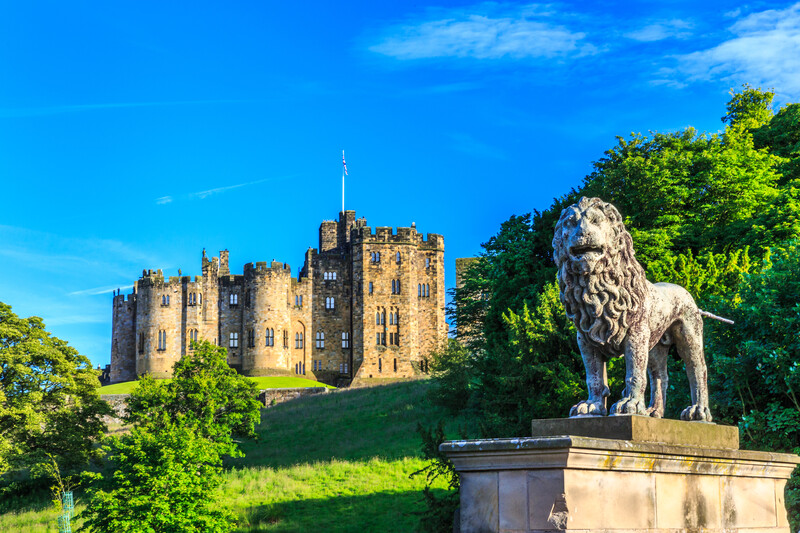 Castles, Hadrian's Wall & the Lake District
6 Days Starting in Newcastle and ending in Penrith
Visiting: Newcastle upon Tyne, Alnwick, Holy Island, Bamburgh Castle, Vindolanda, Catbells, Keswick, Helvellyn, Penrith, Europe
Tour operator:
Physical rating:
Moderate
Trip Styles:
Interests:
Activities:
Tour Overview
For an adventurous getaway combining history and hiking, few destinations can compete with the windswept wilds of northern England. Here we meet long-gone monarchs and marauding invaders at Alnwick and Bamburgh castles, both seen in TV shows and films, including Harry Potter, Downton Abbey and The Last Kingdom. We also cross to the tidal island of Lindisfarne, the birthplace of Christianity in England, and walk a section of Hadrian's Wall, which once marked the northwest boundary of the Roman empire. We end the trip in the Lake District where we hike two peaks – known locally as fells – for astonishing views over perhaps the most beautiful rural landscape in the UK. Did you know you can travel by train to this trip? Find out more here
Highlights
Explore the bewitching Alnwick Castle, which stood in as Hogwarts for the first two Harry Potter movies

Venture to the Holy Island of Lindisfarne to admire historic priory ruins

Tour Bamburgh Castle, a striking fort on the Northumberland coast

Hike a section of Hadrian's Wall, the UNESCO-listed northwest boundary of the Roman empire

Hike Cat Bells for unforgettable views over the Lake District

Summit Helvellyn, a walk considered among the most beautiful in the UK
Itinerary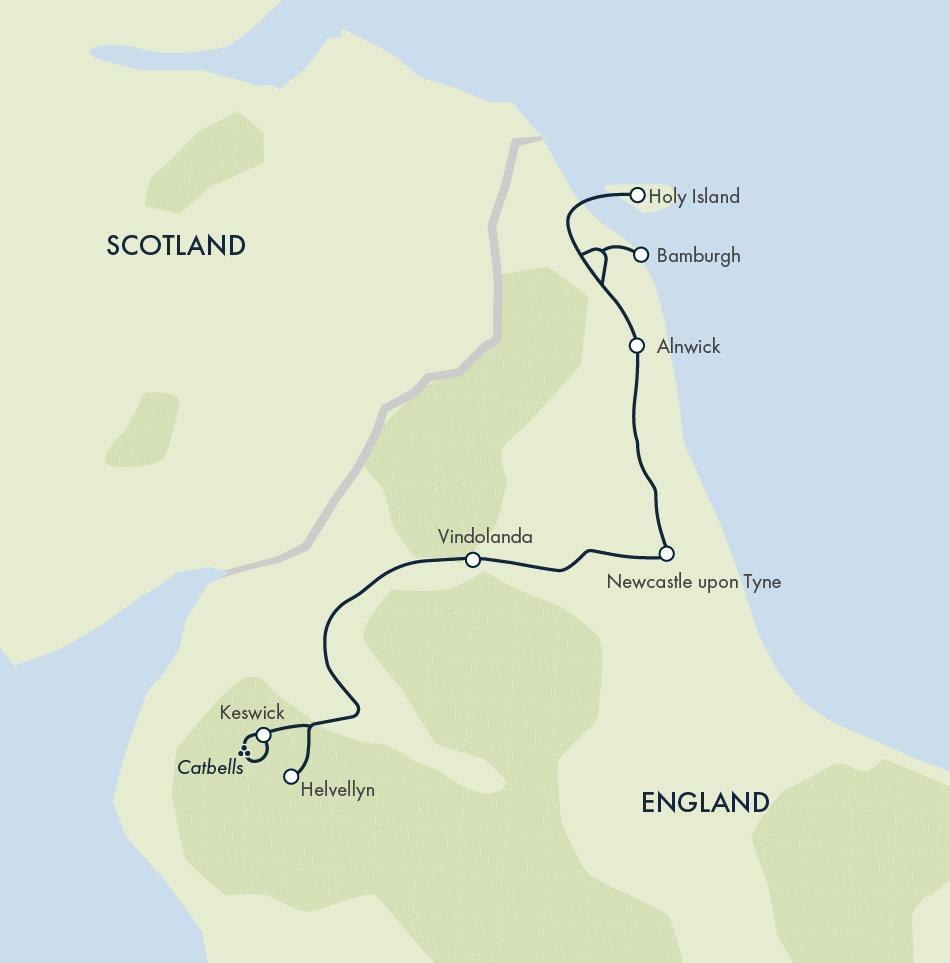 Expand All
Location:
Newcastle upon Tyne
Meals Included:
dinner
Our adventure begins in Newcastle, once a titan of industry, now transformed into a business hub and cultural powerhouse. We gather at the hotel reception at 6pm to meet each other before a If you arrive with time to spare, you could walk to the Tyne Bridge, a Grade II*-listed arch spanning the river after which it was named. Opened in October 1928 by King George V, it is now the most famous of seven bridges crossing the Tyne and an icon of the city.

Accommodation: Royal Station Hotel, Newcastle
Day 2 :

Alnwick And Alnmouth
Location:
Alnwick
Meals Included:
breakfast
We leave the city and head to Alnwick, an ancient market town guarded by an imposing Norman castle. Our exploration starts with a walk around town, before we head to Alnwick Castle, the second largest inhabited castle in the UK behind Windsor Castle.

Built in the 11th century, the fort was originally a defensive stronghold – seen in the extra-thick stone walls – but has more recently become a picturesque setting for TV and film, featuring in Downton Abbey and as Hogwarts in the first two Harry Potter movies. Our visit includes a wander round the lavish state rooms and the opportunity to try archery, take broomstick flying lessons as Harry Potter once did here, and visit the artisans courtyard to experience 14th-century life.

This afternoon, we head to the coastal village of Alnmouth, where rows of pastel-coloured fishermen's cottages and stone houses line the River Aln. Here we explore the traditional high street, dipping into gift shops, cafes and pubs. The leader can recommend somewhere for dinner, but what better way to cap a day of tradition than with fish and chips on the beach, a classic British seaside experience?

Ascent: 302ft (92m)

Accommodation: The Oaks Hotel, Alnwick
Day 3 :

Lindisfarne And Bamburgh Castle
Location:
Holy Island, Bamburgh Castle
Meals Included:
breakfast
We head to Lindisfarne (also known as Holy Island) after breakfast, which is considered the birthplace of Christianity in England. This tidal island is cut off from the mainland by the sea twice a day; don't worry, we check the tides before making the journey across.

Here we visit the ruins of a 12th-century priory, which was founded by Norman monks and played a vital role in introducing Christianity to Anglo-Saxon England. We also walk past a castle that was converted into a private holiday home by Sir Edwin Lutyens, an architect who had a major role in the formation of New Delhi, India.

We then take a tour of Bamburgh Castle, which you may recognise from the Netflix series The Last Kingdom. Built on a rocky plateau right next to the Northumberland coastline, this imposing fort has played guardian to the area for more than 1,400 years, hosting several kings and witnessing many bloody battles.

Ascent: 200ft (61m)

Accommodation: The Oaks Hotel, Alnwick
Day 4 :

Hadrian'S Wall To The Lake District
Location:
Vindolanda
Meals Included:
breakfast
Today we head across the country to the Roman ruins of Hadrian's Wall, a Unesco World Heritage site stretching 73mi (117km) from coast to coast. This 1,900-year-old relic once marked the northwest border of the Roman empire, cutting through the still-wild landscape.

During our walk, we visit Vindolanda, a complete Roman garrison, which has been excavated for years and is still being uncovered. We also visit Sycamore Gap, immortalised in Kevin Costner's Prince of Thieves (1991 and one of the most photographed trees in the country. After, we take a bus transfer to the Lake District, a beloved national park of spectacular rural landscapes and quintessential old English towns.

Ascent: 400ft (122m)

Accommodation: The Royal Oak, Keswick
Day 5 :

Walk Up Cat Bells
Location:
Catbells, Keswick
Meals Included:
breakfast
Today we embark on a classic Lake District experience: fell walking. Our fell (the name derives from an old Norse word meaning mountain or moor-covered hill) is Cat Bells, one of the most beautiful in the region and not a strenuous hike at just 1,480ft (451m) tall. At the top, we have wonderful panoramas taking in the countryside and the expansive lake known as Derwent Water.

This afternoon, we take the ferry back to Keswick. Then we have free time to relax or explore this historic market town.

Ascent: 600ft (183m)

Accommodation: The Royal Oak, Keswick
Day 6 :

Walk Up Helvellyn
Location:
Helvellyn
Meals Included:
breakfast, dinner
Today we tackle our second peak, Helvellyn, the third highest fell in the Lake District at 3,118ft (950m) tall. It's been called the greatest walk in England with stretching views over the rural landscape; we go up and down via the easiest route available with no steep inclines. At the top, we can marvel at the whole Lake District; at the bottom, we stop for a pint in the King's Head, a 17th-century coaching inn turned traditional pub with sensational views over the landscape.

Ascent: 2,500ft (762m)

Accommodation: The Royal Oak, Keswick
Day 7 :

Transfer To Penrith
Location:
Penrith
Meals Included:
breakfast
After breakfast, we begin our return journey home. To make things easy, there's a transfer to Penrith where there are hourly trains to London and Scotland. We will arrive at Penrith station by 10am.
What's Included
All breakfasts, two dinners

Entry into Lindisfarne Priory, Bamburgh Castle, Alnwick Castle and Gardens, Vindolanda

Leader throughout and mountain guide on last day

Minibus throughout
What's Not Included
Flights and rail journeys

Visas

Insurance

Single supplement (we need a rate for this if available)
Food
All breakfasts and two dinners are included.
Accommodation
We use three hotels on this trip, in Newcastle, Alnwick and Keswick. Below are the accommodations we typically use.

Newcastle: Royal Station Hotel (night 1)



The Royal Station Hotel in Newcastle is a Grade I-listed retreat within an easy walk of the train station and city centre. The rooms are classically styled and there's an in-house cocktail bar and leisure club.

Alnwick: The Oaks Hotel (nights 2-3)



The Oaks Hotel in Alnwick provides comfortable rooms in a traditional British pub constructed from honey-coloured stone.
Keswick: Royal Oak (nights 4-6)


The three-star Royal Oak in Keswick town centre is a boutique-style accommodation within an 18th-century coaching inn. Over the years, it's welcomed a host of literary luminaries, including Lord Tennyson, Robert Louis Stevenson and Sir Walter Scott.
Check out our Q&As
What happens if I need to change my holiday date once I've booked?

If you wish to make any changes to your booking, particularly if you need to alter any flights booked through us, please let us know as soon as possible. There is a booking or flight amendment fee of £40 per change and flight amendments often incur extra airline costs depending on the changes to be made and if the ticket has been issued or not.

How long has the tour company been trading?

Exodus has been trading since 1974

What documents will I receive before I travel?

Your final joining instructions and flight details, if booked with us, will then be sent out 2 to 3 weeks before departure. If you would like a hard copy posted, or if you require these any earlier, please contact the customer operations team. We advise that if you are booking connecting travel before receiving these, please ensure you leave plenty of time.

Do you operate a "single share" option and how does it work?

Travellers are welcome to opt to share a room with a tour member of the same gender for no additional charge. If you'd like your own room, we can request a single supplement so that you will have your own room throughout.

Can I join the tour once it has departed?

You are welcome to meet the group after the tour has departed however there is no reduction in rate for joining a tour after the departure date.
Reviews of this Operator
Gergana Racheva
Very helpful and prompt service
Very helpful and prompt service. I called to check for an already booked trip and once we sorted this, the agent was ready to help me with another booking as well. He actually waited for me to book my flight tickets, answered all my questions, informed me of all my options. Exodus is a tour company I am using regularly due to the quality of their trips, ease of booking and helpfulness of their customer service team
Trustpilot
Tim Hardy
Stunning walking. Walking the Amalfi Coast
This trip takes you through the most beautiful parts of the Mediterranean walking with a guide and also discovering the wonders of Pompeii and Vesuvius. The hotel had a nice feel as family run, spotless and comfortable rooms, we were well looked after for breakfasts and dinner each day, and the barmen fixed some mean cocktails for us.!
Paul Green
It's amazing what you can do in a week! Cycling the Dalmatian Coast.
This holiday was extremely enjoyable. The itinerary is well planned and the route takes you to a variety of destinations. Not having been to Croatia before I didn't know there were so many beautiful small islands and I loved the ferry and catarmaran rides. The coastal route we took was dramatic and the World Heritage sites in Split and Dubrovnik very interesting and worth visiting. The Adriatic Sea was warm, blue and inviting, good for swimming even in October. The hotels we stayed in varied in size from medium to large. I particularly liked the one just outside Dubrovnik as I had a sea view. Tourists were plentiful in Split and Dubrovnik but in the other places we stayed there was an end of season feel and it was quiet on the roads and in the resorts. The food was good and our guide was always able to recommend a nice restaurant for our evening meal. The weather in October was good for cycling - not hot, partly cloudy most days and one day it rained!
Mrs Y Morrison
Fabulous company and trip
We went overland from Cape Town to Zimbabwe through Botswana and Namibia. What a fantastic trip. Our first time with Exodus although we have travelled extensively around the world. We would highly recommend this company for such a brilliant trip - we got everything and more all at a good price. Thanks to everyone involved. We are looking at our next trip!
Trustpilot
John Edwards (Google Reviewer)
I went cycling in Albania with exodus as my first holiday with them. Such a well organised and wonderful experience where I met multiple fellow travellers who have been advocates of them for many years. You can't argue with happy repeat customers and I'm planning my next adventure with them soon
Rob Burridge (Google Reviewer)
I'v just come back from an amazing Wildlife & Wilderness trip in Botswana and I highly recommend Exodus Travels. Our guide Brian, was extremely knowledgeable on both the wildlife and history of Botswana and neighbouring countries. The other three staff, Abbis, Chief & Mr T, who accompanied us through out our 2 week trip, put in the hard work and made sure our camp was always prepared and that we we're well fed and looked after. The tour took us to some beautiful places and we saw some amazing wildlife, and on several occasions this was due to Brian's knowledge of the area and wildlife behaviour. Exodus have been very quick to respond to any queries I had, and the whole experience ran smoothly. I was also pleased to hear that during lockdown they provided staff with food packages 👍. I'd normally go on self organised trips, however, with this trip, the tour and guide Brian took us to places not possible otherwise and showed us things that we would'v missed out on. All of which were the highlights of the tour.
Daphne Partridge (Google Reviewer)
After 14 roup adventure holidays with Exofus we would not hesitate to recommend them as an excitingholiday company. They take you off the beaten track but offer great support and expertise :)
Katrina Handford
A wonderful trip! Sierra de Aitana Trek
I couldn't speak more highly of this trip. The scenery was absolutely stunning; the areas provided a great variety of walks with spectacular views. The accommodation was perfectly situated to start most of the walks directly from the hotel. It was also within walking distance of the bars and restaurants in Benimantell and Guadalest. Having said that, the food at the hotel was wonderful and so there was little need to venture further afield. Homecooked, nourishing and delicious food from the hotel was perfect fuel for the trekking.
Stella Jales (Google Reviewer)
We usually travel with Exodus on small group holidays and have visited many countries with them. They employ local guides which as well as giving us information and history of the sites also gives employment to the local people. The hotels are always good and the guides know the local places to eat.
Alison Payton (Google Reviewer)
I've done 8 trips in the last 14 years with Exodus, and have been rewarded with a 10% discount on all future bookings. I feel very confident that I'll receive pleasant, efficient service, and have the unusual holiday experience that I'm looking for each time. I've trekked to the top of snow-capped peaks, wild-camped in the desert, seen amazing spectacles of nature, visited 4 capital cities in a week, and learned about local culture and experienced local hospitality in a way that I simply wouldn't on a conventional holiday. The quality of the accommodation and guides can vary, but this is mainly down to cultural differences and things that Exodus can't control. I've only ever complained once, my complaint was taken seriously, and I was sent a discount voucher - you can't say fairer than that. I remain a loyal customer.
Dates & Availability
Instant Booking Available
Sunday - Friday
May 26, 2024 - May 31, 2024
Instant Booking Available
Sunday - Friday
Jun 30, 2024 - Jul 05, 2024
Instant Booking Available
Sunday - Friday
Sep 15, 2024 - Sep 20, 2024
Book with Confidence
Transfer as credit to Future Tours

Exodus allows you to transfer existing payments to a future tour to avoid cancellation fees if you can't travel and inform exodus, 43 days before departure.

Low Deposit

Exodus requires a minimum deposit of 25% or the full booking value, whichever is less, with the final balance not due until 90 days before departure.

Cancellation Policy

We don't charge a cancellation fee, here is a summary of exodus charges.

Up to 42 days before tour starts: Forfeit 100% of deposit.

At 20 days before tour starts: Forfeit 100% of booking price.
Why book with tourhub?
Safe & Secure
Your money is protected in an external trust until you travel.
---
100% Guaranteed Refunds if your trip is cancelled.
---
The safest way to make overseas, multi-currency payments.
Guaranteed Best Value
Industry leading discounts, we won't be beaten on price.
---
No cancellation or amendment fees from tourhub.
(Operator terms may apply)
Expert Knowledge
Reliable & unbiased advice from travel experts.
---
Direct contact with the tour operator via our messaging service.
---
Inspiration & advice from a community of 6000+ real travellers, influencers & content creators.
Trusted Service
Official partners & licensed agents of 1000+ tour operators worldwide.
---
Don't just take our word for it...
"Tourhub: Friendliness, Professionalism & Integrity I would happily give tourhub a 6* review if I could..."
Similar Tours
Travel Guru Features
Our Reviews