Croatia: Islands & Mountains
8 Days Starting in Dubrovnik and ending in Zadar Airport
Visiting: Dubrovnik, Makarska, Bol, Split, Krka National Park, Paklenica National Park, Starigrad, Zadar
Tour operator:
Physical rating:
Moderate
Special diets catered:
Please inform Exodus of specific dietary requirements
Tour operated in:
English
Trip Styles:
Interests:
Tour Overview
Enjoy the very best of Croatia; the coast and islands, the beautiful towns, near-perfect national parks and spectacular mountains. Starting in the fascinating UNESCO city of Dubrovnik, we begin our journey along the coast where the crystal clear sea forms the backdrop for many of our early walks, followed by the peaceful sound of waterfalls as we head into the national parks of Paklenica and Krka. Here we have a chance to visit Skradinski buk waterfalls and enjoy walks through spectacular gorges, forests and mountain scenery.
Highlights
Experience the wilderness of Krka and Paklenica National Parks

Walk idyllic coastal and mountain routes 

Discover the beautiful UNESCO town of Dubrovnik
Itinerary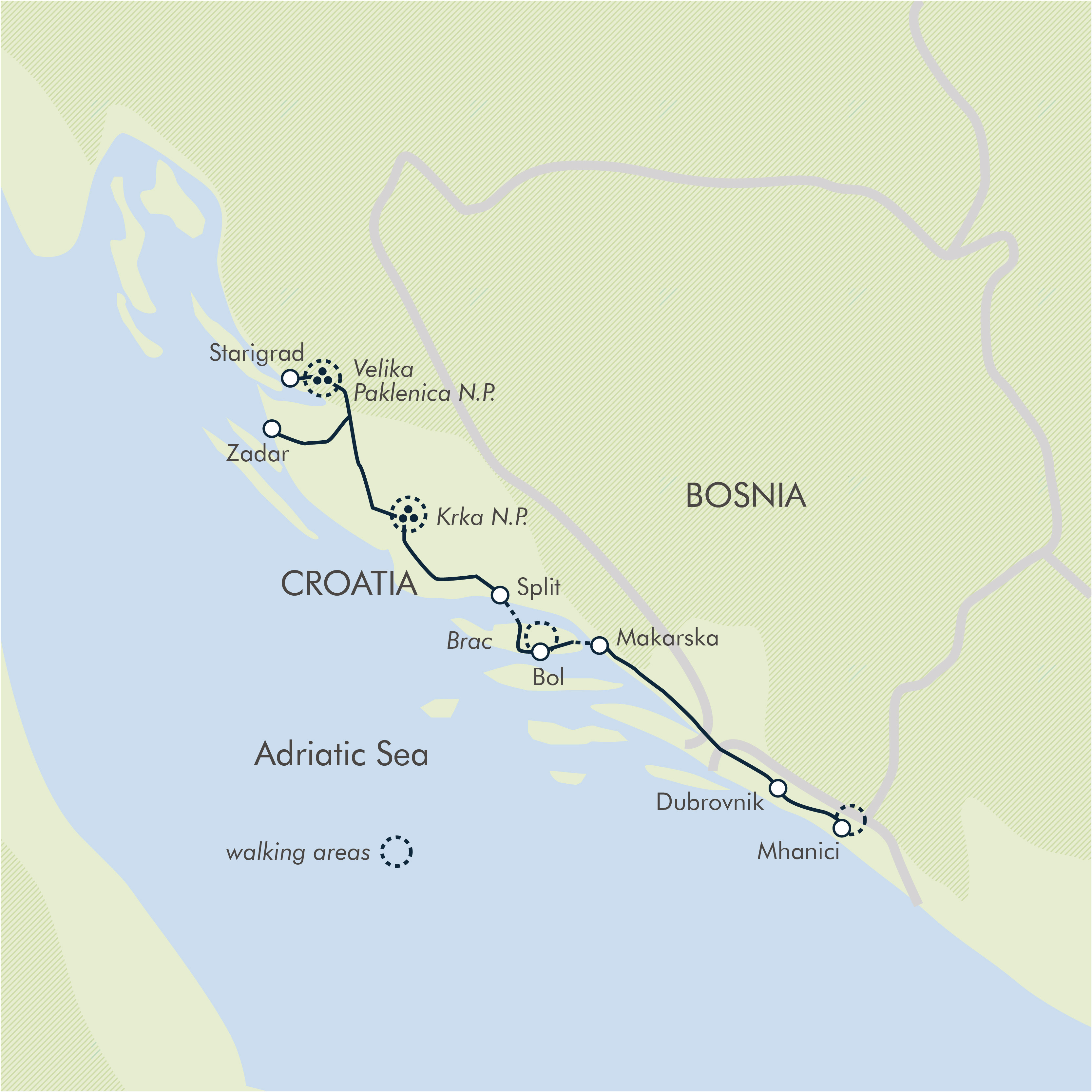 Expand All
Location:
Dubrovnik
Accommodation:
Hotel
Meals Included:
No Meals
The tour starts in the fascinating old city of Dubrovnik. Situated right on
the Adriatic Sea, the fine religious buildings surrounded by heavily
fortified walls and the jumble of red-tiled roofs make this a truly
enchanting place. In the evening we will take a walk around the city and go
out for a group meal where we will have a briefing about the tour. 


Day 2 :

Walk From Gornji Obod To Strazisce Peak; Transfer To Dubrovnik, Explore The Old Town
Location:
Dubrovnik
Accommodation:
Hotel
Meals Included:
Breakfast
After breakfast we take a short transfer (about 25 minutes) to the village of
Gornji Obod. From here we follow a path that zig-zags its way up to the
village of Velji Do. After a break, the walk continues up to Strazisce Peak,
and at the top we are rewarded with spectacular views back over Dubrovnik and
can see the commemorative cross in memory of the US aircraft which crashed
delivering aid in 1996. We return to Velji Do and then transfer back to
Dubrovnik where we have the afternoon to enjoy the city. The shelling of
Dubrovnik by Serb troops in 1991 and 1992 outraged the world. Fortunately
over the last 10 years great care has been taken to re-build the damaged
parts of Dubrovnik and the city has now returned to its former glory. The
cobblestoned streets of the old town, or Stari Grad, features fountains,
churches, palaces and museums – all built from the same light coloured
stone. There are no motor vehicles in the city but at night the streets come
alive as locals and visitors take an early evening stroll along the Stradun
– this is the main street and is covered in smooth shiny marble.


Day 3 :

Transfer Up The Coast To The Biokovo Massif; Walk Above The Town Of Makarska; Transfer To Bol On The Island Of Brac
Location:
Makarska, Bol
Accommodation:
Hotel
Meals Included:
Breakfast
After breakfast, we will transfer by bus to Tucepi. This transfer takes about
3.5 hours including a coffee break en route. Once in Tucepi we begin our walk
to Makarska, through the Biokovo mountains. The Biokovo massif rises up
steeply above the Makarska Riviera in three spectacular shelves, providing
hiking at all levels and fabulous views. Our destination of Makarska is a
small but lively town, tastefully restored in stone after a devastating
earthquake in 1962. It has a fantastic 2km stretch of beach, so if we have a
bit of time we can take a refreshing dip before we head for the island of
Brac. We will catch the ferry from Makarska and transfer to Bol, by far the
biggest draw on the island of Brac.


Day 4 :

Climb Vidova Gora For Views Over Bol And Zlatni Rat, The Golden Beach; Afternoon To Relax On The Beach
Location:
Bol
Accommodation:
Hotel
Meals Included:
Breakfast
We start today with a 20 minute transfer to the small village of Gazul, and
from here we begin our walk to the peak of Vidova Gora (780m). The first part
of our walk will take us through woodland for around 1.5hrs as we gradually
ascend 230m to the summit of the highest point on Brac Island. The views from
the top of Vidova Gora are spectacular as we can see all the way to the
island of Hvar in the distance and the famous 500m long spit of Zlatni Rat
jutting out to sea in the foreground – this view is one that features on
many postcards in Croatia so make sure to bring your camera! From here, our
walk is downhill for around 2hrs towards the town of Bol. In the afternoon
you can make the most of the glorious beach of Zlatni Rat. It is south
facing, so ideal for an afternoon of rest and relaxation.   

 


Day 5 :

Catch The Ferry To Split And Enjoy A Couple Of Hours Exploring The Old Town Before Transferring To Krka N.P.; Visit The Skradinski Buk Waterfalls.
Location:
Split, Krka National Park
Accommodation:
Hotel
Meals Included:
Breakfast
We begin with a morning ferry transfer to Split, Croatia's second biggest
city. The old centre is compact and easily explored on foot, with the main
draw is Diocletian's Roman Palace. The town as a whole is a lively and
friendly place with a bustling café culture, so it is simply a nice place to
stop, have a coffee and soak up the atmosphere. We then have a transfer
(approx. 84km) by bus to Krka National Park. Here we begin our walk to the
Skradinski Buk waterfalls, made up of a series of waterfalls dropping down in
17 dramatic steps. The area is accessed by wooden walkways and forest paths.
The area is also fantastic for wildlife – it is now an important wildlife
sanctuary with several species endemic to the region or now extinct elsewhere
in Europe. The walk will take around 2.5 hours and is all on easy paths. In
the late afternoon, we transfer to Starigrad Paklenica.


Day 6 :

Velika Paklenica N.P. Gorge Walk Via Ramici Village
Location:
Paklenica National Park
Accommodation:
Hotel
Meals Included:
Breakfast
Today we have a walking tour of the National Park Paklenica. Paklenica is
home to the two impressive canyons of Velika and Mala Paklenica, vertically
cut into the mountain where climbers from all across Europe come to test
their skills and conquer these vertical assents. In a relatively small area
of the national park, there are several unusual karst forms and caves, and
the area is extremely rich in flora and fauna. Our 7.5 hour walk starts with
a short jeep ride up to Veliko Rujno (850m), and from here we climb 300m for
fantastic views over the park. Our walk is then mostly downhill as we have
1150m of descent through the quietest areas of the park, the village of
Ramici and finishing in the main canyon itself. In the afternoon we return to
Starigrad Paklenica.


Day 7 :

Another Day In Paklenica N.P.; Walk To A Meadow Beneath Bojin Kuk Peak Via The Mirila Graves Before Returning To Starigrad Paklenica In The Afternoon
Location:
Starigrad
Accommodation:
Hotel
Meals Included:
Breakfast
Today we have another opportunity to explore the wonderful wilderness of
National Park Paklenica and complete the most challenging walk of the trip.
We walk to the saddle of 'Pod Jaginim Kukom' which has a great view up to
Bojin Kuk. The Bojinac group is made up of a vast area of limestone, with the
karst scenery forming towers of rock, furrowed limestone cliffs, caves and
soft green meadows creating a contrast against the severe rock. It is an area
of outstanding natural beauty and a walkers paradise. Today's walk takes
about 5-6 hours, the terrain is quite challenging and rocky and requires our
concertation, steady footing and good balance. En route, we pass the unusual
Mirila graves. This afternoon we return to Starigrad Paklenica in time for a
swim and relaxation before leaving Croatia tomorrow.


Day 8 :

The Tour Ends At Zadar Airport.
Location:
Zadar
Meals Included:
Breakfast
Transfer to Zadar airport where the tour ends.


What's Included
Flights from London (if booking incl. flights)

All transport and listed activities

All breakfasts

All accommodation (see below)

Tour leader throughout
What's Not Included
Visas or vaccinations

Travel insurance

Single accommodation (available from)
Accommodation
We spend seven nights in simple but comfortable hotels. We typically stay in a selection of three-star properties, all well-located in towns and villages with a good variety of restaurants, allowing you to indulge in the fantastic local cuisine. Below are the hotels we typically use, though the actual hotels used on your adventure may differ.

Dubrovnik: Hotel Vis or Hotel Komodor (annex) (nights 1-2)

Our first two nights are spent at either Hotel Vis or Hotel Komodor, both three-star beachside properties. The 151-room Vis hotel, sandwiched between pine trees and the Adriatic, has a rooftop terrace, bar, and a seaside restaurant serving local and international cuisines. The 113-room Komodor is split between a main stone building built in 1934 and a 50-room annex, which we stay in. It is close to restaurants and bars, and the bus stop for the Old Town is just in front of the hotel. A pebble beach is nearby or you can enjoy the outdoor pool.

Bol, Brac: Villa Daniela (nights 3-4)

This family-run hotel is a 15-minute stroll to the beloved Golden Horn beach. Katarina is one of the friendliest receptionists and her father has a lovely traditional restaurant you can visit – it will be a dinner to remember. Traditional dishes made from local produce and vegetables grown in their garden will possibly be the culinary highlight of your trip.

Starigrad Paklenica: Hotel Vicko (nights 5-7)

Hotel Vicko is a short stroll from a public beach, ideal for a quick dip after walking through beautiful Paklenica National Park, and there is a good restaurant serving local dishes. This hotel truly understands the meaning of a hiker tourist; they never complain about muddy shoes or a wet overcoat and will help you dry out. Their breakfast has various choices, and their restaurant menu comprises secret family recipes spiced with medical herbs from the great mountain of Velebit.

Worth knowing

In recent years, Croatia has regained its place as a popular tourist destination with visitor levels nearly as high as before the Balkan conflict. Unfortunately, many hotels were damaged beyond repair during those years and demand now heavily outstrips supply. As a result, hotel prices are high and Croatia is not the cheap destination some might expect. Hotels tend to be more functional than luxurious with Communist-era architecture and facilities. We work with several hotels to ensure availability and a comfortable place to rest.
Some hotels we use don't have lifts.
Food
All breakfasts are included. For breakfast you can expect a large continental buffet with meats and cheeses, bread, jams and pastries as well as tea and coffee.  Croatian cuisine is a mixture of fine seafood, grilled meat, pizza, pasta and salads, with influences from Central Europe, Italy and the Balkans. Some specialities that we highly recommend include squid ink risotto and Octopus salad!    
Check out our Q&As
Are vaccinations required for this tour?

No vaccinations are obligatory.

What is the standard of the hotels on this tour?

What is the maximum group size?

Can you assist with pre or post tour accommodation?

We are happy to assist with pre and post tour accommodation. Please enquire for detailed information.

Do you require a visa for this holiday?

UK passport holders do not need visas for this trip. Other nationalities should check with the relevant embassies.
Who is Exodus Travels?

At Exodus Travels, we've been exploring the world for nearly 50 years. From Walking and Trekking, Cultural and Cycling, Responsible Wildlife, to Polar and our new Premium Adventures, we are proud to offer award-winning small group and self-guided tours to 100+ countries worldwide.

Are flights included in this tour?

International flights are not included with this tour.

Are the local guides on the tour English speaking?

Are children permitted to take part in the tour?

Minimum 16 age people can go on this tour.

Is there a supplement for solo travellers?

If you would like to be paired with a tour member of the same gender, there is no additional charge. A single supplement can be requested if you would like your own room.

What happens if I need to change my holiday date once I've booked?

If you wish to make any changes to your booking, particularly if you need to alter any flights booked through us, please let us know as soon as possible. There is a booking or flight amendment fee of £40 per change and flight amendments often incur extra airline costs depending on the changes to be made and if the ticket has been issued or not.

How long has the tour company been trading?

Exodus has been trading since 1974

What documents will I receive before I travel?

Your final joining instructions and flight details, if booked with us, will then be sent out 2 to 3 weeks before departure. If you would like a hard copy posted, or if you require these any earlier, please contact the customer operations team. We advise that if you are booking connecting travel before receiving these, please ensure you leave plenty of time.

Do you operate a "single share" option and how does it work?

Travellers are welcome to opt to share a room with a tour member of the same gender for no additional charge. If you'd like your own room, we can request a single supplement so that you will have your own room throughout.

Can I join the tour once it has departed?

You are welcome to meet the group after the tour has departed however there is no reduction in rate for joining a tour after the departure date.
Reviews From Travellers On This Tour
Great mixture of hiking and sightseeing
Really enjoyed the variety in this trip. There was a walk every day plus the chance to visit the historic parts of Dubrovnik, Split and Zadar. Most days there was an opportunity to swim in the sea. Some of our group opted out of the hardest walks, which gave them time to have a relaxing day by the sea.
Fabulous holiday
Booked this trip having previously been to Croatia and wanted to explore further. The trip was a great mix of walks, each with fabulous views followed by a refreshing dip in the sea and delicious food recommended by our guide Zeljko. There were also sightseeing oportunities in Dubrovnik and Split and a more relaxed stroll round the beautiful Krka waterfalls. We were a small friendly group of four plus our guide. There were lots of opportunities to chat with Zeljko about the walks, history and culture of his country. We also visited some local people for some grappa and figs. Travel between places was very well organised and we stayed in good accomodation in each place. As a vegetarian I was well looked after. Great food everywhere with Zeljko going out of his way to make sure I ate well.
Croatia: Islands and Mountains
Fantastic trip- great combination of hiking, Brac island, and interesting cities. Fun to meet new people: our group ranged from 29-65yrs with Canadians, Americans and just 3 Brits.
Croatia mountains and islands
Just got back from a great walking holiday. First time for us, we did under estimate the level of walking, and thought it was quite tough However I wouldn't hesitate to book another trip, we had a fantastic time.
CROATIA: ISLANDS & MOUNTAINS
Stunning scenery. Brilliant guide. Great walks.
Croatia: Islands & Mountains
The guide Zeljko was excellent, good knowledge, excellent personality and sense of humour. His recommendation for restaurant in Dubrovnik was one of the best fish meals I have tasted.
Croatia Islands and Mountains
Great trip, varied and inspiring scenery and cultural sites.
CROATIA: ISLANDS & MOUNTAINS
Another excellent walking holiday with Exodus, with a friendly group in lovely surroundings.  The leader Zeljko was an inspiring and enthusiastic guide, and the holiday exceeded my expectations. 
CROATIA: ISLANDS & MOUNTAINS
beautiful place,lovely people.hard walking- brochure states anyone with a reasonable level of fitness can do these walks.i thought that was me,but found it incredibly hard going up mountains every day-(and even more so descending!!)- had to have a day to chill.krka national park and waterfalls beautiful although very busy
Limestone!
Limestone everywhere! Be sure to wear good hiking boots. This rock can be jagged or super slippery. It comes in all sizes, large, small, crushed, pebbled. It's everywhere! And you'll be walking on it. There are very little earthed paths in this itinerary. That aside, I felt I saw a lot of Croatia on this tour. The hikes were varied, but most were ascending, to get the best views of Croatia's best attribute - the sea and the shoreline. Food was amazing. And our guide was the best guide I've had to date - and I've had a lot of guides. Ivan was proactive, considerate and he went out of his way to be available for all our needs - including arranging a doctor's visit for my daughter when she wasn't feeling well. From touristy Dubrovnik to quieter areas, such as Bol and Zadar, this tour offers the best of Croatia. If you are a hiker, I'd recommend this tour. Just be sure to wear good boots!
Dates & Availability
Instant Booking Available
Saturday - Saturday
May 04, 2024 - May 11, 2024
Instant Booking Available
Saturday - Saturday
May 11, 2024 - May 18, 2024
Instant Booking Available
Saturday - Saturday
May 18, 2024 - May 25, 2024
Instant Booking Available
Saturday - Saturday
Jun 08, 2024 - Jun 15, 2024
Instant Booking Available
Saturday - Saturday
Jun 15, 2024 - Jun 22, 2024
Instant Booking Available
Saturday - Saturday
Jun 29, 2024 - Jul 06, 2024
Instant Booking Available
Saturday - Saturday
Aug 24, 2024 - Aug 31, 2024
Instant Booking Available
Saturday - Saturday
Sep 07, 2024 - Sep 14, 2024
Instant Booking Available
Saturday - Saturday
Sep 14, 2024 - Sep 21, 2024
Instant Booking Available
Saturday - Saturday
Sep 28, 2024 - Oct 05, 2024
Book with Confidence
Transfer as credit to Future Tours

Exodus allows you to transfer existing payments to a future tour to avoid cancellation fees if you can't travel and inform exodus, 43 days before departure.

Low Deposit

Exodus requires a minimum deposit of 25% or the full booking value, whichever is less, with the final balance not due until 90 days before departure.

Cancellation Policy

We don't charge a cancellation fee, here is a summary of exodus charges.

Up to 42 days before tour starts: Forfeit 100% of deposit.

At 20 days before tour starts: Forfeit 100% of booking price.
Why book with tourhub?
Safe & Secure
Your money is protected in an external trust until you travel.
---
100% Guaranteed Refunds if your trip is cancelled.
---
The safest way to make overseas, multi-currency payments.
Guaranteed Best Value
Industry leading discounts, we won't be beaten on price.
---
No cancellation or amendment fees from tourhub.
(Operator terms may apply)
Expert Knowledge
Reliable & unbiased advice from travel experts.
---
Direct contact with the tour operator via our messaging service.
---
Inspiration & advice from a community of 6000+ real travellers, influencers & content creators.
Trusted Service
Official partners & licensed agents of 1000+ tour operators worldwide.
---
Don't just take our word for it...
"Tourhub: Friendliness, Professionalism & Integrity I would happily give tourhub a 6* review if I could..."
Similar Tours
Travel Guru Features
Our Reviews