Cross-Country Skiing in Lapland
8 Days Starting and ending in Akaslompolo
Visiting: Äkäslompolo, ሀመር።
Tour operator:
Physical rating:
Multi-Level
Special diets catered:
Please inform Exodus of specific dietary requirements
Tour operated in:
English
Trip Styles:
Interests:
Activities:
Tour Overview
Perfectly picturesque and surrounded by the 7 softly rounded, snow-capped fells of the Pallas-Yllastunturi National Park, the village of Akaslompolo makes for superb cross-country skiing exploration whatever your ski ability. With over 300km of designated tracks - the most in Finland - trails vary from flat and easy to more demanding routes into the fells. There are even about 40km of trails that are illuminated at night for superb skiing even in the atmospheric twilight of the Polar Night in December and into January. The intricate network of signposted trails crisscross and intercept each other, so your route can even be changed halfway through, giving countless alternatives through the beautifully preserved Lappish landscape. There are even so-called 'warm tracks' on the upper fells where it might be as much as 15 degrees warmer than in the village!
Highlights
Pallas-Yllastunturi National Park - officially where the world's cleanest air has been measured

Ski in ski out 3 family run accommodation based in the Lappish village of Akaslompolo

Opportunity to see the Northern Lights!

Snow sure destination

Plenty of activities to choose from including snowmobiling, husky rides, snowshoeing, fat biking and nearby, downhill skiing

Stay in the resort of Yllas in the heart of Finnish Lapland, a cross country skier's paradise
Itinerary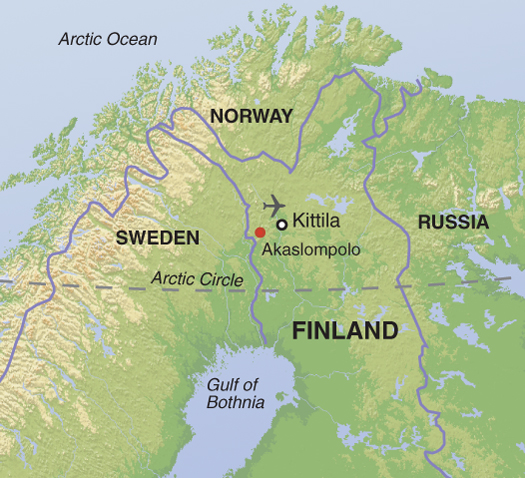 Expand All
Day 1 :

Start Akaslompolo
Location:
Äkäslompolo
Accommodation:
Hotel
Accommodation Name:
Yllashumina Hotel
Meals Included:
No Meals
Make your own way to Akaslompolo (45 mins). Your hotel for the week is the
Yllashumina Hotel where you stay on a B&B basis with the option to upgrade to
half board (pre-bookable at a supplement).


Day 2

-

7 : Suggested Itinerary
Location:
Äkäslompolo
Accommodation:
Hotel
Accommodation Name:
Yllashumina Hotel
Meals Included:
Breakfast
The hotel's convenient ski service will help you to get kitted out with your
skis, boots and poles on your first morning before discovering what this
beautiful area has to offer. With easy access to the cross-country skiing
trails around Akaslompolo, you can choose which trail to follow depending on
your ski ability and local weather conditions for leisurely independent
exploration.
For those wishing to try cross-country skiing for the first time, improve
their technique, or master the art of skating, ski tuition can be arranged
locally, as can guided group excursions (supplements payable locally). If you
fancy a change from cross-country, downhill skiing, snowmobiling, husky
sledding and snow shoeing are all available (payable locally).


Make your way back to Kittila airport for your flight home.


What's Included
Transfers to and from the airport when flights are booked

Accommodation (see accommodation section)

All breakfasts

Use of Cross-country ski trails

Use of the sauna and Arctic spa at the hotel
What's Not Included
Single accommodation (available on request)

Visas or vaccinations

Half Board (available at a pre-bookable supplement)

Ski hire (classic or skating), ski lessons, guided ski excursions and guided snowshoeing trips
Accommodation
The welcoming, family run Yllashumina Hotel sits on the edge of the village of Äkäslompolo, not far from the lake and overlooked by the fells of the Pallas-Yllastunturi National Park. It is traditionally Finnish in style, with all rooms coming with individual drying cupboards for your ski things! The ensuite standard rooms (twins only) are located in 8 cosy yet rustic log cabins close to the main reception-restaurant building and are equipped with kettle, fridge, hairdryer and television. They are mezzanine style with twin beds 'downstairs' and an additional bed tucked away under the eaves. Use of the hotel's saunas - a must for any Finnish accommodation, with separate facilties for men and women - is included as standard, as is use of the Arctic Spa (limited to once/twice a week). Buffet breakfast and evening meals are included as standard. The hotel serves a copious and tasty 3 course buffet each evening, with special themed dinners also included during the week. Expect to sample such Finnish specialities as salmon soup, reindeer and baked "leipäjuusto" cheese. Room upgrades: Superior Rooms and SuitesFor a touch of luxury, upgrade to one of the superior rooms. These are much larger than the standard rooms and come with a cosy sitting area - complete with fireplace, television, DVD and blu-ray, a separate bedroom (double bed only) and a kitchenette, as well as a bathroom with 2 showers. The one bedroom suite has the same facilities as the superior rooms, but also comes with bath tub in the bathroom.
Food
All breakfasts are included and are buffet-style continental.
Check out our Q&As
What is the standard of the hotels on this tour?

What is the maximum group size?

Are children permitted to take part in the tour?

12+ age people can go on this tour.

Are airport transfers included in this tour?

Transfers to and from the airport when flights are booked

Are the local guides on the tour English speaking?
What happens if I need to change my holiday date once I've booked?

If you wish to make any changes to your booking, particularly if you need to alter any flights booked through us, please let us know as soon as possible. There is a booking or flight amendment fee of £40 per change and flight amendments often incur extra airline costs depending on the changes to be made and if the ticket has been issued or not.

How long has the tour company been trading?

Exodus has been trading since 1974

What documents will I receive before I travel?

Your final joining instructions and flight details, if booked with us, will then be sent out 2 to 3 weeks before departure. If you would like a hard copy posted, or if you require these any earlier, please contact the customer operations team. We advise that if you are booking connecting travel before receiving these, please ensure you leave plenty of time.

Do you operate a "single share" option and how does it work?

Travellers are welcome to opt to share a room with a tour member of the same gender for no additional charge. If you'd like your own room, we can request a single supplement so that you will have your own room throughout.

Can I join the tour once it has departed?

You are welcome to meet the group after the tour has departed however there is no reduction in rate for joining a tour after the departure date.
Reviews of this Operator
Gergana Racheva
Very helpful and prompt service
Very helpful and prompt service. I called to check for an already booked trip and once we sorted this, the agent was ready to help me with another booking as well. He actually waited for me to book my flight tickets, answered all my questions, informed me of all my options. Exodus is a tour company I am using regularly due to the quality of their trips, ease of booking and helpfulness of their customer service team
Trustpilot
Tim Hardy
Stunning walking. Walking the Amalfi Coast
This trip takes you through the most beautiful parts of the Mediterranean walking with a guide and also discovering the wonders of Pompeii and Vesuvius. The hotel had a nice feel as family run, spotless and comfortable rooms, we were well looked after for breakfasts and dinner each day, and the barmen fixed some mean cocktails for us.!
Paul Green
It's amazing what you can do in a week! Cycling the Dalmatian Coast.
This holiday was extremely enjoyable. The itinerary is well planned and the route takes you to a variety of destinations. Not having been to Croatia before I didn't know there were so many beautiful small islands and I loved the ferry and catarmaran rides. The coastal route we took was dramatic and the World Heritage sites in Split and Dubrovnik very interesting and worth visiting. The Adriatic Sea was warm, blue and inviting, good for swimming even in October. The hotels we stayed in varied in size from medium to large. I particularly liked the one just outside Dubrovnik as I had a sea view. Tourists were plentiful in Split and Dubrovnik but in the other places we stayed there was an end of season feel and it was quiet on the roads and in the resorts. The food was good and our guide was always able to recommend a nice restaurant for our evening meal. The weather in October was good for cycling - not hot, partly cloudy most days and one day it rained!
Mrs Y Morrison
Fabulous company and trip
We went overland from Cape Town to Zimbabwe through Botswana and Namibia. What a fantastic trip. Our first time with Exodus although we have travelled extensively around the world. We would highly recommend this company for such a brilliant trip - we got everything and more all at a good price. Thanks to everyone involved. We are looking at our next trip!
Trustpilot
John Edwards (Google Reviewer)
I went cycling in Albania with exodus as my first holiday with them. Such a well organised and wonderful experience where I met multiple fellow travellers who have been advocates of them for many years. You can't argue with happy repeat customers and I'm planning my next adventure with them soon
Rob Burridge (Google Reviewer)
I'v just come back from an amazing Wildlife & Wilderness trip in Botswana and I highly recommend Exodus Travels. Our guide Brian, was extremely knowledgeable on both the wildlife and history of Botswana and neighbouring countries. The other three staff, Abbis, Chief & Mr T, who accompanied us through out our 2 week trip, put in the hard work and made sure our camp was always prepared and that we we're well fed and looked after. The tour took us to some beautiful places and we saw some amazing wildlife, and on several occasions this was due to Brian's knowledge of the area and wildlife behaviour. Exodus have been very quick to respond to any queries I had, and the whole experience ran smoothly. I was also pleased to hear that during lockdown they provided staff with food packages 👍. I'd normally go on self organised trips, however, with this trip, the tour and guide Brian took us to places not possible otherwise and showed us things that we would'v missed out on. All of which were the highlights of the tour.
Daphne Partridge (Google Reviewer)
After 14 roup adventure holidays with Exofus we would not hesitate to recommend them as an excitingholiday company. They take you off the beaten track but offer great support and expertise :)
Katrina Handford
A wonderful trip! Sierra de Aitana Trek
I couldn't speak more highly of this trip. The scenery was absolutely stunning; the areas provided a great variety of walks with spectacular views. The accommodation was perfectly situated to start most of the walks directly from the hotel. It was also within walking distance of the bars and restaurants in Benimantell and Guadalest. Having said that, the food at the hotel was wonderful and so there was little need to venture further afield. Homecooked, nourishing and delicious food from the hotel was perfect fuel for the trekking.
Stella Jales (Google Reviewer)
We usually travel with Exodus on small group holidays and have visited many countries with them. They employ local guides which as well as giving us information and history of the sites also gives employment to the local people. The hotels are always good and the guides know the local places to eat.
Alison Payton (Google Reviewer)
I've done 8 trips in the last 14 years with Exodus, and have been rewarded with a 10% discount on all future bookings. I feel very confident that I'll receive pleasant, efficient service, and have the unusual holiday experience that I'm looking for each time. I've trekked to the top of snow-capped peaks, wild-camped in the desert, seen amazing spectacles of nature, visited 4 capital cities in a week, and learned about local culture and experienced local hospitality in a way that I simply wouldn't on a conventional holiday. The quality of the accommodation and guides can vary, but this is mainly down to cultural differences and things that Exodus can't control. I've only ever complained once, my complaint was taken seriously, and I was sent a discount voucher - you can't say fairer than that. I remain a loyal customer.
Dates & Availability
Sunday - Sunday
Dec 17, 2023 - Dec 24, 2023
Instant Booking Available
Wednesday - Wednesday
Dec 20, 2023 - Dec 27, 2023
Instant Booking Available
Sunday - Sunday
Dec 24, 2023 - Dec 31, 2023
Instant Booking Available
Sunday - Sunday
Dec 31, 2023 - Jan 07, 2024
Instant Booking Available
Sunday - Sunday
Jan 07, 2024 - Jan 14, 2024
Instant Booking Available
Sunday - Sunday
Jan 14, 2024 - Jan 21, 2024
Instant Booking Available
Sunday - Sunday
Jan 21, 2024 - Jan 28, 2024
Instant Booking Available
Sunday - Sunday
Jan 28, 2024 - Feb 04, 2024
Instant Booking Available
Sunday - Sunday
Feb 04, 2024 - Feb 11, 2024
Instant Booking Available
Sunday - Sunday
Feb 11, 2024 - Feb 18, 2024
Instant Booking Available
Saturday - Saturday
Feb 17, 2024 - Feb 24, 2024
Instant Booking Available
Sunday - Sunday
Feb 18, 2024 - Feb 25, 2024
Instant Booking Available
Sunday - Sunday
Feb 25, 2024 - Mar 03, 2024
Instant Booking Available
Sunday - Sunday
Mar 03, 2024 - Mar 10, 2024
Instant Booking Available
Sunday - Sunday
Mar 10, 2024 - Mar 17, 2024
Instant Booking Available
Sunday - Sunday
Mar 17, 2024 - Mar 24, 2024
Instant Booking Available
Sunday - Sunday
Mar 24, 2024 - Mar 31, 2024
Instant Booking Available
Sunday - Sunday
Mar 31, 2024 - Apr 07, 2024
Instant Booking Available
Sunday - Sunday
Apr 07, 2024 - Apr 14, 2024
Book with Confidence
Transfer as credit to Future Tours

Exodus allows you to transfer existing payments to a future tour to avoid cancellation fees if you can't travel and inform exodus, 43 days before departure.

Low Deposit

Exodus requires a minimum deposit of 25% or the full booking value, whichever is less, with the final balance not due until 90 days before departure.

Cancellation Policy

We don't charge a cancellation fee, here is a summary of exodus charges.

Up to 42 days before tour starts: Forfeit 100% of deposit.

At 20 days before tour starts: Forfeit 100% of booking price.
Why book with tourhub?
Safe & Secure
Your money is protected in an external trust until you travel.
---
100% Guaranteed Refunds if your trip is cancelled.
---
The safest way to make overseas, multi-currency payments.
Guaranteed Best Value
Industry leading discounts, we won't be beaten on price.
---
No cancellation or amendment fees from tourhub.
(Operator terms may apply)
Expert Knowledge
Reliable & unbiased advice from travel experts.
---
Direct contact with the tour operator via our messaging service.
---
Inspiration & advice from a community of 6000+ real travellers, influencers & content creators.
Trusted Service
Official partners & licensed agents of 1000+ tour operators worldwide.
---
Don't just take our word for it...
"Tourhub: Friendliness, Professionalism & Integrity I would happily give tourhub a 6* review if I could..."
Similar Tours
Travel Guru Features
Our Reviews