Crossing the Circle via Buenos Aires
Crossing the Circle via Buenos Aires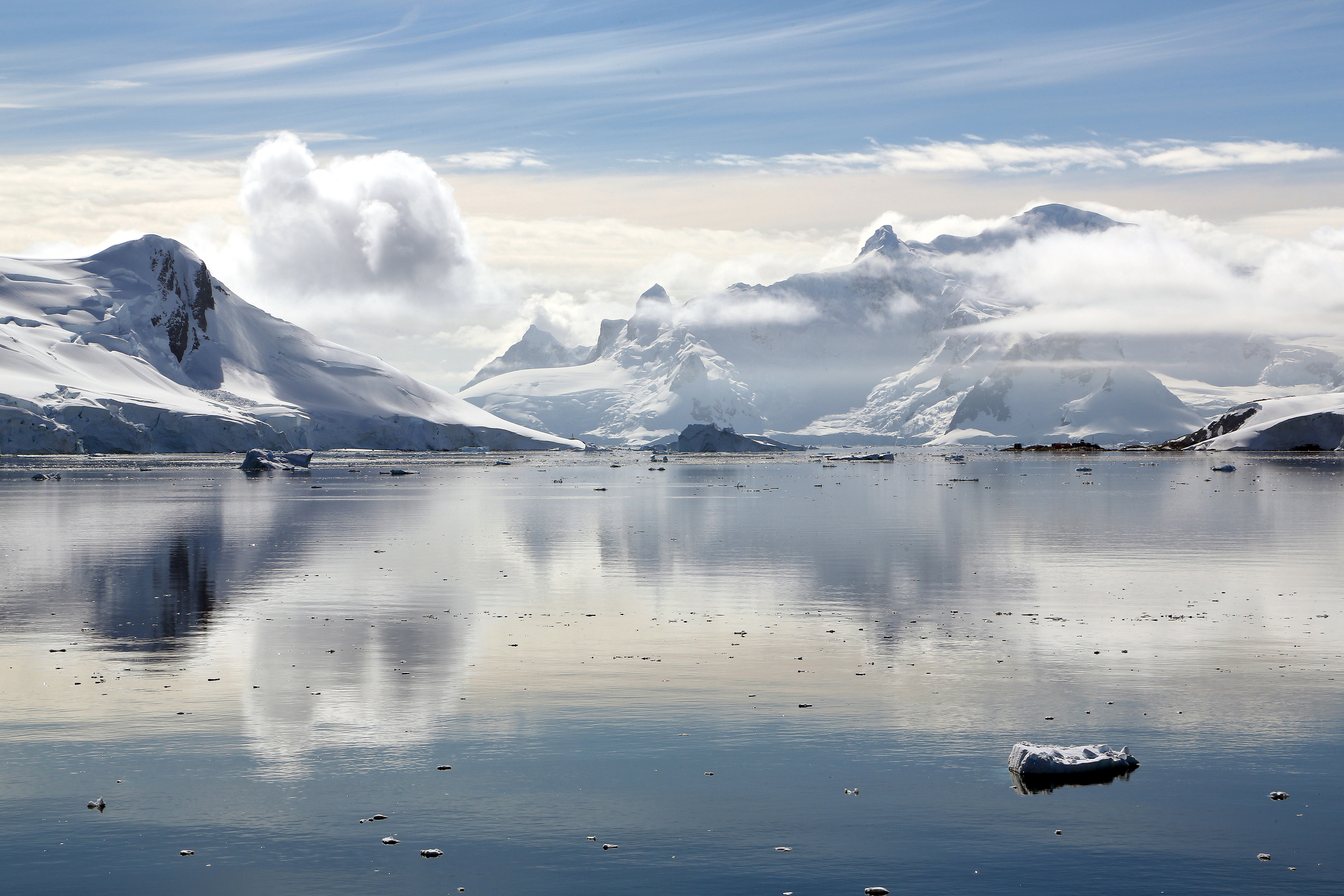 Crossing the Circle via Buenos Aires
14 Days Starting and ending in Buenos Aires
Visiting: Buenos Aires, Ushuaia, Drake Passage, ሀመር።, South Shetland Islands
Tour operator:
Physical rating:
Leisurely
Special diets catered:
Please inform Exodus of specific dietary requirements
Tour operated in:
English
Trip Styles:
Interests:
Activities:
Tour Overview
The aim on this voyage is to head as far south as ice and weather permit. After a few days exploring the 'deep south', there are further shore excursions on the northerly route along the Antarctic Peninsula. The ship is small enough to navigate through the narrow Lemaire Channel, with glacial walls towering high on both sides, leading to a jigsaw of jewel-like islands that are home to huge penguin rookeries, Elephant seals and countless seabirds. There are also whales: imagine a pair of Humpbacks, at least 30 tonnes of mammal, rising imperiously against a turquoise ice-wall viewed from a Zodiac only metres away, and you have the essence of the Antarctic.
Highlights
Accompanied by extremely qualified Expedition Staff

Experience western Antarctic Peninsula highlights and visit iconic landing sites

Enjoy helicopter flightseeing from Ultramarine for a unique perspective of the Antarctic Peninsula

Be one of the few travellers to venture to 66°33'S

Travel on a small expedition vessel

Witness abundant Antarctic wildlife, including penguins, seals and whales

Learn about Antarctica's history, glaciology and wildlife from onboard specialists

Visit research stations along the Antarctic Peninsula
Itinerary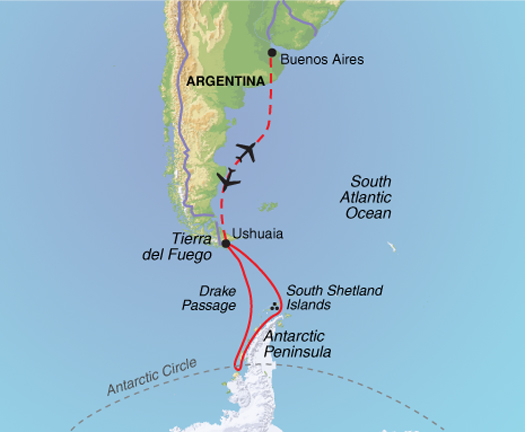 Expand All
Day 1 :

Arrive Buenos Aires
Location:
Buenos Aires
Accommodation:
Hotel
Meals Included:
No Meals
You may arrive in Buenos Aires at any time during Day 1 of your itinerary.
Upon arriving in this splendid city, known for its architecture and rich
European heritage, you will independently transfer to your group hotel.


Day 2 :

Fly To Ushuaia And Embark
Location:
Ushuaia
Meals Included:
Breakfast, Dinner
After an early breakfast at the hotel, the group will transfer to the airport
and board our private charter flight to Ushuaia, Argentina.

Upon arrival, you will be transferred from the airport to a central downtown
location to have some time on your own to explore this quaint port town
before making your way to the pier.

As the ship sets sail in the late afternoon, you will begin your Antarctic
journey, passing through the Beagle Channel. Named after the famed ship on
which Charles Darwin voyaged, the channel presents great photo opportunities
of landscapes and seabirds. Eventually the channel opens up to the Southern
Ocean, and onwards to Antarctica.


Day 3

-

4 : Crossing The Drake Passage
Location:
Drake Passage
Meals Included:
Breakfast, Lunch, Dinner
Your days at sea are filled with presentations and lectures led by your
Expedition Team, who will prepare you for the wildlife that will greet you
upon your arrival. In between presentations, spend time chatting with your
shipmates over a drink at the bar, or enjoy the fresh air and views on the
outer decks.


Day 5

-

7 : South Shetland Islands & Antarctic Peninsula
Location:
South Shetland Islands
Meals Included:
Breakfast, Lunch, Dinner
The most common reaction upon reaching the White Continent is a sense of
reverence and awe. The experience is beyond words, since few places are as
untouched and enduring as Antarctica. You will begin to appreciate why this
region has long captivated the attention of explorers and travellers alike.
Every visit to Antarctica, we witness something new or unexpected, which
means that your expedition will be unlike any other - creating a unique,
personal experience.

Each day, you will take Zodiac excursions from the ship to explore local
bays, channels and landing sites. With wildlife always at the forefront of
our minds, you will visit penguin rookeries, scout for Humpback and Minke
whales, and search for a number of southern seal species, including the
cunning Leopard seal.

Your Expedition Team will take care of you at each landing, whether you are
exploring the Antarctic terrain, visiting a research station or consorting
with penguin colonies. Chinstrap, Adélie and Gentoo penguins are found here,
along with four different species of seals. Zodiac cruising can offer
opportunities to view some of the larger local marine mammals more
intimately, such as Antarctic Minke and Humpback whales. Each day and each
excursion will present a new collection of creatures to delight you and keep
your camera busy.

Your days will be busy spotting wildlife and being mesmerized by the
astounding beauty of Antarctica. Listening to the crackling and crumbling of
icebergs and glaciers and watching penguins waddling on the beach will become
your daily entertainment.


Day 8

-

9 : Antarctic Circle
Location:
South Shetland Islands
Meals Included:
Breakfast, Lunch, Dinner
Crossing the Antarctic Circle is an impressive achievement, as most
expeditions to the Antarctic Peninsula do not reach this far south —
66°33´S. If conditions allow us to cross this famed line at 66°33´ S, you
and your shipmates will celebrate in style with a well-earned glass of
sparkling wine!

Make a toast and take pride in knowing you've made it to a part of the
world visited by very few people. This is raw Antarctica, home of the
midnight sun, Adélie penguins and some of the most awe-inspiring ice
formations you'll see anywhere on the planet.


Day 10

-

11 : Northbound Along The Peninsula
Location:
South Shetland Islands
Meals Included:
Breakfast, Lunch, Dinner
By now, your knowledge of Adélie, Chinstrap and Gentoo penguins will be
matched by your ability to differentiate between a Leopard, Fur and Weddell
seal. Terms like 'bergy bits' and 'pancake ice' will become part of
your vocabulary, yet there are still many tales to be told. As you head
north, Zodiac excursions will fill your days, and your Expedition Team will
continue looking out for species of seabirds, seals and whales that may have
eluded you on your journey south.


Day 12

-

13 : Sail Back Through The Drake Passage
Location:
Drake Passage
Meals Included:
Breakfast, Lunch, Dinner
Leaving the Antarctic Peninsula behind our ship heads back across the
Antarctic Convergence and the Drake Passage. The crossing is completed with
the rounding of Cape Horn, weather permitting.


Day 14 :

Disembarkation In Ushuaia And Fly To Buenos Aires
Location:
Ushuaia, Buenos Aires
Meals Included:
Breakfast
In the early morning we arrive back in Ushuaia where your voyage ends. You
will be transferred to the airport for your onward flight to Buenos Aires.


What's Included
Beer and wine during dinner

Tour leader throughout and qualified Expedition Staff

We can include flights from the UK.  Please contact us for a quote.

All meals while on the ship

All transport and listed activities

All accommodation

Meals

7 breakfasts, 5 lunches, 6 dinners.
What's Not Included
Visas and vaccinations

Mandatory Charter Flights Buenos Aires to Ushuaia Return - from £850 (or equivalent in booking currency) paid on booking

Travel insurance

Single accommodation (available on request)
Food
All meals while on the ship included. *Typical Meals* The ships galley offers good quality service and cuisine throughout, with excellent chefs preparing international menus including vegetarian dishes, accompanied by a wide variety of drinks from around the world on sale. *Breakfast:* Buffet style – unlimited tea and coffee, a selection of fruit juices, hot options including bacon and eggs or omelettes, a selection of bread and toast and jam/honey/marmalade, fruit and cereal. *Lunch:* Three course set meal or buffet, or the occasional BBQ. *Dinner:* Three or four courses with a starter of soup and/or salad, a choice of mains with at least one vegetarian option and a dessert, with tea and coffee. Vegetarians and vegans can be well catered for on this holiday - please do inform us before departure of any special dietary requests so that our local team can be well prepared.
Accommodation
The Crossing the Circle via Buenos Aires is offered on the Ultramarine which is a Polar Adventure ship. Full board accommodation on the ship, generally on a twin share basis in a variety of cabin types, all with en suite facilities. Polar Adventure Ships These are small ice rated vessels well qualified for Polar waters. Intimate adventures are always more enjoyable with like-minded passengers and staff, so these voyages are for people who like flexible itineraries and plenty to keep them busy. Activities include frequent Zodiac excursions, trekking and many hours on deck in areas that other ships only dream about accessing. Food and staff are superb and every guest benefits from the technical advances of this superb fleet. Rest assured our Polar Adventure Ships enable any traveller to maximize their experience sensitively in the Poles.
Check out our Q&As
Are the local guides on the tour English speaking?

Are airport transfers included in this tour?

Are children permitted to take part in the tour?

18+ age people can go on this tour.

Are vaccinations required for this tour?

There are no mandatory vaccination requirements.

What happens if I need to change my holiday date once I've booked?

If you wish to make any changes to your booking, particularly if you need to alter any flights booked through us, please let us know as soon as possible. There is a booking or flight amendment fee of £40 per change and flight amendments often incur extra airline costs depending on the changes to be made and if the ticket has been issued or not.
How long has the tour company been trading?

Exodus has been trading since 1974

What documents will I receive before I travel?

Your final joining instructions and flight details, if booked with us, will then be sent out 2 to 3 weeks before departure. If you would like a hard copy posted, or if you require these any earlier, please contact the customer operations team. We advise that if you are booking connecting travel before receiving these, please ensure you leave plenty of time.

Do you operate a "single share" option and how does it work?

Travellers are welcome to opt to share a room with a tour member of the same gender for no additional charge. If you'd like your own room, we can request a single supplement so that you will have your own room throughout.

Can I join the tour once it has departed?

You are welcome to meet the group after the tour has departed however there is no reduction in rate for joining a tour after the departure date.
Reviews from Travellers on this Tour
The most stunning trip of my life
Its been a long held dream of mine to go to the Antarctic and the trip I booked via Exodus far exceeded my expectations. Amazing scenery, captivating and exciting wildlife, a plethora of facts, figures and general education from the on board experts and I can claim a world first to boot from my holiday to the Antarctic and below the polar circle.
Dates & Availability
ULTRAMARINE - Price includes Mandatory transfer package (including return charter flights Buenos Aires to Ushuaia)
Friday - Thursday
Mar 01, 2024 - Mar 14, 2024
ULTRAMARINE - Price includes Mandatory transfer package (including return charter flights Buenos Aires to Ushuaia)
Monday - Sunday
Jan 06, 2025 - Jan 19, 2025
ULTRAMARINE - Price includes Mandatory transfer package (including return charter flights Buenos Aires to Ushuaia)
Friday - Thursday
Feb 07, 2025 - Feb 20, 2025
ULTRAMARINE - Price includes Mandatory transfer package (including return charter flights Buenos Aires to Ushuaia)
Saturday - Friday
Mar 01, 2025 - Mar 14, 2025
Book with Confidence
Transfer as credit to Future Tours

Exodus allows you to transfer existing payments to a future tour to avoid cancellation fees if you can't travel and inform exodus, 43 days before departure.

Low Deposit

Exodus requires a minimum deposit of 25% or the full booking value, whichever is less, with the final balance not due until 90 days before departure.

Cancellation Policy

We don't charge a cancellation fee, here is a summary of exodus charges.

Up to 42 days before tour starts: Forfeit 100% of deposit.

At 20 days before tour starts: Forfeit 100% of booking price.
Why book with tourhub?
Safe & Secure
Your money is protected in an external trust until you travel.
---
100% Guaranteed Refunds if your trip is cancelled.
---
The safest way to make overseas, multi-currency payments.
Guaranteed Best Value
Industry leading discounts, we won't be beaten on price.
---
No cancellation or amendment fees from tourhub.
(Operator terms may apply)
Expert Knowledge
Reliable & unbiased advice from travel experts.
---
Direct contact with the tour operator via our messaging service.
---
Inspiration & advice from a community of 6000+ real travellers, influencers & content creators.
Trusted Service
Official partners & licensed agents of 1000+ tour operators worldwide.
---
Don't just take our word for it...
"Tourhub: Friendliness, Professionalism & Integrity I would happily give tourhub a 6* review if I could..."
Similar Tours
Travel Guru Features
Our Reviews