Cycle Champagne & Burgundy – Premium Adventure
7 Days Starting in Reims and ending in Beaune
Visiting: Reims, Hautvillers, Épernay, Côte des Blancs Immobilier, Dijon, Beaune, Côte de Nuits, Vignoble de la côte de Beaune, Europe
Tour operator:
Physical rating:
Leisurely / Moderate
Special diets catered:
Vegetarians, Vegans
Tour operated in:
English
Trip Styles:
Interests:
Activities:
Tour Overview
Champagne and Burgundy: You know the names; you've sipped the drinks. Now it's time to discover for yourself why these two endlessly romantic French wine regions are among the most celebrated on the planet. Starting in Reims, Champagne, and ending in beautiful Beaune, Burgundy, we embark on an immersive cycling adventure taking in world-renowned vineyards, celebrated wine villages and a host of cultural treasures. We will, of course, tour illustrious wine estates, sample the local produce and hear from the experts, while also enjoying the simple pleasure of a gentle cycle along vineyard-lined roads and through idyllic rural landscapes. Did you know you can travel by train to this trip? Find out more here.
Highlights
Walk in the footsteps of royalty at Notre Dame Cathedral in Reims

Stop at a Côte des Blancs wine estate for a tour and tasting

Pass through historic Dijon, the charming capital of Burgundy

Visit the ancient Château du Clos Vougeot, a picturesque manor and former wine farm
Itinerary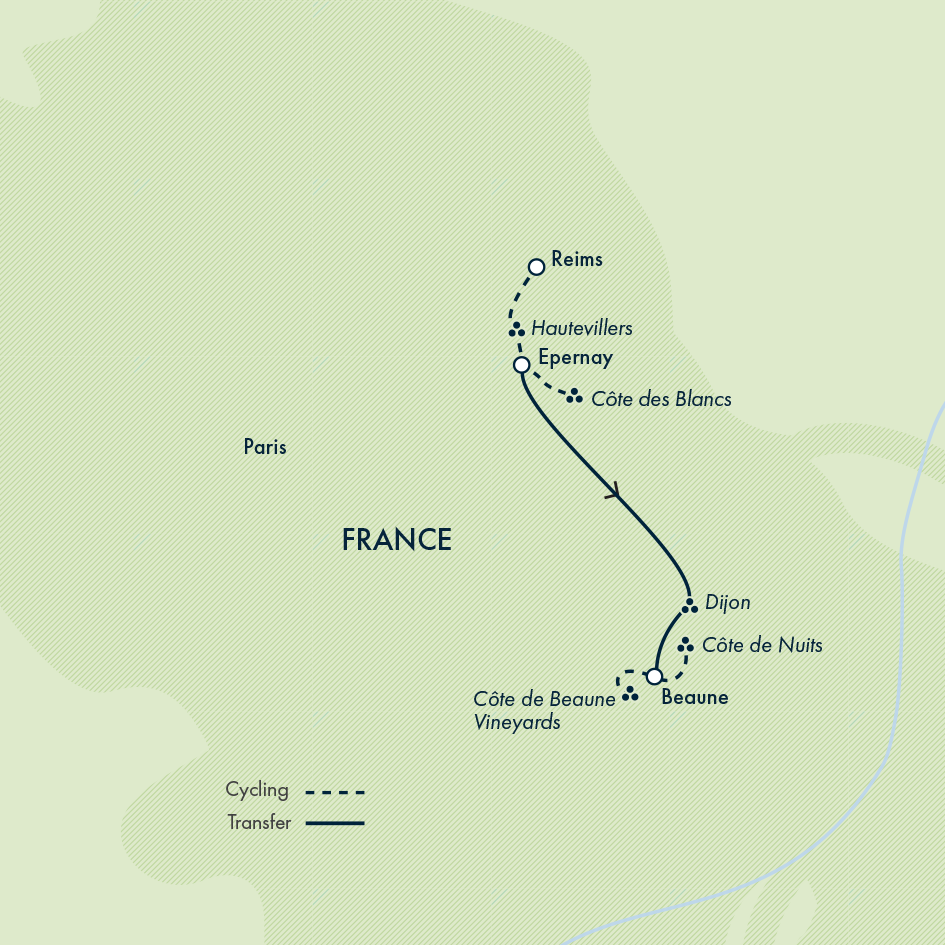 Expand All
Day 1 :

Start In Reims; Welcome Dinner
Location:
Reims
Accommodation:
Hotel
Meals Included:
dinner
The adventure begins in Reims, an intoxicating city of pretty boulevards. We gather for the first time this evening over a welcome dinner, a great chance to get to know each other a little and discuss the adventures to come.

Accommodation: Hotel de la Paix (or similar)
Day 2 :

City Tour Of Reims; Cycle Through Wine Villages To Dom Pérignon'S Hautvillers
Location:
Reims, Hautvillers, Épernay
Accommodation:
Hotel
Meals Included:
breakfastlunch
We ease into the trip with a cultural tour around Reims, exploring the fascinating art and history of the city, and visiting the grand Notre Dame Cathedral, a Unesco-listed gothic masterpiece where Charles VII was crowned with Joan of Arc next to him.

We then transfer (40 minutes) to the starting point of our first cycling stage, hopping onto the saddle to pedal between pretty wine villages, such as Oeuilly and Fleury la Rivière. We track small vineyard-lined roads enjoying views of the Marne Valley as we go. Our end point is Hautvillers, where the Benedictine monk – and champagne maestro – Dom Pérignon worked in the abbey cellar. It's then to our hotel in Epernay, where we can relax and toast to our first cycling day.

Ascent: 1,315ft (400m)

Accommodation: Hôtel Jean Moët (or similar)
Day 3 :

Cycle Through The Côte Des Blancs; Guided Vineyard Tour And Wine Tasting
Location:
Côte des Blancs Immobilier, Épernay
Accommodation:
Hotel
Meals Included:
breakfastlunch
The day kicks off at the pretty church of Chavot-Courcourt, isolated in the heart of the vineyards. From here, we cycle along the Côte des Blancs, part of the Champagne region known as the cradle of Chardonnay, where we admire a sea of vineyards. Along the way, we pass traditional villages, elegantly nestled between vineyards and forests: Avize, Cramant and Mesnil-sur-Oger among them.

We take time to stop at one of the wine estates for a guided tour before sampling their sparkling drinks. It's then back to our Epernay hotel to relax.

Ascent: 1,475ft (450m)

Accommodation: Hôtel Jean Moët (or similar)
Day 4 :

Leave Epernay; Free Time In Dijon; Explore The Hospices De Beaune
Location:
Épernay, Dijon, Beaune
Accommodation:
Hotel
Meals Included:
breakfast
We leave Epernay today, driving to Beaune, which is ranked as one of the prettiest towns in France. After about three hours on the road, we reach Dijon, capital of the Burgundy region, where we have free time to visit the historic centre to admire the many private mansions built here between the 15th and 18th centuries.

We then hop back into the vehicle for a 30-minute ride to Beaune. Here we have free time at the 15th-century Hospices de Beaune, which was initially built to care for the poor people of Burgundy, but now stands as an architectural masterpiece with a storybook gothic style and a standout glazed-tile roof.

Accommodation: Hôtel des Remparts (or similar)
Day 5 :

Cycling Adventure Through The Côte De Nuits; Wine Tasting In Nuits Saint Georges
Location:
Côte de Nuits
Accommodation:
Hotel
Meals Included:
breakfastlunch
We get back on the bikes today for a cycling exploration of the prestigious Côte de Nuits wine region. It's well known in the wine community for producing the Grands Vins de Bourgogne – those considered the highest quality in the region – and particularly its red wines: Chambolle Musigny, Vosne Romanée and the most expensive wine in Burgundy, Romanée Conti.

We can visit the Château du Clos de Vougeot, an impossibly picturesque Renaissance-style chateau and one-time wine farm, and the village of Nuits Saint Georges where we stop for a wine tasting.

Ascent: 655ft (200m)

Accommodation: Hôtel des Remparts (or similar)
Day 6 :

Cycle The Côte De Beaune Wine Region; End In Beaune
Location:
Beaune, Vignoble de la côte de Beaune, Beaune
Accommodation:
Hotel
Meals Included:
breakfastlunchdinner
On our final day of cycling, we track the VéloVoie bike trail through the Côte de Beaune wine region, taking in renowned vineyards such as Meursault, Puligny-Montrachet and Pommard. We end in style, crossing the beautiful Burgundy countryside to end in Beaune.

Ascent: 655ft (200m)

Accommodation: Hôtel des Remparts (or similar)
Location:
Beaune
Meals Included:
breakfast
The adventure comes to an end after breakfast. Bid a fond farewell to each other and begin your return journey home.
What's Included
All breakfasts, four lunches, two dinners

All accommodation

All transport and listed activities

Tour leader throughout

Tip for the support driver

Group arrival and departure transfers available
What's Not Included
Travel insurance

Single accommodation (available on request)

Tip for the tour leader

Visas or vaccinations
Food
All breakfasts, four lunches and two dinners are included.

For breakfast, the hotels offer a wide choice of cereals, fruit, cheeses and cold meats and all types of drinks (tea, coffee, milk, fruit juice).

Four picnic lunches are included, prepared by the guide or assistant guide. Picnics are an important part of a day's cycling, and we've selected a few products from the Champagne and Burgundy regiona for you to try during your stay: Reims croquignoles, cheeses (Epoisses, Charolais (goat's milk cheese), Soumaintrain (made from raw cow's milk), Mâconnais, etc.), the famous Dijon mustard, gingerbread, etc. accompanied in moderation by local wines. We are committed to offering a proportion of regional products, chosen whenever possible from local producers to support short circuits, favour quality products and include a proportion of organic food, and reduce packaging, particularly plastic, and recycle what remains.

The two dinners are taken in a restaurant with a set menu comprising starter, main course and dessert. The restaurants are selected to offer an opportunity to discover local gastronomy including local specialities: the andouillette from Troyes, the white blood sausage from Rethe for Champagne, the boeuf bourguignon and the snails for Burgundy, are all examples of choice.

Vegetarians can be fairly easily accommodated; however, vegans may find the variety of dishes available is rather limited. Larger supermarkets can provide gluten-free bread and baked goods but this is less common in local bakeries.
Accommodation
Each hotel offers a unique character and is ideally situated to provide you a memorable experience. The hotels that we usually use are listed below.

Reims: Hôtel de la Paix (1 night). Part of the Best Western Premier collection, the hotel is located in the heart of Reims' 'Cité des Sacres', close to both the impressive Notre-Dame Cathedral and the shops and eateries of Place d'Erlon. Hôtel de la Paix offers contemporary, elegant décor, and amenities include a sauna, heated indoor swimming pool, restaurant and champagne bar.

Epernay: Hôtel Jean Moët (2 nights) is an 18th-century building in the centre of Epernay, the self-proclaimed capital of the Champagne region. Just a few minutes' walk away is the Avenue de Champagne, 110km of Unesco-listed wine cellars. Accommodation has a fresh, modern feel and a stand-out feature is the breakfast room, which is bathed in light that enters via a glass canopy.

Beaune: Hôtel des Remparts (3 nights). Carefully renovated to preserve the building's history and character, Hôtel des Remparts is located in Beaune's charming old town. With an emphasis on detail to ensure your stay is perfect, the hotel has a delightful wine bar, and rooms exude a classic French style.
Check out our Q&As
Is there a supplement for solo travellers?

If you would like to be paired with a tour member of the same gender, there is no additional charge. A single supplement can be requested if you would like your own room.

Who is Exodus Travels?

At Exodus Travels, we've been exploring the world for nearly 50 years. From Walking and Trekking, Cultural and Cycling, Responsible Wildlife, to Polar and our new Premium Adventures, we are proud to offer award-winning small group and self-guided tours to 100+ countries worldwide.

Can you assist with pre or post tour accommodation?

We are happy to assist with pre and post tour accommodation. Please enquire for detailed information.

Are the local guides on the tour English speaking?

Yes, our local guides are English speaking.

Are children permitted to take part in the tour?

The minimum age for this tour is 16 years old.
Are flights included in this tour?

International flights are not included with this tour.

What happens if I need to change my holiday date once I've booked?

If you wish to make any changes to your booking, particularly if you need to alter any flights booked through us, please let us know as soon as possible. There is a booking or flight amendment fee of £40 per change and flight amendments often incur extra airline costs depending on the changes to be made and if the ticket has been issued or not.

How long has the tour company been trading?

Exodus has been trading since 1974

What documents will I receive before I travel?

Your final joining instructions and flight details, if booked with us, will then be sent out 2 to 3 weeks before departure. If you would like a hard copy posted, or if you require these any earlier, please contact the customer operations team. We advise that if you are booking connecting travel before receiving these, please ensure you leave plenty of time.

Do you operate a "single share" option and how does it work?

Travellers are welcome to opt to share a room with a tour member of the same gender for no additional charge. If you'd like your own room, we can request a single supplement so that you will have your own room throughout.

Can I join the tour once it has departed?

You are welcome to meet the group after the tour has departed however there is no reduction in rate for joining a tour after the departure date.
Reviews of this Operator
Gergana Racheva
Very helpful and prompt service
Very helpful and prompt service. I called to check for an already booked trip and once we sorted this, the agent was ready to help me with another booking as well. He actually waited for me to book my flight tickets, answered all my questions, informed me of all my options. Exodus is a tour company I am using regularly due to the quality of their trips, ease of booking and helpfulness of their customer service team
Trustpilot
Tim Hardy
Stunning walking. Walking the Amalfi Coast
This trip takes you through the most beautiful parts of the Mediterranean walking with a guide and also discovering the wonders of Pompeii and Vesuvius. The hotel had a nice feel as family run, spotless and comfortable rooms, we were well looked after for breakfasts and dinner each day, and the barmen fixed some mean cocktails for us.!
Paul Green
It's amazing what you can do in a week! Cycling the Dalmatian Coast.
This holiday was extremely enjoyable. The itinerary is well planned and the route takes you to a variety of destinations. Not having been to Croatia before I didn't know there were so many beautiful small islands and I loved the ferry and catarmaran rides. The coastal route we took was dramatic and the World Heritage sites in Split and Dubrovnik very interesting and worth visiting. The Adriatic Sea was warm, blue and inviting, good for swimming even in October. The hotels we stayed in varied in size from medium to large. I particularly liked the one just outside Dubrovnik as I had a sea view. Tourists were plentiful in Split and Dubrovnik but in the other places we stayed there was an end of season feel and it was quiet on the roads and in the resorts. The food was good and our guide was always able to recommend a nice restaurant for our evening meal. The weather in October was good for cycling - not hot, partly cloudy most days and one day it rained!
Mrs Y Morrison
Fabulous company and trip
We went overland from Cape Town to Zimbabwe through Botswana and Namibia. What a fantastic trip. Our first time with Exodus although we have travelled extensively around the world. We would highly recommend this company for such a brilliant trip - we got everything and more all at a good price. Thanks to everyone involved. We are looking at our next trip!
Trustpilot
John Edwards (Google Reviewer)
I went cycling in Albania with exodus as my first holiday with them. Such a well organised and wonderful experience where I met multiple fellow travellers who have been advocates of them for many years. You can't argue with happy repeat customers and I'm planning my next adventure with them soon
Rob Burridge (Google Reviewer)
I'v just come back from an amazing Wildlife & Wilderness trip in Botswana and I highly recommend Exodus Travels. Our guide Brian, was extremely knowledgeable on both the wildlife and history of Botswana and neighbouring countries. The other three staff, Abbis, Chief & Mr T, who accompanied us through out our 2 week trip, put in the hard work and made sure our camp was always prepared and that we we're well fed and looked after. The tour took us to some beautiful places and we saw some amazing wildlife, and on several occasions this was due to Brian's knowledge of the area and wildlife behaviour. Exodus have been very quick to respond to any queries I had, and the whole experience ran smoothly. I was also pleased to hear that during lockdown they provided staff with food packages 👍. I'd normally go on self organised trips, however, with this trip, the tour and guide Brian took us to places not possible otherwise and showed us things that we would'v missed out on. All of which were the highlights of the tour.
Daphne Partridge (Google Reviewer)
After 14 roup adventure holidays with Exofus we would not hesitate to recommend them as an excitingholiday company. They take you off the beaten track but offer great support and expertise :)
Katrina Handford
A wonderful trip! Sierra de Aitana Trek
I couldn't speak more highly of this trip. The scenery was absolutely stunning; the areas provided a great variety of walks with spectacular views. The accommodation was perfectly situated to start most of the walks directly from the hotel. It was also within walking distance of the bars and restaurants in Benimantell and Guadalest. Having said that, the food at the hotel was wonderful and so there was little need to venture further afield. Homecooked, nourishing and delicious food from the hotel was perfect fuel for the trekking.
Stella Jales (Google Reviewer)
We usually travel with Exodus on small group holidays and have visited many countries with them. They employ local guides which as well as giving us information and history of the sites also gives employment to the local people. The hotels are always good and the guides know the local places to eat.
Alison Payton (Google Reviewer)
I've done 8 trips in the last 14 years with Exodus, and have been rewarded with a 10% discount on all future bookings. I feel very confident that I'll receive pleasant, efficient service, and have the unusual holiday experience that I'm looking for each time. I've trekked to the top of snow-capped peaks, wild-camped in the desert, seen amazing spectacles of nature, visited 4 capital cities in a week, and learned about local culture and experienced local hospitality in a way that I simply wouldn't on a conventional holiday. The quality of the accommodation and guides can vary, but this is mainly down to cultural differences and things that Exodus can't control. I've only ever complained once, my complaint was taken seriously, and I was sent a discount voucher - you can't say fairer than that. I remain a loyal customer.
Dates & Availability
Instant Booking Available
Sunday - Saturday
Jun 23, 2024 - Jun 29, 2024
Instant Booking Available
Sunday - Saturday
Jul 14, 2024 - Jul 20, 2024
Instant Booking Available
Sunday - Saturday
Sep 15, 2024 - Sep 21, 2024
Book with Confidence
Transfer as credit to Future Tours

Exodus allows you to transfer existing payments to a future tour to avoid cancellation fees if you can't travel and inform exodus, 43 days before departure.

Low Deposit

Exodus requires a minimum deposit of 25% or the full booking value, whichever is less, with the final balance not due until 90 days before departure.

Cancellation Policy

We don't charge a cancellation fee, here is a summary of exodus charges.

Up to 42 days before tour starts: Forfeit 100% of deposit.

At 20 days before tour starts: Forfeit 100% of booking price.
Why book with tourhub?
Safe & Secure
Your money is protected in an external trust until you travel.
---
100% Guaranteed Refunds if your trip is cancelled.
---
The safest way to make overseas, multi-currency payments.
Guaranteed Best Value
Industry leading discounts, we won't be beaten on price.
---
No cancellation or amendment fees from tourhub.
(Operator terms may apply)
Expert Knowledge
Reliable & unbiased advice from travel experts.
---
Direct contact with the tour operator via our messaging service.
---
Inspiration & advice from a community of 6000+ real travellers, influencers & content creators.
Trusted Service
Official partners & licensed agents of 1000+ tour operators worldwide.
---
Don't just take our word for it...
"Tourhub: Friendliness, Professionalism & Integrity I would happily give tourhub a 6* review if I could..."
Similar Tours
Travel Guru Features
Our Reviews