Cycle Kerala & Tropical India
14 Days Starting in Mysore and ending in Varkala
Visiting: Mysuru, Srirangapatna, Nanjangud, Bandipur National Park, Mudumalai Tiger Reserve, Ooty Hill Station, Guruvayur, Guruvayoor Temple, Kochi, Vembanad Lake, Muhamma, Varkala
Tour operator:
Physical rating:
Moderate / Challenging
Special diets catered:
Please inform Exodus of specific dietary requirements
Tour operated in:
English
Trip Styles:
Interests:
Activities:
Tour Overview
Beautiful landscapes, fascinating towns, stunning beaches and superb food, southern India is an excellent place to explore by bike. From the cool heights of the Western Ghats, where the sanctuaries hide excellent wildlife, to the quiet backwaters of Kerala, where Hinduism has produced elaborately decorated temples, this trip offers the chance to cycle through colourful villages where rural life has remained little-changed for centuries. The final coastal ride to Varkala rewards us with time to relax on the beach and reflect on an unforgettable experience.
Highlights
Cycle through striking countryside with tea plantations 

Discover Hindu temples and Christian churches

Cruise the Keralan backwaters on a traditional houseboat
Itinerary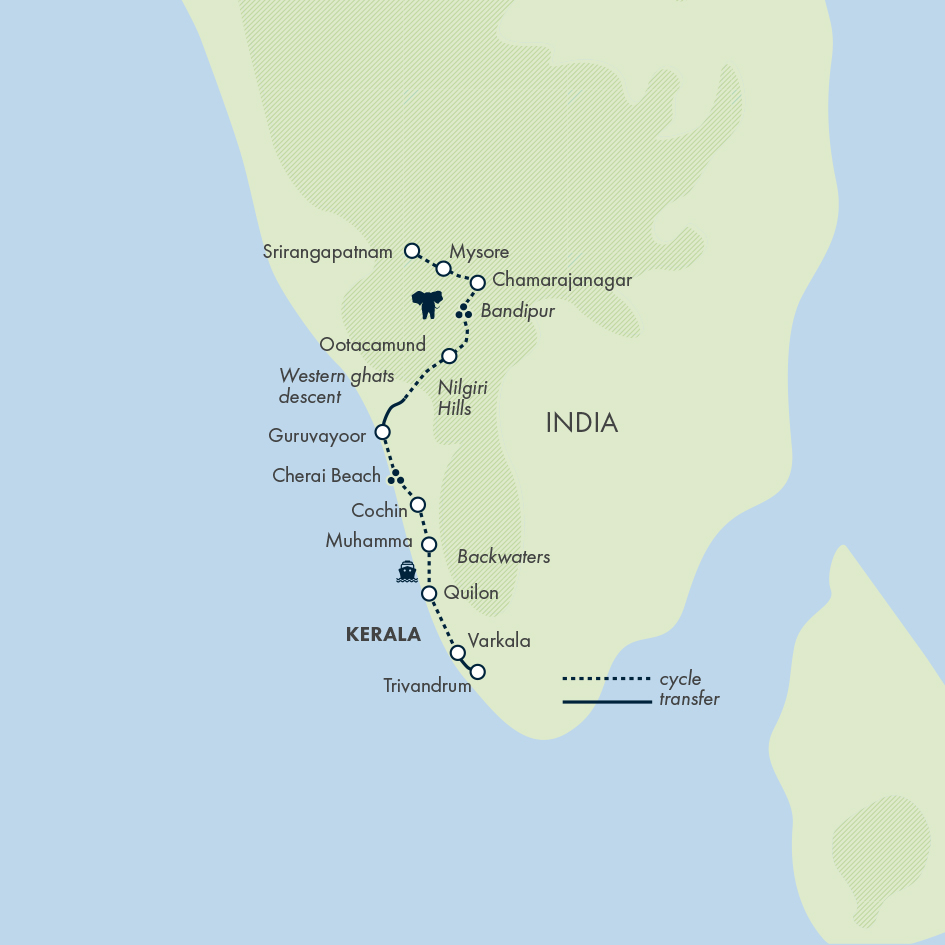 Expand All
Location:
Mysuru
Accommodation:
Hotel
Meals Included:
Lunch
Those on the group flight arrive in Bangalore and transfer by coach to
Mysore, breaking the 3.5-hour journey for light refreshments. If travelling
independently, you should meet us in Mysore. After checking into our hotel
there will be a short introductory briefing and time to relax (we may have to
wait until around noon if rooms are not ready). We will meet at lunchtime and
after lunch will have a short walk around the local markets. In the late
afternoon, there will be a bike briefing and fitting in the hotel courtyard.
In the evening there will be a full trip briefing before an optional group
dinner.
*Comfortable Hotel*


Day 2 :

Ride To Srirangapatnam Ruins; Return To Mysore; Afternoon Explore The City Including The Maharaja Palace.
Location:
Srirangapatna
Accommodation:
Hotel
Meals Included:
Breakfast, Lunch
We start with a leisurely morning ride to Srirangapatna, the ruins of Tippu
Sultan's capital which were destroyed by the British in 1799 during their
final battle to secure control of southern India. The fortress stands on an
island in the middle of the Cauvery River, and once over the bridge we cycle
around the old ramparts, enter Tippu Sultans Mosque and the Ranganathaswamy
Temple before riding back to Mysore for lunch. Today for lunch you get your
first taste of 'thali' - the southern Indian meal of rice and multiple
small portions of curries on a plate, or the typical south Indian 'masala
dosa', a thin pancake made with fermented rice and lentil batter. In the
afternoon we have a guided tour around Mysore Palace. Also known as the Amba
Vilas Palace, it is the official residence of the Wodeyars – the former
royal family of Mysore, which ruled the princely state of Mysore for over
seven centuries. The Wodeyar kings first built a palace in Mysore in the 14th
Century; it was demolished and constructed multiple times. The current palace
construction was commissioned in 1897, completed in 1912 and expanded later
around 1940. The décor is simply stunning, if a little bit over the top, and
the former maharaja is still in residence in his private quarters. 
*Comfortable Hotel*


Day 3 :

Cycle On The Back Roads Of Mysore Plateau To Nanjangud; Transfer To Bandipur N.P.
Location:
Mysuru, Nanjangud, Bandipur National Park
Accommodation:
Hotel
Meals Included:
Breakfast, Lunch, Dinner
We leave the hotel and cycle out of Mysore town up to Chamundi Hill to view
the huge 5m rock carving of Nandi, Shiva's celestial Bull. There are also
good views over the whole of Mysore. We then cycle back down the hill and
continue along the quiet backroads, along with the children riding a bike or
bus to school. We also share the road with herds of white oxen and women in
colourful saris carrying water pots on their heads. We arrive at the
important pilgrim centre of Nanjangud, home to the beautiful 9th Century
Srikanteshwara Temple dedicated to Shiva. We have a tea break here with the
chance to look around the temple whilst the bikes are loaded onto the bus. We
then drive for an hour along a busy road leaving the plains for the forested
foothills of the Western Ghats – once the hunting preserve of Mysore's
Maharajas, staying close to Bandipur National Park. We should arrive at our
hotel in the Bandipur National Park in time for lunch, but if not we will
have something en-route. In the late afternoon we take a jeep safari in the
park. We will see lots of peacocks, spotted deer and monkeys, with the chance
to see wild elephants, Indian Bison and of course the elusive tiger. These
can be spotted at certain times of the year. 
*Standard Hotel*


Day 4 :

Ride To Mudumalai N.P; Free Time
Location:
Mudumalai Tiger Reserve
Accommodation:
Hotel
Meals Included:
Breakfast, Lunch, Dinner
After breakfast we go for a short circular ride along the villages outside
the forest areas to witness the local farming village life. This ride is
followed by a tea break before we transfer by jeep to our resort. The
afternoon is free to  relax at our resort.  Later in the afternoon, there
will also be the opportunity to go on a village walk on the outskirts of the
forest and visit a local farmhouse, where you could join a local family for
Tea.
*Standard Hotel*

 


Day 5 :

Optional Ascent To Ooty Hill Station (13Km Climb), Former Summer Capital Of The Raj; Free Afternoon To Explore The Town.
Location:
Ooty Hill Station
Accommodation:
Hotel
Meals Included:
Breakfast
For some, today is the highlight of the trip, ascending 1251m to Ooty
(Ootacamund), an Indian hill station and the former summer capital of the
Raj. It's a very steep ride up 36 hairpin bends with stunning vistas at
every turn, and there's an immense sense of achievement at the summit.
Although steep, there are plenty of photographic opportunities that provide a
resting spot. Alternatively, enjoy a relaxed morning and journey up the hill
in the support vehicle. After tea and cake at the top we have an undulating
ride into Ooty. Set at an altitude of 2177m, the cool climate of the Nilgiri
Hills gives us a break from the hotter plains below. Arriving late morning,
we take lunch in our comfortable hotel. The afternoon is free to explore the
town and to sample some of their famous cardamom tea. Ooty is called the
'Queen of the hill stations' and although it is now a busy little town
there is lots to see and do. Originally occupied by the tribal Todas, the
area came under the East India Company at the end of the 18th Century. The
British introduced tea to the area, and the hillsides around Ooty are covered
in tea gardens. The Nilgiri Hills are called the 'Blue Mountains', the
blue colour coming from the many eucalyptus forests surrounding the area.
Both the Botanical Gardens and the Rose Gardens are a short walk from our
hotel. In the town there are many shops selling locally grown tea and oils
and homemade chocolate. If there is time and it is running, there is
sometimes the chance to go for a ride on the UNESCO listed Nilgiri Mountain
Railway, a steam train built by the British (your leader will give you
details at lunchtime if this is possible). 
*Comfortable Hotel*


Day 6 :

Western Ghats Descent Through Tea Plantations; Transfer To Guruvayoor In Tropical Kerala.
Location:
Guruvayur
Accommodation:
Hotel
Meals Included:
Breakfast, Lunch
After breakfast we have a stunning ride across the rolling Nilgiri Hills, the
backdrop for many Bollywood movies, before starting the dramatic descent,
dropping 2000m through the hills and tea-covered slopes of the Western Ghats.
The ride offers fantastic views over the hills below and there are some
viewpoints that should not be missed. 54km later we reach Gadalur, a typical
Indian town with one long high street selling everything, its shop-fronts
covered with colourful adverts and cheap children's toys. Here we have a tea
break before heading towards Kerala with the final 20km descent through
tropical rain forest and bamboo covered slopes to our end point at a typical
Keralan roadside restaurant. The bikes are loaded whilst we enjoy lunch and
then transfer to Guruvayoor (3.5 hours) to avoid busy roads. (Please note
that although the road is not very busy the road surface today is probably
the worst of the trip. There are many potholes and the road surface is not
even. Please take care and concentrate whilst cycling). Arriving in
Guruvayoor, we have time to relax before wandering into town to sample
delicious Keralan street food and have an evening stroll outside the temple,
which comes alive at night. It is one of the most important places of worship
for Hindus in Kerala and the fourth largest temple in India. The town is
filled with devotees dressed in traditional Keralan costume who come here in
their thousands to offer rice, flowers and gold to Lord Krishna, an
incarnation of Lord Vishnu. The ritual starts with bathing in the temple
pond, then lighting an oil lamp on the huge 7m-high pillar of light, just in
front of the heavy temple doors – a truly beautiful spectacle. Only Hindus
are allowed beyond this point.
*Standard Hotel*


Day 7 :

Morning Ride To Guruvayoor Temple And Palayoor Church; Continue Along Country Roads To Our Beachside Hotel In Cherai.
Location:
Guruvayoor Temple
Accommodation:
Hotel
Meals Included:
Breakfast, Lunch
Today we cycle by the Shree Krishna Temple. A few kilometres further is
another religious centre, Palayur Church, which is one of the oldest churches
in India and founded by the apostle St Thomas, who landed in India in AD 52.
From here we head towards the coast, cycling along country roads lined with
mango and coconut trees. There are plenty of photo opportunities as we
observe traditional life. Later, we board a ferry to Vypin Island, arriving
at Cherai Beach early afternoon. The rest of the day is free to enjoy this
stunning location and swim in the Indian Ocean. Cherai is known for its
mouth-watering fresh seafood, so for dinner, you could try the Jhinga Kachcia
Aam Kari, a speciality dish from Kerala made with green mango and prawns
simmered in coconut milk and spices. 
*Comfortable Hotel*


Day 8 :

Cycle Along Coastal Roads Lined With Coconut Palms; Ferry To Fort Cochin.
Location:
Kochi
Accommodation:
Hotel
Meals Included:
Breakfast, Lunch
We set off from our beach location towards the coast to Cochin, cycling south
and passing through small fishing communities with their colourful boats
hauled up along the sands. Turning inland, we see grand houses built with the
remittance money from the Gulf States workforce, as well as older houses
constructed during the British colonial period. Please bear in mind that the
traffic levels are high for the last 8km as we arrive at the main road to
board the ferry to Fort Cochin (Kochi). This town has a unique place in
Indian history, and to soak up the atmosphere we spend the next two nights in
Fort Cochin. After check-in at the hotel, we wander down to one of the
restaurants in the old harbour area of Kochi for lunch. Those wishing to
visit the Indo Portuguese Museum should do so today as it is closed on
Mondays. 
*Standard Hotel*


Day 9 :

Free Day In Cochin To Explore The Bazaars And The Old Harbour.
Location:
Kochi
Accommodation:
Hotel
Meals Included:
Breakfast
Today is a free day to explore the town of Cochin (Kochi) with its bazaars
and old harbour area. Merchants began trading spices such as pepper and
cardamom with the Chinese, Arabs and Portuguese more than 600 years ago. The
Portuguese established a base here, followed by the Dutch, who were forced to
hand it over to the British in 1841. A potpourri of Indian and international
communities, it is now the bustling commercial capital of Kerala and consists
of several islands connected by ferries. Most of the major sights are close
by on Fort Kochi and Mattancherry. Warehouses filled with the smell of tea
and spices are lime-washed bright green, yellow and blue; rickety old bikes
and hand-painted trucks piled high with goods fill the narrow streets and
food stalls stand on every corner. St Francis Church is close to the hotel
– built by the Portuguese in 1503 it is the burial place of Vasco de Gama
and his tomb is inside the church. Further along, you come to Mattancherry
and the Dutch Palace. Constructed by the Portuguese in 1568, it was gifted to
the Maharaja of Kochi before the Dutch took it over. Close to the palace is
Jewtown and the Paradesi Synagogue. Built in 1568 for the Jewish members of
Kochi's trading communities, it is adorned with hand-painted tiles from
China and elegant Belgian chandeliers, all donations from wealthy merchants.
The area around the synagogue, Jew Street, is a heritage zone with many
antique and handicraft shops and is excellent for shopping. For a culinary
experience, you should try the fish market near the Chinese fishing nets,
where you can buy the day's catch and have it cooked to your own taste. There
are also plenty of shopping opportunities here.
*Standard Hotel*


Day 10 :

Cycle Past Old Portuguese Houses; Continue To Vambanad Lake And Muhamma.
Location:
Vembanad Lake
Accommodation:
Hotel
Meals Included:
Breakfast, Lunch, Dinner
Riding out from Fort Cochin we pass 500 year old Portuguese villas, a
striking contrast to the tiny fisherman's huts dotted along the beach road
with their long wooden boats pulled up under the palm trees and nets hung out
to dry. Many of these fishing villages are Christian; at Arthungal the old
stone church dominates its surroundings and is best viewed from the shade of
a coconut tree whilst we have a tea break. Continuing along the coast road we
head to Muhamma, famous as the start point for backwater trips. We spend the
night in a backwater resort overlooking the lake. The tranquil gardens are as
relaxing as the Ayurvedic massage and treatements on offer to its guests. In
the afternoon and early evening, relax on the veranda as backwater life
unfurls before you. 

*Comfortable Hotel*


Day 11 :

Explore Muhamma Town Before Backwater Boat Trip; Overnight On Keralan Houseboat.
Location:
Muhamma
Accommodation:
Overnight Houseboat
Meals Included:
Breakfast, Lunch, Dinner
After a lie-in you can enjoy an optional 22km bike ride to explore the
village, or alternatively, you can relax for the morning. Around midday we
board a fabulous backwater houseboat for an unforgettable trip to
Trikunnapuzha. These converted rice barges have 2-berth cabins with en-suite
bathrooms and come with their own cook. With our bikes stacked on the side of
the boat you won't see the saddle for another 19 hours, so just relax and
watch the world go by. Vessels of all sizes use the lakes and canals that
make up this fascinating network of waterways. The smaller boats ferry
passengers and goods between tiny hamlets perched on narrow spits of land. On
one side of the canal vast paddy fields of iridescent green stretch as far as
the eye can see; on the other are fishing nets and coconut trees. As the sun
begins to set, the boats are moored together and we gather on deck for
sundowners. 

Day 12 :

Cliff-Top Ride To Laid-Back Varkala.
Location:
Varkala
Accommodation:
Hotel
Meals Included:
Breakfast, Lunch
We have breakfast on the houseboats as they move from their overnight mooring
point to our disembarkation point. Here we meet the support vehicle and set
off along a quiet coastal road to the Valaazhikal ferry crossing. We load the
bikes on a local fishing boat to cross the river estuary and pass by
Amrithanadamayi Ashram, better known as the Hugging Mama Ashram, a spiritual
retreat overlooking the backwaters. We then join the main road to Quillon and
have lunch at a seaside guesthouse: the fish is bought fresh from the market
and cooked in mild spice and served with Poratta, a favourite Keralan bread.
After lunch we are back on quiet roads for the last 30km to Varkala, a small
laid-back community with coffee bars and yoga schools perched along its
cliff-top. We spend the next two nights here. 
*Standard Hotel*


Day 13 :

Free To Relax On The Beach And Try Delicious Seafood.
Location:
Varkala
Accommodation:
Hotel
Meals Included:
Breakfast
Today is a full free day to relax and enjoy the beachside location. There are
a number of beach shack restaurants for lunch which serve excellent seafood.
Try some of the Tandoori dishes – the clay ovens give a more authentic
taste to breads and curries. The last night's meal is generally at the hotel
with a fusion of all your favourite Keralan dishes.
*Standard Hotel*


Location:
Varkala
Meals Included:
Breakfast
Those on the flight inclusive package will be transferred to Trivandrum
airport early in the morning for the daytime flight back to London. Land Only
arrangements will finish after check-out from the hotel.


What's Included
Local bike hire

Transfer for group flights

All accommodation

All breakfasts, 10 lunches and 4 dinners included
What's Not Included
Visas and vaccinations

Single supplement

Travel insurance
Food
All breakfasts, 10 lunches and 4 dinners included.  There is a good choice of restaurants and sometimes there is a choice between Indian and Western style food. If you are a vegetarian, South India is an ideal destination. Lunches on riding days are usually taken in local roadside cafes. Tea and soft drinks are very cheap. A (large!) bottle of beer is approximately £3 (approx. US$5), but alcohol is difficult to get hold of in Kerala. Please note that service in restaurants can be quite slow. Water is provided in the support vehicle, where you can fill your bottle from the 20 litre containers. You should allow approximately £10 (approx. US$16.00) per day for lunch and dinner when they are not included, £3 - £4 (approx. US$4.80 - US$6.40) for lunch, and £5 - £6 (approx. US$8 - US$9.60) for dinner without drinks. This amount may vary according to how much you drink. Generally you can eat out very cheaply in India.
Accommodation
Nine nights in hotels, three nights in lodges and one night on a houseboat, all have ensuite rooms. Most hotels are of a comfortable standard with four-star facilities. The resort in Mudumalai is more basic.

Heating

Hotels in India usually do not have heating as there are only a couple of months when the weather can get cooler. You can request more blankets or the hotel may be able to provide a standing heater for your room. Please ask your tour leader if you need help in this matter.

Houseboat

Houseboats are comfortable and all cabins have en suite facilities, the majority of cabins are twin-share. The houseboats are air conditioned (between 8pm and 6am) and also benefit from a communal/dining area. Please note, single rooms can be limited.

Gas water heaters

Gas water heaters used on all houseboats are open-flued systems, as used in many parts of India. While this complies with Indian law, it does not meet UK standards and therefore we must inform travellers that there is a risk (while minimal) of carbon monoxide emissions. We have asked our leaders to install a carbon monoxide alarm, and to brief your group about keeping their rooms ventilated at night (ie window open) to ensure sufficient air circulation.
Check out our Q&As
Are the local guides on the tour English speaking?

Yes, our local guides are English speaking.

Is there a supplement for solo travellers?

If you would like to be paired with a tour member of the same gender, there is no additional charge. A single supplement can be requested if you would like your own room.

Are children permitted to take part in the tour?

The minimum age for this tour is 16 years old.

Who is Exodus Travels?

At Exodus Travels, we've been exploring the world for nearly 50 years. From Walking and Trekking, Cultural and Cycling, Responsible Wildlife, to Polar and our new Premium Adventures, we are proud to offer award-winning small group and self-guided tours to 100+ countries worldwide.

Are flights included in this tour?

International flights are not included with this tour.
Can you assist with pre or post tour accommodation?

We are happy to assist with pre and post tour accommodation. Please enquire for detailed information.

What happens if I need to change my holiday date once I've booked?

If you wish to make any changes to your booking, particularly if you need to alter any flights booked through us, please let us know as soon as possible. There is a booking or flight amendment fee of £40 per change and flight amendments often incur extra airline costs depending on the changes to be made and if the ticket has been issued or not.

How long has the tour company been trading?

Exodus has been trading since 1974

What documents will I receive before I travel?

Your final joining instructions and flight details, if booked with us, will then be sent out 2 to 3 weeks before departure. If you would like a hard copy posted, or if you require these any earlier, please contact the customer operations team. We advise that if you are booking connecting travel before receiving these, please ensure you leave plenty of time.

Do you operate a "single share" option and how does it work?

Travellers are welcome to opt to share a room with a tour member of the same gender for no additional charge. If you'd like your own room, we can request a single supplement so that you will have your own room throughout.

Can I join the tour once it has departed?

You are welcome to meet the group after the tour has departed however there is no reduction in rate for joining a tour after the departure date.
Reviews From Travellers On This Tour
Cycle Kerala an Tropical India
We loved this. India just hits you in the face - sights, smells,sounds,tastes. Exotic and spicy, just like a good curry. Cycling is such a great way of seeing a country and we traveled deep into rural areas where tourists don't go; we often felt like creatures from another planet and the locals seemed to agree judging by the number of selfies they took with us in them.
Some lovely rides and not too strenuous
There are many great points about this trip; - This trip combines riding in busy city traffic (which is mental, but exciting and often safer than in UK), with lovely rides through beautiful scenery (e.g. little villages, forest, coast) - much of it fairly flat and easy cycling. We went in Feb and the temperature is hot (30-35C). - Food was a huge surprise in the fact that many of the hotels had great selection and great quality, and the meals in people's homes were delightful and delicious - only the breakfasts were disappointing, but lunch/dinner was great. However, it is all Indian food, so don't expect Western choices. - Most of the hotels were in great locations, and of great quality (comfortable, modern, clean). - The rides weren't exceptionally long (20-25 miles, with a couple around 50), but in the 30-35C heat many of these were done in the morning and were more than long enough to see great things. - With these rides being slightly shorter than on other trips we've done, there was lots of free time (e.g. afternoons) and a couple of free days which allowed us to experience far more of Kerala than on just a bike - a good mix of riding and free time. - Minimal bus transfers (only 2 I recall), so most rides were door to door. - The boat trip on the backwaters was delightful, and the photo opportunities are great. The are 2 rides that are worth being aware of; - The ride to Ooty is a gruelling ride of 17 miles up a 1,400 meter climb - the road is a constant gradient of 10-15% so it's hard work. Even though you start the climb around 07:30, it doesn't take long for the heat to kick in. However, there's no pressure on how quickly you get up there, and you can opt out and take the bus if it's too much for you. - The descent down from Ooty is pretty much 20 miles all down hill, but the road is often poor (pot holes, poor surface, traffic on wrong side)) so riding fast is tempting but dangerous, so you need to watch what you are doing - but it's a lovely ride through Eucalyptus forest and tea plantations. We felt this trip was really enjoyable, and highly recommend it.
Wonderful trip
It was great. 3rd time lucky after 2 cancellations due to Pandemic. And no more visa hassles now evisa up and running again. Excellent trip. Cycling was an easy level 4 especially with Ooty climb truncated. Roads are nuts but actually pretty safe. Didn't see any accidents. A lot of variety, cities, rural villages, beach, stunning Nilgiri hills, wildlife. Food was excellent. Hotels good. Very well led by Safi and his team. People were lovely. One of the best exodus trips I have done.
Wow!
This really was a holiday of heightened senses: the most brilliant colours, the noisiest roads, the most intense flavours, the brightest smiles, the biggest views – and everything experienced in the thick of it, either from a bike or on foot. Vehicle transfers are few and far between, meaning there's nothing between you and your environment (including a tiger, if you're lucky enough to see one – which sadly we weren't). The great thing about Exodus at their best is that they can organise things we could never do on our own: not just carefully picked hotels and restaurants, but also temple and palace tours, a safari, a houseboat trip, a bespoke lunch in a bay of the Indian Ocean – and much more. That not only makes this trip great value – it also makes a lifetime memory. And then, of course, there are the guides. The unfailing cheerfulness and knowledge of Joseph and our support driver Maneesh were a constant bonus that contributed to this being not only our best Exodus trip to date (it was our fourth) but one of the best holidays of our lives. Cycling aside, in fact, a highlight was a lesson in Bollywood dancing from Joseph – who is incredible at it!
KERALA & TROPICAL INDIA
This was a great trip with an interesting group of people and wonderful support from our leader Joseph who was always there to help in all matters. He was so efficient that we may have become too dependent on him. Abby was also very committed and gave me a lot of snacks and water going up Ooty.
CYCLE KERALA & TROPICAL INDIA
Wild elephants... riots... peaceful backwaters and crawling up the Western Ghats - this trip has it all! Definitely to be recommended. 
KERALA & TROPICAL INDIA
As our first visit to India, this gave us a real taste to see more of this lively, colourful and friendly country.
Cycle Kerala
It was an amazing holiday. We saw a variety of landscapies and interesting items. The routes were varied and entertaining. I had the option to ride the bus when the road was too steep or too busy.
Kerala and tropical India 8/22Nov
Much stunning scenery. Too much cycling on busy roads. Bike gears too high for the otherwise fun climb up to Ooty. Enjoyed the low key visit to the driver's family farm at Wildhaven. Would have enjoyed more visits to local industries. eg tea factory,coir carpet making,sugar and rubber processing . Space for these could have been provided by reducing temple visiting times.
Cycling Kerala and Tropical India
Our first Exodus cycling trip and we will definitely be travelling with Exodus on our next adventure. It is a great introduction to India if its your first trip (its relative prosperity makes for less hassle from residents) and it offers a different perspective to the hustle, bustle (and many more tourists) of Rajasthan if you have travelled further north in the country. Beautiful and varied landscapes with an interesting itinerary and most memorable for us for time spent simply chatting with our guides along the way about life in India.
Dates & Availability
Instant Booking Available
Sunday - Saturday
Jan 14, 2024 - Jan 27, 2024
Instant Booking Available
Sunday - Saturday
Feb 18, 2024 - Mar 02, 2024
Instant Booking Available
Sunday - Saturday
Mar 03, 2024 - Mar 16, 2024
Instant Booking Available
Sunday - Saturday
Mar 31, 2024 - Apr 13, 2024
Instant Booking Available
Sunday - Saturday
Aug 11, 2024 - Aug 24, 2024
Instant Booking Available
Sunday - Saturday
Sep 22, 2024 - Oct 05, 2024
Instant Booking Available
Sunday - Saturday
Oct 06, 2024 - Oct 19, 2024
Instant Booking Available
Sunday - Saturday
Oct 20, 2024 - Nov 02, 2024
Instant Booking Available
Sunday - Saturday
Oct 27, 2024 - Nov 09, 2024
Instant Booking Available
Monday - Sunday
Nov 11, 2024 - Nov 24, 2024
Instant Booking Available
Sunday - Saturday
Nov 17, 2024 - Nov 30, 2024
Instant Booking Available
Sunday - Saturday
Dec 08, 2024 - Dec 21, 2024
Instant Booking Available
Friday - Thursday
Dec 20, 2024 - Jan 02, 2025
Instant Booking Available
Sunday - Saturday
Jan 12, 2025 - Jan 25, 2025
Instant Booking Available
Sunday - Saturday
Jan 19, 2025 - Feb 01, 2025
Instant Booking Available
Sunday - Saturday
Jan 26, 2025 - Feb 08, 2025
Instant Booking Available
Sunday - Saturday
Feb 09, 2025 - Feb 22, 2025
Instant Booking Available
Sunday - Saturday
Feb 16, 2025 - Mar 01, 2025
Instant Booking Available
Sunday - Saturday
Mar 09, 2025 - Mar 22, 2025
Instant Booking Available
Sunday - Saturday
Mar 23, 2025 - Apr 05, 2025
Instant Booking Available
Sunday - Saturday
Apr 13, 2025 - Apr 26, 2025
Instant Booking Available
Sunday - Saturday
Sep 21, 2025 - Oct 04, 2025
Instant Booking Available
Sunday - Saturday
Oct 05, 2025 - Oct 18, 2025
Instant Booking Available
Sunday - Saturday
Oct 19, 2025 - Nov 01, 2025
Instant Booking Available
Sunday - Saturday
Oct 26, 2025 - Nov 08, 2025
Instant Booking Available
Sunday - Saturday
Nov 09, 2025 - Nov 22, 2025
Instant Booking Available
Sunday - Saturday
Nov 23, 2025 - Dec 06, 2025
Instant Booking Available
Sunday - Saturday
Dec 07, 2025 - Dec 20, 2025
Book with Confidence
Transfer as credit to Future Tours

Exodus allows you to transfer existing payments to a future tour to avoid cancellation fees if you can't travel and inform exodus, 43 days before departure.

Low Deposit

Exodus requires a minimum deposit of 25% or the full booking value, whichever is less, with the final balance not due until 90 days before departure.

Cancellation Policy

We don't charge a cancellation fee, here is a summary of exodus charges.

Up to 42 days before tour starts: Forfeit 100% of deposit.

At 20 days before tour starts: Forfeit 100% of booking price.
Why book with tourhub?
Safe & Secure
Your money is protected in an external trust until you travel.
---
100% Guaranteed Refunds if your trip is cancelled.
---
The safest way to make overseas, multi-currency payments.
Guaranteed Best Value
Industry leading discounts, we won't be beaten on price.
---
No cancellation or amendment fees from tourhub.
(Operator terms may apply)
Expert Knowledge
Reliable & unbiased advice from travel experts.
---
Direct contact with the tour operator via our messaging service.
---
Inspiration & advice from a community of 6000+ real travellers, influencers & content creators.
Trusted Service
Official partners & licensed agents of 1000+ tour operators worldwide.
---
Don't just take our word for it...
"Tourhub: Friendliness, Professionalism & Integrity I would happily give tourhub a 6* review if I could..."
Similar Tours
Travel Guru Features
Our Reviews