Cycle Nicaragua, Costa Rica & Panama
15 Days Starting in Granada and ending in Panama City
Visiting: Granada, Masaya Volcano National Park, Ometepe, San Juan del Sur, Canas, Arenal Volcano, Lake Arenal, Cahuita, Bocas del Toro, Punta Robalo, Panama City, Panama Canal, Central America, Ometepe Island
Tour operator:
Physical rating:
Moderate / Challenging
Trip Styles:
Interests:
Activities:
Tour Overview
Starting in the colonial city of Granada and ending in bustling Panama City, our route takes us into Costa Rica's steamy rainforests, alongside active volcanoes and to the tropical island of Bocas del Toro. We explore the island of Ometepe at Lake Nicaragua, search for howler monkeys while rafting on the Tenorio River, and ride through rural villages along the Caribbean coast. Our journey ends with a cycle near the Panama Canal, following our visit to the colossal Miraflores Locks. Join us to celebrate Exodus' 50th anniversary! Select departures of this trip feature extra inclusions to mark the occasion: a dolphin-watching excursion at Bocas del Toro, a local birthday celebration and a special edition Exodus kitbag. For departure dates, see the Dates & Prices tab or to see other trips with Special 50th Anniversary Departures click here.
Highlights
Cycle through three different countries in two weeks

Relax on Pacific beaches and the idyllic Caribbean islands of Bocas del Toro

Ride along the Panama Canal, see the Miraflores Locks in action

Discover the dramatic Ometepe Island, with its twin volcanic peaks

Look for wildlife in the national parks of Costa Rica
Itinerary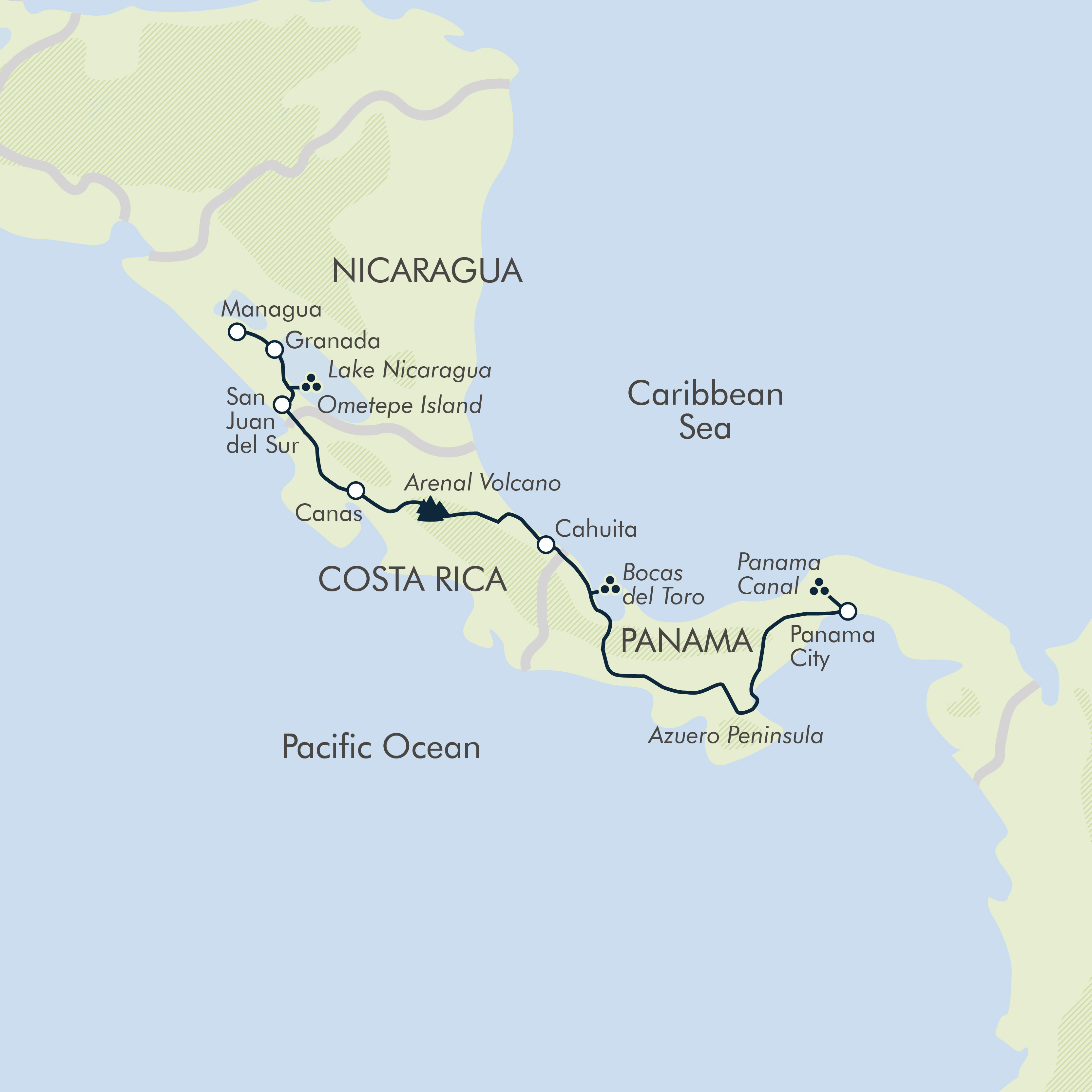 Expand All
The adventure starts at our hotel in Granada. Settle in and rest up, the cycling begins tomorrow.

Accommodation: Hotel Patio del Malinche, Granada (or similar)
Day 2 :

Ride Along Lake Nicaragua; Visit Masaya Volcano National Park
Location:
Masaya Volcano National Park
Meals Included:
breakfast
After breakfast, we have a tour briefing and indications for the initial cycling stage. Any last-minute adjustments to the bikes are made before we set off to Lake Nicaragua. As we reach the lakeshore, we enter into the Asese Peninsula recreation area, a beautiful, protected area, where the traffic is kept to a minimum and several species of exotic birds can be spotted. Our lunch stop offers stunning views of the large volcanic mass of Mombacho.

Upon arrival back at our hotel, we have time for a swim or a stroll along La Calzada, the main pedestrian street in Granada. In the late afternoon, we head for the popular Mirador Catarina, overlooking pretty Laguna Apoyo. Our Sunday visit allows us to mingle with local people enjoying the wonderful view while being entertained by strolling marimba bands and souvenir vendors. Afterwards, we head for the Masaya Volcano National Park for a night visit to observe molten lava bubbling in the depths of the huge crater. It may also be possible to spot chocoyos, a sub-species of parakeet that nests in the crater walls, having evolved resistance to the constant sulphuric gas emissions. Due to safety concerns, the crater visit is limited to 15 minutes (and occasionally the park is closed altogether). We then return to Granada for dinner.

Route: Gradual descent to the lakeshore, then virtually flat (but bumpy) to the tip of the Asese Peninsula. The roads are 65 percent paved, 35 percent dirt/rock.

Accommodation: Hotel Patio del Malinche, Granada (or similar)
Day 3 :

Transfer To San Jorge; Ferry To Ometepe Island And Cycle To Freshwater Spring
Location:
Ometepe
Meals Included:
breakfast
After breakfast, we transfer (approximately 1hr 30min) south to the port of San Jorge on Lake Nicaragua, where we board the vehicle ferry for the one-hour trip to Ometepe island, with the twin volcanoes of Concepcion and Masaya dominating the view. Upon arrival at busy Moyogalpa, we start cycling a stretch around the west face of the active volcano, Concepcion. We then continue with a climb up and over the isthmus, which leads to the rainforest-clad Maderas, the extinct volcano. Our destination is Ojo de Agua freshwater spring (US$5 entry fee), where we have lunch and enjoy a swim in the cool water, a welcome respite on a hot day. After, we cycle to the wildlife-filled Charco Verde Lagoon, where our hotel is set. The west-facing location right on the lake allows for spectacular tropical sunsets, as well as the possibility to swim in the warm waters of Lago Cocibolca, the indigenous name for Lake Nicaragua.

Route: The roads are all paved except for the final 0.5mi (0.8km) to Charco Verde.

Accommodation: Hotel Charco Verde, Ometepe island (or similar)
Day 4 :

Ferry To Mainland; Ride To San Juan Del Sur
Location:
San Juan del Sur
Meals Included:
breakfast
We depart the hotel around 10.30am, which gives us free time to hike trails around the lagoon to spot more wildlife or relax on the beach and admire the view. For keen cyclists looking for a challenge, an early morning ride along the single-track trails within the Charco Verde Reserve (US$2 entry fee for hotel guests) is a great start to the day. Those looking to hike can do the same trails; bring your camera as the reserve is full of wildlife, best seen in the early morning.

Departing the hotel, we cycle to Moyogalpa and get the ferry back to the mainland. We then hop on the saddle for a ride to Rivas, the largest city in southern Nicaragua, and then along La Chocolata Road towards San Juan del Sur, a Pacific beach town. The road takes us through dry forest where we may see (or hear) howler monkeys and spot large iguanas. We also pass through several small villages, which experience no tourism other than our biking groups. After finishing the mild climb, which then drops us onto the Pacific side of Nicaragua, we ride just a bit further west to the beautiful beach Playa Marsella, in time for a late afternoon swim. Our hotel for this evening is close to the main San Juan del Sur beach, a great place to watch the sunset or simply enjoy the hotel pool.

Route: Along mostly level roads with some mild climbs. The road is 60 percent well-groomed dirt and 40 percent paved.

Accommodation: Hotel Gran Oceano, San Juan del Sur (or similar)
Day 5 :

Ride From Pacific To Lake Nicaragua; Transfer To Costa Rica
Location:
Canas
Meals Included:
breakfast
Starting early to avoid the heat, we cycle over the continental divide and down to a backroad (subject to road/weather conditions) near La Virgen, which then take us to Sapoa, close to the Costa Rica border. We then have a five-minute transfer to Peñas Blancas, where we exit Nicaragua. After clearing immigration, we stop for lunch near La Cruz and then continue south along the Pan-Am Highway to just outside Cañas, another good-sized town. Our arrival will be late in the afternoon due to ongoing highway constructions.

Route: Initial climb departing San Juan del Sur, then gradual descent to near La Virgen. Backroad to Sapoa is mild rolling terrain, graded dirt. 40 percent paved/60 percent dirt.

Accommodation: Hotel Hacienda La Pacifica, Cañas (or similar)
Day 6 :

Wildlife Trip On Tenorio River; Cycle Through Bijagua Valley And To Lake Arenal
Location:
Arenal Volcano
Meals Included:
breakfast
This morning we get out of the saddle early in the morning for a two-hour float down the Tenorio River, a haven for birds and other wildlife. As our raft takes us gently along, expect to see several monkey species, iguanas, coatis and a wide range of birds. There are also crocodiles along the lower stretch of the river and our experienced guides will not only handle the oars but will also point out as many species as possible. This is likely to be a big wildlife highlight of the trip. After, we transfer up to near Bijagua, then cycle back down to the Pan-American Highway before lunch. After our meal, we head up to the hilly region surrounding Lake Arenal where our afternoon biking stage begins. This is quite a challenging section and although the distance is short there are several climbs and it can be rather windy. The rewards are spectacular views of the lake with the surrounding hills and Arenal Volcano to the east.

Route: Morning stage is a fast downhill after climbing out from Bijagua but it can be potholed. Afternoon stage from outside Tilaran to Mystica includes several fairly steep climbs through rolling hills. The route is 100 percent paved.

Accommodation: Mystica Resort, Lake Arenal (or similar)
Day 7 :

Cycle To La Fortuna
Location:
Lake Arenal
Meals Included:
breakfast
After breakfast, we set off on our bikes towards La Fortuna. This is one of the most spectacular cycling stages, starting in lush agricultural land that gradually gives way to thick rainforest as we approach the dam that forms Lake Arenal. Look for monkeys, toucans and neon-blue morpho butterflies as we cycle. If it's clear, the dam is a great place to take a break for a wonderful view of Arenal Volcano. The town of La Fortuna is a major tourism destination, so those looking for souvenirs will be well satisfied.

Route: Mostly on rolling hills with some short but fairly steep climbs, followed by a fast downhill to La Fortuna. The road is 95 percent paved and five percent dirt or gravel.

Accommodation: Hotel San Bosco, La Fortuna (or similar)
Day 8 :

Loop Morning Ride With Views Of Arenal Volcano; Visit Thermal Springs
Location:
Arenal Volcano
Meals Included:
breakfast
Today's ride follows a circular route through the region surrounding La Fortuna, taking in a great variety of terrain and ecosystems. Starting from the hotel, we head south towards Chachagua, then divert to a backroad leading to El Bosque where we pass through agricultural land devoted to bananas and sugarcane before heading into a rugged hilly zone leading back towards rainforest near the small town of La Tigre. Toucans are common here and there are incredible views of the jungle and Arenal Volcano. As we approach La Fortuna again, there is a final steep climb before we reach our hotel. This evening, we include a visit to the Eco Termales Hot Springs – the best hot springs in the area – to soothe any aching muscles.

Route: Paved roads, mostly level for the first half, followed by several challenging climbs.

Please note: Traffic can be heavy near La Fortuna; a modified route may be selected.

Accommodation: Hotel San Bosco, La Fortuna (or similar)
Day 9 :

Morning Ride To Muelle; Afternoon Cycle Near Caribbean Coast; Transfer To Puerto Viejo
Location:
Cahuita
Meals Included:
breakfast
We have another early start today as we head east into the rolling terrain of the San Carlos plains, riding through rich agricultural zones, sugarcane and pineapple plantations, and rural villages. We are generally descending on this leg, which levels off as we get closer to Muelle where we conclude the morning stage. Have your cameras handy upon arrival, there is a population of large iguanas posing while the staff load the bikes for the transfer to the Caribbean side of Costa Rica. This is a long transfer (approximately four to five hours) as we will be crossing a large portion of the country.

Just outside the busy port of Limon, we put the bikes back into use for a short ride using a more tranquil backroad, which takes us to the main coastal highway at Rio Banano. We then have a short transfer to the southern zone of the Caribbean coast. Our destination is bustling Puerto Viejo, a popular destination.

Route: Morning stage is a fast descent leaving La Fortuna, which then levels out to Muelle. Afternoon stage fully level, 100 percent paved for both stages.

Accommodation: Hotel Escape Caribeño, Puerto Viejo de Talamanca (or similar)
Day 10 :

Ride To Panama Border; Boat To Bocas Del Toro Islands
Location:
Bocas del Toro
Meals Included:
breakfast
We begin riding south at the base of the Talamanca Mountains. We follow the main coastal road before turning off to Bri-Bri, home to the indigenous Guaymi community. We may see traditionally dressed women in flowing embroidered dresses as we pass through. The ride continues through vast banana plantations to the border crossing on the banks of the Sixaola River. After a quick lunch, we leave Costa Rica and cross to Guabito, the Panamanian port of entry. After border formalities, we take the bus through the frontier town of Changuinola, and then through steep rainforest hills inhabited by indigenous people. We hit the coast and embark on a private boat transfer to cross into the Caribbean to the wonderful Bocas del Toro islands, our home for the next two nights.

Route: Mostly flat roads, although there are some climbs as we head to Bri-Bri. The roads are paved although there are often potholes and washouts close to the border.

Accommodation: Hotel Gran Bahia, Bocas del Toro (or similar)
Day 11 :

Free Day In Bocas Del Toro
Location:
Bocas del Toro
Meals Included:
breakfast
We enjoy a free day to explore the beautiful Bocas del Toro islands, which are rapidly becoming a popular Caribbean destination. It's easy to see why: white-sand beaches shaded by palm trees; crystalline waters; wonderful snorkelling and lots of wildlife. It's also possible to take boat trips to the other islands or go on dolphin-watching tours. All of these optional activities can be arranged through the hotel or nearby tour agencies, with whom we have long-established relationships.

Accommodation: Hotel Gran Bahia, Bocas del Toro (or similar)

Join us to celebrate Exodus' 50th anniversary!

This departure includes a dolphin-watching excursion at Bocas del Toro, a local birthday celebration and a special edition Exodus kitbag. For departure dates, see the Dates & Prices tab.
Day 12 :

Boat And Transfer To Punta Robalo; Cycle To Rambala And The Pan-Am Highway; Transfer To Playa La Lajas
Location:
Punta Robalo
Meals Included:
breakfast
After taking a private boat back to the mainland, we drive to Punta Robalo for a ride through beautiful jungle scenery. After lunch, we transfer (approximately 1hr 30min) through the mountains that separate Panama's two coastlines, after which we begin our second ride of the day. The change in temperature, humidity and ecosystems are significant as we gain altitude. At the top of the pass is beautiful Lago Fortuna, set in a rainforest-clad tropical valley. We then have a fast downhill ride with great mountain views and several river crossings to Gualaca and the Pan-Am Highway beyond. Upon meeting the Pan-Am Highway junction, we board the minibus for the drive down to Las Lajas, an isolated Pacific beach that stretches for miles. Here we can enjoy a great tropical sunset while relaxing under the shade of a palm-thatched palapa.

Route: Some moderate hills near start, then level/fast downhill to Pacific plain then some short climbs near finish. The route is 100 percent paved.

Accommodation: Las Lajas Beach Resort, Playa Las Lajas (or similar)
Day 13 :

Tropical Lowland Forest Ride; Transfer To Panama City
Location:
Panama City
Meals Included:
breakfast
We have an early start today as we avoid the heat and traffic on our ride through the Panamanian countryside. We take a short drive to Guabala, a customs/passport control point on the Pan-Am Highway; once our documents have been checked, we offload the bikes for a fairly challenging ride through a quite remote and hilly section of the western portion of Veraguas Province. Some of the ride takes us along remote backroads past large sugar plantations and through dry tropical forest. We finish cycling close to the town of Jorones, where we start our transfer to Panama City (approximately five to six hours), with a quick lunch stop in Santiago, the main city in this part of Panama. We cross the famous canal where we're very likely to see huge ships as they make the journey between the Caribbean and the Pacific. Our hotel is in the Albrook suburb, where many opulent residences are a testament to the days when US military officers and canal authority officials lived here.

Route: Level start but becoming increasingly hilly during the middle section. The last stage is level again and the road is fully paved.

Please note: A different stage may be selected if the weather conditions are very hot.

Accommodation: Hotel Holiday Inn Panama Canal, Panama City (or similar)
Day 14 :

Ride Alongside The Panama Canal
Location:
Panama Canal
Meals Included:
breakfast
Our final day is truly memorable, as we travel along a stretch of the Panama Canal to observe some of the highlights. Starting from our hotel, which overlooks the Pacific entrance to the canal, we transfer to the Miraflores Visitor Center (entry fee to museum and video presentation included) to view the process of raising and lowering the ship traffic. We then have a short transfer to the entry point of Soberana National Park, where we enjoy a final biking stage through lush rainforest. Our biking concludes with lunch at lovely Los Lagartos, set over Lago Gamboa, with the canal as a backdrop. This offers a great photo opportunity as ships pass by. After lunch, we transfer back to our hotel for free time or a swim. In the afternoon, we visit the Unesco-listed old portion of Panama City. We have our final group dinner in Casco Viejo this evening.

Route: This is mostly level along the canal, but with some climbing within Soberana Park. The main road is fully paved.

Accommodation: Hotel Holiday Inn Panama Canal, Panama City (or similar)
Location:
Panama City
Meals Included:
breakfast
Our trip ends after breakfast. Say your goodbyes to the group and begin the return journey home. Or, if you'd like to explore a little more, speak to your sales representative about extending your stay.
What's Included
All breakfasts

All accommodation (see accommodation section)

All transport and listed activities

Tour leader throughout

Cycling leader and support team

Local bike hire
What's Not Included
Travel insurance

Single accommodation only (available on request)

Visas or vaccinations
Food
All breakfasts are included. Restaurant stops for lunch and dinner are selected throughout the itinerary to allow you to try good local cuisine. Expect to see plenty of the Costa Rican speciality gallo pinto and a lot of rice, beans, fruit and grilled meats.

Most days, we are on a fairly tight time schedule, especially at lunchtimes when we have cycling stages and transfers in the afternoon. To save time and hassle, we dine as a group. The leader will take a note of people's orders and settle the total group bill. The leader will then ask clients for individual payments at a convenient time before leaving Nicaragua and then again before leaving Costa Rica. We find this method is the most efficient; however, if you object then you are, of course, free to opt out.

Vegetarians and vegans can be well catered for on this holiday – please inform us before departure of any special dietary requests so our local team can be well prepared.
Accommodation
We spend 14 nights in a mixture of comfortable and standard hotels, with two-night stays at four of the properties used. Make sure to bring your swimwear, many have pools and some are right by the beach.

Nicaragua

[caption id="attachment_120981" align="alignnone" width="475"] Gran Oceano[/caption]

In Granada, we usually stay at Hotel Patio del Malinche, a restored colonial house in the centre of this historic town. Rooms are arranged around a pretty courtyard with a swimming pool. On Ometepe island, our accommodation is usually Hotel Charco Verde, on the shore of Lake Nicaragua and in the protected area of the natural reserve with amazing views of Concepción volcano. In San Juan del Sur, we usually stay at Hotel Gran Oceano, just a short walk from the beach. Rooms are set around a courtyard garden and there is a swimming pool. 

Costa Rica

[caption id="attachment_120982" align="alignnone" width="475"] Hacienda La Pacifica[/caption]

Our first night in Costa Rica is at Hotel Hacienda La Pacifica in the Cañas area. The rustic hotel is in a tranquil spot, plus there's a good chance of seeing exotic birds in the garden. When we visit Lake Arenal, we usually stay at the Mystica resort. The lodge sits on a green hill and is surrounded by lush gardens. The rooms don't have TV or wifi, but there is free wifi in the reception and restaurant area. In La Fortuna, our accommodation is Hotel San Bosco in the centre of lively La Fortuna, home to a selection of great restaurants. In Puerto Viejo de Talamanca, our accommodation is normally the peaceful Hotel Escape Caribeño, a short walk from the beach and a 10-minute walk from the town. 

Panama

[caption id="attachment_120983" align="alignnone" width="475"] Holiday Inn[/caption]

In Bocas del Toro, we usually stay at Hotel Gran Bahia for two nights, which is set in an antique wooden building opposite the beach. Our accommodation at Playa Las Lajas is the Las Lajas Beach Resort. It is directly on the beach with a beachfront pool and bar-restaurant, plus hammocks. For the last two nights of the trip, we usually stay at the Holiday Inn Panama Canal. It has comfortable rooms, an outdoor pool and is very close to the Panama Canal locks. 
Check out our Q&As
What happens if I need to change my holiday date once I've booked?

If you wish to make any changes to your booking, particularly if you need to alter any flights booked through us, please let us know as soon as possible. There is a booking or flight amendment fee of £40 per change and flight amendments often incur extra airline costs depending on the changes to be made and if the ticket has been issued or not.

How long has the tour company been trading?

Exodus has been trading since 1974

What documents will I receive before I travel?

Your final joining instructions and flight details, if booked with us, will then be sent out 2 to 3 weeks before departure. If you would like a hard copy posted, or if you require these any earlier, please contact the customer operations team. We advise that if you are booking connecting travel before receiving these, please ensure you leave plenty of time.

Do you operate a "single share" option and how does it work?

Travellers are welcome to opt to share a room with a tour member of the same gender for no additional charge. If you'd like your own room, we can request a single supplement so that you will have your own room throughout.

Can I join the tour once it has departed?

You are welcome to meet the group after the tour has departed however there is no reduction in rate for joining a tour after the departure date.
Reviews from Travellers on this Tour
Wonderful holiday through 3 amazing countries
I had a really wonderful trip cycling through Nicaragua, Costa Rica and Panama. It is 3 very interesting countries and the trip had lots of variations. Nicaragua is really untouched so would highly recommend spending a few extra nights here before the start of the trip - to see some more volcanos in the North around León. Costa Rica is the most touristy of the 3 - but very beautiful with a lot of great nature and a good chance to spot some animals. Panama is very interesting and in particular the Panama Canal and the old part of Panama City, which reminded me a lot about Havanna in Cuba.
Three Central American countries in one brilliant trip
An amazing whistlestop tour of Nicaragua, Costa Rica and Panama, their Pacific and Caribbean coasts and their rain forests, cloud forests and arid plains. We covered a lot of ground on the trip, over 330 miles on the bikes and in excess of 2,000 miles in the bus. For nature lovers the variety of birds and animals is wonderful. We managed to see sloths, toucans, ospreys, howler monkeys, various iguanas, an armadillo and a crocodile not to mention numerous unusually coloured birds, on which we got the full low down, thanks to David, a keen twitcher in our group. He drew our attention to Montezuma's Oropendola, a member of the Blackbird family with a yellow tail that builds a hanging nest. Until then I would have said it was something nasty one went down with on holiday! My knowledge of the geography of the three countries was scanty prior to the trip and I hadn't appreciated how many volcanoes there were, nor that several are still active. The resulting terrain is quite 'lumpy' from a cycling perspective which made for some energetic days, especially given the heat (and humidity in some areas). We finished in Panama City and, of course, got to see the canal and the container ships being guided through it and experienced the crazy driving of the Panamanians. All in all a wonderful trip and one that I would heartily recommend. Having been on the Cycling Cuba trip last year, which my wife and I thoroughly enjoyed, I would say that this exceeded it.
Excellent holiday
Fantastic holiday taking in 3 countries, the pacific and Caribbean coasts and some great cycling
Cycle Nicaragua, Costa Rica & Panama
The guides are fantastic, the wildlife too, It's like riding along in a giant zoo, You see toucans and sloths from your perch in the saddle Iguanas and crocs when you go for a paddle Some days you'll be filthy and covered in sweat Sat on a bus next to folks you just met But you'll still have a ball every day of this ride These beautiful lands make you smile inside. Ok, sorry about the atrocious poetry, I blame it on too much sunshine and cycling....it's a brilliant trip and we've written a few tips to help you enjoy it as much as we did….
Great Holiday
A really great way to experience Central America with its different cultures and people. Every aspect of this trip is fantastic in all respects.
CYCLE NICARAGUA, COSTA RICA AND PANAMA
Probably the best holiday I've ever had, which is saying something.  The cycling was challenging but not difficult, the scenery fantastic and the food excellent too.
An outstanding cycling trip
What a fantastic way to see 3 countries 'on a bike'. Not being a cyclist and having a knee operation in July I was a little sceptical about whether I would be able to complete 2 weeks of cycling but the trip was just the right balance of sight seeing and cycling. The cycling was challenging but very enjoyable with 'amazing views', the terrain was mixed which added to the experience. Our guide for the trip (Roberto Aguilar aka 'Chino') was outstanding couldn't have asked for a better one, his knowledge of all the countries was fantastic and really helped us in understanding the history of each. I felt the trip was quite expensive for a young couple and I feel if it was cheaper would appeal to more younger people to book. Chino's support for the 2 weeks was Albarro and Paul who were also great and really helped the weaker cyclists but also challenged the more experienced cyclist too which was good. Even when we lost Albarro at Nicaragua and just had Paul for the remaining trip the standard didn't slip. Due to the weather in Costa Rica on the Caribbean side our trip had to be changed at short notice whilst this may have been stressful for chino this didn't show and didn't impact on our tour and it all went through smoothly and didn't impact too much on the original itinerary. What I would suggest for future trips would be for the hotels to offer free laundry whilst the weather was warm it was humid and if hand washing we struggled to dry them and with staying only 1 night in some hotels you travel with damp clothes so didn't really smell fresh when eventually dried and needed washing again. I would also recommend exodus invest in purchasing kit to cover the maximum size of the group. There was 12 of us within our group and all our luggage was delayed for 1 day which meant we couldn't take part in the first day cycling because there was only 2 spare helmets but if there was spare we could have purchased spare clothing and still took part. Our first day wasn't ruined because chino stepped into action and arranged a trip for us around the local town on horse and cart which was fantastic to see.
An amazing cycling adventure from Costa Rica to Nicaragua
What an amazing adventure! With the expert guidance and knowledge provided by our safety conscious Exodus guides, I was fortunate to experience an exceptional cycling journey from San Jose, Costa Rica to Granada, Nicaragua as part of a customized trip to raise funds for WaterAid Canada. Roberto, Paul, and Andreas ensured that all we had to do was focus on enjoying the sights and sounds around us. They took care of all the logistical concerns including our safe cycling routes; being fully prepared for any mechanical needs of our bikes; finding unique, clean rest stops and wonderful lunch venues; explaining local cultural points of interest and spotting fascinating wildlife.
MUC Review
Having never been on an organized group trip before, I wasn't sure what to expect but I had nothing to worry about. The views were incredible, the company was great, and it was such a fantastic experience I'd do it all over again! The trip was a good mix of time on the bike, boat rides, and a few touristy bits.
CYCLE NICARAGUA, COSTA RICA AND PANAMA
After an extremely long and tiring flight from the UK, we arrived at Managua Airport and was greeted with a beer....at that point I knew this holiday was going to be great!! No rest for the wicked as we had a fairly early start the following day, all of the bikes were prepared in advance which made things really easy for the group. The riding is tough...I dont care what other people have put...Lance Armstrong would have struggled with the heat/ headwinds and terrain in certain parts!! An inspiring trip, which not only allows you to see some wonderful countries, but also to meet some fantastic people in the group you travel with. A very diverse bunch all with a good story to tell over the odd "panama/ balboa...or for the weak hearted Atlas" beers. Watch out for the "electric blue lemonade" cocktail....there isnt any lemonade in it!!
Dates & Availability
Instant Booking Available
Saturday - Saturday
Jan 06, 2024 - Jan 20, 2024
Celebrate Exodus' 50th anniversary! This departure includes a dolphin-watching excursion at Bocas del Toro, a local birthday celebration and a special edition Exodus kitbag.
Saturday - Saturday
Feb 17, 2024 - Mar 02, 2024
Instant Booking Available
Saturday - Saturday
Mar 02, 2024 - Mar 16, 2024
Instant Booking Available
Saturday - Saturday
Jul 27, 2024 - Aug 10, 2024
Celebrate Exodus' 50th anniversary! This departure includes a dolphin-watching excursion at Bocas del Toro, a local birthday celebration and a special edition Exodus kitbag.
Saturday - Saturday
Sep 28, 2024 - Oct 12, 2024
Instant Booking Available
Saturday - Saturday
Oct 12, 2024 - Oct 26, 2024
Instant Booking Available
Saturday - Saturday
Oct 26, 2024 - Nov 09, 2024
Instant Booking Available
Saturday - Saturday
Nov 09, 2024 - Nov 23, 2024
Instant Booking Available
Saturday - Saturday
Dec 21, 2024 - Jan 04, 2025
Book with Confidence
Transfer as credit to Future Tours

Exodus allows you to transfer existing payments to a future tour to avoid cancellation fees if you can't travel and inform exodus, 43 days before departure.

Low Deposit

Exodus requires a minimum deposit of 25% or the full booking value, whichever is less, with the final balance not due until 90 days before departure.

Cancellation Policy

We don't charge a cancellation fee, here is a summary of exodus charges.

Up to 42 days before tour starts: Forfeit 100% of deposit.

At 20 days before tour starts: Forfeit 100% of booking price.
Why book with tourhub?
Safe & Secure
Your money is protected in an external trust until you travel.
---
100% Guaranteed Refunds if your trip is cancelled.
---
The safest way to make overseas, multi-currency payments.
Guaranteed Best Value
Industry leading discounts, we won't be beaten on price.
---
No cancellation or amendment fees from tourhub.
(Operator terms may apply)
Expert Knowledge
Reliable & unbiased advice from travel experts.
---
Direct contact with the tour operator via our messaging service.
---
Inspiration & advice from a community of 6000+ real travellers, influencers & content creators.
Trusted Service
Official partners & licensed agents of 1000+ tour operators worldwide.
---
Don't just take our word for it...
"Tourhub: Friendliness, Professionalism & Integrity I would happily give tourhub a 6* review if I could..."
Similar Tours
Travel Guru Features
Our Reviews