Cycling in Greece
8 Days Starting and ending in Athens
Visiting: Athens, Poros, Galatas, Epidaurus, Tolo, Nafplion, Peloponnese, Archaeological site of Mycenae, Nemea, Loutraki
Tour operator:
Physical rating:
Moderate
Special diets catered:
Please inform Exodus of specific dietary requirements
Tour operated in:
English
Trip Styles:
Interests:
Activities:
Tour Overview
When it comes to history, archeology and mythology, the Peloponnese is arguably the most interesting part of Greece. Our week of cycling is a journey through fascinating classical history and a superb variety of landscapes, from the azure blue of the sea to the green olive trees and vineyards of the heart of Greece. Starting and finishing in the buzzing city of Athens, the ride offers plenty of opportunities to discover some of Greece's treasures, such as Poros Island or the beautiful town of Nafplio. Each day gives us the chance to sample excellent local food in various restaurants and tavernas and immerse ourselves in the Greek culture and lifestyle.
Highlights
Visit historic sights of ancient Greece

Discover Athens and its archaeological treasures

Cycle along idyllic coastlines 
Itinerary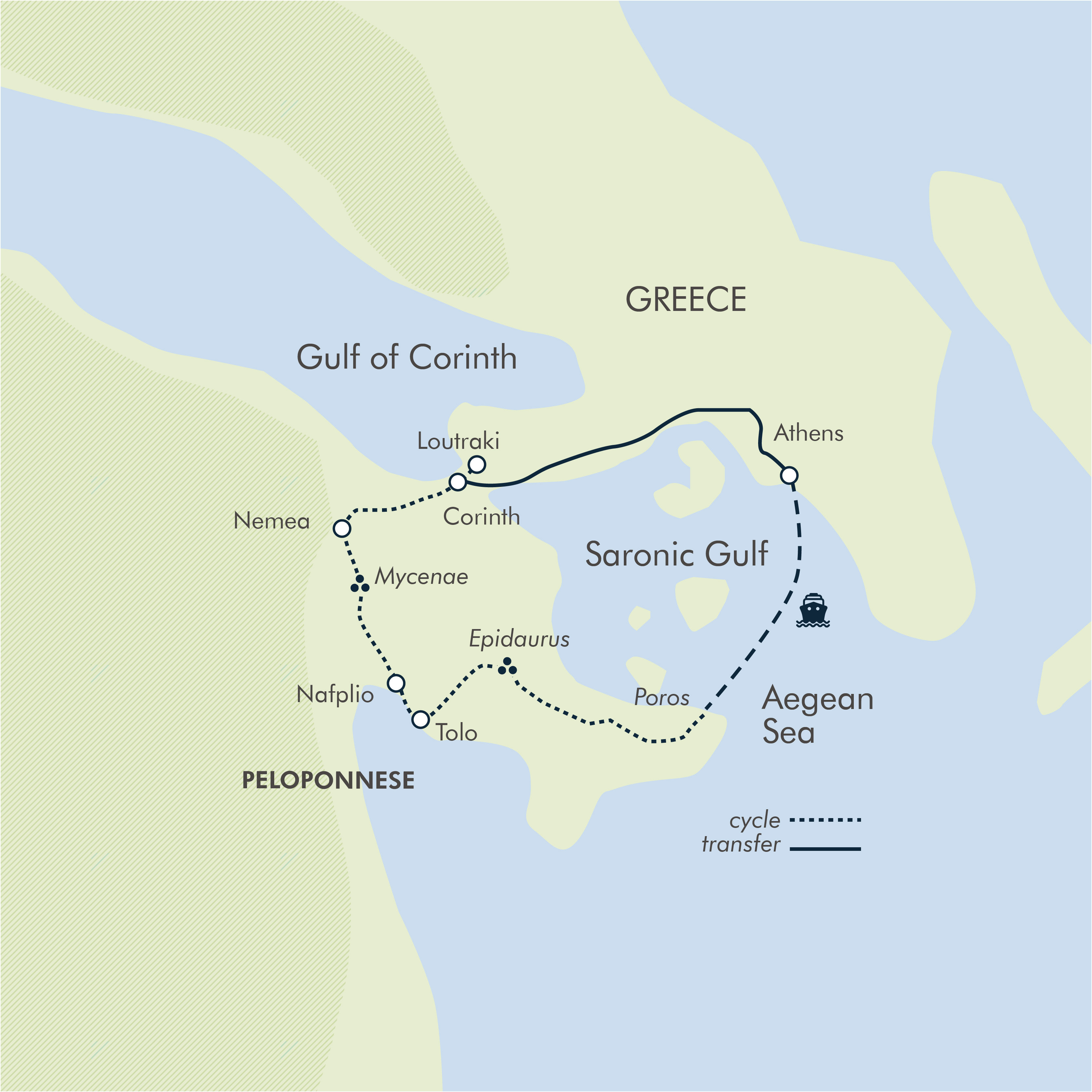 Expand All
Location:
Athens
Accommodation:
Hotel
Meals Included:
No Meals
Start Athens. After meeting with our leader, there is time to walk around
Exarhia, the lively area of downtown Athens.



Day 2 :

Explore Athens By Bike; Ferry To Poros Island; Cycle To The Beach For A Swim.
Location:
Athens, Poros
Accommodation:
Hotel
Meals Included:
Breakfast
In the morning, we explore some of the main sights in Athens by bike and
cycle down one of the major bike lanes of Athens, before our final descent
to Piraeus harbour through a busy road.

Here we catch the ferry across the Argosaronic Gulf to Poros Island
(approximately 2.5hrs). In Poros, we cycle around town and ascend to the
temple of Poseidon, from where we enjoy amazing views of the island. We then
head down to one of the many beautiful bays where we can enjoy a refreshing
swim.
*Please note* that the ferry timetable is modified frequently at very short
notice. On occasion, we may have to take an early ferry.

* *


Day 3 :

Boat To Galatas And Scenic Coastal Ride To The Ancient Site Of Epidaurus.
Location:
Galatas, Epidaurus
Accommodation:
Hotel
Meals Included:
Breakfast
In the morning, after a walking tour of the town of Poros, we take a boat to
the Peloponnese mainland. Cycling through olive groves and quiet hamlets, we
start our ascent along one of the most dramatic coastlines in Greece,
boasting breathtaking views of the Aegean Sea. Our tour takes us through
Ancient Trizina, the birthplace of Theseus, the mythical hero that slayed the
Minotaur. Here we can have a short break and take in the magnificent scenery.

The views throughout today's ride are fantastic and are our reward for the
number of short steep ascents along the way, which eventually lead to a 5km
long descent to the ancient town of Epidaurus. Palia Epidaurus (or 'Old
Epidaurus'), to give it its full name, is built around a natural harbour and
is our base for the night.


Day 4 :

Optional Visit To The Theatre Of Epidaurus, Cycle To Tolo.
Location:
Epidaurus, Tolo
Accommodation:
Hotel
Meals Included:
Breakfast
After a short uphill ride of approximately 10km, there is an optional visit
to the ancient site of Epidaurus (this visit is optional, you can relax at
the shaded gardens or cafeterias outside the site, while the group finishes
their visit). Epidaurus is a UNESCO World Heritage Site and is famous for
its amphitheatre that was built in honour of Asklepius, the God of Medicine
and son of Apollo and Coronis. The huge theatre, renowned for its size,
symmetry and acoustics held up to 15,000 spectators in its peak. From
Epidaurus we head inland and ride along quiet, undulating mountain roads and
descend to the seaside town of Tolo. 



Day 5 :

After Visiting Nafplio, Today's Ride Takes Us Into The Heart Of The Peloponnese To Mycenae.
Location:
Nafplion, Peloponnese, Archaeological site of Mycenae
Accommodation:
Hotel
Meals Included:
Breakfast
Leaving Tolo, we make our way to Nafplio, one of the most beautiful and
picturesque cities in Greece and capital of Modern Greece in the early
1800's. Situated on the hillsides at the northern end of the Argolic Gulf,
the town contains numerous neoclassical buildings as well as the Palamidi
Castle. Riding to the heart of the Peloponnese, we leave the coast behind and
make our way to the world famous site of Mycenae. The imposing Lion Gate,
dating back to 1350-1200 BC awaits us on our arrival. Outside the walls we
can see many of the wonders Mycenae is known for: the vault-shaped tombs of
Lions, Aegisthus and Clytemnestra, and the Treasury of Atreus. An optional
visit of the site is highly recommended.


Day 6 :

Explore Nemea, Famous For Its Wine; Visit A Vineyard; Continue To Loutraki.
Location:
Nemea, Loutraki
Accommodation:
Hotel
Meals Included:
Breakfast
A challenging start to today's ride sees us climb on a road through vineyards
to the Ancient Nemea; here we visit the archaeological site and ancient
stadium before a long descent to Namea. The town is nowadays famous for its
exceptional wine and we get the opportunity to visit one of the wineries, see
the process and taste (a little!) before we continue on quiet country roads
to Corinth and then on to Loutraki, where we spend the night.


Day 7 :

Bus To Athens; Guided Tour Of The Acropolis.
Location:
Athens
Accommodation:
Hotel
Meals Included:
Breakfast
From Loutraki, we take the bus to Athens city and a metro to Plaka, the
picturesque historic downtown. Here we enjoy a guided tour of Acropolis
before a walking tour of the city centre. Our route around the city takes us
at a relaxed pace to some of the must-see sites:
Monastiraki square and the Ancient Library, the Roman Forum and Tower of the
Winds, the Temple of Olympian Zeus and Hadrian's Arch the Ancient
Panathenaic Stadium, the Greek Parliament and the National Gardens, and the
monumental 19th century buildings of the oldest Greek University.
Free evening to sample some more delicious Greek food.

* *


Location:
Athens
Meals Included:
Breakfast
After breakfast the trip ends in Athens.
**


What's Included
Local bike hire (e-bike can be requested, subject to availability, please inquire for prices)

All breakfasts 

Flights (if booking flight inclusive)

Tour leader throughout 

Entrance fees to Acropolis and private guide

Support vehicle and driver
What's Not Included
Single accommodation (available on request)

Visas and vaccinations 

Travel insurance 
Food
All breakfasts included. Breakfasts are generally buffet style Greek breakfast with bread/toast, butter, jam, fresh juice, milk, local yoghurt, honey and coffee or tea. We have not included any evening meals in the price of the trip to allow you more freedom over where and what you eat. There are some fantastic restaurants along the route and your guide will be able to recommend his favourite places based on your personal tastes and budget. Greek food has strong influences from Italy and Turkey, expect lots of vegetables, olive oil, bread and meats like lamb, chicken and pork.
Accommodation
You will spend seven nights in two- and three-star hotels and pensions, often near interesting sights or by the Aegean. All rooms have en suite facilities.

Several of the hotels are a short walk from the beach, allowing plenty of opportunities to finish the day with a sea swim. One hotel has a pool.
Check out our Q&As
Is there a supplement for solo travellers?

If you would like to be paired with a tour member of the same gender, there is no additional charge. A single supplement can be requested if you would like your own room.

What is the standard of the hotels on this tour?

Who is Exodus Travels?

At Exodus Travels, we've been exploring the world for nearly 50 years. From Walking and Trekking, Cultural and Cycling, Responsible Wildlife, to Polar and our new Premium Adventures, we are proud to offer award-winning small group and self-guided tours to 100+ countries worldwide.

What is the maximum group size?

Can you assist with pre or post tour accommodation?

We are happy to assist with pre and post tour accommodation. Please enquire for detailed information.
Are flights included in this tour?

International flights are not included with this tour.

Are the local guides on the tour English speaking?

Are children permitted to take part in the tour?

16+ Age people can go on this tour.

What happens if I need to change my holiday date once I've booked?

If you wish to make any changes to your booking, particularly if you need to alter any flights booked through us, please let us know as soon as possible. There is a booking or flight amendment fee of £40 per change and flight amendments often incur extra airline costs depending on the changes to be made and if the ticket has been issued or not.

How long has the tour company been trading?

Exodus has been trading since 1974

What documents will I receive before I travel?

Your final joining instructions and flight details, if booked with us, will then be sent out 2 to 3 weeks before departure. If you would like a hard copy posted, or if you require these any earlier, please contact the customer operations team. We advise that if you are booking connecting travel before receiving these, please ensure you leave plenty of time.

Do you operate a "single share" option and how does it work?

Travellers are welcome to opt to share a room with a tour member of the same gender for no additional charge. If you'd like your own room, we can request a single supplement so that you will have your own room throughout.

Can I join the tour once it has departed?

You are welcome to meet the group after the tour has departed however there is no reduction in rate for joining a tour after the departure date.
Reviews from Travellers on this Tour
Cycling in Greece
A marvellous group including 4 Canadians, 2 from the USA and 9 from the UK. We seemed to gel from the start and it was a pleasure to talk with everyone. There was a remarkable consistency in the fitness of the group and so very little hanging around even after some of the longer climbs. Very much enjoyed the cycling and thought the "moderate" rating was spot on. Distances were typically around 40 miles in a day. I found the hills quite manageable; some fairly long climbs but they tended to be steady climbs followed by some exhilarating long descents. There were cultural stops on most days at ancient sites and there was free time to explore. The guided tour on the final day at the Acropolis was particularly enjoyable. Excellent hotels with very friendly staff. Lovely views across the bay from one hotel; another hotel was situated right on the beach; in one hotel run by the family the breakfast included home-made specialties. Enjoyed the food. The group leader normally ordered a selection of local specialities for starters and on a couple of occasionally the main courses which gave the opportunity to taste genuine Greek food. We had a kitty for the lunch snacks fruit and drinks so again sampled many Greek specialities. The weather was the icing on the cake. A little windy and cloudy on the days of arrival and departure but for the most part clear sunny days and warm but not stifling.
Cycling in Greece
This was a brilliant holiday. I've been on a number of Exodus trips before but this was my first cycling trip with Exodus. It won't be my last! We enjoyed good company, good weather and good cycling, with plenty of stops at interesting places, and we were very well looked after by Yiannis and Angelos.
Great cycling trip
Our first time visiting Greece and it did not disappoint. The scenery was beautiful. The weather excellent and our fellow travellers were great company. The food was delicious, with plenty of choice. The hotels were clean and comfortable. Our guides were awesome and looked after us incredibly well.
Awesome trip
Our guides were great. They shared their passion for Greek History, Greek culture, Greek food and cycling.
cycling Greece
Great trip. Cycling quite challenging but scenery was spectacular. Guide was delightful. Nothing was too much trouble.
A fantastic cycling holiday
This was a very enjoyable cycle tour with a wonderful combination of cycle routes, spectacular scenery, excellent food and beer/wine, history and mythology . The two guides Dimitri S and Dimitri G excelled at making sure everyone was looked after and nothing was too much trouble - from providing vehicle support to explaining Greek history and recommending local wines.
A wonderful holiday
Cycling in Greece provided a wonderful balance between absorbing the architecture and culture of Greece, both ancient and modern, and enjoying the beautiful landscapes and seascapes on two wheels. The organisation of the whole trip was excellent so that everything went very smoothly but without feeling over – organised. The route was hillier than I had first anticipated (although I should have known as the vertical ascent figure was provided for each day's ride) but with the distances covered and the relaxed pace, it made for extremely pleasant riding. Add to this the warmth of the Greek people, the delicious Greek food and perhaps most importantly the calibre of our tour leaders and the warm companionship of our fellow cyclists and it truly was a wonderful holiday.
Brilliant trip in beautiful Greece
A brilliant trip from start to finish. The cycling is a nice mix of countryside, coastal and a few hills thrown in. You also get to see Greece away from hustle of tourists. The cycling is all on mostly quiet roads and through a couple of towns although you're not on any busy roads for more than a few minutes. The food is also excellent, and you also get some excellent local knowledge on just about everything from Greek mythology to which is the best Olive oil to buy to take home. I highly recommend this trip.
CYCLING IN GREECE
Great cycling with wonderful views - a few hills on the first couple of days but nothing which I found to be too bad or different from any other Moderate cycle trip which I have been on with Exodus.Excellent food - all good but the meal at the hotel near Myceanea was a particulr highlight as was the dinner on the last night in the shadow of the Acropolis. A walk round Athens at night before & after dinner was also great.
CYCLING IN GREECE
Finally reviewing my late summer holiday in January; perhaps that's a good distance, to see what I remember! I'd never been to this part of Greece before, and visiting by bike, plus the initial ferry, was a great way to do it. My overwhelming recollection is of sparkling blue seas; a fascinating introduction to the history of Greece, both ancient sites and the creation of the modern country; and a good mix of some tough hills and gentler cycling.
Dates & Availability
Instant Booking Available
Sunday - Sunday
May 12, 2024 - May 19, 2024
Instant Booking Available
Sunday - Sunday
Jun 09, 2024 - Jun 16, 2024
Instant Booking Available
Sunday - Sunday
Sep 01, 2024 - Sep 08, 2024
Instant Booking Available
Sunday - Sunday
Sep 08, 2024 - Sep 15, 2024
Instant Booking Available
Sunday - Sunday
Sep 22, 2024 - Sep 29, 2024
Instant Booking Available
Sunday - Sunday
May 11, 2025 - May 18, 2025
Instant Booking Available
Sunday - Sunday
May 18, 2025 - May 25, 2025
Instant Booking Available
Saturday - Saturday
Jun 07, 2025 - Jun 14, 2025
Instant Booking Available
Sunday - Sunday
Aug 31, 2025 - Sep 07, 2025
Instant Booking Available
Sunday - Sunday
Sep 07, 2025 - Sep 14, 2025
Instant Booking Available
Sunday - Sunday
Sep 21, 2025 - Sep 28, 2025
Book with Confidence
Transfer as credit to Future Tours

Exodus allows you to transfer existing payments to a future tour to avoid cancellation fees if you can't travel and inform exodus, 43 days before departure.

Low Deposit

Exodus requires a minimum deposit of 25% or the full booking value, whichever is less, with the final balance not due until 90 days before departure.

Cancellation Policy

We don't charge a cancellation fee, here is a summary of exodus charges.

Up to 42 days before tour starts: Forfeit 100% of deposit.

At 20 days before tour starts: Forfeit 100% of booking price.
Why book with tourhub?
Safe & Secure
Your money is protected in an external trust until you travel.
---
100% Guaranteed Refunds if your trip is cancelled.
---
The safest way to make overseas, multi-currency payments.
Guaranteed Best Value
Industry leading discounts, we won't be beaten on price.
---
No cancellation or amendment fees from tourhub.
(Operator terms may apply)
Expert Knowledge
Reliable & unbiased advice from travel experts.
---
Direct contact with the tour operator via our messaging service.
---
Inspiration & advice from a community of 6000+ real travellers, influencers & content creators.
Trusted Service
Official partners & licensed agents of 1000+ tour operators worldwide.
---
Don't just take our word for it...
"Tourhub: Friendliness, Professionalism & Integrity I would happily give tourhub a 6* review if I could..."
Similar Tours
Travel Guru Features
Our Reviews