Cycling Puglia & Matera
8 Days Starting in Matera and ending in Lecce
Visiting: Bari, Matera, Alberobello, Valle d'Itria, Locorotondo, Ostuni, Masseria Muzza, Avetrana, Gallipoli, Otranto, Lecce
Tour operator:
Physical rating:
Moderate
Special diets catered:
Please inform Exodus of specific dietary requirements
Tour operated in:
English
Trip Styles:
Activities:
Tour Overview
In the deep south of Italy, nestled between the Adriatic and Ionian seas, lie the captivating regions of Puglia and Basilicata. This extensive itinerary explores the very best selection of all the cultural and natural treasures found here. Matera's fascinating 'Sassi' houses and the UNESCO 'Trulli' houses of Alberobello set the scene for the journey to come. After passing through idyllic countryside and the 'white city' of Ostuni, the route veers towards Gallipoli and the dramatic Ionian coastline. While riding across the famous Salento Peninsula, we immerse ourselves in the charming laid-back Italian way of living and explore a landscape made of olive orchards, limestone cliffs, crystal waters and Baroque towns.
Highlights
Ride from the stunning UNESCO town of Matera

Sample fine seafood and wine from the famous Salento coast

Stay in charming accommodation bursting with character

Enjoy gentle cycling through olive groves and past white-coned trulli
Itinerary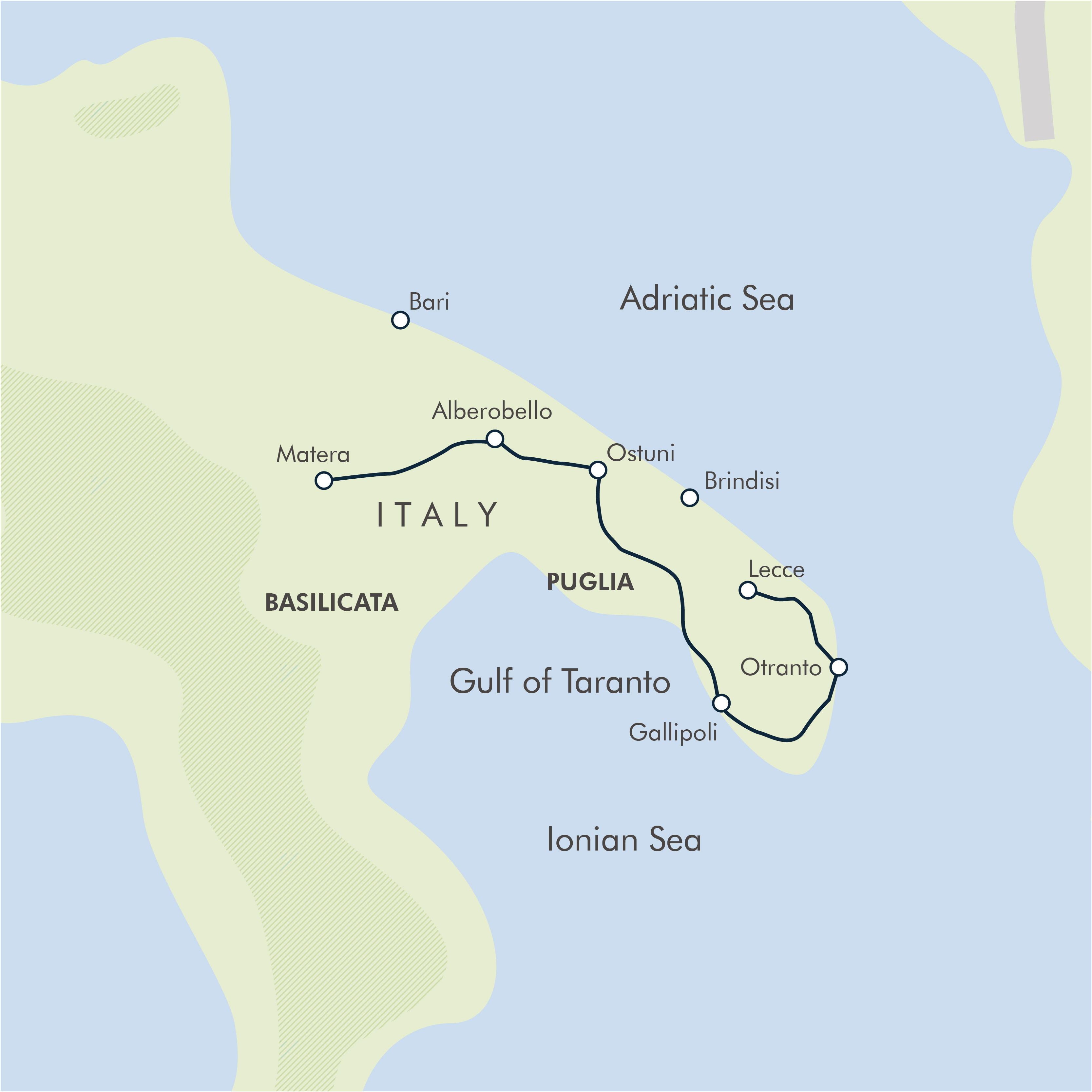 Expand All
Location:
Bari, Matera
Accommodation:
Hotel
Meals Included:
No Meals
The trip starts in the town of Matera, a real jewel of Southern Italy. The
hotel is located within walking distance to the historic centre. There is
usually time in the afternoon to wander through the narrow alleys of the
town's famous UNESCO cave-dwelling district and enjoy the unique atmosphere
of this enchanting city.


Day 2 :

Ride Past The Historic 'Sassi' Houses Of Matera Before Heading To Alberobello.
Location:
Alberobello
Accommodation:
Hotel
Meals Included:
Breakfast
On leaving Matera we pedal through the area that makes this town so special.
For millenia, inhabitants of this region have carved dwelling directly into
ravines and gullies made of tuff (or tufa), a characteristic honey-colored
soft stone. These houses are called 'Sassi' and are a UNESCO World Heritage
Site. Matera is the only place in the world where people can boast to be
still living in the same houses of their ancestors of 9,000 years ago.
Today's ride is mostly hilly with gentle ascents to be expected throughout,
as we cycle on quiet rural roads amongst the picturesque Apulian countryside
towards Alberobello. En route we pass the lovely towns of Noci and Gioia del
Colle as well as some famous fairy-tale trulli houses that have also made the
historic centre of Alberobello a recognised UNESCO world heritage site.
Overnight in Alberobello. Cycle approx. 70km (ascent +659m; descent -648m).


Day 3 :

Cycle Through The Lush Valle D'itria, Past The Picturesque Fairytale Trulli Houses To The Hilltop Town Of Ostuni.
Location:
Valle d'Itria, Locorotondo, Ostuni
Accommodation:
Hotel
Meals Included:
Breakfast
Today we cycle through the lush Valle d'Itria, one of the prettiest cultural
and natural landscapes of southern Italy, to the hilltop village of Ostuni.
The route is undulating throughout but much shorter than yesterday's ride.
This allows us to enjoy the views at a more leisurely pace with plenty of
opportunities for rest stops. Along the way we pass the famous wine town of
Locorotondo and Cisternino, both known for their historic centres filled with
whitewashed houses, narrow streets, churches and elegant piazzas. In the
afternoon we reach the city of Ostuni, known as the 'white city' thanks to
the dazzling effect of its white buildings.

Overnight in Ostuni. 


Day 4 :

Ride Through Villages And Country Lanes To A Typical Masseria - A Renovated Farmhouse - Where We Spend The Night.
Location:
Masseria Muzza, Avetrana
Accommodation:
Hotel
Meals Included:
Breakfast
We continue pedalling through tranquil country lanes to the town of
Francavilla Fontana and on to Oria. A popular destination among Apulians,
Oria is famous for its 13th century castle and delightful historic centre of
cobbled streets, whitewashed walls and beautiful architecture. We continue
through the countryside to a masseria, a typical Apulian converted farmhouse
and our accommodation for the night. The masseria is still a working farm
and most of the produce grown here, from vegetables to olives and wheat, is
used daily for the preparation of local dishes. Before dinner we will have
the opportunity to taste some organic olive oil produced by the family that
runs the farm and accommodation.

Overnight in Avetrana. 


Day 5 :

Cycle To The Coast And Swim In The Crystal Clear Sea Before Continuing Towards Gallipoli With Its Old Town Situated On A Rocky Island.
Location:
Gallipoli
Accommodation:
Hotel
Meals Included:
Breakfast
From the masseria we cycle towards the Ionian Coast and the beautiful town of
Gallipoli, known as the 'Ionian Pearl' with its old town situated on a rocky
island offering fantastic views both to the north and the south. The town
itself has many churches and narrow alleys and was the largest exporter of
lamp oil made from olives in the 17th and 18th centuries. Weather permitting,
today there are plenty of opportunities for swimming in the  Ionian sea near
the popular seaside resort of Porto Cesareo.

Overnight in Gallipoli. 


Day 6 :

Follow The Glorious Stretch Of Coastline Leading To The Ancient Town Of Otranto.
Location:
Otranto
Accommodation:
Hotel
Meals Included:
Breakfast
Our route continues along the south of the peninsula and the impressive
stretch of coastline leading to the ancient Messapian town of Otranto, the
easternmost point in Italy. Before dinner there will be time at leisure to
explore the town's mediaeval centre. Here the interesting architecture,
views, sea-front restaurants and white sandy beaches make it one of Puglia's
most picturesque towns.

Overnight in Otranto. 


Day 7 :

Continue Along The Shoreline To The Baroque City Of Lecce.
Location:
Lecce
Accommodation:
Hotel
Meals Included:
Breakfast
Today we follow the shoreline through innumerable olive groves to Lecce, the
Baroque masterpiece of southern Italy, in the heart of Puglia. Sometimes
described as the 'Florence of the South', the city is an architectural gem,
boasting sumptuous palazzi and churches. Today's ride is relatively short and
easy, giving us time to stop en route for a last swim (seasonal) in Torre
dell'Orso, a lovely bay surrounded by limestone cliffs with many ancient
caves to discover. In Lecce there will be some free time to explore the
historic centre before an optional farewell dinner.

Overnight in Lecce.


Location:
Lecce, Bari
Meals Included:
Breakfast
The trip ends in the morning of day 8. We recommend spending an extra day in
Lecce to soak up the atmosphere of this elegant Baroque city, home to
outstanding architecture. Exodus can arrange post tour accommodation for you
if needed; please contact our Sales or Operations team for a quote.
**


What's Included
Flights from London (if booking incl. flights)

Local bike hire

All breakfasts

All accommodation 

All transport and listed activities

Tour leader throughout

Meals

7 breakfasts, 0 lunches, 0 dinners.
What's Not Included
Local city taxes (approx. €10)

Travel insurance

Single accommodation (available on request)

Visas or vaccinations
Food
7 breakfasts are included and usually consist of a continental-style buffet. A typical hotel breakfast consists of: toast/bread with jam, cereal, cheese and ham (occasionally), served with coffee, tea, milk, orange juice, fruit, cake and yoghurt. Lunches are normally arranged as picnics or taken in small cafes' along the route.  Vegetarians and people with special dietary requirements can be catered for but please inform us of your requests prior travel. In Puglia you will find genuine regional cooking that has strong links to the land and the sea. Some of the types of food on offer in Puglia: bread from the Murge, durum wheat pasta, olives, the pasta delicacy Orecchiette served with a sauce of turnip-tops or fresh tomato and sheep's ricotta-cheese, Cavatelli with pulses, aubergine and parmesan bake, grilled fish and seafood, burrata (soft mozzarella and cream cheese), plus excellent wines. This region is a paradise for food lovers!
Accommodation
Throughout this town-to-town cycling trip, we use three- and four-star hotels and renovated traditional buildings, which have been selected for their location, comfort and character.  

Below are the hotels we typically use. 

Matera: Hotel Belvedere, Residence Casalnuovo, Matera in Vacanza, or Hotel San Domenico al Piano (night 1) 
Alberobello: Traditional trulli houses, Grand Hotel Olimpo or Colle del Sole (night 2) 
Ostuni: Relais Sant'Eligio (night 3) 
Avetrana: Masseria Bosco (night 4) 
Gallipoli: Hotel 33 Baroni (night 5) 
Otranto: Hotel Albània or Vittoria Resort (night 6) 
Lecce: Hotel Eos or Hotel delle Palme (night 7) 



For many, our standout stay is Masseria Bosco (above), a bucolic farm estate with original stone buildings. Our groups often head straight for the swimming pool (perhaps picking up a wine or beer en route), where there's an inviting set of sun loungers. Alternatively, you may want to wander around the working farm, enjoying a peaceful moment among the olive groves. Dinner is held where the animals were once kept. It's a celebration of Pulian produce with much of the ingredients grown on the farm – make sure to sample their delicious range of olive oils and homemade wines. 

Worth knowing 

Due to the limited capacity of hotels in Matera we are not able to confirm the definite start hotel for each departure far in advance, and the group may occasionally be split across different accommodations of similar standards. 
You can contact your sales representative two weeks before departure if you wish to receive the up-to-date hotels list for your trip. 
Check out our Q&As
Are vaccinations required for this tour?

There are no specific health risks.

What is the maximum group size?

Do you require a visa for this holiday?

No visa required for British passport holders.

Is there a supplement for solo travellers?

If you would like to be paired with a tour member of the same gender, there is no additional charge. A single supplement can be requested if you would like your own room.

Can you assist with pre or post tour accommodation?

We are happy to assist with pre and post tour accommodation. Please enquire for detailed information.
Who is Exodus Travels?

At Exodus Travels, we've been exploring the world for nearly 50 years. From Walking and Trekking, Cultural and Cycling, Responsible Wildlife, to Polar and our new Premium Adventures, we are proud to offer award-winning small group and self-guided tours to 100+ countries worldwide.

Are the local guides on the tour English speaking?

Are flights included in this tour?

International flights are not included with this tour.

Are children permitted to take part in the tour?

Minimum 16 years old people can go on this tour

What happens if I need to change my holiday date once I've booked?

If you wish to make any changes to your booking, particularly if you need to alter any flights booked through us, please let us know as soon as possible. There is a booking or flight amendment fee of £40 per change and flight amendments often incur extra airline costs depending on the changes to be made and if the ticket has been issued or not.

How long has the tour company been trading?

Exodus has been trading since 1974

What documents will I receive before I travel?

Your final joining instructions and flight details, if booked with us, will then be sent out 2 to 3 weeks before departure. If you would like a hard copy posted, or if you require these any earlier, please contact the customer operations team. We advise that if you are booking connecting travel before receiving these, please ensure you leave plenty of time.

Do you operate a "single share" option and how does it work?

Travellers are welcome to opt to share a room with a tour member of the same gender for no additional charge. If you'd like your own room, we can request a single supplement so that you will have your own room throughout.

Can I join the tour once it has departed?

You are welcome to meet the group after the tour has departed however there is no reduction in rate for joining a tour after the departure date.
Reviews from Travellers on this Tour
MWV - Cycling Puglia and Matera
This was my 8th cycling trip and my first time in Puglia and it was a very enjoyable tour. The overnight towns were all very beautiful each with their own special charm. All the hotels were located in or within a 15-20 minute walk to the historic centre. Our group was lots of fun and got along well. The cycling was fairly relaxed overall but there were some short hills and one day was quite windy so it was more challenging than other days. Highly recommend this tour for the fabulous food, wine and sights.
Total harmony
There is a cast of ancient towns, beautiful countryside, fantastic food, tremendous wine and 16 highly sociable cyclists. Nevertheless, you need a guide like Michele. "Why?" you ask, as would Michele himself. The answer is because every orchestra needs a conductor and Michele is up there with the Italian greatest, creating, with his never-ending good humour and meticulous organisation, the happiest of harmony between the cyclists, the towns, the countryside, the food and the wine. Overlook this trip to your eternal regret!
Exceeded my expectations; and they were pretty high!
This was my third cycling holiday with Exodus and I can't wait to book the next one. Once again, I chose somewhere where I had no previous knowledge, thus making it a bit of an 'Adventure. Inevitably slightly apprehensive about how well I would fit in to a group of sixteen people that I had never met before. My worries were needless; we all got on famously and just got on with enjoying the well organised trip. Great hotels, food and wine. Distances not too challenging, although the heat was at times. All breaks, rest stops and overnights were entirely adequate. Important to bear in mind that this is first and foremost a cycling holiday. There were many occasions when, as a keen photographer, I would like to have stopped but that wouldnt have been fair on the 'Back Marker'.
Cycling Puglia and Matera
It was with some trepidation that my wife and I joined this guided tour. Not only was it the first time we have participated in an organised group tour, it also involved some serious cycling. We need not have worried. Our tour guide, Marinella, was superb in ensuring that everyone had the best possible time throughout the week's tour. Puglia was a gorgeous region to tour, with many beaches and a variety of sights. The accommodation was very good with the highlight being the overnight stay at the renovated monastery near Avantrana. Our group was a mix of nationalities and a significant bonus was the opportunity to engage with these people and learn a little about them and their home countries. The cycling varied from 45 to 70+ km each day, which both my wife and I found manageable. We had both done a reasonable amount of preparation, which was extremely helpful.
Puglia and Matera cycling
Cycling in Pugia
We had 6 fabulous days of cycling through amazing sceneries and villages . Always changing , never the same always exciting to get to a new place discovering different foods, wines , gelatto flavours!
Foodies Paradise
Have just returned from a brilliant 8 days with a great fun group of people. Its a beautiful part of Italy with plenty of pretty towns and villages that differ from one to the next and great mixture of peaceful countryside and coastal views. The bikes were very comfortable, with gel seats and easy to ride. Everything was very well organised and the staff at every hotel were welcoming and friendly and getting our rooms every day was quick and efficient which is so important after a long day in the saddle! The food was fantastic and I tried so many things I haven't tasted or heard of before! The afternoon at the farm location with the most stunning pool is a real treat after a very hot ride! There is plenty of spare time at the end of the ride of a few days or that could have been because we had an efficient group that all kept up. Nobody was particularly super quick or slow and our leader kept a good pace the whole week.
Brilliant!
Excellent rating for the leader and route. However a few hotels were damp and musty due to the early date of holiday.The first and last hotels were by far the best.
Cycling Puglia and Matera
I have just returned from a fantastic week, exceptionally well organised and led by Michele our superb guide. Through his infectious laugh, confident and approachable manner he quickly developed an excellent group spirit. It was great to cycle through such a rich and varied landscape, visiting many UNSECO sites. He found amazing restaurants for us to eat at every night and organised a fantastic array of dishes for us to try. He was well informed about all the places we visited and for those that wanted to he would show us around.
Cycling in Puglia
Thank you Exodus for an excellent first cycling holiday. I loved every minute... even the 'undulations' !!! I had not cycled more than 15miles in one go ever, but felt I was so strong by the end of the 6 days. A great personal challenge! It was great being in a big group, and soon got to know the people we had just met. Manuela was a tremendous guide & Pierrot was a superb support guy... providing us with healthy snacks , fresh water & delicious local food picnics. This trip is to be recommended. I will definitely go back to the area. And definitely travel with exodus again. The bicycles we hired were of a superb quality & very comfortable to ride.
Dates & Availability
Instant Booking Available
Sunday - Sunday
Apr 07, 2024 - Apr 14, 2024
Instant Booking Available
Sunday - Sunday
Apr 14, 2024 - Apr 21, 2024
Instant Booking Available
Sunday - Sunday
Apr 21, 2024 - Apr 28, 2024
Instant Booking Available
Sunday - Sunday
Apr 28, 2024 - May 05, 2024
Instant Booking Available
Sunday - Sunday
May 05, 2024 - May 12, 2024
Instant Booking Available
Sunday - Sunday
May 12, 2024 - May 19, 2024
Instant Booking Available
Sunday - Sunday
May 19, 2024 - May 26, 2024
Instant Booking Available
Sunday - Sunday
May 26, 2024 - Jun 02, 2024
Instant Booking Available
Sunday - Sunday
Jun 02, 2024 - Jun 09, 2024
Instant Booking Available
Sunday - Sunday
Jun 09, 2024 - Jun 16, 2024
Instant Booking Available
Sunday - Sunday
Jun 16, 2024 - Jun 23, 2024
Instant Booking Available
Sunday - Sunday
Jun 23, 2024 - Jun 30, 2024
Instant Booking Available
Sunday - Sunday
Sep 01, 2024 - Sep 08, 2024
Instant Booking Available
Sunday - Sunday
Sep 15, 2024 - Sep 22, 2024
Instant Booking Available
Sunday - Sunday
Sep 22, 2024 - Sep 29, 2024
Instant Booking Available
Sunday - Sunday
Oct 06, 2024 - Oct 13, 2024
Instant Booking Available
Sunday - Sunday
Oct 13, 2024 - Oct 20, 2024
Instant Booking Available
Sunday - Sunday
Oct 20, 2024 - Oct 27, 2024
Book with Confidence
Transfer as credit to Future Tours

Exodus allows you to transfer existing payments to a future tour to avoid cancellation fees if you can't travel and inform exodus, 43 days before departure.

Low Deposit

Exodus requires a minimum deposit of 25% or the full booking value, whichever is less, with the final balance not due until 90 days before departure.

Cancellation Policy

We don't charge a cancellation fee, here is a summary of exodus charges.

Up to 42 days before tour starts: Forfeit 100% of deposit.

At 20 days before tour starts: Forfeit 100% of booking price.
Why book with tourhub?
Safe & Secure
Your money is protected in an external trust until you travel.
---
100% Guaranteed Refunds if your trip is cancelled.
---
The safest way to make overseas, multi-currency payments.
Guaranteed Best Value
Industry leading discounts, we won't be beaten on price.
---
No cancellation or amendment fees from tourhub.
(Operator terms may apply)
Expert Knowledge
Reliable & unbiased advice from travel experts.
---
Direct contact with the tour operator via our messaging service.
---
Inspiration & advice from a community of 6000+ real travellers, influencers & content creators.
Trusted Service
Official partners & licensed agents of 1000+ tour operators worldwide.
---
Don't just take our word for it...
"Tourhub: Friendliness, Professionalism & Integrity I would happily give tourhub a 6* review if I could..."
Similar Tours
Travel Guru Features
Our Reviews