Cycling the Camino de Santiago
9 Days Starting in Leon and ending in Santiago
Visiting:
León
,
Astorga
,
Molinaseca
,
Ferreries
,
O Cebreiro
,
Goián
,
Palas de Rei
,
O Pino
,
Santiago de Compostela
Tour operator:
Physical rating:
Moderate
Special diets catered:
Please inform Exodus of specific dietary requirements
Trip Styles:
Activities:
Tour code:
C08CS
Group size:
2 - 6
Age range:
12 to 99
Tour operated in:
English
Interests:
Recommended For:
Tour Overview
Our holiday starts here at the seat of Spanish Kings, Leon is full of soaring cathedrals and hushed convents. The route then builds through the Galician countryside to a spectacular finale at Santiago de Compostela's majestic Baroque cathedral, the last resting place of St James the apostle.Since the 9th century, the French Way has led thousands of pilgrims on an 800km journey across northern Spain, winding from the Pyrenees across the wheat fields of old Castile to pass through to Leon.
Highlights
Visit the architecturally stunning cathedrals of Leon and Santiago de Compostela.

Cycle along one of the world's most famous UNESCO pilgrimage routes

Stamp your pilgrims passport in the villages, chapels, churches and cathedrals.
Itinerary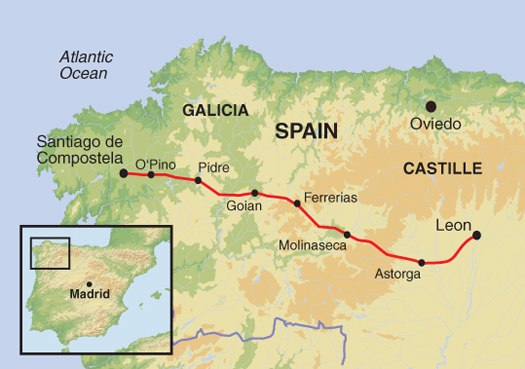 Expand All

Day 1 :

Leon
Location:
León
Meals Included:
No Meals
Arrive at the Posada Regia hotel, perfectly located in the centre of Leon.
Explore the picturesque old quarter, the Barrio Humedo, which boasts narrow
alleyways, traditional Spanish tavernas and breath-taking plazas.



Day 2 :

Leon and transfer Leon to Astorga
Location:
León, Astorga
Meals Included:
Breakfast
After your morning briefing, discover the highlights of Leon, including the
Panteon Real, the Museo de Arte Contemporaneo and the 13th-century Catedral
de Leon, reputed to be one of the most beautiful in Spain. You can choose to
take a guided tour of Leon (available for a supplement.) A late afternoon
transfer takes you to to Hotel Via de la Plata in Astorga where the Episcopal
Palace was designed by Gaudi.



Day 3 :

Astorga to Molinaseca
Location:
Astorga, Molinaseca
Meals Included:
Breakfast
Cycle into the Maragateria area, a wooded mountainous region where beautiful
villages dot the landscape. Climb to the highest point of the tour, passing
the stone cross at 1,510m, where traditionally each pilgrim leaves a stone
they have brought from their homeland. Later descend into the rich valley of
the Bierzo before arriving at the Hotel El Palacio in medieval Molinaseca



Day 4 :

Molinaseca to Ferrerias
Location:
Molinaseca, Ferreries
Meals Included:
Breakfast, Dinner
Cycle through the Bierzo valley, which produces excellent wines, fruit and
vegetables before reaching the historic town of Villafranca del Bierzo. On to
the foothills of the O'Cebreiro, a pastoral village between the mountain
ranges of O Courel and Os Ancares where you have a traditional tapas dinner
at the Hotel Capricho de Josana.



Day 5 :

O'Cebreiro to Goian (nr Sarria)
Location:
O Cebreiro, Goián
Meals Included:
Breakfast, Dinner
A transfer takes you to the top of the steep O'Cebreiro mountain with breath
taking views. Descend into outer lying woods and mountains, cycling through
the small town of Samos where you can visit its ancient Middle Age monastery
and is still inhabited by monks to this day. Cycle alongside streams and
rivers arriving at the restored parsonage Hotel Rectoral de Goian in time for
your included dinner.



Day 6 :

Goian (nr Sarria) to Palas de Rei
Location:
Goián, Palas de Rei
Meals Included:
Breakfast, Dinner
Today cycle on narrow secondary roads through one of the most beautiful
sections of the Camino. Pass through peaceful woodland and green pastures
before arriving at Hotel A Parada das Bestas for your included dinner.



Day 7 :

Palas de Rei to O Pino
Location:
Palas de Rei, O Pino
Meals Included:
Breakfast, Dinner
Time stands still in many of the pretty villages you cycle through today,
each one a hidden gem with stone-built houses and quaint narrow streets.
Dinner awaits at Hotel O Muiño de Pena



Day 8 :

O Pino to Santiago de Compostela
Location:
O Pino, Santiago de Compostela
Meals Included:
Breakfast
The final few miles of your epic pilgrimmage takes you into the heart
Santiago de Compostela, the capital of northwest Spain's Galicia region. We
cycle into this unique city of pilgrims and onto the Plaza de Obradoiro
overlooking the Cathedral built in honour of Saint James before arriving at
the Virxe da Cerca on the edge of its legendary historic centre.



Day 9 :

Santiago de Compostela
Location:
Santiago de Compostela
Meals Included:
Breakfast
Enjoy Santiago and the cathedral before taking a taxi to the airport (pay
locally approx 15 euro). Alternatively, stay on for extra nights to explore
this beautiful historic city. Walking through the old streets of Santiago is
a fantastic way to spend your time here, with Romanesque, Gothic and Baroque
buildings lining the old town's streets and plazas.


What's Included
Transfers on day 2 and day 5 as per the standard itinerary

Pilgrims passport

All buffet breakfasts and 4 dinners

GPS route directions and maps

Luggage transfers between hotels

High quality bikes

Meals

8 breakfasts, 0 lunches, 4 dinners.
What's Not Included
Leon guided tour (available for a supplement)

Travel insurance

Single accommodation (available on request -compulsory supplement)

Visas or vaccinations

Any Solo traveller supplements (where only one person is travelling on a departure date)
Accommodation
You'll stay in a diverse range of properties including converted watermills, stylish farmhouses and a restored parish house - all of them packed with period features. Please feel free to ask us for more detail about where you'll stay. Room Upgrades:Room upgrades may be available on request for a supplement on the final night; prices start from an additional £10 per person per night (based on 2 people sharing) – please enquire at the time of booking for further details and prices. Upgrades available at select hotels only (not for the entire duration of the tour). All prices are based on 2 persons sharing, so if there is an odd number of people travelling in your party or you are travelling alone, there will be a compulsory supplement for a single room for the tour duration. For a solo traveller there is an additional charge to cover transfer costs.
Food
All breakfasts and 4 dinners are included. Dinners are either taken at the hotel, or left open, where there is a good choice of restaurants.
Check out our Q&As
Are vaccinations required for this tour?
There are no specific health risks.
Are the local guides on the tour English speaking?
Are children permitted to take part in the tour?
12+ age people can go on this tour.
Are airport transfers included in this tour?
Only Luggage transfers between hotels
What happens if I need to change my holiday date once I've booked?
If you wish to make any changes to your booking, particularly if you need to alter any flights booked through us, please let us know as soon as possible. There is a booking or flight amendment fee of £40 per change and flight amendments often incur extra airline costs depending on the changes to be made and if the ticket has been issued or not.
How long has the tour company been trading?

Exodus has been trading since 1974

What documents will I receive before I travel?

Your final joining instructions and flight details, if booked with us, will then be sent out 2 to 3 weeks before departure. If you would like a hard copy posted, or if you require these any earlier, please contact the customer operations team. We advise that if you are booking connecting travel before receiving these, please ensure you leave plenty of time.

Do you operate a "single share" option and how does it work?

Travellers are welcome to opt to share a room with a tour member of the same gender for no additional charge. If you'd like your own room, we can request a single supplement so that you will have your own room throughout.

Can I join the tour once it has departed?

You are welcome to meet the group after the tour has departed however there is no reduction in rate for joining a tour after the departure date.
Dates & Availability
Instant Booking Available
Instant Booking Available
Instant Booking Available
Instant Booking Available
Instant Booking Available
Instant Booking Available
Instant Booking Available
Instant Booking Available
Instant Booking Available
Instant Booking Available
Instant Booking Available
Instant Booking Available
Instant Booking Available
Instant Booking Available
Instant Booking Available
Instant Booking Available
Instant Booking Available
Instant Booking Available
Instant Booking Available
Instant Booking Available
Instant Booking Available
Instant Booking Available
Instant Booking Available
Instant Booking Available
Instant Booking Available
Instant Booking Available
Instant Booking Available
Instant Booking Available
Instant Booking Available
Instant Booking Available
Instant Booking Available
Instant Booking Available
Instant Booking Available
Instant Booking Available
Instant Booking Available
Instant Booking Available
Instant Booking Available
Instant Booking Available
Instant Booking Available
Instant Booking Available
Instant Booking Available
Instant Booking Available
Instant Booking Available
Instant Booking Available
Instant Booking Available
Instant Booking Available
Instant Booking Available
Instant Booking Available
Instant Booking Available
Instant Booking Available
Instant Booking Available
Instant Booking Available
Instant Booking Available
Instant Booking Available
Instant Booking Available
Instant Booking Available
Instant Booking Available
Instant Booking Available
Instant Booking Available
Instant Booking Available
Instant Booking Available
Instant Booking Available
Instant Booking Available
Instant Booking Available
Instant Booking Available
Instant Booking Available
Instant Booking Available
Instant Booking Available
Instant Booking Available
Instant Booking Available
Instant Booking Available
Instant Booking Available
Instant Booking Available
Instant Booking Available
Instant Booking Available
Instant Booking Available
Instant Booking Available
Instant Booking Available
Instant Booking Available
Instant Booking Available
Instant Booking Available
Instant Booking Available
Instant Booking Available
Instant Booking Available
Instant Booking Available
Instant Booking Available
Instant Booking Available
Instant Booking Available
Instant Booking Available
Instant Booking Available
Instant Booking Available
Instant Booking Available
Instant Booking Available
Instant Booking Available
Instant Booking Available
Instant Booking Available
Instant Booking Available
Instant Booking Available
Instant Booking Available
Instant Booking Available
Instant Booking Available
Instant Booking Available
Instant Booking Available
Instant Booking Available
Instant Booking Available
Instant Booking Available
Instant Booking Available
Instant Booking Available
Instant Booking Available
Instant Booking Available
Instant Booking Available
Instant Booking Available
Instant Booking Available
Instant Booking Available
Instant Booking Available
Instant Booking Available
Instant Booking Available
Instant Booking Available
Instant Booking Available
Instant Booking Available
Instant Booking Available
Instant Booking Available
Instant Booking Available
Instant Booking Available
Instant Booking Available
Instant Booking Available
Instant Booking Available
Instant Booking Available
Instant Booking Available
Instant Booking Available
Instant Booking Available
Instant Booking Available
Instant Booking Available
Instant Booking Available
Instant Booking Available
Instant Booking Available
Instant Booking Available
Instant Booking Available
Instant Booking Available
Instant Booking Available
Instant Booking Available
Instant Booking Available
Instant Booking Available
Instant Booking Available
Instant Booking Available
Instant Booking Available
Instant Booking Available
Instant Booking Available
Instant Booking Available
Instant Booking Available
Instant Booking Available
Instant Booking Available
Instant Booking Available
Instant Booking Available
Instant Booking Available
Instant Booking Available
Instant Booking Available
Instant Booking Available
Instant Booking Available
Instant Booking Available
Instant Booking Available
Instant Booking Available
Instant Booking Available
Instant Booking Available
Instant Booking Available
Instant Booking Available
Instant Booking Available
Instant Booking Available
Instant Booking Available
Instant Booking Available
Instant Booking Available
Instant Booking Available
Instant Booking Available
Instant Booking Available
Instant Booking Available
Instant Booking Available
Instant Booking Available