Cycling The UNESCO Loire Valley
6 Days Starting in Tours and ending in Angers
Visiting: Place Plumereau, Azay-le-Rideau, Chinon, Saumur, Angers
Tour operator:
Physical rating:
Leisurely / Moderate
Special diets catered:
Please inform Exodus of specific dietary requirements
Tour operated in:
English
Activities:
Tour Overview
Follow the famous 'Loire a Velo' cycling path and admire in all its glory the last wild European river: 'La Loire'. This path, made up of 800km of marked and secured tracks, is a unique route perfect for bike lovers to enjoy while exploring the scenic Loire Valley.From Tours to Angers you will discover the delightful chateaux and Renaissance gardens. Named 'Garden of France' this region amaze visitors with fragrant rose bushes, vegetables or aromatic plants. Embark for a poetic and botanical stroll in extraordinary Renaissance gardens in Azay le Rideau and Villandry.Between Loire and Vienne rivers where traditional boats are sailing, you will cycle through Chinon and Saumur vineyards and cross medieval-looking villages. Red, white, rose... The wines of the Loire Valley have a palette of colours which each of the variety have their own characteristics. On each cycling day, you'll have the opportunity to taste dozens of different wines - stopping at big wineries or village vineyards as the mood takes you - in a wine region more varied and diverse than any other in the world.A relax journey to enjoy the 'French art de vivre' along the peaceful and wild landscapes through historical places and famous cellars for tasting.
Highlights
Visit the UNESCO World Heritage site of the Loire Valley and follow the famous 'Loire a Velo' cycling path

Named Garden of France, explore the regions excellent gardens including the famous ornamental gardens of Villandry.

Discover chateaux and vineyards in abundance.
Itinerary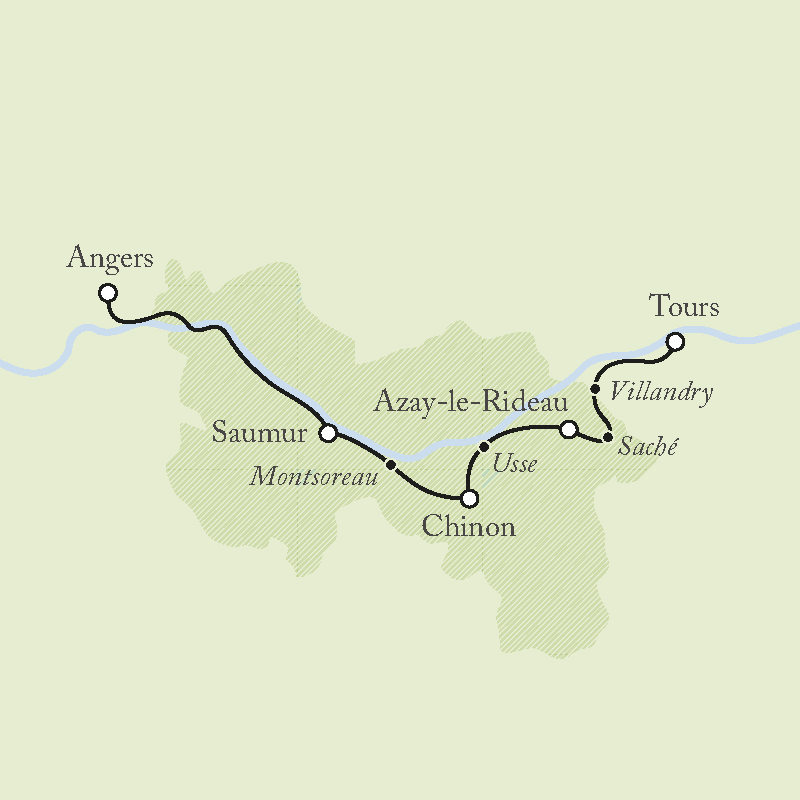 Expand All
Location:
Place Plumereau
Accommodation:
Hotel
Meals Included:
No Meals
Enjoy the old and vibrant quarters of Tours city and especially the 'Place
Plumereau', a beautiful square with half-timbered houses.
You stay at Artist Hotel


Day 2 :

Tours To Azay Le Rideau
Location:
Azay-le-Rideau
Accommodation:
Hotel
Accommodation Name:
Hotel Biencourt 
Meals Included:
Breakfast
Cycle to Villandry with its famous Gardens, matchless in Europe and composed
of 3 superposed terraces.
Perhaps the Loire Valley's most famous gardens, those at Villandry are
enchanting. The symmetry of the beds, trimmed with absolute precision, and
the harmony of the floral arrangements... from one terrace to the next, these
green expanses are a symbol of perfect beauty. In one spot a labyrinth to get
lost in, in another a kitchen garden checkered like an embroidery. The water
gardens catch the sunlight and prompt dreams of long summer evenings, while
the 'Jardin des Simples' captures the important properties of aromatic and
medicinal plants.
Then continue to Sache, where you can visit the house of the famous novelist
Honore de Balzac. Arrive in Azay le Rideau where you can admire its
Renaissance chateau. Standing on an island in the middle of the Indre River,
the Chateau of Azay-le-Rideau, is one of the finest.


Day 3 :

Azay Le Rideau To Chinon
Location:
Azay-le-Rideau, Chinon
Accommodation:
Hotel
Accommodation Name:
Hotel Diderot
Meals Included:
Breakfast
Discover other marvels, such as the 'Sleeping Beauty' chateau in Usse which
has inspired Perrault for its famous fairy tale story. Once upon a time, a
chateau surrounded by pretty woodland, and Prince Charming (who else)
arriving on his white steed.
Continue to the mediaeval town of Chinon dominated by its castle and famous
for its red wine. To combine pleasure for the eyes and the palate, take a
break in the vineyards or in a cellar for a tasting.


Location:
Chinon, Saumur
Accommodation:
Hotel
Accommodation Name:
Hotel Le Londres
Meals Included:
Breakfast
Follow the 'Loire a Velo' routes which will lead you to the village of
Candes-Saint-Martin. You have a superb view of the confluence of the Loire
and the Vienne rivers. Several viewpoints are worth the detour.
Continue to the beautiful village of Montsoreau along troglodyte sites and
vineyards before reaching lovely town of Saumur. You have the opportunity to
reach Fontevraud abbey, Europe's largest remaining monastic complex which is
also the Necropolis of the Plantagenet kings!


Location:
Saumur, Angers
Accommodation:
Hotel
Accommodation Name:
Hotel de France 
Meals Included:
Breakfast
First follow the Loire River before going through the vineyards of Anjou. You
will reach the peaceful city of Angers and its chateau which shelters the
famous Apocalypse Tapestry.


Location:
Angers
Meals Included:
Breakfast
Depart Angers after breakfast.


What's Included
Local bike hire

All breakfasts

Transfers for Flight inclusive 

Route directions and maps

5 nights hotel-to-hotel accommodation

Luggage transfers between hotels 

Meals

5 breakfasts, 0 lunches, 0 dinners.
What's Not Included
Transfers for Land only (available on request at additional cost)

Travel insurance

Single accommodation (available on request, compulsory supplement)

Visas and vaccinations 

Solo traveller supplement (where only one person is travelling on a departure date)
Food
All breakfasts are included The Loire prides itself on it's cuisine. It is refined country cooking, not heavy but rich in flavours and textures, drawing on the great garden of the Loire valley. Fruit and vegetables abound. Asparagus, artichokes, button mushrooms, cherries and strawberries from the Loire are transported to kitchens throughout France, which demonstrates the quality of the produce. These all provide delicious accompaniments to the duck, venison and wild boar dishes (all hunted locally) and served in sauces using wines from the local vineyards. Fish also features in abundance. With three wide, gently flowing rivers passing through the region, freshwater fish appear on most menus. 'Sandre' (pikeperch) and breme (bream) are especially popular and are usually served in a beurre blanc sauce - made with shallots, butter, dry white wine and vinegar. The majority of the cheese found in the region is goat's cheese. We suggest trying Selles-sur-Cher from the neighbouring Blesois region. Desserts are often based on the fruit from the local orchards. They include 'tarte tatin', a yummy caramelised upside-down apple pie - the invention of two absent-minded sisters in their attempt to salvage a dessert they had dropped on the floor. The Loire is undoubtedly one of Europe's finest wine producing regions with many of the separate wine areas producing red, white, rose and sparkling wines. Distinctive whites include Sancerre, Pouilly-Fume, Vouvray and Muscadet; for reds, try Chinin, Bourgueil and Saumur. Anjou is by far the most popular rose.
Accommodation
ARTIST HOTEL, TOURSThe contemporary design of the hotel, with many references to the 7th Art, exudes a cosy and relaxing atmosphere. An artistic way of life, but with all the comfort, perfect to enjoy a relaxing city break: queen size beds, air conditioning, fitness room and a lounge bar. Each morning, a delicious breakfast buffet is served from 6.30 am to better meet the expectations of our business clientele or early bird.Extra nights: Please contact us for details. HOTEL BIENCOURT, AZAY LE RIDEAUThis hotel is divided into 2 buildings from the 18th-century, a former school, from Napoleon III period. Each room has modern décor and views of the city or of the flowered patio. They are equipped with free Wi-Fi, a flat-screen TV and a private bathroom. The property offers organic bed linen which comes from the fair-trade market. A buffet breakfast is served daily in the dining room or on the terrace and it is made with the products coming from the local producers. Many restaurants are situated nearby. HOTEL DIDEROT, CHINONThis hotel from the 17th Century offers a calm elegance in the charming city of Chinon. The Hôtel Diderot, with its courtyard garden and white limestone walls, is a 12-minute walk from Chinon Royal Fortress. Guest rooms are all individually decorated and have private en suite bathrooms with a bath or shower and a toilet. A French breakfast is served next to the 15th-century fireplace in the breakfast room, or it is served on the terrace during the summer. HOTEL LE LONDRES, SAUMURThe Hôtel Le Londres, Saumur is located in the heart of the historic town of Saumur. This 19th-century building offers stylish individually decorated and furnished rooms with floor to ceiling windows. Each soundproofed room has facilities such as a flat-screen TV with satellite channels, and a private bathroom. A buffet breakfast is offer daily in the breakfast lounge. Home-made cakes are cooked for guests on weekends and tea is available all day, every day. HOTEL DE FRFANCE, ANGERSHôtel De France is located opposite Angers-St Laud TGV Train Station, close to the city centre and the medieval Château d'Angers. Rooms are beautifully furnished and equipped with modern facilities. You can enjoy a hot buffet breakfast at the Hôtel De France in the dining area or have breakfast served in your room from 07:00 to 11:00. The friendly and attentive staff at the Hôtel De France will be happy to help you plan your stay in Angers 24-hours a day.Extra nights: Please contact us for details.
Check out our Q&As
Are vaccinations required for this tour?

There are no specific health risks.

Are airport transfers included in this tour?

Transfers for Flight inclusive

Are the local guides on the tour English speaking?

Are children permitted to take part in the tour?

12+ ag people can go on this tour.

What happens if I need to change my holiday date once I've booked?

If you wish to make any changes to your booking, particularly if you need to alter any flights booked through us, please let us know as soon as possible. There is a booking or flight amendment fee of £40 per change and flight amendments often incur extra airline costs depending on the changes to be made and if the ticket has been issued or not.
How long has the tour company been trading?

Exodus has been trading since 1974

What documents will I receive before I travel?

Your final joining instructions and flight details, if booked with us, will then be sent out 2 to 3 weeks before departure. If you would like a hard copy posted, or if you require these any earlier, please contact the customer operations team. We advise that if you are booking connecting travel before receiving these, please ensure you leave plenty of time.

Do you operate a "single share" option and how does it work?

Travellers are welcome to opt to share a room with a tour member of the same gender for no additional charge. If you'd like your own room, we can request a single supplement so that you will have your own room throughout.

Can I join the tour once it has departed?

You are welcome to meet the group after the tour has departed however there is no reduction in rate for joining a tour after the departure date.
Reviews of this Operator
Gergana Racheva
Very helpful and prompt service
Very helpful and prompt service. I called to check for an already booked trip and once we sorted this, the agent was ready to help me with another booking as well. He actually waited for me to book my flight tickets, answered all my questions, informed me of all my options. Exodus is a tour company I am using regularly due to the quality of their trips, ease of booking and helpfulness of their customer service team
Trustpilot
Tim Hardy
Stunning walking. Walking the Amalfi Coast
This trip takes you through the most beautiful parts of the Mediterranean walking with a guide and also discovering the wonders of Pompeii and Vesuvius. The hotel had a nice feel as family run, spotless and comfortable rooms, we were well looked after for breakfasts and dinner each day, and the barmen fixed some mean cocktails for us.!
Paul Green
It's amazing what you can do in a week! Cycling the Dalmatian Coast.
This holiday was extremely enjoyable. The itinerary is well planned and the route takes you to a variety of destinations. Not having been to Croatia before I didn't know there were so many beautiful small islands and I loved the ferry and catarmaran rides. The coastal route we took was dramatic and the World Heritage sites in Split and Dubrovnik very interesting and worth visiting. The Adriatic Sea was warm, blue and inviting, good for swimming even in October. The hotels we stayed in varied in size from medium to large. I particularly liked the one just outside Dubrovnik as I had a sea view. Tourists were plentiful in Split and Dubrovnik but in the other places we stayed there was an end of season feel and it was quiet on the roads and in the resorts. The food was good and our guide was always able to recommend a nice restaurant for our evening meal. The weather in October was good for cycling - not hot, partly cloudy most days and one day it rained!
Mrs Y Morrison
Fabulous company and trip
We went overland from Cape Town to Zimbabwe through Botswana and Namibia. What a fantastic trip. Our first time with Exodus although we have travelled extensively around the world. We would highly recommend this company for such a brilliant trip - we got everything and more all at a good price. Thanks to everyone involved. We are looking at our next trip!
Trustpilot
John Edwards (Google Reviewer)
I went cycling in Albania with exodus as my first holiday with them. Such a well organised and wonderful experience where I met multiple fellow travellers who have been advocates of them for many years. You can't argue with happy repeat customers and I'm planning my next adventure with them soon
Rob Burridge (Google Reviewer)
I'v just come back from an amazing Wildlife & Wilderness trip in Botswana and I highly recommend Exodus Travels. Our guide Brian, was extremely knowledgeable on both the wildlife and history of Botswana and neighbouring countries. The other three staff, Abbis, Chief & Mr T, who accompanied us through out our 2 week trip, put in the hard work and made sure our camp was always prepared and that we we're well fed and looked after. The tour took us to some beautiful places and we saw some amazing wildlife, and on several occasions this was due to Brian's knowledge of the area and wildlife behaviour. Exodus have been very quick to respond to any queries I had, and the whole experience ran smoothly. I was also pleased to hear that during lockdown they provided staff with food packages 👍. I'd normally go on self organised trips, however, with this trip, the tour and guide Brian took us to places not possible otherwise and showed us things that we would'v missed out on. All of which were the highlights of the tour.
Daphne Partridge (Google Reviewer)
After 14 roup adventure holidays with Exofus we would not hesitate to recommend them as an excitingholiday company. They take you off the beaten track but offer great support and expertise :)
Katrina Handford
A wonderful trip! Sierra de Aitana Trek
I couldn't speak more highly of this trip. The scenery was absolutely stunning; the areas provided a great variety of walks with spectacular views. The accommodation was perfectly situated to start most of the walks directly from the hotel. It was also within walking distance of the bars and restaurants in Benimantell and Guadalest. Having said that, the food at the hotel was wonderful and so there was little need to venture further afield. Homecooked, nourishing and delicious food from the hotel was perfect fuel for the trekking.
Stella Jales (Google Reviewer)
We usually travel with Exodus on small group holidays and have visited many countries with them. They employ local guides which as well as giving us information and history of the sites also gives employment to the local people. The hotels are always good and the guides know the local places to eat.
Alison Payton (Google Reviewer)
I've done 8 trips in the last 14 years with Exodus, and have been rewarded with a 10% discount on all future bookings. I feel very confident that I'll receive pleasant, efficient service, and have the unusual holiday experience that I'm looking for each time. I've trekked to the top of snow-capped peaks, wild-camped in the desert, seen amazing spectacles of nature, visited 4 capital cities in a week, and learned about local culture and experienced local hospitality in a way that I simply wouldn't on a conventional holiday. The quality of the accommodation and guides can vary, but this is mainly down to cultural differences and things that Exodus can't control. I've only ever complained once, my complaint was taken seriously, and I was sent a discount voucher - you can't say fairer than that. I remain a loyal customer.
Book with Confidence
Transfer as credit to Future Tours

Exodus allows you to transfer existing payments to a future tour to avoid cancellation fees if you can't travel and inform exodus, 43 days before departure.

Low Deposit

Exodus requires a minimum deposit of 25% or the full booking value, whichever is less, with the final balance not due until 90 days before departure.

Cancellation Policy

We don't charge a cancellation fee, here is a summary of exodus charges.

Up to 42 days before tour starts: Forfeit 100% of deposit.

At 20 days before tour starts: Forfeit 100% of booking price.
Why book with tourhub?
Safe & Secure
Your money is protected in an external trust until you travel.
---
100% Guaranteed Refunds if your trip is cancelled.
---
The safest way to make overseas, multi-currency payments.
Guaranteed Best Value
Industry leading discounts, we won't be beaten on price.
---
No cancellation or amendment fees from tourhub.
(Operator terms may apply)
Expert Knowledge
Reliable & unbiased advice from travel experts.
---
Direct contact with the tour operator via our messaging service.
---
Inspiration & advice from a community of 6000+ real travellers, influencers & content creators.
Trusted Service
Official partners & licensed agents of 1000+ tour operators worldwide.
---
Don't just take our word for it...
"Tourhub: Friendliness, Professionalism & Integrity I would happily give tourhub a 6* review if I could..."
Similar Tours
Travel Guru Features
Our Reviews