Epic Antarctica: Falklands, South Georgia & Antarctic Circle Crossing via Buenos Aires
23 Days Starting and ending in Buenos Aires, Argentina
Visiting:
Antarctica
,
Falkland Islands
,
South Georgia
Tour operator:
Physical rating:
Leisurely
Special diets catered:
Please inform Exodus of specific dietary requirements
Trip Styles:
Tour code:
PRV
Group size:
0 - 199
Age range:
18 to 99
Tour operated in:
English
Interests:
Tour Overview
Antarctica is an incredible destination with the power to transform those who are fortunate enough to experience it.  Our Epic Antarctica voyage is so named for a reason: it includes every one of the major Antarctic highlights. From the Falkland Islands (Islas Malvinas) to South Georgia to the Antarctic Peninsula, you will experience countless unforgettable moments on this adventure-packed, 23-day voyage. Start with the Falklands, reminiscent of both sandy Cape Cod and the English moors, home to albatross, dolphins, and five species of penguins. From there, venture to South Georgia, where you'll encounter the home of 300,000 breeding King penguins, 50 million seabirds and 5 million seals. Then, explore the stunning Antarctic Peninsula, and, finally, cross the Antarctic Circle—an enduring milestone for any world traveller. Antarctica has been inspiring explorers for centuries—now it's your turn. Be among the first guests on our pioneering new vessel, Ultramarine. This purpose-built vessel is designed to extend the boundaries of Polar exploration and offer an unmatched Antarctic experience, including a flightseeing tour you'll never forget and a range of adventure options more extensive than any other ship in its class. We're excited to host you on your unforgettable adventure!
Highlights
See the incredible wildlife

Explore the quaint British town of Stanley in the Falkland Islands (Islas Malvinas)

more than 30 species of breeding birds, including four species of penguin

of South Georgia, often called the Galapagos of the Poles

Follow in the wake of Sir Ernest Shackleton's perilous voyage to South Georgia and visit his gravesite

Cross the Antarctic Circle and celebrate with a toast

Enjoy helicopter flightseeing from Ultramarine for a unique perspective of the Antarctic Peninsula

Crossing of the Antarctic CircleTravel on a small expedition vessel

Accompanied by extremely qualified Expedition Staff
Itinerary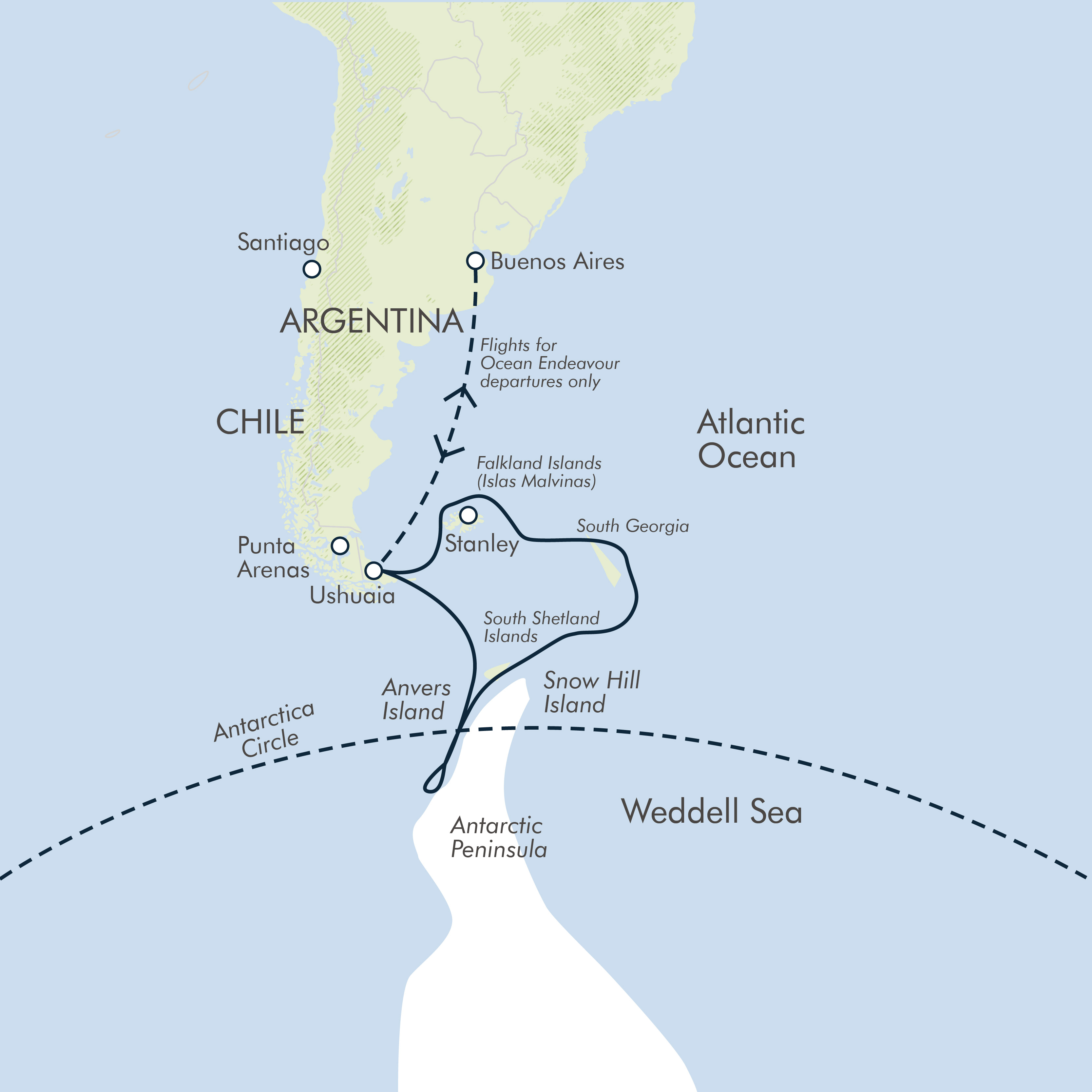 Expand All

Day 1 :

Start Buenos Aires, Argentina; overnight in hotel
Our journey begins in Buenos Aires where we will overnight in a hotel.

Day 2 :

Fly to Ushuaia and embark
Meals Included:
breakfast, dinner
After breakfast at the hotel, the group will transfer to the airport and board our private charter flight to Ushuaia, Argentina. Upon arrival, you will have a little time to explore this quaint port town before heading to the pier.
Embarkation will occur in the late afternoon, after which your vessel will sail down the historic Beagle Channel. This famous channel transects the Tierra del Fuego archipelago in the extreme south of South America. Expect an air of anticipation as you depart—the next time you see land you'll be in the world's most southern continent!

Day 3 :

At Sea
Meals Included:
breakfast, lunch, dinner
There are many activities to keep you engaged while we're at sea. You can take advantage of the library of books available on your ship, hang out at the bar chatting to other travellers or spend time out on deck, admiring the sea. Your Expedition Team will also conduct a series of presentations to familiarize you with how to prepare for Zodiac cruises and shore landings.
Day 4

-

5 : Falkland Islands (Islas Malvinas)
Meals Included:
breakfast, lunch, dinner
The Falkland archipelago contains two main islands, East and West, which we will explore by Zodiac excursions and daily landings. These rugged islands have a frontier feel to them, especially at Port Stanley—the largest settlement on the islands. It's an interesting British outpost–type place, where you may just as easily wander into a pub as you will a church or museum.
With your camera at hand, our wildlife sightings in the Falklands (Malvinas) should include at least three species of penguins and two endemic bird species—Cobb's wren and the Falkland's flightless Steamer duck.
Your team of lecturers and specialists will be sure to educate you on the local flora and fauna so that you have the most memorable time.
Day 6

-

7 : At Sea
Meals Included:
breakfast, lunch, dinner
Enroute to South Georgia you'll cross the invisible biological boundary unique to Antarctica – the Antarctic Convergence. This meeting of oceans is what creates the abundance of krill and marine life that attract large cetaceans such as Humpback whales.
Day 8

-

11 : South Georgia
Meals Included:
breakfast, lunch, dinner
Evidence of the old whaling and sealing heydays is still found throughout the island. You'll be surprised to learn that whale and seal populations were once decimated here, as today their populations are strong, with massive rookeries to be seen.
One significant and historic site that will be of interest is the grave of the great explorer, Sir Ernest Shackleton. Visiting his grave at the settlement of Grytviken, which is also home to an old whaling station and a research station, is a day for reflecting on what it must have been like to be one of the first explorers to this unforgiving, yet beautiful environment.
While South Georgia's history is an important attraction to the islands, it is the wildlife that you and your shipmates will likely find most captivating. Often referred to as the 'Galapagos of the Poles,' South Georgia contains an exceptional quantity of wildlife. Each landing you make on South Georgia will open your eyes to a new wonder of wildlife. One day you may see rookeries with a 100 thousand pairs of King penguins waddling on the beach. The next day we may visit another beach with thousands of Fur or Elephant seals.
The grasses, mountains and beaches of South Georgia all play an important role in the breeding and survival of different bird and animal species. Your Expedition Team will be happy to share their knowledge of how these vulnerable relationships all play out on the island.
Day 12

-

13 : At Sea
Meals Included:
breakfast, lunch, dinner
Antarctica awaits, along with its own penguin and seal species. While you're at sea, you can enjoy quiet time or take in presentations by the Expedition Team, who will cover everything from the history and geology of Antarctica to tips on identifying different species and what makes each of them unique.
Day 14

-

16 : South Shetland Islands and Antarctic Peninsula
Meals Included:
breakfast, lunch, dinner
The most common reaction to arriving at the White Continent is a sense of reverence and awe. The experience is hard to put into words. You will discover that Antarctica is a land of extremes: at one moment you'll be overcome with a feeling of complete silence and loneliness, the next you'll be laughing at the comical antics of a curious penguin.
Glacier hikes, visits to research bases and, of course, communing with seals and penguins are sure to keep you smiling each and every day. Perhaps you'll catch sight of the fearless penguin-eater, the Leopard seal, or come eye–to–eye with a curious Minke whale while on a Zodiac. Each day and each landing will present a new collection of creatures to entertain you and keep your camera busy!
Day 17

-

18 : The Antarctic Circle
Meals Included:
breakfast, lunch, dinner
Crossing the Antarctic Circle is an impressive achievement, as most expeditions to the Peninsula do not come close to reaching this far south.
With a toast to the first explorers who ventured here, you can raise a glass of champagne and take pride in knowing you've made it to a part of the world visited by very few people. This is raw Antarctica, home to the midnight sun, with the potential for fantastic iceberg sightings.
Day 19

-

20 : Northbound Along the Peninsula
Meals Included:
breakfast, lunch, dinner
If you haven't had your fill of Antarctic wildlife and icebergs by now, you'll surely be satisfied by the time we return to the Drake Passage. You will continue to journey onto land by Zodiac twice daily as you travel north along the western Antarctic Peninsula.
The Expedition Team will always be on the lookout for species of penguins, seals and whales that may have eluded you on the journey south.
Day 21

-

22 : Crossing the Drake Passage
Meals Included:
breakfast, lunch, dinner
After more than a dozen days of memorable wildlife encounters, your journey home begins. Crossing the Drake is your unofficial rite of passage, putting a final stamp of approval on your Antarctic adventure.

Day 23 :

Disembark in Ushuaia and fly to Buenos Aires
Meals Included:
breakfast
We will arrive in Ushuaia in the morning after breakfast. After disembarkation, we will taste a little of Patagonia by touring Tierra del Fuego National Park before we transfer to the airport for the return group charter flight to Buenos Aires.
What's Included
Meals

11 breakfasts, 9 lunches, 10 dinners.

All meals while on the ship

Beer and wine at dinner

All accommodation

All transport and listed activities

Tour leader throughout and qualified Expedition Staff

Mandatory transfer package (including return charter flights Buenos Aires to Ushuaia)

We can include flights from the UK. Please contact us for a quote.
What's Not Included
Travel insurance

Single accommodation (available on request)

Visas and vaccinations
Accommodation
The Epic Antarctica: Falklands, South Georgia & Antarctic Circle Crossing via Buenos Aires journey is offered on the Ultramarine which is a Polar Adventure Ship. Polar Adventure Ships These are small ice rated vessels well qualified for Polar waters. Intimate adventures are always more enjoyable with like-minded passengers and staff, so these voyages are for people who like flexible itineraries and plenty to keep them busy. Activities include frequent Zodiac excursions, trekking and many hours on deck in areas that other ships only dream about accessing. Food and staff are superb and every guest benefits from the technical advances of this superb fleet. Rest assured our Polar Adventure Ships enable any traveller to maximize their experience sensitively in the Poles.
Food
All meals while on the ship included. Typical Meals The ships galley offers good quality service and cuisine throughout, with excellent chefs preparing international menus including vegetarian dishes, accompanied by a wide variety of drinks from around the world on sale. Breakfast: Buffet style – unlimited tea and coffee, a selection of fruit juices, hot options including bacon and eggs or omelettes, a selection of bread and toast and jam/honey/marmalade, fruit and cereal. Lunch: Three course set meal or buffet, or the occasional BBQ. Dinner: Three or four courses with a starter of soup and/or salad, a choice of mains with at least one vegetarian option and a dessert, with tea and coffee. Vegetarians and vegans can be well catered for on this holiday - please do inform us before departure of any special dietary requests so that our local team can be well prepared.
Check out our Q&As
What happens if I need to change my holiday date once I've booked?
If you wish to make any changes to your booking, particularly if you need to alter any flights booked through us, please let us know as soon as possible. There is a booking or flight amendment fee of £40 per change and flight amendments often incur extra airline costs depending on the changes to be made and if the ticket has been issued or not.
How long has the tour company been trading?
Exodus has been trading since 1974
What documents will I receive before I travel?
Your final joining instructions and flight details, if booked with us, will then be sent out 2 to 3 weeks before departure. If you would like a hard copy posted, or if you require these any earlier, please contact the customer operations team. We advise that if you are booking connecting travel before receiving these, please ensure you leave plenty of time.
Do you operate a "single share" option and how does it work?
Travellers are welcome to opt to share a room with a tour member of the same gender for no additional charge. If you'd like your own room, we can request a single supplement so that you will have your own room throughout.
Can I join the tour once it has departed?
You are welcome to meet the group after the tour has departed however there is no reduction in rate for joining a tour after the departure date.
Book with Confidence
Transfer as credit to Future Tours

Exodus allows you to transfer existing payments to a future tour to avoid cancellation fees if you can't travel and inform exodus, 43 days before departure.

Low Deposit

Exodus requires a minimum deposit of 25% or the full booking value, whichever is less, with the final balance not due until 90 days before departure.

Cancellation Policy

We don't charge a cancellation fee, here is a summary of exodus charges.

Up to 42 days before tour starts: 100% of deposit.

At 20 days before tour starts: 100% of booking price.
Epic Antarctica: Falklands, South Georgia & Antarctic Circle Crossing via Buenos Aires
23 Days Starting and ending in Buenos Aires, Argentina
Visiting:
Antarctica
,
Falkland Islands
,
South Georgia
Tour operator:
Physical rating:
Leisurely
Special diets catered:
Please inform Exodus of specific dietary requirements
Trip Styles:
Tour code:
PRV
Group size:
0 - 199
Age range:
18 to 99
Tour operated in:
English
Interests:
Why book with tourhub?
Safe & Secure
Your money is protected in an external trust until you travel.
---
100% Guaranteed Refunds if your trip is cancelled.
---
The safest way to make overseas, multi-currency payments.
Guaranteed Best Value
Industry leading discounts, we won't be beaten on price.
---
No cancellation or amendment fees from tourhub.
(Operator terms may apply)
Expert Knowledge
Reliable & unbiased advice from travel experts.
---
Direct contact with the tour operator via our messaging service.
---
Inspiration & advice from a community of 6000+ real travellers, influencers & content creators.
Trusted Service
Official partners & licensed agents of 1000+ tour operators worldwide.
---
Don't just take our word for it...
"Tourhub: Friendliness, Professionalism & Integrity I would happily give tourhub a 6* review if I could..."