A Taste of Georgia - Tbilisi to the Caucasus Mountains
8 Days Starting and ending in Tbilisi
Visiting: Tbilisi, Gremi, Kakheti, Kvareli, Telavi, Pankisis Kheoba, Kondoli, Mtskheta, Uplistsikhe, Gori, Stepantsminda, Mount Kazbek, Gergeti
Tour operator:
Physical rating:
High, Full on
Special diets catered:
Vegetarians
Tour operated in:
English
Trip Styles:
Interests:
Activities:
Tour Overview
Unearth an unexpected treasure trove of culinary delights on a foodie tour that also takes in some of Georgia's most fascinating historical sites. Wander cosmopolitan Tbilisi's cobbled streets and wide boulevards before feasting on cheese-laden Khachapuri. Tour the vineyards and farmers' markets of the Khakheti wine region and journey into the high Caucasus Mountains to the lofty heights of Gergeti's iconic Holy Trinity Church.

Georgian wines - Sample a host of superb wines including the unique Amber wine
Hands on cooking classes - Join in with making bread, Churchkhela sweets and Khinkali dumplings
Family meals - dine in local family homes and immerse yourself in Georgian food culture and traditions
Highlights
Georgian wines - Sample a host of superb wines including the unique Amber wine.

Hands on cooking classes - Join in with making bread, Churchkhela sweets and Khinkali dumplings.

Family meals - dine in local family homes and immerse yourself in Georgian food culture and traditions.
Itinerary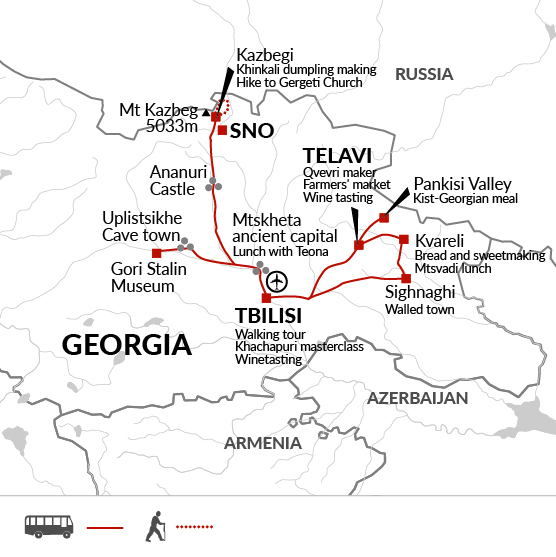 Expand All
Day 1 :

Join Trip In Tbilisi
Location:
Tbilisi
Accommodation:
Hotel
Accommodation Name:
Hotel KMM
Meals Included:
No Meals
The trip starts today in Tbilisi, the cosmopolitan capital of Georgia where both the old and new districts capture the imagination with their eclectic mix of architectural styles.

There are no activities planned for today and you are free to arrive at any time although please note that your hotel room may not be available until after 2pm. Complimentary airport transfers are provided to all customers arriving both today (day 1), and on day 2, into Tbilisi International Airport (TBS), which is around forty five minutes drive from our hotel. As many flights don't arrive into Tbilisi until late tonight or the early hours of tomorrow morning, your tour leader does not plan to hold the welcome meeting until after breakfast tomorrow (day 2). Check the hotel reception for a notice with exact timings.

If you arrive with time to explore, our hotel is centrally located and you may like to head out on foot across the river for a wander in the cobbled streets of Old Tbilisi and your first taste of Georgian cuisine and wine at one of the city's many restaurants. Tbilisi has a lively dining nightlife scene, a far cry from the days of the Soviet era.
Day 2 :

Walking Tour Of Tbilisi Including Cable Car Ride To Narikala Fort; Khachapuri 'Masterclass'
Location:
Tbilisi
Accommodation:
Hotel
Accommodation Name:
Hotel KMM
Meals Included:
Breakfast, Lunch
Your tour leader will hold a welcome meeting this morning at our hotel after breakfast covering what to expect over the coming week. Following this we'll head out to explore Tbilisi on a walking tour, starting our visit at the 13th century Church of Metekhi, sited imposingly on a cliff overlooking the Mktvari River that bisects the city. Crossing the Metekhi Bridge, we take the cable car up to the Narikala Fortress for a great bird's-eye view over the city before heading down to the famous brick-domed Sulphur baths of the Abanotubani district. Continuing through the narrow lanes of Old Tbilisi we pass colourful houses with painted wooden balconies, and stop off to enjoy a coffee and cake in one of the local cafes. Along our way we'll see the Great Synagogue, Medieval Sioni Cathedral and Anchiskhati Church.

Arriving in the newer part of the city we stroll along Tbilisi's main street, Rustaveli Avenue, with its many grand buildings. This is also the location of our first culinary experience of the holiday - a khachapuri 'masterclass'. Khachapuri is a much-loved traditional Georgian cheese-filled bread, popular both in restaurants and as a street food. It is considered by many to be Georgia's national dish and the Gastronomic Association of Georgia have even assigned 27th February to be National Khachapuri Day! The bread is leavened, allowed to rise, then moulded into various shapes before being filled with a mixture of cheese, and other ingredients. The shape of the khachapuri and additional fillings varies regionally. For example the Adjarian khachapuri is boat shaped with cheese, butter and an egg yolk in the middle, while the Gurian has chopped boiled eggs inside and looks like a crescent-shaped calzone. At our masterclass we'll observe the khachapuri being made and sample an array of regional variations.

Khachapuri are commonly pared with a glass of Lagidze water, a soft drink made with soda water and natural fruit and herb flavoured syrups. It is named after its inventor Mitrofan Laghidze, a pharmacist's apprentice in the late 19th century, who wanted to find a natural alternative to the imported lemonade essences used at the time. Popular flavours include tarragon, lemon and chocolate.
Day 3 :

Visit Signaghi Village And Gremi Fortress ; Mtsvadi Lunch With Local Family, Bread And Sweet Making. Visit To Qvevri Maker
Location:
Gremi, Kakheti, Kvareli
Accommodation:
Hotel
Accommodation Name:
Hotel Kiviria
Meals Included:
Breakfast, Lunch
This morning we leave Tbilisi and head east to Kakheti, Georgia's wine region. Georgia is one of the oldest wine growing regions in the world, having been producing wine for over 8000 years. We drive through stunning countryside with mountain views. Our first stop is at the tiny fortified town Signaghi, where we'll have time to explore. We then head to Kvareli to spend time with a local family and have a hands-on lesson in making Georgian bread and churchkhela, traditional Georgian sweets that look a bit like candles. Churchkhela are made with grape juice that's heated in large copper cauldrons to remove impurities before being thickened with flour. Shelled nuts (walnuts, hazelnuts and almonds being most typical) are stung onto threads which are dipped into the cooled grape mixture until coated to the desired thickness, then hung up to dry in the sun.

We'll enjoy a traditional mstvadi lunch with our hosts. Mtsvadi is a traditional Georgian barbecue dish consisting of a skewered shish kebab. Ground pork, mutton, or veal is typically marinated in a mixture of lemon juice, pomegranate juice, tarragon, salt, pepper, and chopped onions, so that it remains tender and juicy when grilled. Prepared outdoors over an open fire, it's usually accompanied by tkemali plum sauce, raw onion rings, sliced tomatoes, and pomegranate seeds.

In the afternoon we'll visit a local master craftsman who will show us how qvevri are made. Qvevri are large amphora-like earthenware vessels, that have been used in the traditional Georgian wine-making process for thousands of years. The qvevri are buried underground and the entire wine making process takes place within the qvevri, from fermentation right through to maturation, with the fermenting grape juice often being left on the skins and even grape stems to create wines of exceptional flavour, complexity and colour.

After a full day of activity we head to our hotel in Telavi, a small market town in the foothills of the Tsiv-Gombori mountain range.
Day 4 :

Visit Telavi Farmers' Market; Kist-Georgian Family Lunch In Pankisi Valley. Cellar Visit And Tasting Of Qvevri-Made Wines
Location:
Telavi, Pankisis Kheoba, Kondoli
Accommodation:
Hotel
Accommodation Name:
Hotel Kiviria
Meals Included:
Breakfast, Lunch
Our first port of call this morning is the local farmers' market in Telavi. It's great place to mingle among the local shoppers and admire the stalls, loaded with local produce from fresh fruits and vegetables to meats and different varieties of cheese. We then drive out of town to visit the 11th century Alaverdi Cathedral, set in a fertile river valley against the backdrop of the Caucasus Mountains - it's an impressive sight. In front of the Cathedral, we'll visit a small shop for a tasting of matsoni, a cultured milk product similar to yoghurt that's famed for its benefits on the digestive system. Matsoni has many uses in Georgian culinary traditions. It is enjoyed as an accompaniment to bread, it can be made into soups, sauces, or marinades and can also be mixed with fresh or dried fruits, honey, and/or walnuts and eaten as a desert.

Our next destination is the Pankisi Valley, home to the distinct community of the Kists. Descendants of Chechen settlers who migrated to Georgia in the 19th century, the Kists speak their own language, follow Sunni Muslim traditions and have their own cuisine. We'll join a family in the Valley for the opportunity to help them prepare, and then enjoy, a traditional Kist meal of jijig galnish, a lamb stew with distinct oblong dumplings, served with garlic sauce.

Georgian wine is the focus of our afternoon, starting with a visit to the Kondoli wine cellar where we'll taste some organic qvevri made wines and learn about this unique production process that features on the UNESCO intangible heritage list. We'll round off our day at the beautiful Tsindali wine estate. The park and house used to be the gathering place of famous poets and artists in the 19th century and it was here that the first wine was bottled in Georgia.
Day 5 :

Visits To Jvari Monastery, Svetitskhoveli Cathedral And Uplistsikhe Cave Town. Cookery Lesson In Traditional Georgian Dishes
Location:
Mtskheta, Uplistsikhe, Gori
Accommodation:
Hotel
Accommodation Name:
Georgia Gold Hotel
Meals Included:
Breakfast, Lunch
This morning we drive to picturesque Mtskheta, one of the oldest cities in Georgia , it's the country's spiritual capital and home to several outstanding cultural monuments. We'll visit Svetitskhoveli Cathedral (11th century), founded on the site chosen by St. Nino as the place for the first church in Georgia, and Jvari Monastery (6th century) from where we have spectacular views of Mtskheta and the confluence of two rivers below.

Our culinary experience of the day is the chance to gets hands-on at a cookery demonstration in the home of Teona. Teona is an avid home cook and enjoys sharing her passion for cooking and Georgian cuisine with travellers. Some of the traditional dishes likely to be on the menu include the delicious eggplant rolls stuffed with walnut paste and kharcho, a beef soup with rice, cherry, plum puree and chopped walnuts.

Later in the afternoon we'll head for the unusual site of the ancient cave town of Uplistsikhe where streets, churches, palaces and residential buildings have all been carved into the mountainside. Dating from the first millennium BC, it grew to be an important city on the Silk Road trade route. Our destination for tonight is the city of Gori . Famous for being the birthplace of Joseph Stalin, we'll make a short photo stop at his house, now located in a museum.
Day 6 :

Drive Along The Georgian Military Highway To Stepantsminda. Tea And Jam Tasting
Location:
Stepantsminda
Accommodation:
Hotel
Accommodation Name:
Hotel Sno
Meals Included:
Breakfast, Dinner
Today we head north towards the ever increasingly more dramatic scenery of the Caucasus Mountains and the Georgian-Russian border. The road, known as the Georgian Military Highway, has long served as both a trade route and as a means of invading Georgia from the north. Along our journey we pay a visit to Ananuri where two churches and a 17th century fortress overlook the Zhinvali reservoir. Reaching Stepantsminda (formerly known as Kazbegi), the main town in the region, lying in the shadow of Mount Kazbek (5054m), we've time for a look around before calling in at the Art House to see how felt is made following the traditional process. We'll also have the chance to try some local jams and herbal teas. Many households have vines in their yards and make jam from the grapes. The inhabitants of the Caucasus forage from a wide variety of botanical sources for their herbal teas from bilberry and blackberry leaves to wild mountain thyme, rose hips, hawthorn berries and wild mint.

Our night stop today is the tiny village of Sno to the south of Stepantsminda. Our hotel enjoys great views of the surrounding mountains and there's a small indoor pool. This evening we'll enjoy an evening meal of typical Georgian dishes.
Day 7 :

Walk To Gergeti Trinity Church. Make Khinkali Dumplings With Local Family Before Returning To Tbilisi
Location:
Mount Kazbek, Gergeti
Accommodation:
Hotel
Accommodation Name:
Hotel KMM
Meals Included:
Breakfast, Lunch
We'll make an early start this morning as we plan to hike from Stepantsminda town through Gergeti village and up to the iconic 14th century Church of the Holy Trinity, stunningly located at 2710 metres on a hilltop overlooking the snowy peaks of the Caucasus Mountains. The walk is a round trip of around seven kilometres taking three to four hours with an ascent and descent of around 1000 metres each way. For anyone not wishing to take part in the hike, a local taxi can be booked. The area is a treasure trove of mythology - it was to the majestic Mount Kazbegi (5047 m), the highest peak in this region, that Prometheus was chained. This part of the Caucasus is a protected area, and is home to a variety of flora and fauna. Georgia has over 100 different mammals, and although the European bison and Caucasian leopard have become extinct, there are still wolves and bears in the mou
For lunch today we plan to enjoy another one of Georgia's national dishes, Khinkali dumplings. We will visit a local family and have the chance to join in with the dumplings being prepared. Made from twisted knobs of wheat dough, the dumplings are traditionally stuffed with spiced meat (lamb or beef and pork mixed), onions, chilli and cumin. Today, herbs such as coriander and parsley are often added and vegetarian versions with mushrooms, potatoes and cheese can be found. Khinkali resemble little sacks and are usually eaten by hand, picked up by the top of the pleated knot ( kudi) which is discarded after the juice of the dumplings is sucked out before the meat and dough are eaten. With our dumplings we can enjoy a glass of homebrew chacha, a potent brandy generally made from grapes, but figs and mulberries can also be used. Many Georgians claim chacha has medicinal properties including as a remedy for indigestion!

Leaving the Caucasus Mountains behind we'll descend once again along the Georgian Military Highway back to the capital Tbilisi for the final night of our culinary adventure. Before dinner tonight, there's the option of visiting one of the city's burgeoning wine bars for a final tasting of Georgia's fabulous wines. Be sure to try the trending Amber (sometimes known as Orange) wine if you've not already done so. It's totally natural, made from white grapes where the skins, seeds and sometimes stems are not removed from the qvevri vessel.
Day 8 :

Trip Ends In Tbilisi
Location:
Tbilisi
Meals Included:
Breakfast
The trip ends after breakfast at our hotel in Tbilisi.

There are no activities planned today, so you are free to depart from Tbilisi at any time. If your flight is departing later in the day luggage storage facilities are available at our hotel. If you would like to receive a complimentary airport transfer today, you need to depart from Tbilisi International Airport (TBS), which is 45 minutes drive from the hotel.
What's Included
Accommodation

7 nights comfortable hotel

Meals

As detailed within the itinerary

Airport Transfers at Destination

Complimentary airport transfer to Tbilisi International Airport (TBS) on first and last day of tour.

All Domestic Transportation (including internal flights)
Check out our Q&As
What is the fitness level required to do this tour?

Are children permitted to take part in the tour?

Yes, minimum age 16 years or above.

Will there be an escort accompanying this tour?

Will passengers from another country be participating in the tour?

What is the maximum group size?
Are airport transfers included in this tour?

Yes, complimentary airport transfer is provided on the first and last day of tour.

Are flights included in this tour?

International flights are not included however domestic flights are included.

Are the local guides on the tour English speaking?

Is there any free time to explore places during the tour?

I'm going on a walking/cycling trip-do I need to train?

It will depend on the grade and how fit you already are. Check the trip page for details of the walking or cycling grade and how far you'll be walking/cycling each day. For moderate or challenging trips in particular we'd recommend doing some walks or cycles before you leave to build up your fitness and prepare you for the distances being covered.

Who will be my travelling companions on the tour?

We have a wide range of ages nationalities on our small group trips and they come from all walks of life.

Should I get travel insurance?

Yes–it is a condition of booking that you are fully insured when travelling with us

How long has the tour company been trading?

At Explore, we're the experts in adventure travel. Our small group adventure holidays have been running since 1981. Today, Explore is one of the most trusted travel companies in the UK with over 500 trips to more than 120 countries.

Can I join the tour once it has departed?

Yes, but there are no concessions for doing so, and we must have a record in your booking advising as such before the trip departs.

Am I contributing to any charity by booking the tour?

Being a responsible company is a large statement, something that has to be entwined within the very fibre of a company. Discover the charities and partnerships we support as part of this at https://www.explore.co.uk/about/sustainability/charities-and-partners

What happens if I need to change my holiday date once I've booked?

We want to be as clear as and as honest as possible about what happens if you decide to that you no longer wish to travel on your trip. Our booking conditions have details of the costs you'll incur when you cancel-these charges depend on how long it is before your planned departure.

What is the accommodation like?

We choose comfortable accommodation in the best locations possible. We opt for small, local and family-run accommodation where we can, as opposed to large chain hotels. We typically use hotels that are the equivalent of European 3-star, and you'll usually have an en suite room. Occasionally, where we want to get off the beaten trail we may stay in more basic accommodation.

What Ethical Travel credentials does the tour company have?

Sustainability is embedded within the fibre of Explore, it emanates from the inside out. But as we enter a new decade it is clearer than ever that our world needs help, and Explore has created a sustainability strategy based on the 2015 UN's Sustainable Development Goals.

What policies are in place for Covid-19?

Our flexible booking and safety policies mean you're protected before and during your travels with us. Receive a full refund if your trip is cancelled, transfer your trip free of charge up to 10 days before departure minus any irrocoverable costs.

Do I need to be very fit to book with you?

All our trips require some level of active participation. This could be on a cultural trip, trek, safari, expedition or voyage. It is in the interests of all members of the group that everyone should be capable of fully participating in the activities of their chosen trip.

What documents will I receive before I travel?

Final documents will include a comprehensive trip itinerary, climate and country information, budgeting and packing advice visa and passport information and details on optional activities available.

Do you operate a "single share" option and how does it work?

Yes on most of our trips. Most trips are based on customers sharing twin-bedded rooms. If you book a group trip as an individual, you will share a room with someone of the same sex. However, on many trips we offer the opportunity to pay a supplement to pre-book a single room, known as our single room option. On some trips a single room will be provided every night, on others it will be provided o

Do we have to be vaccinated against Covid-19 to travel

It's now a condition of booking a trip with us that customers should have one of the following before they travel - — Be vaccinated against COVID, having received the full recommended course, and allowing enough time for immunity to take effect. Full vaccination includes any booster required to keep the vaccine valid. — Have taken a negative test (rapid antigen or PCR) within 72hrs of departure.

Will the accommodation included meet local health and safety regulations?

Explore will only offer hotels that have specific COVID-19 protocols in place and comply with local government guidelines. We will ensure these measures include; enhanced room cleaning, ventilation, social distancing, regular cleaning and disinfection of high frequency touch points in public areas, food safety, staff re-training and minimising contact within the properties.
Reviews of this Operator
Feefo Rated Customer
Cycle Hadrian's Wall - Coast to Coast
' Excellent trip with a mixture of easy riding days, mixed with great scenary ' The trip was excellently organised by the group leader. The accommodation was very good throughout the trip. The bikes were ideal for this trip.
Gemma Jackson
Peru Encompassed - spectacular trip
I booked for my husband and I to go on the Peru Encompassed trip with the 3 day Amazon extension trip tagged on the end, we also booked to go to Lima few days early to get over the jetlag and see something of Lima before setting off on the group trip. Everything was booked for us by Explore! with seamless ease and without any hitches. This was the first time I had booked onto an organised trip so I was a bit concerned it might not be for us. How wrong I was. We were a group of 9, ranging from 30s to 60s, and a mixture of couples and singles and different nationalities. As a group we gelled really well and chose to spend most of our free time together which made the trip great fun. As for the trip itself, it surpassed all expectations. The Peru Encompassed trip was superb. I don't think any other country offers so much culture, wildlife, specular scenery and amazing food, all of which we experienced in abundance on the trip. We had a local tour guide for the whole trip who was fantastic and then expert guides joined us on different legs of the journey. We learned so much as a result. The highlights for me were visiting the local market in Arequipa with our guide and sampling lots of different fruit and street foods, the day on Lake Titicaca and of course Machu Picchu itself. We booked an additional trip to go back ourselves the second morning which was great as we could do a different route around the ruins and get different views from the afternoon before. Our final highlight was the additional 3 day trip to the Amazon staying at the Hacienda Conception. The lodges were immersed in the jungle which was wonderful if noisy! the food was fab and the daily trips provided were excellent. It was a great relaxing way to end the trip although it did rain quite a bit. Both my husband and I said our trip to Peru was one of the best trips we have ever done.
Trustpilot
Ms D Brown
Excellent company
Excellent company, there are so many trips, you really get looked after. Everything is dealt with by your Tour Leader, all logistics are taken care of and usually things go smoothly, I only use explore because I know what to expect each time, that makes me happy, with a stress free holiday
Trustpilot
Stephen
Azores Island Hopping
Very well organised tour. Brilliant Tour Leader who went out of her way to make sure everyone was happy and enjoyed the trip. The Azores are an incredible location with amazing scenery and good food.
Barbara in Beckenham
Iceland Northern Lights Adventure
' Steina was a great guide - full of information made the trip so interesting ' Everything was just perfect - just as I had hoped - except the Northern lights were a no show!
Dates & Availability
Instant Booking Available
Saturday - Saturday
May 18, 2024 - May 25, 2024
Instant Booking Available
Saturday - Saturday
Jun 08, 2024 - Jun 15, 2024
Instant Booking Available
Saturday - Saturday
Sep 07, 2024 - Sep 14, 2024
Instant Booking Available
Saturday - Saturday
Sep 14, 2024 - Sep 21, 2024
Instant Booking Available
Saturday - Saturday
Sep 28, 2024 - Oct 05, 2024
Book with Confidence
Free Date Changes

Explore! allows you to make 1 free date changes, as long as the change is made at least 60 days before the start of the tour.

Low Deposit

Explore! requires a minimum deposit of 10% or the full booking value, whichever is less, with the final balance not due until 60 days before departure.

Cancellation Policy

We don't charge a cancellation fee, here is a summary of explore! charges.

Up to 60 days before tour starts: Forfeit 100% of deposit.

At 59 days before tour starts: Forfeit 30% of booking price.

At 41 days before tour starts: Forfeit 60% of booking price.

At 27 days before tour starts: Forfeit 90% of booking price.

At 13 days before tour starts: Forfeit 100% of booking price.
Why book with tourhub?
Safe & Secure
Your money is protected in an external trust until you travel.
---
100% Guaranteed Refunds if your trip is cancelled.
---
The safest way to make overseas, multi-currency payments.
Guaranteed Best Value
Industry leading discounts, we won't be beaten on price.
---
No cancellation or amendment fees from tourhub.
(Operator terms may apply)
Expert Knowledge
Reliable & unbiased advice from travel experts.
---
Direct contact with the tour operator via our messaging service.
---
Inspiration & advice from a community of 6000+ real travellers, influencers & content creators.
Trusted Service
Official partners & licensed agents of 1000+ tour operators worldwide.
---
Don't just take our word for it...
"Tourhub: Friendliness, Professionalism & Integrity I would happily give tourhub a 6* review if I could..."
Similar Tours
Travel Guru Features
Our Reviews