Best of Morocco
15 Days Starting in Casablanca and ending in Marrakech
Visiting: Casablanca, Rabat, Meknes, Fes, Erfoud, Merzouga, Todra River, Ait Benhaddou, Ouirgane, Essaouira, Marrakesh
Tour operator:
Physical rating:
Low, Moderate
Special diets catered:
Vegetarians, Vegans
Tour operated in:
English
Trip Styles:
Activities:
Tour Overview
Enter the world of ancient Morocco on this journey through the country's imperial cities; Rabat, Meknes, Fes and Marrakech. Travel through the mountainous land of Berbers and to the edge of Africa where we relax in the tranquil port town of Essaouira. Atmospheric medinas - Get lost in the colourful alleyways of the cities' old towns Todra Gorge - Walk in Morocco's Grand Canyon through spectacular rock formations Essaouira - Relax in the traditional and charming port town on the Atlantic coast.
Highlights
Atmospheric medinas - Get lost in the colourful alleyways of the cities' old towns

Todra Gorge - Walk in Morocco's Grand Canyon through spectacular rock formations

Essaouira - Relax in the traditional and charming port town on the Atlantic coast.
Itinerary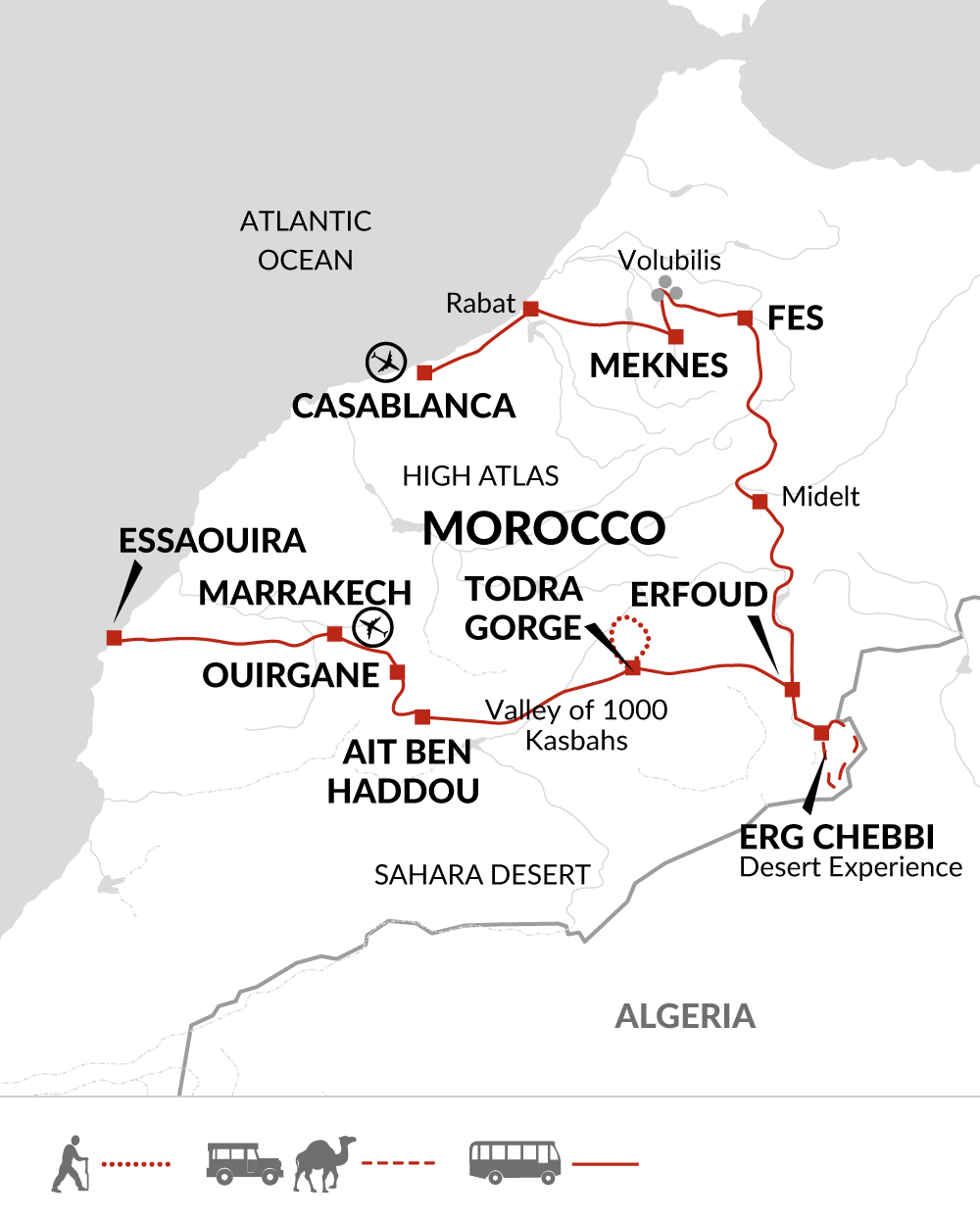 Expand All
Day 1: Join Trip In Casablanca
Location:
Casablanca
Accommodation:
Hotel
Arrive in Casablanca on the Atlantic coast where French colonial building blend with traditional Moroccan architecture. Casablanca has a atmosphere of prosperity and is where young Moroccans come to begin their careers.
There are no activities planned today, so you are free to arrive in Casablanca at any time. If you would like to receive a complimentary airport transfer today, you'll need to arrive into Casablanca Mohammed V International Airport (CMN), which is around 45 minutes from the hotel depending on traffic. For those arriving on time our Leader plans to meet you in the hotel reception at 7pm for the welcome meeting and for those that wish, there is the chance to go out for dinner. Should you miss the meeting, your Leader will inform you of any essential information as soon as you catch up.

If your flight arrives earlier in the day, perhaps you might choose to visit Marche Central to get a feel for local life and to taste fresh seafood at one of the streetfood stalls or stroll to Place Mohamed V, Casablanca's central plaza.
Day 2: Visit To Casablanca's Hassan Ii Mosque, Take A Guided Tour Of Rabat And Continue To The Imperial City Of Meknes
Location:
Rabat
Accommodation:
Hotel
This morning we visit the Hassan II Mosque in Casablanca before we travel along the coast heading north, towards the country's capital city, Rabat.

The Hassan II Mosque is the largest on the African continent and this spectacular structure can hold up to 105,000 worshippers. Built in honour of the King's 60th birthday, the mosque is a feat of engineering as well as a controversial use of public money. We'll have a tour of the mosque's interior which is intentionally perched above the water of the Atlantic to honour the Quran which states "the throne of Allah was over the water".

Later this morning we'll continue to Rabat, the city that was established as the capital of their protectorate by the French in 1912 and since independence has served as the capital of a modern Morocco. Rabat's history stretches back as far as 8BC, when settlers arrived in what is now the Chellah area, a district that went on to become a prosperous Roman town, before being transformed by the Merinids into a cemetery. On arrival we will have an opportunity to explore something of the city's historic heart, with a guided walking tour of the area around the Hassan Tower and the Mausoleum of Mohammed V, before wandering through the engaging Kasbah des Oudaias, originally a fortified town that is now infused with a distinctly Andalusian flavour.

After taking in the grandeur of the Royal Palace we will continue our journey to Meknes, once the heart of the Moroccan Sultanate, lying amidst the landscapes of the Oued Boufekrane River valley. The Sultan loved Meknes, and he would have liked never to leave it according to the chronicler to the tyrannical Sultan Moulay Ismail. Ismail (1672- 1727) was a tireless builder, and his greatest efforts were reserved for his capital at Meknes, which at its peak, with over 20 grand gateways and 50 palaces, must have been a sight to inspire any who looked upon it.
Day 3: Sightseeing In Meknes; Drive To Fes Via The Ancient, Roman Site Of Volubilis
Location:
Meknes
Accommodation:
Hotel
This morning we'll have a guided tour of the major highlights of Meknes, including the old granaries of the Heri es-Souni and the Mausoleum of Moulay Ismail himself. In spite of Ismail's seemingly unquenchable blood lust and far from benevolent treatment of his subjects, the sultan still seems to be held in high regard and his tomb is something of a place of reverence even today amongst a people who still see his rule as Morocco's Golden Age. We'll also take in the Bab el Khamis Gate and walk through the city's spectacular centrepiece, the Bab Mansour, en route to the Place el Hedim and the city's Medina.

From here we travel for 45 mins to the nearby ancient site of Volubilis - the capital of the Roman province of Mauritania Tingitana. A local guide will educate us about the the well-preserved mosaics and the layout of provincial settlement.

This afternoon we'll travel for a further 2 hours, via Nzala des Beni Ammar, to the country's cultural capital, Fes. Probably the oldest of the imperial cities, its fascinating history is rich with wars, murders and political intrigue. It has played an important part in Moroccan trade, culture, religion and politics. The old and new towns are adjacent but totally separate entities. We'll arrive in at our hotel in the early evening, in time to explore the many great food places that Fes has to offer.
Day 4: A Full Day Exploring Fes
Location:
Fes
Accommodation:
Hotel
We'll have a full day today to take in the artisan capital of Morocco with a local guide. After breakfast we begin sightseeing in Fes el Jadid, known as 'new Fes' despite dating back to the 13th century. The area's predominate feature is the Royal Palace, and although it's not open to visitors, we'll visit from the outside to see the intricately designed gates. We'll later drive out to North Borj viewpoint for some great views back across the city before taking a well deserved lunch break.

After lunch our exploration of the city takes us into Fes el Bali (Old Fes). Within the bustling souks of the Fes el Bali, the craftwork is considered to be the finest in Morocco. We'll wander through its artisan districts, where small doorways and narrow pathways reveal weavers and brass workshops, coppersmiths and tanners, all producing beautiful pieces as they have for many generations. We'll also take in the opulent majesty of the 14th century Attarin Medersa, whose Moroccan decoration and elegant design makes it one of the city's most captivating medieval colleges.
Day 5: Drive Over The Middle Atlas To Erfoud
Location:
Erfoud
Accommodation:
Hotel
We'll have an early start this morning to begin travelling south into the dramatic landscapes of the Middle Atlas, heading first towards to Immouzer and Ifrane and passing near the small mountain village of Azrou, which in the Berber tongue translates as 'the rock'. This is the land of the fiercely independent Berbers, the Lords of the Atlas, whose traditions and ways still hold sway up here in their mountain strongholds far away from the cities below. The Berbers present us with a unique view of a way of life lost to the rest of North Africa, where music and dance, even language and religion, are far removed from their Arab neighbours. Continuing into Berber sheep raising country we head to Timadite and over the Col du Zad, before crossing the Tizi Talghemt Camel Pass and continuing via the Gorge du Ziz to Er Rachidia. Finally we traverse a broad plateau past Meski Oasis, the so-called 'Blue Spring' bordering the arid desert plains, from where our journey brings us at last on to the desert settlement of Erfoud.
Day 6: Drive To Merzouga, And Take 4Wd Vehicles Into The Desert For A Night In A Traditional Berber Camp
Location:
Merzouga
Accommodation:
Camping
Our day starts by following the meandering Ziz River towards Rissani, the last sizeable community and the end of the vegetation belt before the dunes of the Sand Sea begin. The settlement is the homeland of the Alaouite dynasty, which reigned in this region for 300 years, and this morning we'll have an opportunity to visit the founder's Mausoleum and explore something of the local ksour (fortified villages).

After a lunch break, we continue to the small settlement of Merzouga on the outskirts of the desert. Here we'll leave our bus and meet 4WD vehicles for an exhilarating journey into the spectacular high dunes of Erg Chebbi. We'll explore the desert landscape on the way to our Berber camp, home for the night. The crew will prepare us a traditional tagine dinner and there will be the opportunity to relax in the peaceful setting around a campfire. The tents accommodate up to four people each and mattresses, blankets and pillows are provided. There are simple shower facilities available, however due to the nature of the accommodation, hot water and water pressure cannot be guaranteed.
Day 7: Full Day Journey To Todra Gorge
Location:
Todra River
Accommodation:
Hotel
This morning we'll wake before dawn to make our way up to the tip of a sand dune for our chance to watch the sunrise over the Sahara. Returning to camp for a well-deserved breakfast, we will leave the southern desert by camel; a true Moroccan experience.

Our bus will be waiting for us in Merzouga ready to head for the mountains once more. Following an ancient route along the southern slopes of the Atlas, we reach the town of Tinerhir, our base from which to explore the towering vistas of the Todra Gorge. Arriving in the afternoon there is usually time for an initial exploration of the area and perhaps a walk in the famous lush palmeries that line the banks of the nearby Todra River. Extending some way along the river's course, the gardens are a lush oasis of produce, with date palms and olive groves, fruit orchards and almonds, all littered amongst a fertile landscape of grain and vegetables.
Day 8: Optional Walk In Todra Gorge
Location:
Todra River
Accommodation:
Hotel
The dramatic ochre-coloured cliffs of the Todra Gorge rise vertically to leave just a narrow pass through which our track and the river struggle for right of way. In the morning Berber women drive their goats through the narrow gorge to the better grazing land higher up. Today there will be an opportunity to join your Leader on an optional walk to Abdelali viewpoint to see the excellent panoramas across to the Jebel Sahro and down into the gorge.

The trek begins in the middle of the narrow gorge following the main road before joining a small mule path going up gradually along a ravine. The path climbs about 500m to a small pass with views looking down the gorge and the Jebel Sahro range. The descent is 550m and is again on a rocky, narrow path that can be steep in some sections. The total distance is about 6 km and is considered as a moderate trek, but be aware that in high temperatures it can be more demanding (walking boots with ankle support essential).

Alternatively you may opt to explore the gorge valley floor following the path of the river and take in the local scenery from one of the nearby cafés.
Day 9: Drive To Ait Benhaddou Via El Kelaa Des M'Gouna And The Valley Of 1000 Kasbahs
Location:
Ait Benhaddou
Accommodation:
Hotel
This morning we driving westwards, where we make a short stop in El Kelaa des M'Gouna positioned at the foot of a rocky outcrop that separates the Dades and Mgoun Valleys. Famed for its roses, the town lies blanketed under a landscape of scented blooms each spring, which are then harvested in May during the famous Festival of the Roses and processed into rosewater to be sold throughout the Islamic world. Driving on through the Dades Valley with its fertile oases, we enter the Valley of a Thousand Kasbahs, where each of the oasis towns can boast their own distinctive character, the mud and straw structures becoming more plentiful and more ornate as you progress along the valley. Later this afternoon we make our way towards the small, fortified Berber settlement of Ait Benhaddou, which has been classified by UNESCO as a World Heritage Site and is considered by many to be one of Morocco's most picturesque settings. Studded with crenelated towers and richly decorated, the town's Kasbah is quite spectacular and provided an ideal location for filming scenes from Jesus of Nazareth and Lawrence of Arabia.
Day 10: Drive Through The Tizi N'tichka Mountain Pass To Ouirgane
Location:
Ouirgane
Accommodation:
Hotel
Heading north, the parched desert sand and stone gives way to the hills and deep gorges of the High Atlas Mountains as we wind our way up and over the Tizi n' Tichka, the highest vehicular pass in Morocco and often snow covered during the winter months. We will then head to the small village of Ouirgane. En route we may have the opportunity of visiting the local market at Tahanoute and the village of Aguersioual, where we will enjoy a mint tea with a Berber family and experience the everyday life of the people of this region. Depending on our arrival time there may be the opportunity for a short hike around Ouirgane.
Day 11: Travel To The Atlantic Coast Town Of Essaouira
Location:
Essaouira
Accommodation:
Hotel
We'll have an early start this morning to travel via Marrakech where we join the road west to the shores of the Atlantic Ocean. Our destination is the historic port of Essaouira; a historic and charming Moroccan town inside 154th century Portuguese fortifications. Hopefully we'll arrive in the mid-afternoon and the rest of the day will free to enjoy this charming seaside town.
Day 12: A Free Day To Explore Essaouira
Location:
Essaouira
Accommodation:
Hotel
Our leader will offer a short but helpful orientation this morning before a full free day for independent explorations in this colourful coastal fishing town. The town has a relaxed but lively feel and an experience not to be missed is a visit to the old walled Medina. After passing through the narrow, highly decorated arched entrance, it may be hard to resist snapping up last minute gifts such as locally made rustic leather belts, gleaming gold and silver jewellery, or wooden boxes exquisitely inlaid with ebony and mother of pearl by local craftsmen. The lively throng of the Medina, with its local women carrying out their daily routines, veiled in their traditional dress, forms a sharp contrast to the open golden sands of the harbour area where hopeful seabirds can be seen circling above the fisherman as they return from the blue waters with their daily catches. We suggest a stroll around the old town, perhaps taking in the Mellah (the old Jewish Quarter) or maybe a wander along the fine sandy beach and through the harbour.
Day 13: Drive To Marrakech; Afternoon Guided Sightseeing To Explore The Medina, Koutoubia Mosque And Djemaa El-Fnaa
Location:
Marrakesh
Accommodation:
Hotel
This morning we leave the coast and return to Marrakech. It's a few hours' drive and after we have checked in to the hotel we will take a walking tour of the 'red city'.

Like many North African cities, Marrakech is divided into two distinct parts, the Gueliz (the modern French-built city) and the Medina (the Old City), a place where trade and barter amongst the colourful souks still renders its ancient heart a glittering cacophony of noise and colour. The city's beating heart is the spectacular Djemma-el-Fna, a site not to be missed and a scene straight out of the pages of the Arabian Nights. Here we will find the streets and alleys alive with storytellers and musicians, jugglers and acrobats, snake charmers and clowns. Marrakech is a city like no other; with a staggering array of spectacular architecture and wonderful facades and not to be missed are the Koutoubia mosque and tower, Saadian tombs, Ben Youssef medersa, the Dar Si Said Palace (now the Museum of Moroccan Art) and the Menara gardens. This evening there is also an opportunity to visit a traditional Hammam.
Day 14: Explore Marrakech At Your Own Pace
Location:
Marrakesh
Accommodation:
Hotel
Today has been left free to continue exploring this amazing city at your leisure. You can wander past vendors selling doughnuts and colourful traditional wear, meander through native markets where Muslim women, their hands and feet dyed with henna, call out to sell their wares, and enjoy the sounds and the smells of the exotic. Perhaps you will prefer to take time to enjoy more of the remarkable Medina, haggling for a bargain or two, or simply sitting at one of the local cafés and watching the street tableaux unfold before you.

Please do remember that many of the mosques will be forbidden to non-Muslims and be careful of photographing women. If you are unsure, it is always best to ask.
Day 15: Trip Ends In Marrakech
The trip ends after breakfast at our hotel in Marrakech.

There are no activities planned today, so you are free to depart from Marrakech at any time. If your flight is departing later in the day, luggage storage facilities are available at our hotel. If you would like to receive a complimentary airport transfer today, you need to depart from Marrakesh Menara Airport (RAK).

Depending on the schedule of your flights, you may have some additional time to wander in the souks of Marrakech or buy your last souvenirs before departure.
What's Included
Fully Guided

Meals – Breakfast Only

Breakfast: 14 Dinner: 1

All Domestic Transportation (including internal flights)

Accommodation
What's Not Included
Tipping and Gratuities

Country Entry Visas

1 bottle of Mineral Water per person per day
Check out our Q&As
Are children permitted to take part in the tour?

What is the maximum group size?

Will I know the names and details of all the accommodation before I depart?

Will there be an escort accompanying this tour?

Is there any free time to explore places during the tour?
Are the local guides on the tour English speaking?

Can you assist with pre or post tour accommodation?

I'm going on a walking/cycling trip-do I need to train?

It will depend on the grade and how fit you already are. Check the trip page for details of the walking or cycling grade and how far you'll be walking/cycling each day. For moderate or challenging trips in particular we'd recommend doing some walks or cycles before you leave to build up your fitness and prepare you for the distances being covered.

Who will be my travelling companions on the tour?

We have a wide range of ages nationalities on our small group trips and they come from all walks of life.

Should I get travel insurance?

Yes–it is a condition of booking that you are fully insured when travelling with us

How long has the tour company been trading?

At Explore, we're the experts in adventure travel. Our small group adventure holidays have been running since 1981. Today, Explore is one of the most trusted travel companies in the UK with over 500 trips to more than 120 countries.

Can I join the tour once it has departed?

Yes, but there are no concessions for doing so, and we must have a record in your booking advising as such before the trip departs.

Am I contributing to any charity by booking the tour?

Being a responsible company is a large statement, something that has to be entwined within the very fibre of a company. Discover the charities and partnerships we support as part of this at https://www.explore.co.uk/about/sustainability/charities-and-partners

What happens if I need to change my holiday date once I've booked?

We want to be as clear as and as honest as possible about what happens if you decide to that you no longer wish to travel on your trip. Our booking conditions have details of the costs you'll incur when you cancel-these charges depend on how long it is before your planned departure.

What is the accommodation like?

We choose comfortable accommodation in the best locations possible. We opt for small, local and family-run accommodation where we can, as opposed to large chain hotels. We typically use hotels that are the equivalent of European 3-star, and you'll usually have an en suite room. Occasionally, where we want to get off the beaten trail we may stay in more basic accommodation.

What Ethical Travel credentials does the tour company have?

Sustainability is embedded within the fibre of Explore, it emanates from the inside out. But as we enter a new decade it is clearer than ever that our world needs help, and Explore has created a sustainability strategy based on the 2015 UN's Sustainable Development Goals.

What policies are in place for Covid-19?

Our flexible booking and safety policies mean you're protected before and during your travels with us. Receive a full refund if your trip is cancelled, transfer your trip free of charge up to 10 days before departure minus any irrocoverable costs.

Do I need to be very fit to book with you?

All our trips require some level of active participation. This could be on a cultural trip, trek, safari, expedition or voyage. It is in the interests of all members of the group that everyone should be capable of fully participating in the activities of their chosen trip.

What documents will I receive before I travel?

Final documents will include a comprehensive trip itinerary, climate and country information, budgeting and packing advice visa and passport information and details on optional activities available.

Do you operate a "single share" option and how does it work?

Yes on most of our trips. Most trips are based on customers sharing twin-bedded rooms. If you book a group trip as an individual, you will share a room with someone of the same sex. However, on many trips we offer the opportunity to pay a supplement to pre-book a single room, known as our single room option. On some trips a single room will be provided every night, on others it will be provided o

Do we have to be vaccinated against Covid-19 to travel

It's now a condition of booking a trip with us that customers should have one of the following before they travel - — Be vaccinated against COVID, having received the full recommended course, and allowing enough time for immunity to take effect. Full vaccination includes any booster required to keep the vaccine valid. — Have taken a negative test (rapid antigen or PCR) within 72hrs of departure.

Will the accommodation included meet local health and safety regulations?

Explore will only offer hotels that have specific COVID-19 protocols in place and comply with local government guidelines. We will ensure these measures include; enhanced room cleaning, ventilation, social distancing, regular cleaning and disinfection of high frequency touch points in public areas, food safety, staff re-training and minimising contact within the properties.
Reviews from Travellers on this Tour
Trudy
Imperial Cities and Desert
Enjoyed Morocco very much. Was pleased with the diversity of what we saw and experienced on the trip.
Michael
Imperial Cities and Desert
Susan
Imperial Cities and Desert
It was an excellent trip and I would recommend it as anod way to see different aspects of Morocco. I particularly liked having 2 days in Essaouira and Marrakech at the end of the tour and would love to back to both independently.
Clive
Imperial Cities and Desert
Nice group, excellent guide and very informative tour - would recommend to others.
Barbara
Imperial Cities and Desert
The trip was very busy but with some free time at the end which was nice.
Elena
Imperial Cities and Desert
Really lovely group who gelled well. I had a fabulous time and was a little sad when it ended! Terrific range of experiences. Hassan was a great guide and wasod at keeping things running to schedule.
Timothy
Imperial Cities and Desert
very enjoyable trip seeing interesting places and diverse experiences, held together by an excellent and approachable leader
Deborah
Imperial Cities and Desert
Another great tour from Explore!
Glen
Imperial Cities and Desert
I booked this trip at short notice as I wanted to get away from the stresses of home life for a while. I knew nothing of Morocco but I have been on Explore holidays before and always enjoyed them. I just picked Morocco as I recognised a few city names on the online itinerary (and the cost if I am honest!). I thoroughly enjoyed my trip and it exceeded any expectations I had! I am looking forward to the next one (Hopefully Costa Rica when I can afford it)
Ivor
Imperial Cities and Desert
We were always told that this would be a full-on tour and so it proved to be. Our highlights were the Fes Medina and souk, the southern towns of Erfoud and Rissani, the Todrarge and La Bergerie at Asni. We thoroughly enjoyed it.
Dates & Availability
Sunday - Sunday
Dec 17, 2023 - Dec 31, 2023
Sunday - Sunday
Feb 04, 2024 - Feb 18, 2024
Instant Booking Available
Sunday - Sunday
Mar 03, 2024 - Mar 17, 2024
Instant Booking Available
Sunday - Sunday
Mar 17, 2024 - Mar 31, 2024
Instant Booking Available
Sunday - Sunday
Apr 14, 2024 - Apr 28, 2024
Instant Booking Available
Sunday - Sunday
Apr 28, 2024 - May 12, 2024
Instant Booking Available
Sunday - Sunday
May 05, 2024 - May 19, 2024
Instant Booking Available
Sunday - Sunday
May 19, 2024 - Jun 02, 2024
Instant Booking Available
Sunday - Sunday
Jun 16, 2024 - Jun 30, 2024
Instant Booking Available
Sunday - Sunday
Jul 21, 2024 - Aug 04, 2024
Instant Booking Available
Sunday - Sunday
Aug 04, 2024 - Aug 18, 2024
Instant Booking Available
Sunday - Sunday
Sep 01, 2024 - Sep 15, 2024
Instant Booking Available
Sunday - Sunday
Sep 08, 2024 - Sep 22, 2024
Instant Booking Available
Sunday - Sunday
Sep 15, 2024 - Sep 29, 2024
Instant Booking Available
Sunday - Sunday
Sep 22, 2024 - Oct 06, 2024
Instant Booking Available
Sunday - Sunday
Sep 29, 2024 - Oct 13, 2024
Instant Booking Available
Sunday - Sunday
Oct 06, 2024 - Oct 20, 2024
Instant Booking Available
Sunday - Sunday
Oct 13, 2024 - Oct 27, 2024
Instant Booking Available
Sunday - Sunday
Oct 20, 2024 - Nov 03, 2024
Instant Booking Available
Sunday - Sunday
Oct 27, 2024 - Nov 10, 2024
Instant Booking Available
Sunday - Sunday
Nov 03, 2024 - Nov 17, 2024
Instant Booking Available
Sunday - Sunday
Nov 17, 2024 - Dec 01, 2024
Instant Booking Available
Sunday - Sunday
Dec 01, 2024 - Dec 15, 2024
Instant Booking Available
Sunday - Sunday
Dec 15, 2024 - Dec 29, 2024
Book with Confidence
Free Date Changes

Explore! allows you to make 1 free date changes, as long as the change is made at least 60 days before the start of the tour.

Low Deposit

Explore! requires a minimum deposit of 10% or the full booking value, whichever is less, with the final balance not due until 60 days before departure.

Cancellation Policy

We don't charge a cancellation fee, here is a summary of explore! charges.

Up to 60 days before tour starts: Forfeit 100% of deposit.

At 59 days before tour starts: Forfeit 30% of booking price.

At 41 days before tour starts: Forfeit 60% of booking price.

At 27 days before tour starts: Forfeit 90% of booking price.

At 13 days before tour starts: Forfeit 100% of booking price.
Why book with tourhub?
Safe & Secure
Your money is protected in an external trust until you travel.
---
100% Guaranteed Refunds if your trip is cancelled.
---
The safest way to make overseas, multi-currency payments.
Guaranteed Best Value
Industry leading discounts, we won't be beaten on price.
---
No cancellation or amendment fees from tourhub.
(Operator terms may apply)
Expert Knowledge
Reliable & unbiased advice from travel experts.
---
Direct contact with the tour operator via our messaging service.
---
Inspiration & advice from a community of 6000+ real travellers, influencers & content creators.
Trusted Service
Official partners & licensed agents of 1000+ tour operators worldwide.
---
Don't just take our word for it...
"Tourhub: Friendliness, Professionalism & Integrity I would happily give tourhub a 6* review if I could..."
Similar Tours
Travel Guru Features
Our Reviews