Cycle Albania
8 Days Starting and ending in Tirana Airport
Visiting: Tirana, Pogradec, Ohrid, Korçë, Gërmenj, Gjirokaster, Butrint Archaeological Park, Sarandë, Qeparo, Dhërmi, Berat
Tour operator:
Physical rating:
Moderate to Challenging
Special diets catered:
Vegetarians, Vegans
Tour operated in:
English
Trip Styles:
Interests:
Activities:
Tour Overview
Discover the highlights of Albania while cycling through stunning scenery along peaceful, almost traffic-free roads in the mountains and along the turquoise coast. Albanian Riviera - Picturesque trails and villages Archaeological ruins and UNESCO sites - Gjirokaster, Butrint and Berat Food and drink - Mouth-watering local delicacies and great value beer.
Highlights
Albanian Riviera - Picturesque trails and villages

Archaeological ruins and UNESCO sites - Gjirokaster, Butrint and Berat

Food and drink - Mouth-watering local delicacies and great value beer.
Itinerary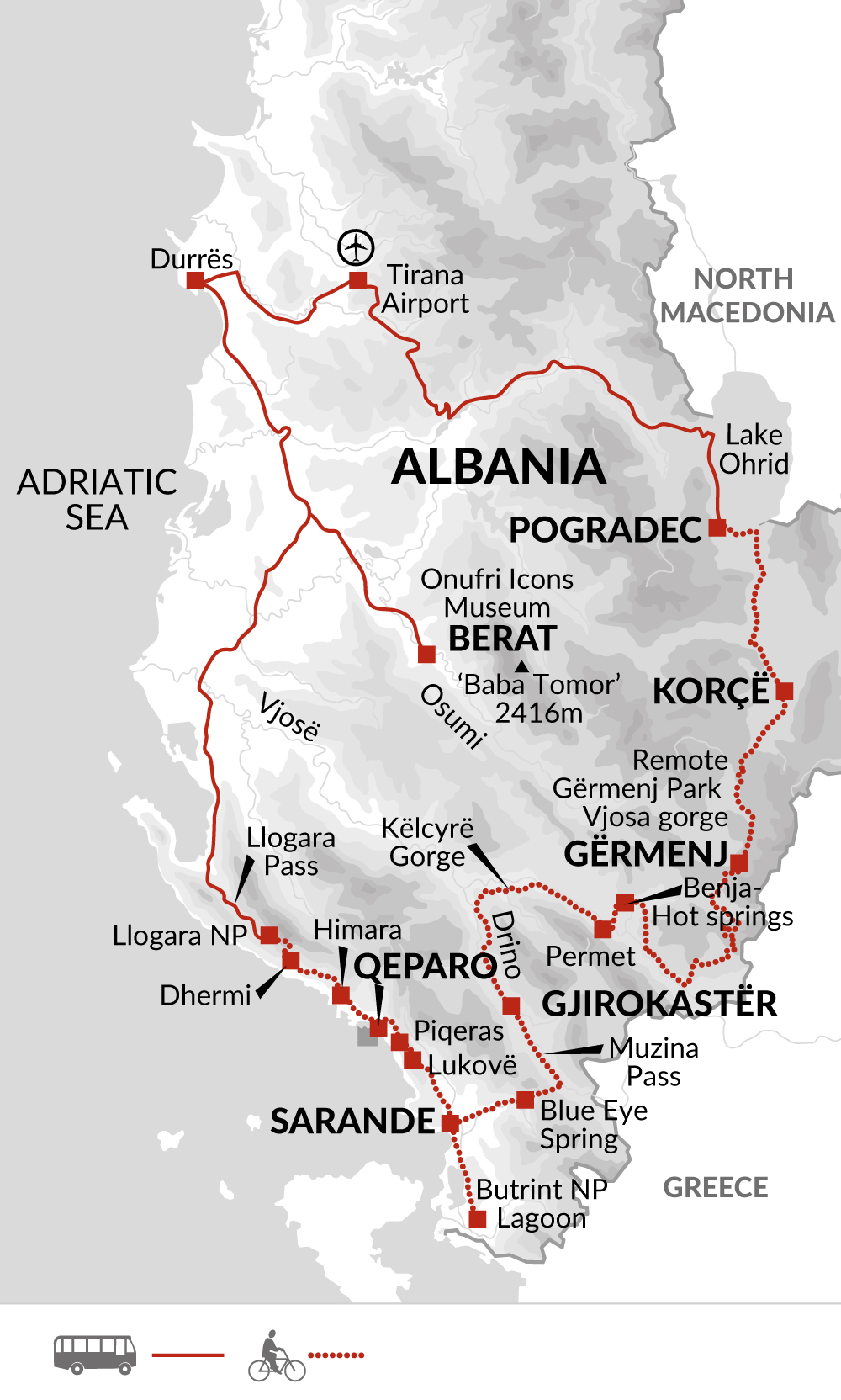 Expand All
Day 1: Join Trip At Tirana Airport. Drive To Pogradec On Lake Ohrid
Location:
Tirana, Pogradec
Accommodation:
Hotel
Meals Included:
No Meals
Our trip begins at Tirana International Airport (TIA) at 1.30pm. The latest your flight can arrive is therefore 1pm. We will travel together as a group in a private bus to our hotel in Pogradec on the shores of Lake Ohrid. The journey will take approximately three and a half hours including a comfort break.
If your flight arrives earlier in the day, you may have time to wait ahead of our group transfer to Pogradec. You can make the most of this time by taking the public bus to Tirana, which takes approximately 35 minutes and buses leave every hour, however, there are no left luggage facilities at the airport so you would need to take your bags with you. Alternatively, you may wish to change some money at the airport and wait in the restaurant outside the terminal opposite Arrivals.
Day 2: Cycle From Lake Ohrid To Korça
Location:
Ohrid, Korçë
Accommodation:
Hotel
Meals Included:
Breakfast
Once equipped and fitted with our bikes we start cycling from lake Ohrid, climbing to an elevated plateau with some great views over the blue waters of this splendid lake surrounded by mountains. The road then continues towards Korça pedaling alongside vast fields and past small farms. We check into our hotel upon arrival into Korça.
Our total cycling distance today is approximately 50 kilometres (Total 382 metres ascent and 217 meters descent)
Day 3: Climb Into The Heart Of The Gramos Mountians To Germenj
Location:
Gërmenj
Accommodation:
Cabins
Meals Included:
Breakfast, Dinner
This morning when we retake to our bikes we leave behind the agricultural plateau of Korça, climbing steadily into the border mountains through a landscape of barren rock interspersed with wild flowers. Numerous cols and valleys lie ahead, climbing into the heart of the Gramos Mountains and over the Barmash Pass (1159m) to Germenj lying in its own tranquil valley. We spend the night in wooden bungalows with shared bathrooms in Germenj and enjoy a traditional home cooked dinner.

Our total cycling distance today is approximately 72 kilometres (Total 1160 metres ascent and 1041 meters descent)

The Sotira Farm Guesthouse is a collection of two bedroom cabins located in the woods around a central farmhouse and salmon hatchery. Each cabin has a bathroom shared between the two bedrooms, in addition there is a communal washing block cabin. The main farmhouse house building where you have your dinner and breakfast is warm and welcoming with a log fire, and serves delicious local fare.
Day 4: Ride Through Vjosa Valley; Drive Onto Gjirokaster
Location:
Gjirokaster
Accommodation:
Hotel
Meals Included:
Breakfast, Dinner
We climb out from Germenj on our bikes to a high grassy plateau surrounded by soaring peaks before reaching the source of the River Vjosa and descending through its spectacular gorge to Leskovik. The route continues with a 15km descent to Çarshove before following the cornice route high above the river to Permet situated on a bluff above the river. A short but dramatic drive of about one an a half hours will bring us to the historic town of Gjirokastër, another UNESCO Heritage site that is home to some truly stunning Ottoman architecture. Gjirokastër is magnificently set between the towering Gjerë Mountains and the Drino River, providing us with a beautifully scenic arrival by vehicle from Permet as we pass through the Drino Valley and the Kelcyra Gorge. After checking in to our hotel, we have a chance to explore its historic heart, taking in its beautiful 18th and 19th century buildings and the dominating presence of its Ottoman citadel, believed to be the second largest in the Balkans. If you are travelling in October, we may visit a traditional house instead of inside the citadel as it operates shorter opening hours at the end of the season. Our total cycling distance today is approximately 58 kilometres (Total 691 metres ascent and 1431 meters descent)
Day 5: Cycle To Saranda Via Butrint Archaeological Treasure
Location:
Butrint Archaeological Park, Sarandë
Accommodation:
Hotel
Meals Included:
Breakfast
A short drive after breakfast will bring us to the beginning of the cycling section that starts with a downhill ride from Muzina Pass to the Blue Eye, source of the river Bistrica. The ride then encircles the lagoon of Butrint National Park where we will visit the archaeological site. A UNESCO World Heritage Site, Butrint is one of the county's most important archaeological treasures, tracing its origins back to the Greeks and the Romans. In the afternoon we continue our ride onto Saranda and spend the evening at the waterfront. The gateway to southern Albania, Saranda lies along the Ionian coast, sandwiched between the high mountains and the sea and close to the ancient remains of Butrint.
Our total cycling distance today is approximately 67 kilometres (Total 560 metres ascent and 1089 meters descent)
Day 6: Ride The Albanian Riviera To Qeparo
Location:
Qeparo
Accommodation:
Guesthouse
Meals Included:
Breakfast
A roller coaster of a ride awaits us this morning as we make our way along the Albanian Riviera passing through the small villages of Piqeras and Lukova en route to Qeparo. Leaving as the mist is burnt off by the sun, climbing steeply out of Saranda to a rocky plateau. From here we pedal over cols into bays and around headlands, always with the stunning mountain scenery to the right and sea to the left before descending to the long beach and bay of Qeparo where we spend the night in the seaside village of Qeparo on the Albanian Riviera. The afternoon is left free to enjoy the beach and relax.
Our total cycling distance today is approximately 40 kilometres (Total 965 metres ascent and 918 meters descent)
Day 7: Cycle To Dhermi Then Drive To Berat
Location:
Dhërmi, Berat
Accommodation:
Hotel
Meals Included:
Breakfast, Dinner
We continue our route into the valley heading north before climbing two short but steep cols, through woodlands, little gorges, forests and around hairpin bends. Along the way we pass the old fortress of Ali Pasha of Tepelena, Palermo Bay, the Monastery of St. Theodore and Gjipe Bay and the coastal town of Himara. Our cycling adventure ends with a descent to the picturesque village of Dhermi, nestling amongst the rocky slopes of the Ceraunian Mountains. After lunch we drive 120 km (about 2 and a half hours) to Berat, enjoying the great mountain and sea views of Llogora National Park enroute. Home to black pine, Eurasian otter and golden eagles, the park is a scenic expanse of protected woodland that encompasses the forests on the northern side of the Llogora Pass. Berat is perhaps the most beautiful town in Albania. Explore the cobbled alleys between the white walled houses and visit the citadel high above. Staying in a traditional hotel in the historic neighbourhood of Mangalemi, we should have some time to explore this World Heritage site before dinner. Time permitting, there is an optional visit to the Onufri Iconographic Museum, located in the sanctuary of St Mary's Church in the inhabited quarter of Berat Castle. Home to a remarkable collection of religious paintings, the museum is named after a famous 16th century icon painter whose works were characterised by post-Byzantine and Venetian influences.
Our total cycling distance today is approximately 33 kilometres (Total 809 metres ascent and 812 meters descent)
Day 8: Drive To Tirana Airport Where Our Trip Ends
Location:
Tirana
Meals Included:
Breakfast
Departing Berat this morning we drive to Tirana International Airport (TIA) where we will arrive at about 11am and this is where our trip ends. The earliest your flight can depart is 1pm.
What's Included
Meals
Breakfast: 7 Dinner: 3

Airport Transfers at Destination

Fully Guided

Accommodation
What's Not Included
Country Entry Visas

Tipping and Gratuities
Why Book this Tour
Unlike many other operators, we include the hire of your bike in the overall cost of the holiday: you don't need to bring your own or pay extra to hire one locally. We also provide a support vehicle, spare parts and take care of day to day bike maintenance. All you need bring is your own helmet.
Check out our Q&As
Are the local guides on the tour English speaking?

Are vaccinations required for this tour?

Are children permitted to take part in the tour?

Are airport transfers included in this tour?

I'm going on a walking/cycling trip-do I need to train?

It will depend on the grade and how fit you already are. Check the trip page for details of the walking or cycling grade and how far you'll be walking/cycling each day. For moderate or challenging trips in particular we'd recommend doing some walks or cycles before you leave to build up your fitness and prepare you for the distances being covered.
Who will be my travelling companions on the tour?

We have a wide range of ages nationalities on our small group trips and they come from all walks of life.

Should I get travel insurance?

Yes–it is a condition of booking that you are fully insured when travelling with us

How long has the tour company been trading?

At Explore, we're the experts in adventure travel. Our small group adventure holidays have been running since 1981. Today, Explore is one of the most trusted travel companies in the UK with over 500 trips to more than 120 countries.

Can I join the tour once it has departed?

Yes, but there are no concessions for doing so, and we must have a record in your booking advising as such before the trip departs.

Am I contributing to any charity by booking the tour?

Being a responsible company is a large statement, something that has to be entwined within the very fibre of a company. Discover the charities and partnerships we support as part of this at https://www.explore.co.uk/about/sustainability/charities-and-partners

What happens if I need to change my holiday date once I've booked?

We want to be as clear as and as honest as possible about what happens if you decide to that you no longer wish to travel on your trip. Our booking conditions have details of the costs you'll incur when you cancel-these charges depend on how long it is before your planned departure.

What is the accommodation like?

We choose comfortable accommodation in the best locations possible. We opt for small, local and family-run accommodation where we can, as opposed to large chain hotels. We typically use hotels that are the equivalent of European 3-star, and you'll usually have an en suite room. Occasionally, where we want to get off the beaten trail we may stay in more basic accommodation.

What Ethical Travel credentials does the tour company have?

Sustainability is embedded within the fibre of Explore, it emanates from the inside out. But as we enter a new decade it is clearer than ever that our world needs help, and Explore has created a sustainability strategy based on the 2015 UN's Sustainable Development Goals.

What policies are in place for Covid-19?

Our flexible booking and safety policies mean you're protected before and during your travels with us. Receive a full refund if your trip is cancelled, transfer your trip free of charge up to 10 days before departure minus any irrocoverable costs.

Do I need to be very fit to book with you?

All our trips require some level of active participation. This could be on a cultural trip, trek, safari, expedition or voyage. It is in the interests of all members of the group that everyone should be capable of fully participating in the activities of their chosen trip.

What documents will I receive before I travel?

Final documents will include a comprehensive trip itinerary, climate and country information, budgeting and packing advice visa and passport information and details on optional activities available.

Do you operate a "single share" option and how does it work?

Yes on most of our trips. Most trips are based on customers sharing twin-bedded rooms. If you book a group trip as an individual, you will share a room with someone of the same sex. However, on many trips we offer the opportunity to pay a supplement to pre-book a single room, known as our single room option. On some trips a single room will be provided every night, on others it will be provided o

Do we have to be vaccinated against Covid-19 to travel

It's now a condition of booking a trip with us that customers should have one of the following before they travel - — Be vaccinated against COVID, having received the full recommended course, and allowing enough time for immunity to take effect. Full vaccination includes any booster required to keep the vaccine valid. — Have taken a negative test (rapid antigen or PCR) within 72hrs of departure.

Will the accommodation included meet local health and safety regulations?

Explore will only offer hotels that have specific COVID-19 protocols in place and comply with local government guidelines. We will ensure these measures include; enhanced room cleaning, ventilation, social distancing, regular cleaning and disinfection of high frequency touch points in public areas, food safety, staff re-training and minimising contact within the properties.
Reviews from Travellers on this Tour
Richard
Cycle Albania
Another great Explore holiday
Cathy
Cycle Albania
Great trip, Bledi was a reallyod guide and kept 16 of us under his wing for the week, He managed all the coffee and lunch stops and booked several evening meals, I was impressed that the price included 3 dinners
Alison
Cycle Albania
A superb week cycling in the Albanian countryside. Expertly looked after by our wonderful guide Bledi and bike mechanicsupport driver Claret. Highlights were; seeing this beautiful country by bike, quiet roads, relaxing in the hot (warm!) springs, great bikes, the satisfaction and feelod factor from cycling place to place, and relaxing at the end of the day over aod meal and few drinks with a lovely group. Couldn't have asked for a better week!
James
Cycle Albania
Good holiday, and great peoplemix of people.
Natalia
Cycle Albania
The trip was really enhanced by our guide Bledi - he looked after us extremely well.
Hilary
Cycle Albania
We were pleased with the accounting done by the group leader for the tip money at the end, since we've not had this before and it'sod to see how the money is accounted for.
Dates & Availability
Instant Booking Available
Friday - Friday
Apr 12, 2024 - Apr 19, 2024
Instant Booking Available
Friday - Friday
Apr 26, 2024 - May 03, 2024
Instant Booking Available
Friday - Friday
May 17, 2024 - May 24, 2024
Instant Booking Available
Friday - Friday
Jun 07, 2024 - Jun 14, 2024
Instant Booking Available
Friday - Friday
Jun 21, 2024 - Jun 28, 2024
Instant Booking Available
Friday - Friday
Sep 06, 2024 - Sep 13, 2024
Instant Booking Available
Friday - Friday
Sep 20, 2024 - Sep 27, 2024
Instant Booking Available
Friday - Friday
Oct 04, 2024 - Oct 11, 2024
Instant Booking Available
Friday - Friday
Oct 18, 2024 - Oct 25, 2024
Book with Confidence
Free Date Changes

Explore! allows you to make 1 free date changes, as long as the change is made at least 60 days before the start of the tour.

Low Deposit

Explore! requires a minimum deposit of 10% or the full booking value, whichever is less, with the final balance not due until 60 days before departure.

Cancellation Policy

We don't charge a cancellation fee, here is a summary of explore! charges.

Up to 60 days before tour starts: Forfeit 100% of deposit.

At 59 days before tour starts: Forfeit 30% of booking price.

At 41 days before tour starts: Forfeit 60% of booking price.

At 27 days before tour starts: Forfeit 90% of booking price.

At 13 days before tour starts: Forfeit 100% of booking price.
Why book with tourhub?
Safe & Secure
Your money is protected in an external trust until you travel.
---
100% Guaranteed Refunds if your trip is cancelled.
---
The safest way to make overseas, multi-currency payments.
Guaranteed Best Value
Industry leading discounts, we won't be beaten on price.
---
No cancellation or amendment fees from tourhub.
(Operator terms may apply)
Expert Knowledge
Reliable & unbiased advice from travel experts.
---
Direct contact with the tour operator via our messaging service.
---
Inspiration & advice from a community of 6000+ real travellers, influencers & content creators.
Trusted Service
Official partners & licensed agents of 1000+ tour operators worldwide.
---
Don't just take our word for it...
"Tourhub: Friendliness, Professionalism & Integrity I would happily give tourhub a 6* review if I could..."
Similar Tours
Travel Guru Features
Our Reviews