Cycle Hadrian's Wall - Coast to Coast
5 Days Starting and ending in Tynemouth
Visiting: Tynemouth, Brampton, Haltwhistle, Corbridge
Tour Overview
Hadrian's Cycleway is a great coast-to-coast ride with breath taking views that explores the living history of Hadrian's Wall. Europe's largest surviving Roman monument was built in AD 122 and our cycle route visits some of the highlights of this UNESCO site. We ride from the Irish Sea on quiet roads through beautiful hill country, attractive market towns, quaint villages and peaceful river valleys to the North Sea.
Highlights
Natural beauty - ride from Solway Firth across the North Pennines

Hadrian's Wall - Roman Army Museum, Birdoswald Fort and Vindolanda settlement

Coast to Coast - sense of achievement crossing England by pedal power
Itinerary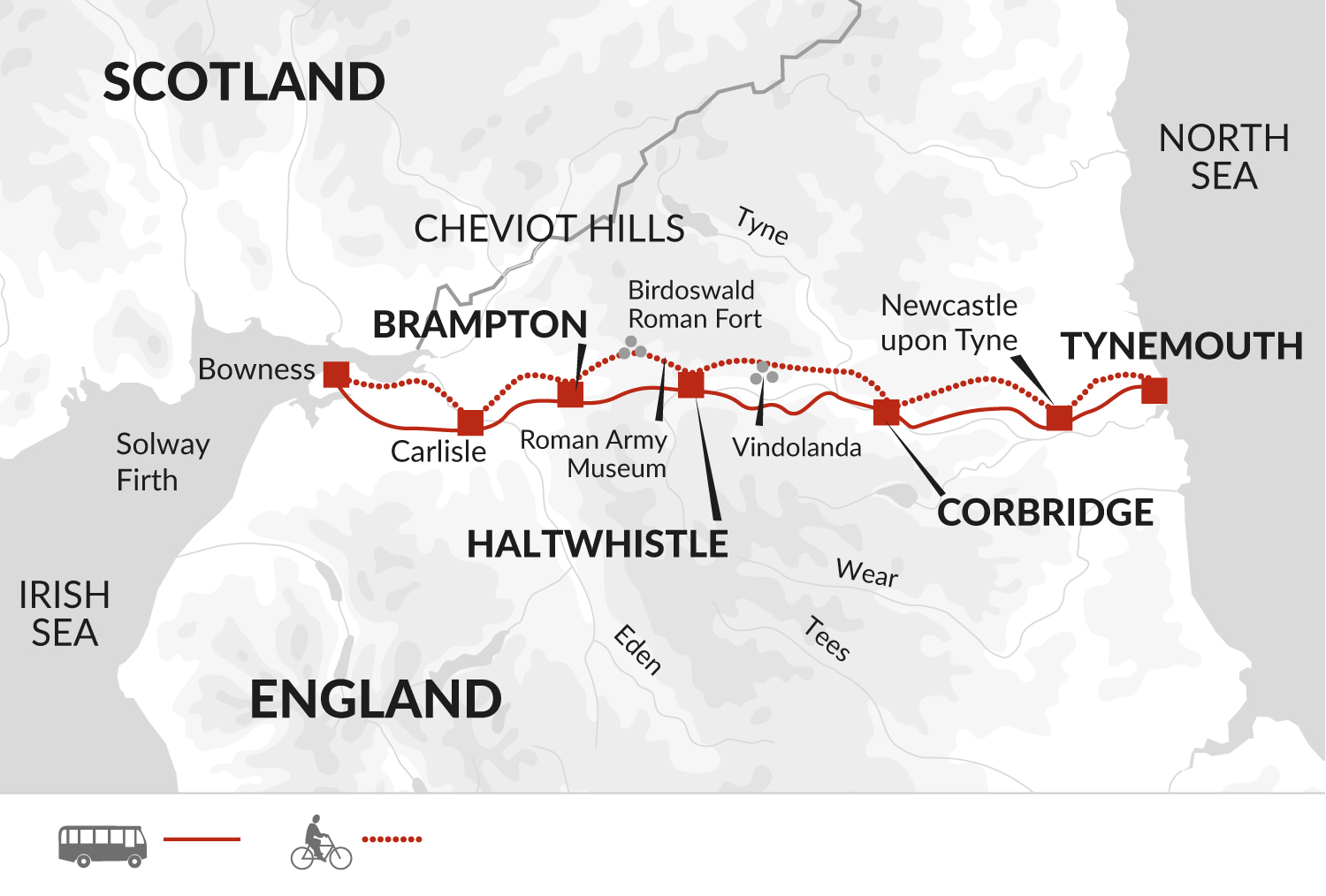 Expand All
Day 1: Join Trip In Tynemouth
Location:
Tynemouth
Accommodation:
Hotel, The Park
Meals Included:
No Meals
Arrive in the village of Tynemouth, listed in the 2018 Sunday Times report on best places to live in Northern England. Check in is possible from 3pm and free car parking is available. For those arriving by train into Newcastle you can use the Tyne and Wear Metro system to reach Tynemouth. We end our ride here on day 5.

The Tour Leader plans to meet you in reception at 6pm for the introductory briefing, followed by the option to enjoy a group meal (not included) to get acquainted with your fellow guests.

NB - Please note that during covid restrictions it is advisable to pre-book entrance tickets for most suggested site visits on this trip. Go to the optional activities listed in the trip information section for more details on pre-booking the visit (with timings and prices).
Day 2: Drive To Bowness. Cycle To Brampton Via Carlisle
Location:
Brampton
Accommodation:
Scotch Arms Mews
Meals Included:
Breakfast
After breakfast we drive (2hrs) to Bowness on Solway. We unload and assign the bikes and there will be time to get comfortable and make any necessary adjustments. The included 24-gear hybrid bikes are ideally suited to the terrain. Maps and detailed route notes will be provided, which means we can cycle at our own pace, either individually or with other group members. Our local Leader will transfer the luggage, provide an emergency backup vehicle, and will meet us at various points during our cycling days to help ensure all runs smoothly and you enjoy your trip.

We start our ride in the Solway Coast Area of Outstanding Natural Beauty, following National Cycle Network Route 72 alongside the Solway Firth before heading inland to Carlisle. You may choose to visit the medieval castle that has watched over the Cathedral City of Carlisle for more than nine centuries. Our ride continues to Warwick Bridge followed by a short climb to Brampton where we spend the night. We recommend an optional evening walk around Talkin Tarn glacial lake and Country Park just outside Brampton. Please note that due to the small size of hotels our group may be accommodated in more than one hotel tonight.

Our total cycling distance today is approximately 45 kilometres (total 330 metres ascent and 265 metres descent).
Day 3: Cycle To Haltwhistle. Birdoswald Roman Fort And Roman Army Museum
Location:
Haltwhistle
Accommodation:
Hotel, Centre of Britain
Meals Included:
Breakfast
Back on the bikes this morning, we have a relatively shorter ride today that takes in some wonderful Roman heritage sites. Our first suggested stop is at Lanercost Priory (English Heritage, optional visit) where you can visit the impressive remains of this 12th century Augustinian priory. There is a steep climb out of Banks before arriving at our first site on Hadrian's Wall at Birdoswald Roman Fort (English Heritage, optional visit), also good for a coffee break. You can see the longest remaining stretch of the Wall here and explore the ruins of the Fort, a turret and milecastle. After a steep climb (up to 17%), we reach Greenhead Bank where you may choose to have lunch and have the chance to visit the excellent Roman Army Museum. It is possible to buy a combined ticket here that includes the entrance to Vindolanda tomorrow. The final stretch is an easy ride down to the hotel in the small town of Haltwhistle. Please note that due to the small size of hotels our group may be accommodated in more than one hotel tonight.

Our total cycling distance today is approximately 22 kilometres (total 305 metres ascent and 260 metres descent).
Day 4: Cycle To Corbridge. Vindolanda Roman Archaeological Site
Location:
Corbridge
Accommodation:
Hotel, The Beaumont
Meals Included:
Breakfast
Our ride this morning follows the South Tyne Valley to Bardon Mill, before some steep climbs back up to Hadrian's Wall at the Roman archaeological site of Vindolanda. There is a cafe here to have a break and we recommend a visit to the site where you may even see some archaeologists and learn what has been uncovered recently. The cycle ride continues to the historic and picturesque village of Corbridge where we spend the night. Once a Roman garrison town, it is possible to visit the remains of Corbridge Roman Town (English Heritage, optional visit) located just outside of town. Please note that depending on hotel availability, tonight may be spent in either Corbridge or Hexham. Hexham has a beautiful Abbey and would mean a shorter ride (8km less) today and more tomorrow.

Our total cycling distance today is approximately 38 kilometres (total 470 metres ascent and 550 metres descent).
Day 5: Cycle To Tynemouth Where The Trip Ends
Location:
Tynemouth
Meals Included:
Breakfast
Our final ride follows the River Tyne Valley along minor roads, disused railway lines and cycle paths into Newcastle passing Ovingham Bridge and Wylam (George Stephenson's birthplace). After passing through the centre of the city with the river on our right, we weave our way along the final 20km to the North Sea through Wallsend and North Shields. Finally, we reach the small bay at Tynemouth and complete our journey from coast to coast with the ruins of Tynemouth Castle and Priory on the headland above. There is a great feeling of real achievement as we realise that we just crossed England by pedal power!

Our journey ends at Tynemouth Castle at around 4pm when we leave the bikes and say farewell. If not picking up your car you can take a short walk to Tynemouth metro station on the Tyne and Wear Metro system, from where it is a 30-minute journey into central Newcastle and the mainline rail station. The earliest your train can depart from Newcastle is 5pm.

Our total cycling distance today is approximately 50 kilometres (total 390 metres ascent and 400 metres descent).
What's Included
Accommodation

Fully Guided

Meals – Breakfast Only
What's Not Included
Tipping and Gratuities

Country Entry Visas
Check out our Q&As
I'm going on a walking/cycling trip-do I need to train?

It will depend on the grade and how fit you already are. Check the trip page for details of the walking or cycling grade and how far you'll be walking/cycling each day. For moderate or challenging trips in particular we'd recommend doing some walks or cycles before you leave to build up your fitness and prepare you for the distances being covered.

Who will be my travelling companions on the tour?

We have a wide range of ages nationalities on our small group trips and they come from all walks of life.

Should I get travel insurance?

Yes–it is a condition of booking that you are fully insured when travelling with us

How long has the tour company been trading?

At Explore, we're the experts in adventure travel. Our small group adventure holidays have been running since 1981. Today, Explore is one of the most trusted travel companies in the UK with over 500 trips to more than 120 countries.

Can I join the tour once it has departed?

Yes, but there are no concessions for doing so, and we must have a record in your booking advising as such before the trip departs.
Am I contributing to any charity by booking the tour?

Being a responsible company is a large statement, something that has to be entwined within the very fibre of a company. Discover the charities and partnerships we support as part of this at https://www.explore.co.uk/about/sustainability/charities-and-partners

What happens if I need to change my holiday date once I've booked?

We want to be as clear as and as honest as possible about what happens if you decide to that you no longer wish to travel on your trip. Our booking conditions have details of the costs you'll incur when you cancel-these charges depend on how long it is before your planned departure.

What is the accommodation like?

We choose comfortable accommodation in the best locations possible. We opt for small, local and family-run accommodation where we can, as opposed to large chain hotels. We typically use hotels that are the equivalent of European 3-star, and you'll usually have an en suite room. Occasionally, where we want to get off the beaten trail we may stay in more basic accommodation.

What Ethical Travel credentials does the tour company have?

Sustainability is embedded within the fibre of Explore, it emanates from the inside out. But as we enter a new decade it is clearer than ever that our world needs help, and Explore has created a sustainability strategy based on the 2015 UN's Sustainable Development Goals.

What policies are in place for Covid-19?

Our flexible booking and safety policies mean you're protected before and during your travels with us. Receive a full refund if your trip is cancelled, transfer your trip free of charge up to 10 days before departure minus any irrocoverable costs.

Do I need to be very fit to book with you?

All our trips require some level of active participation. This could be on a cultural trip, trek, safari, expedition or voyage. It is in the interests of all members of the group that everyone should be capable of fully participating in the activities of their chosen trip.

What documents will I receive before I travel?

Final documents will include a comprehensive trip itinerary, climate and country information, budgeting and packing advice visa and passport information and details on optional activities available.

Do you operate a "single share" option and how does it work?

Yes on most of our trips. Most trips are based on customers sharing twin-bedded rooms. If you book a group trip as an individual, you will share a room with someone of the same sex. However, on many trips we offer the opportunity to pay a supplement to pre-book a single room, known as our single room option. On some trips a single room will be provided every night, on others it will be provided o

Do we have to be vaccinated against Covid-19 to travel

It's now a condition of booking a trip with us that customers should have one of the following before they travel - — Be vaccinated against COVID, having received the full recommended course, and allowing enough time for immunity to take effect. Full vaccination includes any booster required to keep the vaccine valid. — Have taken a negative test (rapid antigen or PCR) within 72hrs of departure.

Will the accommodation included meet local health and safety regulations?

Explore will only offer hotels that have specific COVID-19 protocols in place and comply with local government guidelines. We will ensure these measures include; enhanced room cleaning, ventilation, social distancing, regular cleaning and disinfection of high frequency touch points in public areas, food safety, staff re-training and minimising contact within the properties.
Reviews From Travellers On This Tour
Kate
Cycle Hadrian's Wall - Coast to Coast
Neil
Cycle Hadrian's Wall - Coast to Coast
Really enjoyed the trip. Excellent company and Ian was a great leader
Barbara
Cycle Hadrian's Wall - Coast to Coast
Kate
Cycle Hadrian's Wall - Coast to Coast
Neil
Cycle Hadrian's Wall - Coast to Coast
Really enjoyed the trip. Excellent company and Ian was a great leader
Dates & Availability
Instant Booking Available
Friday - Tuesday
May 31, 2024 - Jun 04, 2024
Instant Booking Available
Friday - Tuesday
Jun 28, 2024 - Jul 02, 2024
Instant Booking Available
Friday - Tuesday
Jul 19, 2024 - Jul 23, 2024
Instant Booking Available
Friday - Tuesday
Sep 27, 2024 - Oct 01, 2024
Book with Confidence
Free Date Changes

Explore! allows you to make 1 free date changes, as long as the change is made at least 60 days before the start of the tour.

Low Deposit

Explore! requires a minimum deposit of 10% or the full booking value, whichever is less, with the final balance not due until 60 days before departure.

Cancellation Policy

We don't charge a cancellation fee, here is a summary of explore! charges.

Up to 60 days before tour starts: Forfeit 100% of deposit.

At 59 days before tour starts: Forfeit 30% of booking price.

At 41 days before tour starts: Forfeit 60% of booking price.

At 27 days before tour starts: Forfeit 90% of booking price.

At 13 days before tour starts: Forfeit 100% of booking price.
Why book with tourhub?
Safe & Secure
Your money is protected in an external trust until you travel.
---
100% Guaranteed Refunds if your trip is cancelled.
---
The safest way to make overseas, multi-currency payments.
Guaranteed Best Value
Industry leading discounts, we won't be beaten on price.
---
No cancellation or amendment fees from tourhub.
(Operator terms may apply)
Expert Knowledge
Reliable & unbiased advice from travel experts.
---
Direct contact with the tour operator via our messaging service.
---
Inspiration & advice from a community of 6000+ real travellers, influencers & content creators.
Trusted Service
Official partners & licensed agents of 1000+ tour operators worldwide.
---
Don't just take our word for it...
"Tourhub: Friendliness, Professionalism & Integrity I would happily give tourhub a 6* review if I could..."
Similar Tours
Travel Guru Features
Our Reviews