Cycle Vietnam
14 Days Starting in Hanoi and ending in Saigon
Visiting: Hanoi, Đồng Hới, Hạ Long, Ninh Bình, Hue, Da Nang, Hoi An, Hội An, Ho Chi Minh City
Tour Overview
On this trip we discover the highlights of Vietnam by bike. Explore the charming cities of Hanoi, Hue, Old Saigon and Hoi An and experience the natural beauty of Halong Bay. Visit the ancient capital of the Cham Empire at My Son and discover the thriving Mekong Delta by boat and on two wheels. Halong Bay - cruise amongst the beautiful landscapes of Halong Bay Bike Vietnam - Get closer to Vietnam's fascinating sites and welcoming people from Hanoi to Saigon Hue, Hoi An and My Son - Cycle the Imperial sights and World Heritage monuments
Highlights
Halong Bay - cruise amongst the beautiful landscapes of Halong Bay

Bike Vietnam - Get closer to Vietnam's fascinating sites and welcoming people from Hanoi to Saigon

Hue, Hoi An and My Son - Cycle the Imperial sights and World Heritage monuments
Itinerary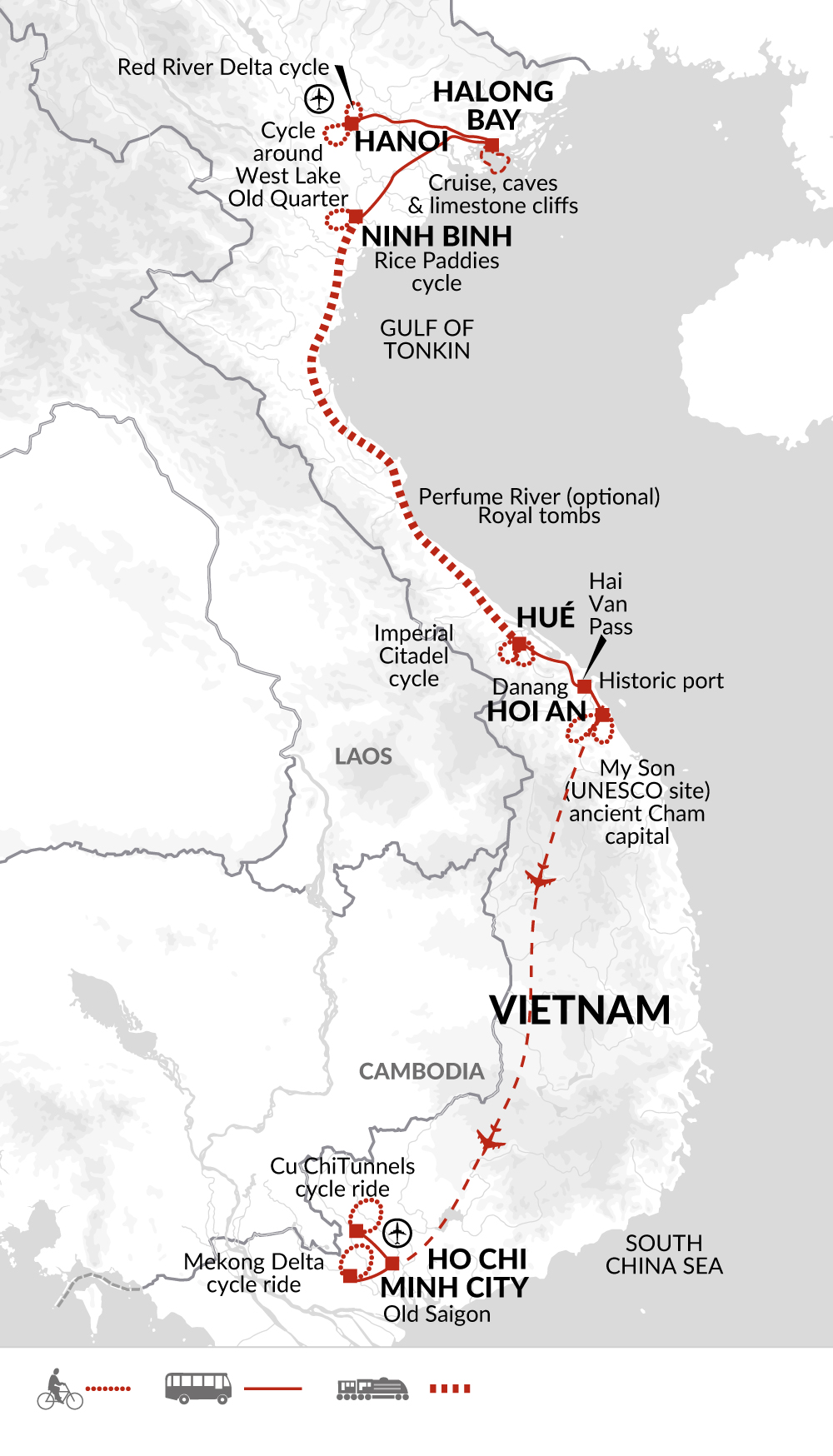 Expand All
Day 1: Join Tour Hanoi. Pm Orientation Of Hanoi'S Old Quarter
Location:
Hanoi
Accommodation:
Hotel
Our journey starts in Hanoi - Vietnam's vibrant capital. Architecturally styled like a French provincial town, with tree-lined boulevards and low-rise buildings, a walk through the bustling streets of its Old Quarter provides an ideal introduction to its fascinating heritage. Named after the various crafts and specialities of the city's artisans, each street bears such descriptive monikers as Paper Street, Silk Street and Basket Street. This practice dates back to the 13th century, when the city's original 36 guilds established themselves here, adopting a street each to differentiate them from their neighbours. Street food sellers tempt you with all manner of noodles, snacks and stir-fried delights from shoulder panniers, all adding to the charm of Hanoi's historic heart.

The Tour Leader plans to meet you in the hotel reception at 4pm for the welcome meeting followed by a walking tour through the Old Quarter. If you would like to receive a complimentary airport transfer today, you'll need to arrive into Noi Bai International Airport (HAN), which is 45 minutes from the hotel.

Please note that if you wish to join the afternoon orientation walk today, you must arrive at the hotel by 4pm. If you are booking your own flights, we recommend giving yourself 30 minutes to an hour to clear the airport. Therefore the latest your flight can arrive is about 1.30pm. Should you miss the welcome meeting, your Leader will inform you of any essential information by note left at the front desk.
Day 2: Am Hanoi City Tour. Pm Cycle Ride Around West Lake
Location:
Hanoi
Accommodation:
Hotel
After breakfast we will have the opportunity to check out our bikes and complete any necessary fine tuning. We then continue by bus for a morning sightseeing tour of the city in the company of our local guide. We will include visits to the 11th century Quan Thanh Taoist Temple, the charming One-Pillar Pagoda, the temple of literature and the Presidential Palace. Ho Chi Minh himself was a spartan living and scholarly who chose not to reside in the Presidential Palace itself, but himself preferred a simple teak, 2 - storey stilt house especially built for him in the grounds. We'll have a chance to visit this simple structure today, before heading back to the hotel. After lunch we will enjoy an afternoon's cycle ride around the nearby West Lake. A journey of some 17-20 kms, the ride takes us around the largest fresh water lake in the capital, a place steeped in legend and lying in the bustling heart of the city. Covering some 500 ha and surrounded by gardens, temples and some of Hanoi's most opulent real estate, the lake provides us with an ideal venue to test out our bikes. Our circuit will include stops at the Buddhist library of Thu Sacha and the Phu Tay Ho Temple, an especially lucky place for women who come here to ask for blessings.

Our total cycling distance today is approximately 17 to 20 kilometres
Day 3: Drive To Dong Ho; Cycle Through Villages Of The Red River Delta
Location:
Đồng Hới
Accommodation:
Hotel
Departing Hanoi this morning, we head first for the village of Dong Ho, situated to the east of the city. Famed for its folk paintings, the village has existed on the banks of the Duong River since the 16th century and its art reflects centuries old traditions. Hand printed on papyrus-like paper, the paintings traditionally reflect feelings of prosperity and happiness, their colours generated from locally acquired materials such as charred bamboo leaves and finely ground oyster shells. We will have an opportunity to spend some time with the artisans this morning, before continuing our journey from here by bike, cycling along the dyke of the Duong River. The dyke system in the North of Vietnam is the longest in Indochina, stretching over 2400 kilometres. Cycling atop the dikes we will pass through commercial vegetable gardens providing much of the capitals fresh produce and encounter plenty of grazing cattle. After a distance of around 8kms we will arrive at But Thap, where we will visit the 17th century Pagoda before continuing on our bikes through lush landscapes to Kim Son. Here we will visit the Sui Pagoda, where novice monks are trained in the art of meditation. Nearby a small vegetable market will provide us the opportunity to see some of the produce from the dike gardens. Re-joining our bus here we then drive on to Phu Thi in the Red River Delta, for a home cooked lunch and a chance to learn a little about local customs and traditions from our hosts, before continuing by bus towards the Gulf of Tonkin and the stunning karst landscapes of Ha Long Bay.

Our total cycling distance today is approximately 15 kilometres
Day 4: Am Ha Long Bay Cruise. Pm Drive To Ninh Binh Via Nhan Muc
Location:
Hạ Long
Accommodation:
Hotel
One of South East Asia's most spectacular settings, where thousands of limestone islands rise from the jade green waters of the bay like the scales of some great submerged dragon, Ha Long Bay is a World Heritage site of natural majesty. Ha Long translates as the place \ where the dragon descends to the sea\ and local legend tells of a time when this rugged landscape was created by the pounding tail of a mighty dragon as he ran from the mountains into the sea. This morning we will board a charter boat for a cruise amongst its limestone islands, threading our way through a flotilla of boats, junks and wooden sampans as they ply their way across the gentle waters of the bay. The plan is to spend the morning sailing through this stunning seascape, stopping off to visit some of the limestone caverns that pepper the landscape and enjoy a delicious seafood lunch on board. This afternoon we then continue by road to the village of Nhan Muc, where we will enjoy a traditional water puppet show (a practice that dates back to the 15th century) and have a chance to interact with the locals, before we complete our journey to the town of Ninh Binh. We arrive to our hotel in the evening after a long yet rewarding day. No cycling, rest day.
Day 5: Exploring Rural Scenes Of Ninh Binh By Bicycle. Overnight Reunification Express To Hué
Location:
Ninh Bình
Accommodation:
Overnight Train
Cycling the back roads to Hoa Lu this morning, we visit the country's ancient capital. Once the political and cultural centre of Dai Co Viet (Vietnam), the city ruled over the region's first centralised feudal state. Whilst many of its ancient monuments are long gone, we will get a chance this morning to visit the temple of King Dinh Tien Hoang, the man who unified the country and founded Vietnam's first feudal dynasty. From here we cycle along narrow concrete paths through picturesque local communities on to the 12th century Nguyen Saint Temple. After a break at the temple we head through rural countryside towards the spectacular limestone karst formations of Van Long, and finally on to the nearby village of Vuon Thi, where we enjoy a delicious traditional lunch. There may be an opportunity to try some traditional farming and fishing instruments in the yard. After lunch we cycle the short distance to the nearby dock for a tranquil sampan journey around the stunning caves and Karst scenery of the Van long Reservoir. Returning to Ninh Binh later this afternoon by bus, there will be some free time in the city and to freshen up in our hotel dayroom before we board the Reunification Express for the overnight journey to Hué.

We plan to sleep in 'soft-sleeper' four berth cabins, and bunk bed style and bedding is provided. Both Western and Asian style toilets are at the end of each carriage as well as a basin. The Leader will allocate beds keeping people together as far as possible but it may be necessary to share with other travellers.

Our total cycling distance today is approximately 34 kilometres
Day 6: Arrive Hué. Pm Biking Tour Of Hué.
Location:
Hue
Accommodation:
Hotel
Arriving in Hué this morning we transfer to the hotel and check in, after checking and adjusting our bikes the rest of the morning is free to relax and enjoy at your leisure. Once the capital of Vietnam and an inspiration for poets and artists alike for centuries, Hué is divided by the waters of the Perfume River, which separate the city's 19th century citadel from the suburbs that radiate from the eastern shore. Even today, its easy air of leisurely ambience makes it one of the most engaging cities in the country to explore and, after lunch, we will cycle our bikes on a tour of the imposing Citadel. Built by the Nguyen dynasty (Vietnam's ruling emperors from the early 1800s to 1945), the Citadel still dominates the left bank of the Perfumed River. Its formal moats and impressive ramparts were constructed to be an exact copy of the Forbidden City in Beijing, and whilst much of the inner city suffered badly during the heavy bombardments of the Tet Offensive in 1968, the huge outer walls and the West Wing remain an eloquent reminder of the palace's former glory. Later today we will cycle out to the lovely tile-roofed bridge at Thanh Toan. Built over two centuries ago, the arched wooden bridge spans a canal that runs through the village and has long been an iconic and cultural landmark in the area. Late in the afternoon the old folk gather on the bridge to talk and reminisce. After enjoying the tranquil atmosphere around the bridge we will cycle back to our hotel.

Our total cycling distance today is approximately 18 kilometres
Day 7: Am Exploring Around Hué By Bicycle. Pm Perfume River Optional.
Location:
Da Nang
Accommodation:
Hotel
This morning we will enjoy the peaceful leafy backstreets of this charming city, cycling out to explore the countryside around Hué. We begin with a visit to the Ho Quyen amphitheatre, where the emperor presided over duels between tigers and elephants. Continuing on to the 19th century Nguyen Tomb of Tu Duc, we will enjoy the beautiful complex of ornate temples, pavilions and tombs built beside a picturesque lake. After a visit to the eunuch tombs at the Tu Hieu Pagoda, a gentle ascent of Vong Canh Hill rewards us with spectacular views. From the pine forest atop the hill we can look over the Perfume River and the surrounding countryside and tombs of the Nguyen dynasty. We finish our morning cycling further out to the vast 19th century tomb of Minh Mang, possibly the finest of all the imperial tombs. Returning to Hué by bus around lunch time, the rest of the day is then free. There is the option to take a half day excursion along the Perfume River, visiting the iconic Thien Mu Pagoda, home to the oldest monastery in the city, whose 21m high tower has become something of a symbol for Hué. Dedicated to the Manushi-Buddha, the existing temple was constructed in the middle years of the 19th century, under the auspices of the Emperor Thieu Tri, and within its confines you can find a number of superb Buddhist statues, as well as an enormous cast bell that weighs in at over 2000 kg and is reputed to be audible over 10 km away.

Our total cycling distance today is approximately 35 kilometres
Day 8: Bus And Bike To Hoi An, Via Hai Van Pass And Danang
Location:
Hoi An
Accommodation:
Hotel
20 This morning we drive south for about an hour to reach Phouc Tuong Pass where today's ride commences. We cycle firstly past arable lands and later beside a large lagoon after which the cycle ride finishes. Getting back in the vehicle we start our drive south, and time permitting we will stop at Lang Co, a section of the famed China Beach, to enjoy a spot of swimming. Known locally as My Khe, the name China Beach was accorded by US troops who came here for R & R during the Vietnam War. After our break to relax here we follow the coastal road towards the Truong Son Mountains and the lofty heights of the Hai Van (Sea Cloud) Pass. This scenic region once marked the boundary between Vietnam and the Champa Kingdom to the south and as we reach the pass itself the views before us are simply spectacular. After a short stop at the pass we drive downhill towards the major city of Danang, accompanied by stunning panoramas of mountains, islands and ocean. We soon encounter Thuan Phuoc Bridge - the longest suspension bridge in the country at 1850 metres in length - spanning the Han River, then we continue our onward journey to the bustling port of Hoi An. First colonised by the Portuguese in the 16th century, by the 17th and 18th centuries, Hoi An had become one of the busiest international trading posts in South East Asia and, even today, it still retains the engaging charm of a medieval port, with many of its old buildings superbly preserved. The rest of the day has been left free to wander through the historic heart of this World Heritage Site at your leisure. You might like to pay a visit to the Japanese Bridge, Hoi An's emblematic symbol, believed to have been constructed to quell the violent rumblings of a restless monster, or perhaps explore the traditional wooden houses and Chinese temples that line the streets. Other alternatives include visits to the local cloth mill and the hire of rowing boats to explore the landscapes along the river.

Our total cycling distance today is approximately 28 kilometres
Day 9: Around Hoi An: River Trip, Cycling And Free Time
Location:
Hoi An
Accommodation:
Hotel
This morning we board another boat, for a cruise down the river to the busy village of Kim Bong. However, in the company of an appointed village guide, we will uncover a hive of cottage industries amongst old colonial houses and temples. Biking through lush rural landscapes we will see local people producing boats, straw matting and rice noodles. Continuing by river on to the pottery village of Thanh Ha, we then have an opportunity to visit a traditional workshop and watch local artisans continuing a tradition that has existed in this village since the 16th century. We cycle the few kilometres back to Hoi An with the rest of the day free for more personal sightseeing. There is an opportunity to extend todays cycling with an optional visit to Tra Que village to learn about organic vegetable and herb farming. Here you can also enjoy a delicious lunch and even a herbal footbath and massage (at your own expense) in a local house in the village.

Our total cycling distance today is approximately 8 kilometres with an additional optional 12 kilometres.
Location:
Hội An
Accommodation:
Hotel
Today we start our day with a short bus journey to a place called Nam Phuoc from where we will cycle our way through to My Son. My Son has been dubbed as a UNESCO World Heritage site and has ruins of structures from ancient Champa Kingdom which flourished between the 2nd and 15th Centuries. For those hankering for culture and history, this presents an ideal opportunity to explore the most evocative of Vietnam's Cham sites at My Son. The Chams were dynastic lords who rejected the authority of China in 2AD and established their own kingdom. For 1000 years they managed to stave off attacks by the Vietnamese and Chinese, before being overcome by the Vietnamese in the 15th century. The site contains several impressive groupings of Cham temples and present probably the finest example of Cham masonry skills in the country. We take a bus back to our hotel in Hoi An.

Our total cycling distance today is approximately 30 kilometres
Day 11: Fly To Saigon (Ho Chi Minh City); Afternoon Downtown Orientation
Location:
Ho Chi Minh City
Accommodation:
Hotel
After first transferring to Danang airport this morning, we fly south to Vietnam's largest and most vibrant city - Ho Chi Minh City. Still commonly referred to by its old colonial title, Saigon is an eclectic mix of the traditional and the new, where pagodas and markets compete alongside the trappings of Vietnam's newly discovered entrepreneurial spirit. After a short flight from Danang, we'll transfer to the hotel and check in, after which we will take a brief orientation tour of the city on foot. As part of our tour we will include the prominent sights of the Hotel de Ville, whose ornate grandeur is today the home of the People's Committee. We also take in the Opera House (formerly the National Assembly building), the Romanesque Notre Dame Cathedral and the impressive French style edifice that is the GPO building. Afterwards you will be free to enjoy some personal exploration, affording a chance to visit some of the many temples that lie dotted around the city, or perhaps to do some shopping amongst the bustling stalls of the Binh Tay Market, the largest wholesale market in southern Vietnam and a fabulous place to stroll and meet the locals. No visit to Saigon would be complete without exploring something of its tragic recent history too and this afternoon also offers a chance to visit the remarkable Reunification Palace and the emotive War Crimes Museum, where you can find some poignant and moving reminders of Vietnam's colonial wars.

No cycling, rest day.
Day 12: Cycle To The Cu Chi Tunnels. Freetime In Saigon
Location:
Ho Chi Minh City
Accommodation:
Hotel
This morning we drive out of the city to Cu Chi (1.5 hours), from where we cycle out visit to the infamous Cu Chi Tunnels. Originally started during the French occupation of the country, the tunnels went on to achieve notoriety during the Vietnam War, when they formed an amazing underground command base for 10,000 Viet Cong troops and were a major part of the Tet Offensive. This area was the centre of intense fighting during the war, much of it falling prey to the incessant carpet bombing, napalm and defoliants utilised by the Americans in an attempt to dislodge the Viet Cong from their underground shelters. There is little evidence of any of that now and the landscape has returned to something of its pre-war beauty, but exploring the tunnels of Ben Dinh and Ben Bihn gives some idea as to the conditions that the Vietnamese and their American adversaries had to endure. Be warned, the tunnels are low and narrow and can be claustrophobic. Driving back to Saigon after lunch, the remainder of the afternoon is free to enjoy a last look at this remarkable city.

Our total cycling distance today is approximately 25 kilometres.
Day 13: Cycling In The Mekong Delta
Location:
Ho Chi Minh City
Accommodation:
Hotel
Today we journey by vehicle, boat and bike into the Mekong Delta to explore these fascinating waterways. Firstly we make our way by bus from Saigon to Cai Lay (2 hours), where we start cycling alongside calm canals and rivers. Along the way we will learn more about local life, taking in the verdant gardens and orchards as we go. After an included lunch we take a boat trip to see local cottage industries making such things as rice paper, coconut sweets and rice cakes, before returning to Saigon later in the afternoon (3-4 hour drive).

Our total cycling distance today is approximately 20 kilometres.
Location:
Ho Chi Minh City
The trip ends after breakfast at our hotel in Ho Chi Minh City.

There are no activities planned today, so you are free to depart from Ho Chi Minh City at any time. If your flight is departing later in the day, luggage storage facilities are available at our hotel. If you would like to receive a complimentary airport transfer today, you'll need to depart from Tan Son Nhat International Airport (SGN), which is 30 minutes from the airport.
What's Included
Fully Guided

Bike rental

Meals – Breakfast Only

Accommodation

All Domestic Transportation (including internal flights)

Train Tickets
What's Not Included
Country Entry Visas

Tipping and Gratuities
Why Book this Tour
Unlike many other operators, we include the hire of your bike in the overall cost of the holiday: you don't need to bring your own or pay extra to hire one locally. We also provide a support vehicle, spare parts and take care of day to day bike maintenance. All you need bring is your own helmet.
Check out our Q&As
Can you assist with pre or post tour accommodation?

Are children permitted to take part in the tour?

Will I know the names and details of all the accommodation before I depart?

What is the maximum group size?

Will there be an escort accompanying this tour?
Are the local guides on the tour English speaking?

I'm going on a walking/cycling trip-do I need to train?

It will depend on the grade and how fit you already are. Check the trip page for details of the walking or cycling grade and how far you'll be walking/cycling each day. For moderate or challenging trips in particular we'd recommend doing some walks or cycles before you leave to build up your fitness and prepare you for the distances being covered.

Who will be my travelling companions on the tour?

We have a wide range of ages nationalities on our small group trips and they come from all walks of life.

Should I get travel insurance?

Yes–it is a condition of booking that you are fully insured when travelling with us

How long has the tour company been trading?

At Explore, we're the experts in adventure travel. Our small group adventure holidays have been running since 1981. Today, Explore is one of the most trusted travel companies in the UK with over 500 trips to more than 120 countries.

Can I join the tour once it has departed?

Yes, but there are no concessions for doing so, and we must have a record in your booking advising as such before the trip departs.

Am I contributing to any charity by booking the tour?

Being a responsible company is a large statement, something that has to be entwined within the very fibre of a company. Discover the charities and partnerships we support as part of this at https://www.explore.co.uk/about/sustainability/charities-and-partners

What happens if I need to change my holiday date once I've booked?

We want to be as clear as and as honest as possible about what happens if you decide to that you no longer wish to travel on your trip. Our booking conditions have details of the costs you'll incur when you cancel-these charges depend on how long it is before your planned departure.

What is the accommodation like?

We choose comfortable accommodation in the best locations possible. We opt for small, local and family-run accommodation where we can, as opposed to large chain hotels. We typically use hotels that are the equivalent of European 3-star, and you'll usually have an en suite room. Occasionally, where we want to get off the beaten trail we may stay in more basic accommodation.

What Ethical Travel credentials does the tour company have?

Sustainability is embedded within the fibre of Explore, it emanates from the inside out. But as we enter a new decade it is clearer than ever that our world needs help, and Explore has created a sustainability strategy based on the 2015 UN's Sustainable Development Goals.

What policies are in place for Covid-19?

Our flexible booking and safety policies mean you're protected before and during your travels with us. Receive a full refund if your trip is cancelled, transfer your trip free of charge up to 10 days before departure minus any irrocoverable costs.

Do I need to be very fit to book with you?

All our trips require some level of active participation. This could be on a cultural trip, trek, safari, expedition or voyage. It is in the interests of all members of the group that everyone should be capable of fully participating in the activities of their chosen trip.

What documents will I receive before I travel?

Final documents will include a comprehensive trip itinerary, climate and country information, budgeting and packing advice visa and passport information and details on optional activities available.

Do you operate a "single share" option and how does it work?

Yes on most of our trips. Most trips are based on customers sharing twin-bedded rooms. If you book a group trip as an individual, you will share a room with someone of the same sex. However, on many trips we offer the opportunity to pay a supplement to pre-book a single room, known as our single room option. On some trips a single room will be provided every night, on others it will be provided o

Do we have to be vaccinated against Covid-19 to travel

It's now a condition of booking a trip with us that customers should have one of the following before they travel - — Be vaccinated against COVID, having received the full recommended course, and allowing enough time for immunity to take effect. Full vaccination includes any booster required to keep the vaccine valid. — Have taken a negative test (rapid antigen or PCR) within 72hrs of departure.

Will the accommodation included meet local health and safety regulations?

Explore will only offer hotels that have specific COVID-19 protocols in place and comply with local government guidelines. We will ensure these measures include; enhanced room cleaning, ventilation, social distancing, regular cleaning and disinfection of high frequency touch points in public areas, food safety, staff re-training and minimising contact within the properties.
Reviews From Travellers On This Tour
Joanne
Cycle Vietnam
This was our first trip with Explore - and indeed our first Group trip. Everything was amazing. The amount of cycling was perfect, rest stops, support teams, photo opportunities, planning.....everything. A group of four people is a little 'intense' however on the whole we navigated the relationships well within the group. One of the highlights for us was Binh himself. He was such an amazing Guide/Tour Leader - words don't really convey how important he was to our enjoyment of the experience. For us, his personal stories made Vietnam's history come alive, and yet he took care to convey many perspectives on the recent history of the country and people. We were able to meet his parents and visit his home which was really a very special moment. Binh is a real asset to Explore. He is articulate, skilled, very caring and respectful - to the people of Vietnam, to the tour participants and support teams, and to the organisation Explore. With development and growth opportunities he could very far as a mentor and leader in the company and in the tour industry.
Claire
Cycle Vietnam
This was my first trip traveling alone as a single woman with explore not having traveled for several years this was a big trip for me and so happy l booked with explore, having the security off knowing l was being picked up from airport in Vietnam was a big selling point for me and transfer on return. This was a life changing experience for me and will 100% be booking with Explore again, very happy l discovered your website.
Brian
Cycle Vietnam
Just like to say that my trip was most enjoyable and Doan was a veryod guide.
Caroline
Cycle Vietnam
Very impressed with Explore and will recommend and use you again, thank you for a great trip
Joanne
Cycle Vietnam (20-Dec-2019)
This was our first trip with Explore - and indeed our first Group trip. Everything was amazing. The amount of cycling was perfect, rest stops, support teams, photo opportunities, planning.....everything. A group of four people is a little 'intense' however on the whole we navigated the relationships well within the group. One of the highlights for us was Binh himself. He was such an amazing Guide/Tour Leader - words don't really convey how important he was to our enjoyment of the experience.
Jane
Cycle Vietnam
We were unlucky with weather (end of two cyclones with some rain and tail end of flooding) and the security restrictions of the ASEN conference with Trump at Da Nang, but the local tour was always well informed and one step ahead.
Dates & Availability
Saturday - Friday
Jan 27, 2024 - Feb 09, 2024
Instant Booking Available
Saturday - Friday
Feb 24, 2024 - Mar 08, 2024
Instant Booking Available
Saturday - Friday
Mar 02, 2024 - Mar 15, 2024
Instant Booking Available
Saturday - Friday
Oct 19, 2024 - Nov 01, 2024
Instant Booking Available
Saturday - Friday
Nov 02, 2024 - Nov 15, 2024
Instant Booking Available
Saturday - Friday
Nov 16, 2024 - Nov 29, 2024
Instant Booking Available
Saturday - Friday
Dec 21, 2024 - Jan 03, 2025
Book with Confidence
Free Date Changes

Explore! allows you to make 1 free date changes, as long as the change is made at least 60 days before the start of the tour.

Low Deposit

Explore! requires a minimum deposit of 10% or the full booking value, whichever is less, with the final balance not due until 60 days before departure.

Cancellation Policy

We don't charge a cancellation fee, here is a summary of explore! charges.

Up to 60 days before tour starts: Forfeit 100% of deposit.

At 59 days before tour starts: Forfeit 30% of booking price.

At 41 days before tour starts: Forfeit 60% of booking price.

At 27 days before tour starts: Forfeit 90% of booking price.

At 13 days before tour starts: Forfeit 100% of booking price.
Why book with tourhub?
Safe & Secure
Your money is protected in an external trust until you travel.
---
100% Guaranteed Refunds if your trip is cancelled.
---
The safest way to make overseas, multi-currency payments.
Guaranteed Best Value
Industry leading discounts, we won't be beaten on price.
---
No cancellation or amendment fees from tourhub.
(Operator terms may apply)
Expert Knowledge
Reliable & unbiased advice from travel experts.
---
Direct contact with the tour operator via our messaging service.
---
Inspiration & advice from a community of 6000+ real travellers, influencers & content creators.
Trusted Service
Official partners & licensed agents of 1000+ tour operators worldwide.
---
Don't just take our word for it...
"Tourhub: Friendliness, Professionalism & Integrity I would happily give tourhub a 6* review if I could..."
Similar Tours
Travel Guru Features
Our Reviews