Cycling in Italy - Cilento to the Amalfi Coast
8 Days Starting in Naples Airport and ending in Minori or Maiori
Visiting:
San Severino
,
Marina di Ascea
,
Agropoli
,
Minori
Tour operator:
Physical rating:
Medium, None
Special diets catered:
Vegetarians, Vegans
Trip Styles:
Activities:
Tour Overview
Cycle the dramatic coastline and rugged interior of Cilento National Park. See Greek temples at Paestum and sample local delicacies including mozzarella di bufala and Cilento wines. After five days riding, we discover the dramatic beauty of the Amalfi Coast on the 'Walk of the Gods'. Cilento National Park - Discover unspoilt nature, traditions and beautiful scenery Varied cycling - Ride along dramatic coastline and up to mountain hamlets Amalfi Coast - Walk the 'Path of the Gods' from Bomerano to Positano
Highlights
Cilento National Park - Discover unspoilt nature, traditions and beautiful scenery

Varied cycling - Ride along dramatic coastline and up to mountain hamlets

Amalfi Coast - Walk the 'Path of the Gods' from Bomerano to Positano
Itinerary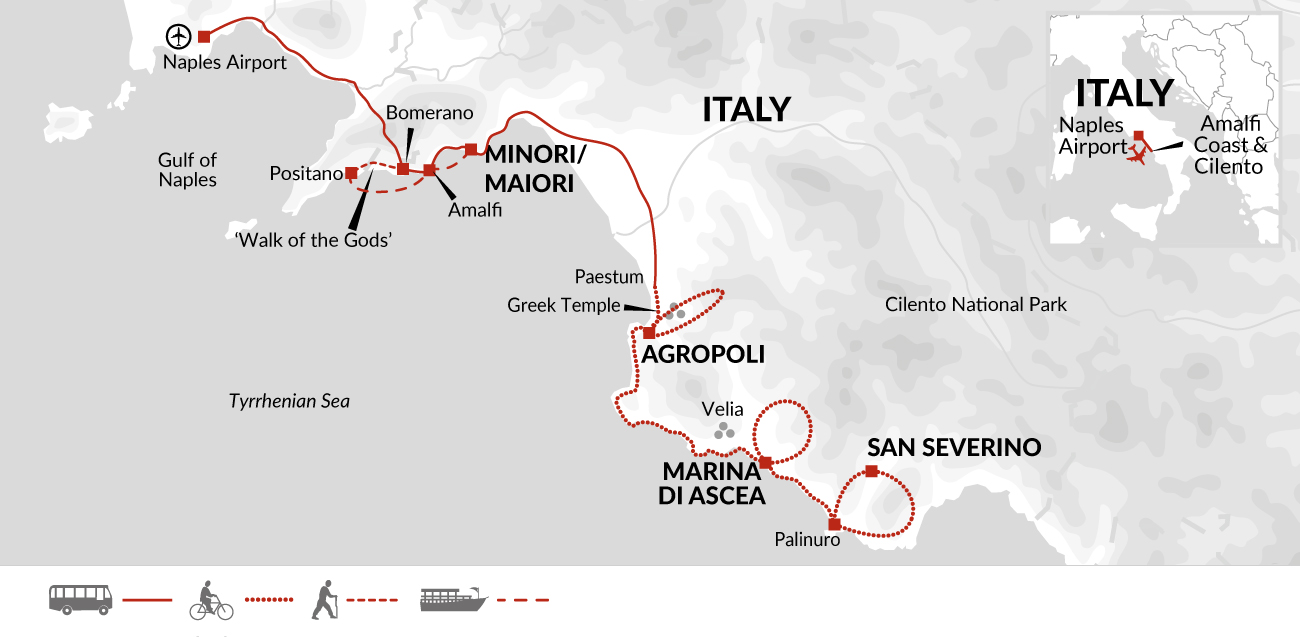 Expand All
Day 1: Join trip at Naples Airport; drive to San Severino in Cilento National Park
Location:
San Severino
Accommodation:
Hotel, Borgo Antico
Meals Included:
No Meals
Arriving at Naples Airport (NAP), we provide two separate transfers to our hotel in San Severino, one at 10:45 in the morning and one in the evening at 20:15. The drive usually takes around 2.5 hours.

San Severino is a small village located in Cilento National Park at the foot of Monte Bulgheria. Still largely off the tourist radar Cilento NP is the second largest in Italy and its isolated location has left the beautiful countryside unspoilt and local traditions preserved. Over the next few days we will explore by bike the rugged coastline and pine-forested mountainous interior dotted with historic villages.

The hotel has an outdoor pool that is usually open from June to October but can vary depending on weather conditions each year. It is possible to arrange a vehicle to the beach of Palinuro through reception; cost varies according to number of passengers. Another option for free time this afternoon is to visit the village of San Severino - a 2 km walk or taxi ride from the hotel.

The hotel kitchen will have closed by the time the later transfer arrives, but they should be able to provide cold dishes or snacks if needed.

The Tour Leader will arrive in the evening and the introductory briefing to the whole group will happen on day 2 straight after breakfast at 08.00.

No cycling today.
Day 2: Loop ride along jagged coastline with scenic climb inland for great views
Location:
San Severino
Accommodation:
Hotel, Borgo Antico
Meals Included:
Breakfast
After breakfast we spend some time getting comfortable with our bikes and making any necessary adjustments. The first ride starts off by heading around the foot of Mt. Bulgheria, towards the village of San Giovanni a Piro. We then climb up to the grassy plateau of Ciolandrea where we gain terrific coastal views looking south. A very scenic downhill section then leads us to picturesque fishing village of Marina di Camerota. After a break for ice cream we cycle inland again, climbing up to Camerota village. Known locally for terracotta and 'libano' rope, we learn more about the ancient local art of braiding to make this rope that still continues to this day. The final part of today's ride is along the Mingardo river canyon back to San Severino. Please note that there is the option to ride in a support vehicle today for 6km of the climb, thus avoiding 300 m of ascent from Marina di Camerota to Camerota.

Our total cycling distance today is approximately 54 kilometres (1100 metres total accumulated ascent and descent).
Day 3: Coastal linear ride to Marina di Ascea via medieval Pisciotta
Location:
Marina di Ascea
Accommodation:
Hotel, Porta Rosa
Meals Included:
Breakfast, Dinner
Today we leave San Severino behind and ride north through this land of myth and legend. Our route leads us firstly to the coastal village of Palinuro, named after the helmsman of Virgil's Aeneid who fell overboard. We continue along the jagged coastline to the medieval village of Pisciotta, picturesquely situated with commanding views along the coast. The tiny port of Marina di Pisciotta has kept centuries-old fishing techniques alive, using the moon and the stars to determine where the anchovies will surface. We plan to break here for lunch before continuing along the coastal road past olive groves and Mediterranean macchia or shrubland. In Ascea we will stop to learn about another traditional local delicacy - dried white figs. Their protected DOP status is thanks to an especially sweet flesh and fine seeds. Finally we descend to the tranquil coastal village of Marina di Ascea and our hotel where we spend the next two nights.

Our total cycling distance today is approximately 40 kilometres (700 metres total accumulated ascent and 800 metres descent).
Day 4: Loop ride with superb panoramic views; through charming villages and ancient Greek Velia
Location:
Marina di Ascea
Accommodation:
Hotel, Porta Rosa
Meals Included:
Breakfast, Dinner
We start the day firstly riding uphill along the slopes of Monte Stella past vineyards and olive groves to reach Pollica village. From here the undulating road passes inland through chestnut forests and wide-open areas with superb views over the surrounding mountains and the bay below. We pass through a number of charming villages and will no doubt stop in one or two for a rest, lunch and perhaps a coffee. The last part of the ride descends to the coastal plains where we find the archaeological site of Velia. The ancient ruins of the Hellenistic town of Elea, founded in 540 BC, are much less intact than Paestum and this port town was once home to one of the Eleatic school of philosophy. We have included the entrance ticket but for those who prefer to relax at the hotel it is short ride back.

Our total cycling distance today is approximately 48 kilometres (720 metres total accumulated ascent and descent).
Day 5: Linear coastal ride north to Agropoli; Cilento wine tasting
Location:
Agropoli
Accommodation:
Hotel, La Sciabica
Meals Included:
Breakfast
We leave Marina di Ascea this morning and continue our cycle journey north following the coast to Agropoli. We pass through the small fishing village of Pioppi and later visit Acciaroli - a favourite of Ernest Hemmingway who came here in 1952 after he'd completed "The Old Man and the Sea", passing time in the café-bars along the seafront promenade. Later we ride along Punta Licosa peninsula through more Mediterranean shrub lands and often on gravel tracks, where we end up at a local vineyard to learn about local wine production and to sample some wines. The local grapes of Fiano (white) and Aglianico (red) were originally introduced by the Greeks and are still used today to produce some of the excellent Cilento wines. Finally we cycle around Punta Tresino to reach our final stop, and base for the next two nights, in Agropoli overlooking the Gulf of Salerno.

Our total cycling distance today is approximately 60 kilometres (850 metres total accumulated ascent and 780 metres descent).
Day 6: AM cycle ride to visit Greek Paestum, buffalo mozzarella tasting; PM optional cycle or relax
Location:
Agropoli
Accommodation:
Hotel, La Sciabica
Meals Included:
Breakfast
After breakfast this morning we start our final cycle ride. We cycle north from Agropoli through a slightly more built up environment now that we are outside of the National Park and after 12 kilometres we reach Paestum. Ancient Paestum (originally founded as Poseidonia in the 7th century BC) boasts some of the best-preserved Greek temples in Europe and we have planned a guided visit to make the most of this wonderful UNESCO site and museum. It was colonised by the Romans in 273 BC but later abandoned for centuries, which helped its preservation, and rediscovered in the 1740 amid thick forest, after which it was firmly established on the Grand Tour and writers, poets and artists from Goethe to Shelley flocked here for inspiration. Highlights include the 'Diver Tomb' fresco - a rare example of Greek funeral painting. After our visit we cycle south back through the Piana del Sele - a vast plain south of Salerno where most of the region's buffalo graze. We will stop at a local mozzarella di bufala farm to learn about the cheese and have a taste before cycling back to the hotel. The afternoon is left free for you to explore the old town of Agropoli, relax on the beach or cycle into the hills for an optional self-guided loop ride (25km, +/-500m).

Our total cycling distance today is approximately 25 kilometres (150 metres total accumulated ascent and descent) with a further optional 25 km.
Day 7: Amalfi Coast 'Walk of the Gods'; Public ferry to Amalfi and Minori or Maiori
Location:
Minori
Accommodation:
Hotel, San Pietro
Meals Included:
Breakfast
Leaving Agropoli after breakfast we drive 2 hours north and along the stunningly beautiful Amalfi Coast corniche road to Bomerano (thankful you aren't cycling considering the traffic here!). The Walk of the Gods is justifiably regarded as one of the greatest coastal walks in the world. We follow the high path from Bomerano as it contours west, under huge limestone cliffs with magnificent panoramas. From the village of Nocelle we descend an ancient stairway into Positano. A poor fishing village until the 1950s, Positano has grown into a chic town and understandably a tourist hot spot. There is time to explore and have a swim before catching the public ferry back to Amalfi, allowing us to appreciate the natural beauty of the Amalfi Coast from the water. The stunning harbour town of Amalfi reached its pinnacle during the Middle Ages, when it vied with Venice, Pisa and Genoa as an one of Italy's great Maritime Republics. You may choose to look around the impressive Duomo di Sant Andrea (St Andrew's cathedral), with its remarkable bronze doors and baroque interior dating back to the 11th century. The beautifully restored ancient Roman basilica is another highlight. Finally we continue by boat the short distance to Minori or Maiori where we spend our final evening.

No cycling. Today's moderately-graded walk will take approximately five hours and will cover a distance of 11 kilometres with a total ascent of 330 metres and 900 metres descent.
Day 8: Trip ends in Minori or Maiori
Location:
Naples International Airport
Meals Included:
Breakfast
The trip ends after breakfast at our hotel in Minori or Maiori.

There are no activities planned today, so you are free to depart at any time. If your flight is departing later in the day, luggage storage facilities are available at our hotel. If you would like to receive a complimentary airport transfer today, you'll need to depart from Naples Airport (NAP), which is about 1.5 hours away.

Arrivederci Campania!
What's Included
Meals

Breakfasts:7 Dinners:2

Fully Guided

Airport Transfers at Destination

Accommodation

All Domestic Transportation (including internal flights)
What's Not Included
Country Entry Visas

Tipping and Gratuities
Check out our Q&As
Are airport transfers included in this tour?
All customers that travel on an Explore group trip will be provided with a complimentary transfer, provided they arrive and depart into the designated airport or train station on the trip start and end dates. This is a great way to start your travels, offering you that little extra peace of mind and comfort.
Are children permitted to take part in the tour?
Can you assist with pre or post tour accommodation?
Yes, we would be delighted to book extra nights before the start or at the end of your trip, please let us know your requirements at the time of booking.
Are the local guides on the tour English speaking?
Are all the relevant entry visa's included in the price of the tour?
Are vaccinations required for this tour?

I'm going on a walking/cycling trip-do I need to train?

It will depend on the grade and how fit you already are. Check the trip page for details of the walking or cycling grade and how far you'll be walking/cycling each day. For moderate or challenging trips in particular we'd recommend doing some walks or cycles before you leave to build up your fitness and prepare you for the distances being covered.

Who will be my travelling companions on the tour?

We have a wide range of ages nationalities on our small group trips and they come from all walks of life.

Should I get travel insurance?

Yes–it is a condition of booking that you are fully insured when travelling with us

How long has the tour company been trading?

At Explore, we're the experts in adventure travel. Our small group adventure holidays have been running since 1981. Today, Explore is one of the most trusted travel companies in the UK with over 500 trips to more than 120 countries.

Can I join the tour once it has departed?

Yes, but there are no concessions for doing so, and we must have a record in your booking advising as such before the trip departs.

Am I contributing to any charity by booking the tour?

Being a responsible company is a large statement, something that has to be entwined within the very fibre of a company. Discover the charities and partnerships we support as part of this at https://www.explore.co.uk/about/sustainability/charities-and-partners

What happens if I need to change my holiday date once I've booked?

We want to be as clear as and as honest as possible about what happens if you decide to that you no longer wish to travel on your trip. Our booking conditions have details of the costs you'll incur when you cancel-these charges depend on how long it is before your planned departure.

What is the accommodation like?

We choose comfortable accommodation in the best locations possible. We opt for small, local and family-run accommodation where we can, as opposed to large chain hotels. We typically use hotels that are the equivalent of European 3-star, and you'll usually have an en suite room. Occasionally, where we want to get off the beaten trail we may stay in more basic accommodation.

What Ethical Travel credentials does the tour company have?

Sustainability is embedded within the fibre of Explore, it emanates from the inside out. But as we enter a new decade it is clearer than ever that our world needs help, and Explore has created a sustainability strategy based on the 2015 UN's Sustainable Development Goals.

What policies are in place for Covid-19?

Our flexible booking and safety policies mean you're protected before and during your travels with us. Receive a full refund if your trip is cancelled, transfer your trip free of charge up to 10 days before departure minus any irrocoverable costs.

Do I need to be very fit to book with you?

All our trips require some level of active participation. This could be on a cultural trip, trek, safari, expedition or voyage. It is in the interests of all members of the group that everyone should be capable of fully participating in the activities of their chosen trip.

What documents will I receive before I travel?

Final documents will include a comprehensive trip itinerary, climate and country information, budgeting and packing advice visa and passport information and details on optional activities available.

Do you operate a "single share" option and how does it work?

Yes on most of our trips. Most trips are based on customers sharing twin-bedded rooms. If you book a group trip as an individual, you will share a room with someone of the same sex. However, on many trips we offer the opportunity to pay a supplement to pre-book a single room, known as our single room option. On some trips a single room will be provided every night, on others it will be provided o

Do we have to be vaccinated against Covid-19 to travel

It's now a condition of booking a trip with us that customers should have one of the following before they travel - — Be vaccinated against COVID, having received the full recommended course, and allowing enough time for immunity to take effect. Full vaccination includes any booster required to keep the vaccine valid. — Have taken a negative test (rapid antigen or PCR) within 72hrs of departure.

Will the accommodation included meet local health and safety regulations?

Explore will only offer hotels that have specific COVID-19 protocols in place and comply with local government guidelines. We will ensure these measures include; enhanced room cleaning, ventilation, social distancing, regular cleaning and disinfection of high frequency touch points in public areas, food safety, staff re-training and minimising contact within the properties.
Dates & Availability
Instant Booking Available
Instant Booking Available
Instant Booking Available
Instant Booking Available
Instant Booking Available
Instant Booking Available
Instant Booking Available
Instant Booking Available
Book with Confidence
Free Date Changes

Explore! allows you to make 1 free date changes, as long as the change is made at least 60 days before the start of the tour.

Low Deposit

Explore! requires a minimum deposit of 10% or the full booking value, whichever is less, with the final balance not due until 60 days before departure.

Cancellation Policy

We don't charge a cancellation fee, here is a summary of explore! charges.

Up to 60 days before tour starts: 100% of deposit.

At 59 days before tour starts: 30% of booking price.

At 41 days before tour starts: 60% of booking price.

At 27 days before tour starts: 90% of booking price.

At 13 days before tour starts: 100% of booking price.
Cycling in Italy - Cilento to the Amalfi Coast
8 Days Starting in Naples Airport and ending in Minori or Maiori
Visiting:
San Severino
,
Marina di Ascea
,
Agropoli
,
Minori
Tour operator:
Physical rating:
Medium, None
Special diets catered:
Vegetarians, Vegans
Trip Styles:
Activities:
Why book with tourhub?
Safe & Secure
Your money is protected in an external trust until you travel.
---
100% Guaranteed Refunds if your trip is cancelled.
---
The safest way to make overseas, multi-currency payments.
Guaranteed Best Value
Industry leading discounts, we won't be beaten on price.
---
No cancellation or amendment fees from tourhub.
(Operator terms may apply)
Expert Knowledge
Reliable & unbiased advice from travel experts.
---
Direct contact with the tour operator via our messaging service.
---
Inspiration & advice from a community of 6000+ real travellers, influencers & content creators.
Trusted Service
Official partners & licensed agents of 1000+ tour operators worldwide.
---
Don't just take our word for it...
"Tourhub: Friendliness, Professionalism & Integrity I would happily give tourhub a 6* review if I could..."