Tour Overview
On this short trip we visit glittering temples, explore vast caves and underground caverns, witness monks collecting alms at sunrise and discover natural blue waterfalls, all inside of eight days.

Luang Prabang - Soak up the city's charming mix of French colonial architecture and golden Buddhist temples
Vientiane - Explore the sleepy Laotian capital and haggle for colourful goods at the river-side nightmarket
Vang Vieng - Wander amongst the towering limestone karst scenery or kayak the gentle Nam Song River


Highlights
Vientiane - Discover the golden temples and moving museums in the sleepy Laotian capital
Vang Vieng - Explore caves, cycle past rice paddies or kayak along the gentle Nam Song River
Luang Prabang - Witness hundreds of monks collecting alms at sunrise and sip French coffee whilst soaking up the atmosphere of this UNESCO World Heritage City
Kuang Si Waterfalls - Visit the impressive cascading falls, known for their incredible deep-turquoise hue.
Places You'll See
Countries:
Itinerary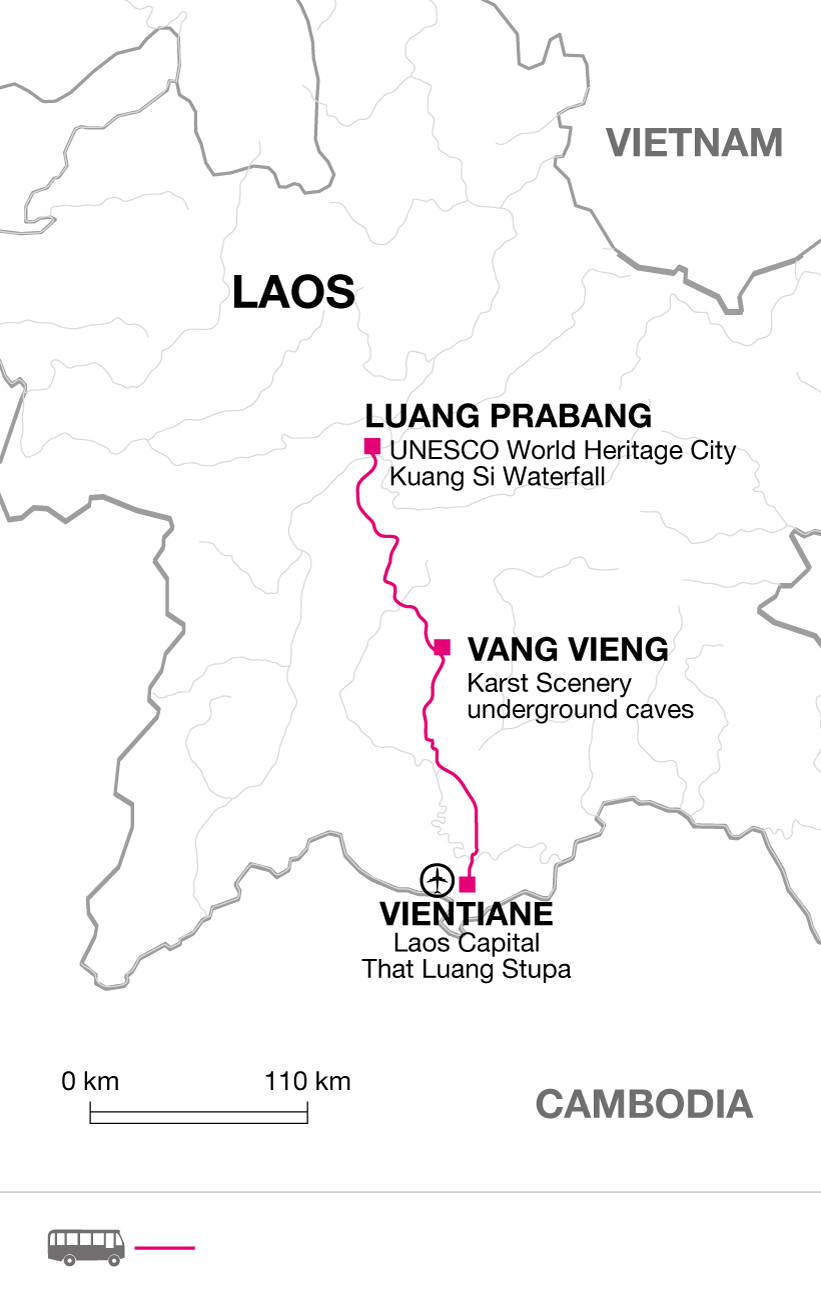 Day 1: Join trip in Vientiane
Accommodation: New Rose Boutique Hotel
Located on the banks of the Mekong River, the Laos capital is a relaxed place that has a feel more similar to a provincial town than a capital city. Weathered French Colonial mansions give way to golden temples, and the languid pace of life here makes it an ideal place to explore by bicycle. For those arriving on time our Leader plans to meet you in the hotel reception at 6pm for the welcome meeting and for those that wish, there is the chance to go out for dinner. There are no other activities planned today, so you are free to arrive in Vientiane at any time. If you would like to receive a complimentary airport transfer today, you'll need to arrive into Watty International Airport (VTE) which is 15 minutes from our hotel. Should you miss the welcome meeting, your Leader will inform you of any essential information as soon as you catch up in the hotel lobby at 8am on day two. If your flight arrives earlier in the day, perhaps you might choose to see the unique Buddhist stupa of Pha That Luang before enjoying a Beerlao by the river at sunset. This is the best way to end the day, start your adventure and meet your fellow explorers.
Day 2: In Vientiane, explore the capital; free afternoon
Accommodation: New Rose Boutique Hotel
Meals: Breakfast
This morning we include a sightseeing tour around the city. This is a low-built, red roofed attractive capital city, with a French feel and a relaxed atmosphere. We explore some of the best sights including the Victory Gate which is a Triumphal Arch with good views of the town, the That Luang stupa which is said to contain a hair of the Buddha, and Wat Sisaket, a beautiful temple packed with fine Buddha images. This afternoon is left free for further exploration. It is possible to visit nearby Buddha Park, a vast green expanse just 30 minutes from the city that houses a beguiling selection of Buddhist and Hindu statues. Alternatively you may choose to visit the COPE Museum, a not-for-profit organisation set up to provide prosthetic limbs to the many victims of the unexploded ordinance (UXO) left behind from the Vietnam war. The museum does an excellent job of giving some of the background to the bombing campaign, along with showcasing the important work the COPE foundation is doing. Most report it to be a sobering, emotive but rewarding experience that enhances one's understanding of this fascinating country.
Day 3: Drive to Vang Vieng, afternoon at leisure
Accommodation: Diamond Gold Hotel
Meals: Breakfast
This morning we make the short three to four hour drive to Vang Vieng. There are some interesting stops to be made en route, including visiting the Sa paper project where traditional paper is made from the bark of a Mulberry Tree. Upon arrival in Vang Vieng, the afternoon has been left free to explore our new surroundings. We recommend a short stroll down to the riverbank this evening in time for sunset, where there are a number of areas to sit and take in dramatic scenery. Watch people float down the river as the sun starts to dip behind the mountains and the sky turns a deep burnt-orange, just be sure to bring a camera to catch some sunset snaps.
Day 4: Free day in Vang Vieng. Optional visit to caves or kayaking on Nam Song River
Accommodation: Diamond Gold Hotel
Meals: Breakfast
Vang Vieng enjoys an idyllic setting. Perched on the banks of the Nam Song river it is surrounded by a patchwork of lush rice paddies and set to a backdrop of towering jagged limestone cliffs. Once known as a party-town for backpackers, present-day Vang Vieng has now re-invented itself as the home of adventure travel in Laos, where its setting lends itself to a host of activities for anybody from casual walkers to adrenaline thrill-seekers. As there is plenty of choice available, today has been left free to choose from a number of optional excursions, such as a guided walk past rice paddies to nearby minority villages, a visit to the 2km underground cave network, zip wiring through the forest canopy or kayaking along the gentle Nam Song river.
Day 5: Scenic drive to Luang Prabang crossing mountain passes. Sunset visit to Mount Phousi
Accommodation: Villa Kieng Kham Hotel
Meals: Breakfast
Today we spend a full day driving north to Luang Prabang. The journey winds its way up into the mountainous region of central Laos, passing ramshackle villages that cling to the side of the mountain road, and driving over several high passes with stunning 360 degree views. There will be regular breaks to the drive, stopping for refreshments in a Hmong village and for photos on top of the high passes we drive over. We plan to arrive in Luang Prabang in the late afternoon. Listed as a UNESCO World Heritage Site, Luang Prabang is nestled in a valley of lush rolling hills and sits at the confluence of two rivers, the Khan and the mighty Mekong. Influence from its French occupiers is peppered all over the city, with grand white-washed Indochinese villas lining its leafy streets, oddly complementing the golden-tipped wats (temples) found around almost every corner. Time moves so slowly here that it almost stands still, and a must-do is grabbing a Lao coffee, sitting down outside one of the many cafes and just watching the world go by, in traditional Lao-style. This evening there is chance to walk to nearby Mount Phousi and climb its 328 steps in time for sunset, offering excellent panoramic views over this sleepy city and beyond.
Day 6: Morning walking tour of Luang Prabang, Afternoon free
Accommodation: Villa Kieng Kham Hotel
Meals: Breakfast
Today we'll really get to have a closer look at Luang Prabang. All the main sights of interest are close together and we'll have a chance to walk around the various wats (temples) including the splendid Wat Xieng Thong (the Golden Temple built in 1559), which is strikingly decorated in brilliant red and gold designs, with an imposing tiled roof and mosaic dragon motifs. We'll also visit Wat Sen and the Royal Palace Museum. Afterwards we will board a traditional long-tail boat for the short journey up the Mekong River to Pak Ou Caves. There a number of steps to climb here as we make our way up the limestone cliffs to reach the sacred Buddhist shrine. Although now abandoned by the monks, there is an altar for incense burning, flower offerings and numerous rock shelves crammed with thousands of Buddha images of all shapes and sizes. After returning to Luang Prabang, the rest of the afternoon is at leisure.
Day 7: From Luang Prabang, visit Kuang Si Waterfalls; optional afternoon cycle to Lao Loum village
Accommodation: Villa Kieng Kham Hotel
Meals: Breakfast
This morning we travel by bus to the beautiful Kuang Si Waterfalls, approximately 45 minutes from Luang Prabang. Passing forested hills and several ethnic minority villages we arrive at the limestone falls that cascade into several turquoise pools below. Returning to Luang Prabang, there is an opportunity to take an afternoon bicycle trip to the Lao Loum village at Ban Phanom. Approximately 6 km from Luang Prabang, the road gently undulates through cultivated scenery and arrives at a well-kept scenic village on the banks of the Nam Khan River. We will spend time meeting the locals and learning a little more about the everyday life of rural Lao before returning to Luang Prabang for a well-earned Beer Lao.
Day 8: Trip ends in Luang Prabang
Meals: Breakfast
The trip ends after breakfast at our hotel in Luang Prabang. There are no activities planned today, so you are free to depart from Luang Prabang at any time. If your flight is departing later in the day luggage storage facilities are available at our hotel. If you would like to receive a complimentary airport transfer today, you need to depart from Luang Prabang Airport (LPQ), which is 10 minutes from our hotel.
Book with Confidence
Low Deposit

Explore! requires a deposit of 10% to secure a place on this tour, and the final balance is not due till 60 days before departure..

Secure payments

All payments to TourHub are deposited into an externally regulated Trust account.
---
Reviews
Highlights of Laos
This was a fantastic tour. 9 days is a bit short, but most people linked it with Vietnam and Cambodia.
This was a fantastic tour.

9 days is a bit short, but most people linked it with Vietnam and Cambodia.

;
Highlights of Laos
More relaxed pace than some trips, but this worked well
More relaxed pace than some trips, but this worked well;
Highlights of Laos
As previously mentioned I celebrated my 70th birthday whilst on the trip and I think I couldn't have had a better time sharing my birthday with a great bunch of ....more
As previously mentioned I celebrated my 70th birthday whilst on the trip and I think I couldn't have had a better time sharing my birthday with a great bunch of people and spending the day travelling through the jungle on a Zip Line and then kayaking.

.

A memorable day.

.

; ....less
Highlights of Laos
It was a very varied trip with lots of great moments. The Cope museum was especially thought provoking. The somewhat creepy caves wereod. The night markets very interesting. It was ....more
It was a very varied trip with lots of great moments.

The Cope museum was especially thought provoking.

The somewhat creepy caves wereod.

The night markets very interesting.

It was made even better by the fun nature of my fellow travellers, veryod company and always people to join in with.

; ....less
Highlights of Laos
Laos is a beautiful country, well worth visiting
Laos is a beautiful country, well worth visiting ;
Travel, Your Way
Good reasons for travelling privately
Personalise your trip

Make changes to the itinerary, accommodation, or transport method

Increased safety during COVID

Spend the majority of time amongst your group to reduce exposure to others

Travel more exclusively

Your tour guide can focus all their attention on your group

Travel for a special occasion

Celebrate an important event by only travelling with your friends or family
Learn more