Self-Guided Andros Trail
Start: Andros Finish: Agios Petros
Visiting:
Andros Town
,
Athens
---
---
Duration: 8 Nights
Physical rating: Medium, Low, Moderate
Special diets catered: Vegans, Meat, Vegetarians
Tour code: WSGA
Tour operator: Explore!
Group size: 1 - 16
Age range: Adult
Tour operated in: English
---
Tour Overview
Trek from the South to the North of Andros on the Andros Route, a recently restored historic trail. Let old, walled mule tracks lead you through terraced fields from one picturesque village to the next on this self-guided walking holiday. Explore tranquil harbors, old fishing villages and unwind with a swim in the turquoise Aegean Sea or relax on one of the many sandy beaches soaking up the Greek sun.
Highlights
Andros Chora - Charming town mansions, cafes and stone walkways
Sandy beaches - Relax on the beach or swim in the turquoise Aegean Sea
Andros Routes project - by booking this trip you promote sustainable tourism on Andros
Places You'll See
Countries:
Cities & Attractions:
Itinerary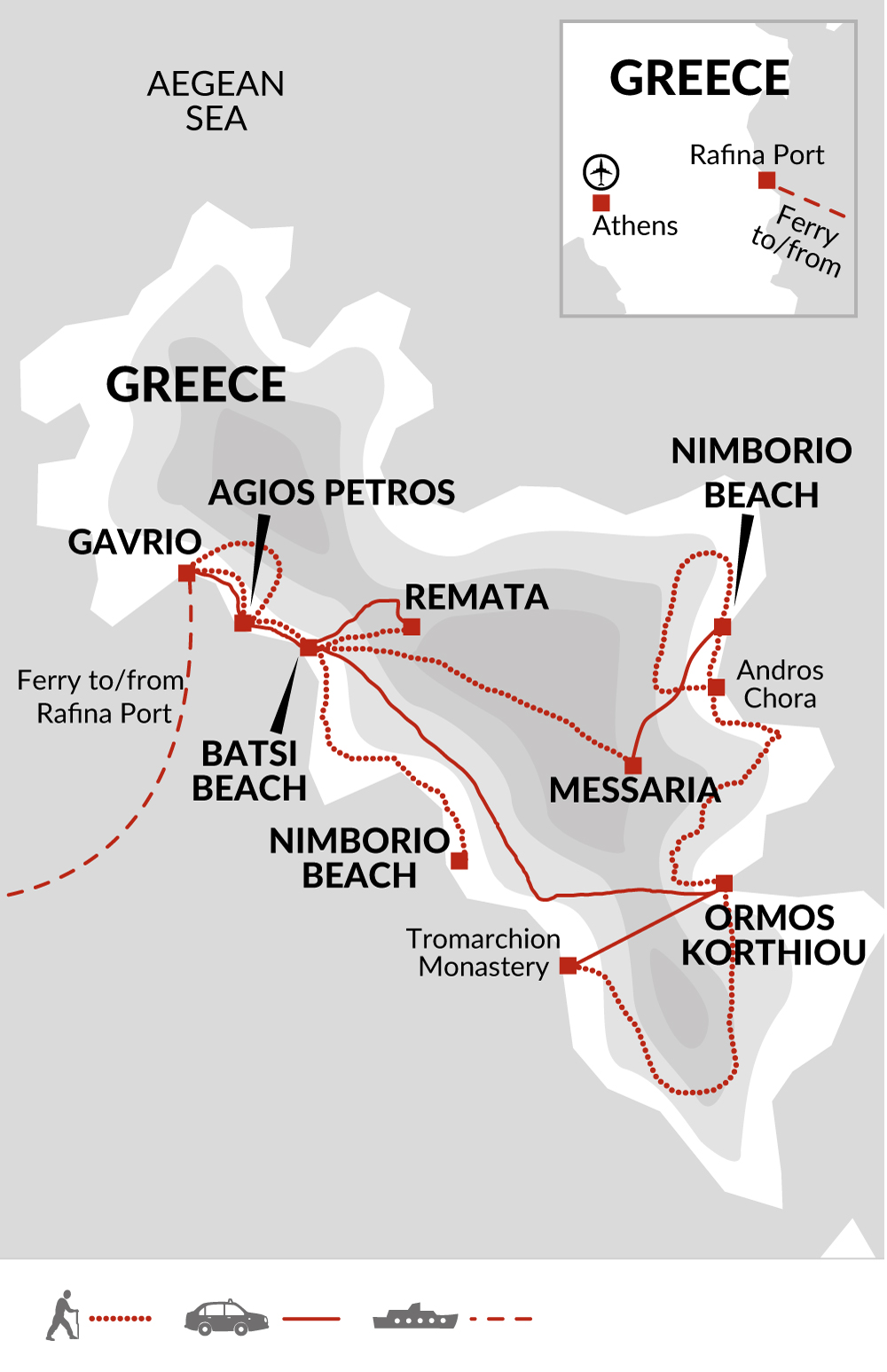 Day 1: Trip starts in Andros
Accommodation: Hotel
On arrival at Athens airport an included taxi will take you to the port of Rafina, from where you take the ferry Andros. The ferry crossing is approximately 2 hours. On arrival in the port of Gavrio you travel by local bus (1hr) to Ormos Korthiou. Once at your hotel you will receive a welcome pack that includes a small pruner and gloves, in order to contribute to activities of the voluntary organization 'Andros Routes' and help (if you wish!) keep the trails trim. You need to arrive to Athens Airport (ATH) by 14.30 in order to catch the ferry to Andros or you will need to book an additional night in Rafina. Your transfer from the airport to the port is included, and your driver will also provide you with your ferry ticket
Day 2: Walk from the Tromarchion Monastery on ancient paths to Ormos Korthiou
Accommodation: Hotel
Your first walk of the holiday starts at the Tromarchion Monastery perched high on a cliff on the west coast of Andros. Your walk starts along walled paths that provide some shade. Pass through sleepy hamlets and enjoy panoramic views on the wide valley of Korthi and, the more you continue eastwards, the sea at the far horizon. A short section is on a dirt road, but most of the walk is on old footpaths that were once the only connection between the villages. Walk to the beautiful town and bay of Ormos Korthiou where you spend the night. Today's 8km walk is expected to take approximately 3 hours and you will ascend 130m and descend 260m.
Day 3: Walk across mountain ridges and through forests and orchards to Andros Chora
Accommodation: Hotel
Todays' walk follows a great route through the semi-deserted inland of Andros. Outstanding views, tiny, well-hidden villages, old watermills and beautiful stony trails are what you encounter today. The first part of the route leads you through traditionally cultivated land, which has been made suitable for small-scale farming centuries ago. Then cross the mountain ridge which leads you to the valley of Andros Chora. From here there are impressive views over this great valley and the town of Andros Chora with its traditional white buildings. Walk through forest and orchards until you reach the town and then continue to the beach of Nimborio where you spend the next two nights. Today's 14km walk is expected to take approximately 5 hours and you will ascend 530m and descend 530m.
Day 4: Circular walk from Andros Chora - valleys and beaches
Accommodation: Hotel
You may decide to explore Andros Chora before heading off on your walk today. The town has two museums, stone walkways and a combination of Venetian, Byzantine and Ottoman architecture not to mention plenty of local cafés and pastry shops. We suggest a 9km walk along wide paved paths and through forest to Apikia, a village situated in a green valley famous for its spring water. You descend along cypress hedges to the old Bitsis-tower house and further to the sandy beach of Gialia. There is a short, demanding climb before you descend to the beach of Nimborio. If you want more of a challenge there is a longer walking route available of 17.5km. Today's 9km walk is expected to take approximately 4 hours and you will ascend 400m and descend 400m. If you decide to take the longer route of 17.5km it is expected to take 6.5hrs and you will ascend 600m and descend 600m.
Day 5: Bus to Messaria, walk old trading route to Batsi
Accommodation: Hotel
Today you take a local bus to Messaria and head for the west coast of Andros. From here you walk to the exceptionally beautiful, verdant village of Menites with its famous Lion head adorned springs. In the village square you will find many water fountains, considered therapeutic in ancient times. Refreshed you start your demanding climb on Petalo Mountain, follow the old trading route over its slopes with great views over green valleys, villages and the sea far below. On your way uphill you pass through the village of Ano Pitrofos. (If you take a taxi to this village, you avoid half of the ascent, 300m, and shorten the walk by 5km.). Lastly you descend to the charming seaside town of Batsi, and your hotel for the next two nights near the fine, sandy beach. Today's 18.5km walk is expected to take approximately 6.5 hours and you will ascend 560m and descend 700m. There is an alternative walk of 16km available.
Day 6: Taxi to Remata, walk shaded stream bed and through terraced hills to Batsi
Accommodation: Hotel
Start by taking a taxi to the nearby village Remata from where you walk via a shaded, lush, stream bed ascending to the green villages of Arni and Katakilos. Follow a wide valley with terraced fields to the hills above Batsi. You finally descend to the village enjoying great views of Batsi and the sea. Today's 11km walk is expected to take approximately 4 hours and you will ascend 400m and descend 600m.
Day 7: Walk to Agios Petros visiting the Monastery of Zoodochou
Accommodation: Hotel
High above the coastline your walk today offers wide reaching views of the Aegean Sea. You can stop to visit the largest Monastery on the island. The fortress-like Zoodochou Pigis Monastery is considered one of the most important in Andros, and has a library rich with books, manuscripts and old heirlooms. The walk ends at the beautiful seaside village of Agios Petros. This sleepy fishing village is on the quieter Western side of Andros and has a long sand beach where you can take a swim in the shallow waters or just sit down and soak up some more of the soothing Greek sun. If the accommodation is full in Agios Petros you will stay in nearby Gavrio. Today's 11.5km walk is expected to take approximately 4 hours and you will ascend 450m and descend 450m.
Day 8: Circular walk from Agios Petros round Gavrio
Accommodation: Hotel
Today is your last day of walking the Andros Route and you head to the port of Gavrio and surrounding countryside. You walk below the village Ano Gavrio and ascend via a pleasant, but steep, path to the summit of a hill. There are great views from the top. Then you descend into the valley of Agios Petros and walk past the imposing Hellenistic Tower back to the beach. Today's 12km walk is expected to take approximately 3.5 hours and you will ascend 400m and descend 400m.
Day 9: Trip ends Agios Petros
After breakfast a transfer will be arranged to Gavrio Port for you and your luggage, where the organised part of your holiday comes to an end. You will need to take the ferry back to Rafina to then make your onward travel arrangements. A ticket can be pre booked for you - this should be requested at the time of booking and would be at an additional cost.
What's Included
Meals – Breakfast Only

Accommodation
What's Not Included
Country Entry Visas
Book with Confidence
Low Deposit

Explore! requires a deposit of 10% to secure a place on this tour, and the final balance is not due till 60 days before departure..

Secure payments

All payments to TourHub are deposited into an externally regulated Trust account.
---