Discover China
Start: London Heathrow Finish: London Heathrow
Visiting: China
---
---
Tour Operator: Great Rail Journeys
---
Tour Overview
A dizzying mix of ancient cultures, tumultuous history, breathtaking natural beauty, and dynamic landscapes, China is a feast for all the senses. Magnificent Beijing, the legendary Terracotta Warriors, captivating pandas, and a cruise through the Three Gorges offers an unforgettable experience.
Highlights
Discover famous historical sights including the Terracotta Warriors - one of history's greatest archaeological discoveries, as well as the Forbidden City and Tiananmen Square
Cruise along the Yangtze, the longest river in Asia, on a luxurious 5-Star ship
Meet giant pandas at the Panda Breeding Centre in Chengdu
Experience an authentic Peking duck dinner in Beijing and a dumpling buffet dinner in Xi'an where we master the fine art of dumpling making in an exclusive workshop
Step back in time as you walk along a section of the Great Wall of China
Places You'll See
Countries:
Itinerary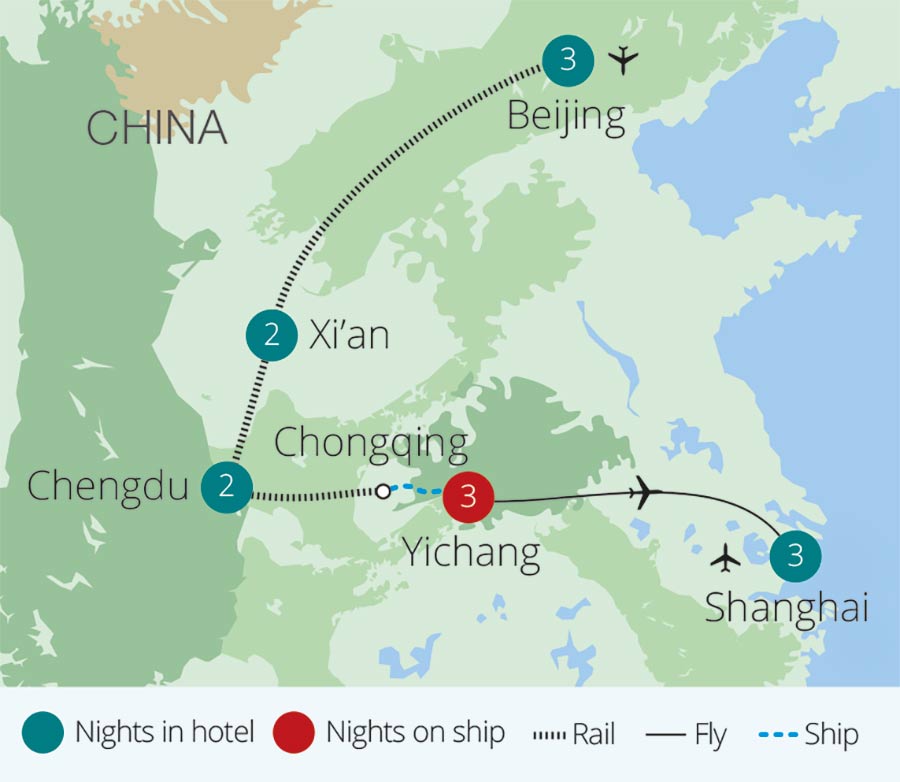 Day 1 :

Days 1-2 - London and Beijing
We fly overnight from London Heathrow to Beijing, arriving in the dynamic Chinese capital on Day 2. We transfer to our hotel, after which you have some free time to settle in before dinner. One of the world's truly great cities, Beijing offers an amazing blend of historic and modern, with towering, futuristic skyscrapers that sit beside ancient wonders.
Day 3 - Beijing
We discover the sights and sounds of China's vibrant capital today. We begin by visiting the impressive Tiananmen Square. An enormous, vast emptiness, bordered at its extremes by some of the most iconic images and buildings in China, the square is the largest in the world at over 4 million square feet. Built by Mao Tse Tung to flaunt the power of Communism, the area houses his mausoleum where his embalmed body is kept. 
'Tiananmen' means 'Gate of the Heavenly Peace', and the incredible public space also acts as the gateway to the Forbidden City, which we visit next. The palace complex was built in the 15th century as the Imperial household; now a UNESCO World Heritage site, it's fascinating to discover.
We continue to a local tea house where we have the chance to experience one of China's oldest traditions in authentic surroundings before we explore the sprawling Summer Palace, set in a beautiful spot surrounded by lakes and gardens.
Day 4 - The Great Wall of China
We visit the world-famous Great Wall of China today. One of the new Seven Wonders of the World, this masterpiece of Chinese workmanship stretches thousands of miles from the Gobi Desert to the Korean border, through deserts and mountain passes, and across plains and plateaus. We visit the Mutianyu section, a beautifully preserved stretch which offers incredible views over the seemingly endless mountain scenery. After ascending by cable car, we have the opportunity to walk along the wall and admire the sheer scale of one of the greatest human-made wonders of all time.
We continue to a cloisonne factory for a guided tour, learning about the intricate art of Chinese enamel cloisonne, which is made by embedding gold or powdered minerals on ceramics. We also see the 'Water Cube' and the 'Bird's Nest', the main arenas used in the 2008 Olympic Games. We end the day with a delicious Peking duck dinner, a traditional local dish that's been popular in the city since the Imperial era.

Day 4 :

Days 5-6 - To Xi'an and the Terracotta Warriors
We begin our day with a visit to the Temple of Heaven, a beautiful edifice in central Beijing. In the afternoon we leave Beijing behind, and join the rail service to Xi'an, experiencing the fast, sleek and modern trains that China is known for. Our journey on the high-speed service takes us through the beautiful landscapes of rural China. In Xi'an, we transfer to our hotel for two nights.
This evening you are free to begin exploring. Perhaps walk a section of the city's walls, a great vantage point from which to get a real insight into life in the city. Or visit the Muslim Quarter, where you can mix with locals while sampling some delicious traditional snacks. The street is famous for its cuisine, and it bursts with life on an evening, with its bustling street food stalls surrounded by traditional red lanterns and bright neon lights.
On Day 6 we discover the famous Terracotta Warriors - one of the world's most fantastic archaeological finds. The 6,000 figures - some with horses or chariots, but all with unique features - were buried in 210BC, yet only discovered in 1974 by local farmers. The life-sized statues were built as part of an elaborate tomb of the Qin Emperor, believed to protect him in death just as his real army had in life. Built on an incredible scale, the soldiers - all grouped in rank order - are a truly breathtaking sight. 
Later we discover more of the walled city of Xi'an, taking in the Great Mosque, the largest mosque in China. We also see the city's lively bazaar and the Small Wild Goose Pagoda, which dates back to the 8th century and is a leading example of Tang Dynasty architecture. We enjoy a dumpling-making lesson this afternoon, learning all about how to make delicious local dumplings. We sample this tasty local speciality this evening as we sit down to a traditional dumpling banquet for dinner.

Day 5 :

Days 7-8 - Chengdu and Giant Pandas
After lunch at a local restaurant today, we travel on the new high-speed rail service from Xi'an to Chengdu, where we spend two nights.
On Day 8, we visit the Giant Panda Breeding Research Institute, which is spread out over 200 acres and is now home to more than 100 of these magnificent creatures. The project allows us to see the giant panda, an enchanting and rare creature, at close quarters in a near-natural habitat setting. We then return to Chengdu for some sightseeing. We see the Wenshu Monastery, one of China's finest Buddhist structures, as well as the historic teak buildings on Jinli Street.
Day 9 - Tea tasting and the Yangtze River
We head to Renmin Park, or the People's Park, this morning. Boasting artful landscaping, bonsais, and two tea houses, this park is the venue for various local cultural activities. Afterwards, we discover a traditional aspect of China as we enjoy a tasting in one of the local tea houses. Later, we transfer to the station for the high-speed bullet train service to Chongqing, situated in the upper reaches of the Yangtze River. Here, we board our luxurious 5-Star Century Glory river ship for our three-night cruise along the Yangtze River. 

Day 7 :

Days 10-11 - Yangtze River Cruise
On the morning of Day 10 after tea, coffee and pastries, we rejuvenate ourselves with a Tai Chi session on board. After the ship moors, there's an option to visit the Fengdu ghost town (payable locally), a temple complex dedicated to the afterlife. This afternoon we visit the stunning Shibaozhai Pagoda, rising twelve stories up a sheer cliff face. This evening, we attend the Captain's Banquet on board and enjoy a cabaret performance by the crew.
On the morning of Day 11, there's an option of visiting the temples of the White Emperor City (payable locally). Our cruise then continues through the scenic locales of Qutang Gorge and Wu Gorge, before we make a shore excursion to Shennong Stream. Here, the cliff sides soar steeply away from the near-emerald waters of this beautiful waterway, a truly breathtaking sight.

Day 8 :

Days 12-13 - To Shanghai
We disembark at Yichang today, where there's an optional tour of the Three Gorges Dam (payable locally). After lunch, we take a flight to Shanghai, where we spend three nights. One of China's most exciting and contemporary cities, Shanghai is a city in which old collides with new; the Bund region harks back to the emergence of the city in the 1920s, while the east of the city boasts an ultra-modern vibe with a booming financial district.
On Day 13, a guided tour of Shanghai takes us to the city's historic Yu Gardens, where we enjoy a traditional tea ceremony. We also visit the bazaar, where we stroll amongst traditional shops selling a host of enticing goods, and through streets where vibrant street performers play. After lunch in a local restaurant, this afternoon we visit the Jade Buddha Temple, a beautiful, tranquil temple and active Buddhist monastery.

Day 9 :

Days 14-15 - Shanghai and London
Today takes us to the Shanghai Museum to admire the fascinating Chinese artefacts found in the collections here, including ancient coins from the Silk Road. Next, we head out to explore the Bund, seeing the waterfront that's bordered by some of the iconic buildings that define futuristic Shanghai.
We have a little free time on Nanjing Road, one of the world's most famous shopping streets, to look around and grab lunch. Afterwards, we visit the beautiful French Concession, a former foreign settlement full of leafy boulevards and European-style buildings. This evening we round off our stay in lively Shanghai with a cruise along the Huangpu River, taking in the brightly-lit cityscape while we enjoy dinner onboard.
On Day 15, we transfer to Shanghai airport for our return flight to London Heathrow.

Day 10 :

Please note
Please note that throughout your tour you will need to be able to transfer your own luggage on and off each train we travel on as porterage is not included.
What's Included
UK Tour Manager from start to ?nish

UK Tour Manager from start to ?nish

Flights from London Heathrow to Beijing and from Shanghai to London Heathrow

10 nights' Hotel Accommodation

UK Tour Manager from start to ?nish

All rail and coach travel throughout your tour

UK Tour Manager from start to ?nish

UK Tour Manager from start to ?nish

UK Tour Manager from start to ?nish

UK Tour Manager from start to ?nish

UK Tour Manager from start to ?nish

3-night cruise on board the 5-Star Century Glory

UK Tour Manager from start to ?nish

4-5* Accommodation
Accommodation
Novotel Peace Hotel, Beijing
Tibet Hotel, Chengdu
Pullman Shanghai Jing'an, Shanghai
Grand Mercure Renmin Square, Xian
Your Peace of Mind Options
Low Deposit

Great Rail Journeys requires a deposit of 20% to secure a place on this tour, and the final balance is not due till 60 days before departure..

Secure payments

All payments to TourHub are deposited into an externally regulated Trust account.
---