Best of Antarctica
11 Days Starting and ending in Ushuaia, Tierra del Fuego Province, Argentina
Visiting: Ushuaia, Drake Passage, Hurd Peninsula
Tour operator:
Special diets catered:
Vegetarians
Tour operated in:
English
Trip Styles:
Interests:
Activities:
Tour Overview
Welcome to the pinnacle of expedition travel – Antarctica. It's a place of extremes, where the wildlife and landscape paint a picture like nowhere else in the world. The extraordinary islands around the Antarctic Peninsula are a stunning reward for those who conquer the infamous Drake Passage – which is all of you – and amid the Antarctic's barren beauty you may well encounter orcas, humpback whales, seals and penguins. Explore the ice-filled waters by Zodiac then set foot on the rock and ice that makes up this mysterious continent, and spend your evenings enjoying the state-of-the-art ship and its health and wellness facilities. You'll be talking about this journey for years to come.
Highlights
This is the extended, 11-day version of our classic Antarctica cruise, perfect for first time explorers or seasoned adventurers. With an extra day on the Antarctic Peninsula, you will experience more of the Great White Continent. (For the classic 10-day version of this trip, see trip code GQMDT or https://www.intrepidtravel.com/antarctica/discover-antarctica-10-days-122184)

Freezing is great but freedom is better. Customise your trip with a wide range of optional activities on top of regular Zodiac excursions. Explore the water by kayak, sign up for a photography masterclass, rejuvenate with some onboard yoga and a massage, take a refreshing polar plunge or camp overnight like a true polar explorer.

Whereas most polar expeditions of this kind have a crew-to-passenger ratio of ten, fifteen or twenty to one, Intrepid expeditions on the Ocean Endeavour have an expedition crew member for every 8 passengers for a greater personal touch.

Our experienced leaders have made hundreds of polar voyages between them. They're experts in marine biology, glaciology and Antarctic history, and they'll share their knowledge throughout the journey during a comprehensive lecture program.

Rest assured that footprints are all you'll leave behind. Your Antarctica expedition is carbon offset, and we serve only sustainably sourced seafood, avoid single-use plastics and use biodegradable and phosphate-free cleaning products.

Travelling solo? This is your perfect Antarctic adventure, with single cabins at the same price as some twins.

This is the extended, 11-day version of our classic Antarctica cruise, perfect for first time explorers or seasoned adventurers. With an extra day on the Antarctic Peninsula, you will experience more of the Great White Continent. 
Itinerary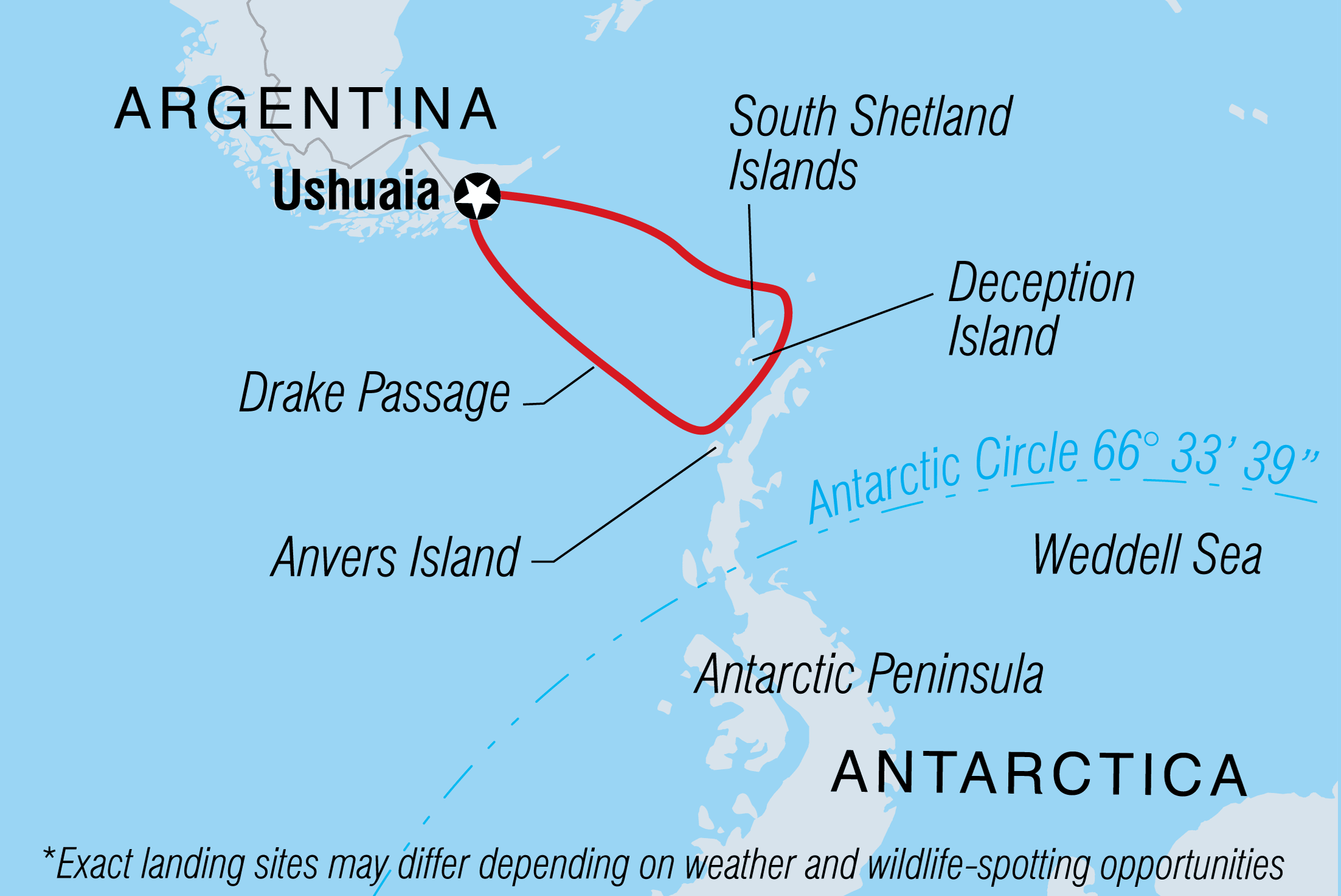 Expand All
Location:
Ushuaia
Accommodation:
Hotel
Meals Included:
No Meals
Welcome to Ushuaia, Argentina, the world's southernmost city. You'll be briefed at the hotel tonight on the journey and details for tomorrow's embarkation, but if you happen to arrive early there are a surprising amount of ways to entertain yourself at 'the End of the World'. Check out the Museo Maritimo to brush up on the region's history, or take a stroll down Avenida San Martin if you're after any last-minute essentials before departing. Oh, and did we mention this is Argentina – if all else fails, head to a local restaurant to get your fill of red wine and steak. Muy bueno.
Day 2 :

Ushuaia – Embarkation Day
Location:
Ushuaia
Accommodation:
Expedition Cruise Ship
Meals Included:
Breakfast, Dinner
This afternoon you'll board the Ocean Endeavour, settle into your cabin and begin cruising down the stunning Beagle Channel, named for Charles Darwin's ship. The channel transects the Tierra del Fuego archipelago in the extreme south of South America, and as the ship pulls away from port there's always an air of anticipation. Wave goodbye to Argentina and know that the next time you see land you'll be staring at Antarctica.
Location:
Drake Passage
Accommodation:
Expedition Cruise Ship
Meals Included:
Breakfast, Lunch, Dinner
The time has come to cross the Drake Passage, the legendary body of water named after English explorer Sir Francis Drake. If the conditions are right, enjoy some time out on deck to spot dolphins, orcas or perhaps albatross. If the waters are a little rough, the Ocean Endeavour is equipped with some seriously lush facilities for you to take advantage of. As well as safety briefings, a comprehensive lecture program will run throughout the journey delivered by experts in Antarctica's history, geology and biology. With any luck we'll make it to land by early evening on Day 4 – a moment that always brings much excitement.
Day 5-8: Antarctic Peninsula
Location:
Hurd Peninsula
Accommodation:
Expedition Cruise Ship
Meals Included:
Breakfast, Lunch, Dinner
The adventure truly begins once the Antarctic Convergence is left in your wake and exchanged for four incredible days of exploring the Antarctic Peninsula. Stare wide-eyed at glaciers, mountains and an unimaginable array of wildlife as the sheer magnitude and rawness of the area comes to light. Every day is a new adventure, and you'll explore ice-filled bays and channels as well as Antarctica itself on Zodiac excursions and by foot. While the landscapes will no doubt take your breath away, Antarctica is all about the wildlife. Visit penguin rookeries, spot humpback and minke whales and look out for leopard seals, all while calving glaciers crack through the immense silence. The landing sites visited will depend on the ship's location and weather conditions, but for information on potential landing sites please visit: https://www.intrepidtravel.com/au/antarctica-landing-sites
Location:
Ushuaia
Accommodation:
Expedition Cruise Ship
Meals Included:
Breakfast, Lunch, Dinner
Say goodbye to the Antarctic Peninsula as we begin our return leg to Ushuaia. Take the opportunity to share photographs with fellow travellers, use your now expert skills in wildlife spotting and enjoy the final lectures from your polar experts. It's also a great opportunity to make use of the Ocean Endeavour's health and wellness facilities, including its saunas, spa, heated pool, yoga classes and gym.
Day 11 :

Ushuaia – Disembarkation Day
Location:
Ushuaia
Meals Included:
Breakfast
Your Antarctic adventure draws to a close after breakfast this morning. Farewell your shipmates and transfer to the airport if you're flying out today, or perhaps spend some more time exploring this incredible part of the world.
What's Included
Meals

10 breakfasts, 8 lunches, 9 dinners

Accommodation

1 night comfortable hotel, 9 nights expedition cruise ship

Transport

Expedition Cruise Ship, Zodiac
What's Not Included
Tipping and Gratuities

International Travel
Transport
Expedition cruise ship , zodiac
Accommodation
1 night comfortable hotel, 9 nights expedition cruise ship
Check out our Q&As
Is this trip right for you

The Ocean Endeavour is an ice-strengthened ship – large, sturdy and suited to the unpredictable Antarctic waters. Some people may experience seasickness in occasional rough seas however, we do have a doctor on board should you need assistance. Over-the-counter seasickness medication is usually an easy fix.

Temperatures in the Antarctic can get very cold, but it also can get surprisingly warm when the sun comes out. We recommend dressing in layers when you journey outside. We'll provide you with waterproof boots on loan that are sturdy and warm, as well as an inner jacket that is yours to keep. Please see the Essential Trip Information for notes on what to pack.

Depending on the weather, you'll be travelling around in a Zodiac boat quite regularly to explore the area and search for wildlife. It can get cold and wet on the Zodiac, so make sure you dress appropriately and keep your camera safe and dry. A fair level of mobility is needed for wet and dry landings from the boat, as well as on steep terrain, snow and other uneven surfaces. The Ocean Endeavour has a lift, but you'll need to take the stairs to get to the gangway and some other parts of the ship that the lift does not provide access to.

The weather plays a pivotal part in this adventure and, although there's an itinerary in place, there are no guarantees that you'll be able to do everything that is planned. A level of flexibility and openness to embracing the unexpected are important in expedition travel, especially in such a remote area like the Antarctic. There are nearly 200 recognised sites in the Antarctic Peninsula and South Shetlands and the places mentioned in the itinerary may need to be changed to other locations – which are just as interesting and beautiful! We may also be confined to the ship during rough weather, but there are plenty on onboard resources and activities. The ship's library and educational lectures are ideal ways to stay entertained, while the wellness spa, saunas, gym and yoga classes will keep you fresh for when the weather clears.

Are children permitted to take part in the tour?

Yes if aged 8+ and accompanied by an adult

Are all entrance fees included in the price?

Are airport transfers included in this tour?

Yes, available on the last day

Are the local guides on the tour English speaking?
Are international flights included in this tour?

What policies are in place for Covid-19?

Please contact us for latest COVID-19 policies

How long has the tour company been trading?

Intrepid Travel has been taking travellers around the world for over 30 years

Will the accommodation included meet local health and safety regulations?

What Ethical Travel credentials does the tour company have?

Since 2002, The Intrepid Foundation has supported over 130 organisations across the world. We're creating positive impact through the joy of travel, community and connection.

Do you operate a "single share" option and how does it work?

Over 50% of traveller travel solo with Intrepid. You can choose to share a room with another solo travelle of the same sex for no additional charge, or choose to pay a single supplement if you'd like your own room. Please request this when booking, and we will secure you a single supplement wherever possible. Please note, if you are booking a last-minute trip, it may be harder for us to secure a single room
Reviews of this Operator
Nicole
North American Adventure
This was my first international solo trip, but I never felt "alone" - there was always someone to go shopping, hike, or grab a quick bite with. The itinerary was a great balance between organized activities, while still allowing free time for exploring. Each location was unique and charming in its own way. Spending the night in the holy city of Moulay Idriss and wandering the winding streets of Chefchaouen were especially memorable. Thank you Mustapha and Intrepid for an incredible adventure!
Ann
Amazing Guatemala and beyond tour with Intrepid
Did Guatemala and beyond trip in November 22. It was amazing, we were so well looked after by our guide Aura. She was very knowledgeable and during our bus trips she gave us the history of the 4 countries. The border crossings can be tricky but handled very well by our guide. We saw all the most interesting and beautiful places. The hotels were lovely comfortable colonial style. I will travel with intrepid again
Trustpilot
Joanne W
Wonderful Croatian tour
Our tour guide,Tamara, was the highlight of our Explore Croatia tour. She was knowledgeable, organized, and so kind and fun. Croatia is a beautiful country. I loved the people, the scenery, the food, the history. I hope to go back one day. Intrepid was perfect for me. There was group time and there was plenty of free time. It wasn't a luxury tour but all of our accommodations were clean and safe. The dinner in Hvar was SO special!
Trustpilot
Kelly
North Morocco Adventure
Touring the beautiful North of Morocco I learned far more than I'd anticipated in this 9 day tour. Interesting sights to see, with knowledgeable local guides, this tour provides a great balance of exposure to a different culture with ample time for relaxation. Chefchaouen is an absolute highlight, & not a place many Morocco trips of this kind go to. Loved it!
Sharik
Essential Morocca
Essential Morocco was an absolute dream. Every single day had such informative walking tours and tours of local facilities. Whether it was dinner with a local family or visiting a pottery factory, I learned so much about Moroccan culture. The accommodations were safe and I felt secure the entire 11 days. This trip wouldn't have been the same without one person. That person is Youssef. If you are coming to Morocco with Intrepid and you don't request Youssef, you're doing it wrong. Words cannot describe how incredible of a guide he is. There were 3 of us on our trip of 18-29 year olds and he made us all feel so welcome and safe all the time. Whether that is cracking jokes on long drives or giving us the itinerary for the next day, Youssef ensured we felt respected and seen.
Dates & Availability
Instant Booking Available
Saturday - Tuesday
Jan 27, 2024 - Feb 06, 2024
Instant Booking Available
Wednesday - Saturday
Dec 18, 2024 - Dec 28, 2024
Instant Booking Available
Friday - Monday
Dec 27, 2024 - Jan 06, 2025
Instant Booking Available
Sunday - Wednesday
Jan 26, 2025 - Feb 05, 2025
Book with Confidence
Free Date Changes

Intrepid Travel allows you to make 10 free date changes, as long as the change is made at least 56 days before the start of the tour.

Transfer as credit to Future Tours

Intrepid Travel allows you to transfer existing payments to a future tour to avoid cancellation fees if you can't travel and inform intrepid travel, 56 days before departure.

Low Deposit

Intrepid Travel requires a minimum deposit of 200 GBP per person or the full booking value, whichever is less, with the final balance not due until 56 days before departure.

Cancellation Policy

We don't charge a cancellation fee, here is a summary of intrepid travel charges.

Up to 56 days before tour starts: Forfeit 100% of deposit.

At 55 days before tour starts: Forfeit 30% of booking price.

At 30 days before tour starts: Forfeit 60% of booking price.

At 14 days before tour starts: Forfeit 100% of booking price.

COVID Protection

Trips from 1 January 2023 onwards
From 1 January 2023, Intrepid will no longer require travellers to provide proof of vaccination against COVID-19.

However, we continue to strongly recommend that all travellers and leaders get vaccinated to protect themselves and other Specific proof of testing or vaccination may still be required by your destination or airline. Please ensure you check travel and entry requirements carefully.

This policy excludes all Polar trips and select adventure cruises, where testing and vaccination remains a requirement. Please refer to the Essential Trip Information of your chosen tour for more details.

Why book with tourhub?
Safe & Secure
Your money is protected in an external trust until you travel.
---
100% Guaranteed Refunds if your trip is cancelled.
---
The safest way to make overseas, multi-currency payments.
Guaranteed Best Value
Industry leading discounts, we won't be beaten on price.
---
No cancellation or amendment fees from tourhub.
(Operator terms may apply)
Expert Knowledge
Reliable & unbiased advice from travel experts.
---
Direct contact with the tour operator via our messaging service.
---
Inspiration & advice from a community of 6000+ real travellers, influencers & content creators.
Trusted Service
Official partners & licensed agents of 1000+ tour operators worldwide.
---
Don't just take our word for it...
"Tourhub: Friendliness, Professionalism & Integrity I would happily give tourhub a 6* review if I could..."
Similar Tours
Travel Guru Features
Our Reviews