Classic Greece
8 Days Starting and ending in Athens, Greece
Visiting: Athens, Nafpaktos, Dimitsana, Nafplion
Tour operator:
Special diets catered:
Vegetarians
Tour operated in:
English
Trip Styles:
Interests:
Activities:
Tour Overview
On this eight-day trip through Greece, you'll balance must-see tourist hotspots with local secrets. Start and end in ancient Athens, home to many impressive ruins and sites like the Acropolis. Discover archaeological sites that tell the story of human history, creativity and civilisation at Delphi, Mycenae and Epidavros. Stay in small mountainous villages and coastal towns with fresh air, hospitable locals and nature's best scenery. Hike the Menalon Trail and find waterfalls, sweeping views and old monasteries. Eat your way through the countryside with mezze, salads, seared meats, local bread and freshly caught seafood and wash it down with a wine tasting at a family-owned winery.
Highlights
Hike along the scenic Menalon Trail, starting in Lousios Valley and walking among fir forest with views of waterfalls, monasteries, rivers and the villages below.

Visit famed archaeological sites like Delphi – home to the Athena temple complex, Epidavros – home to the famed theatre and Mycenae – a UNESCO World Heritage Site – all with local guides who know all the fascinating history.

Eat your way through Greece's picturesque Peloponnese, starting with a mezze welcome dinner. Along the way, try fresh seafood, seared meats and traditional salads, cheeses and breads.

Get to know the locals at a family-run winery near Nafplion, where you'll get to taste their signature dry wines, followed by a lunch of traditional Greek food and local hospitality.

Take the scenic railway journey from Diakopto to Kalavryta, passing through the Vouraikos Gorge as well as forests dotted with waterfalls.

By travelling on this trip, you'll directly support our Intrepid Foundation partner, Amurtel, who provide a safe space for refugee women and children in Greece. Donations help them provide antenatal and postnatal care programs run by qualified midwives.
Itinerary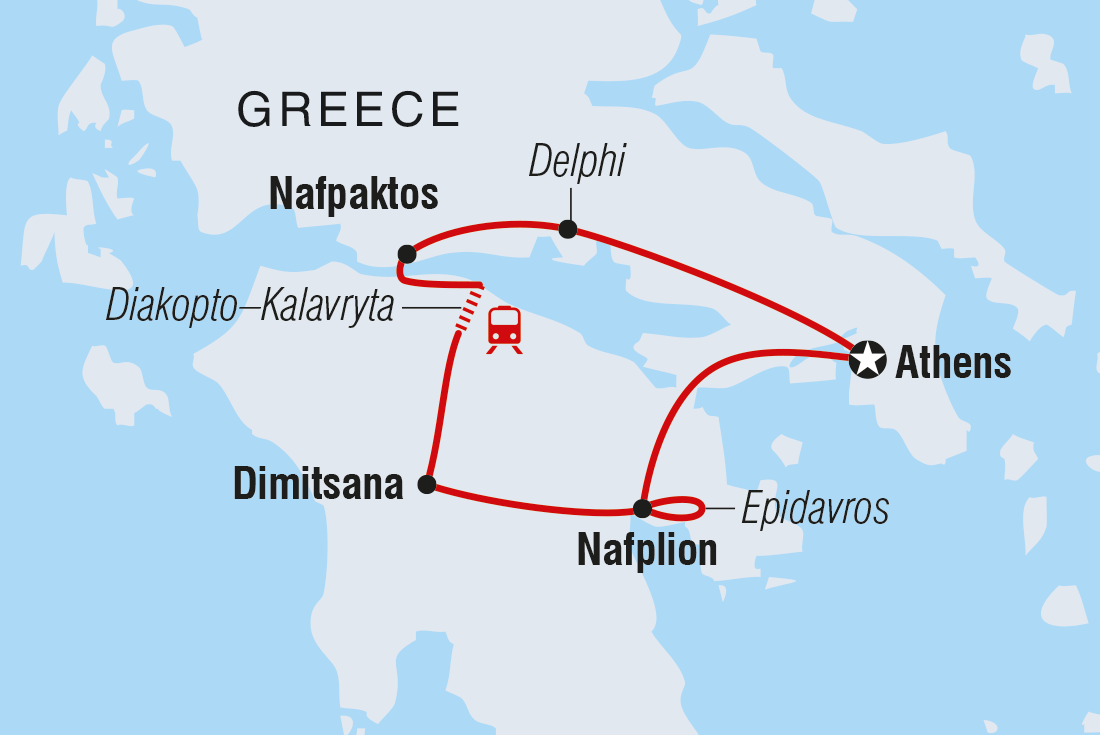 Expand All
Location:
Athens
Accommodation:
Hotel
Meals Included:
Dinner
Yiasou! Welcome to Greece. Your adventure begins in Athens with a welcome meeting at 6 pm tonight. If you arrive early, maybe explore some of the iconic ancient sites, including the Acropolis, the Temple of Olympian Zeus and the Tomb of the Unknown Soldier. After, celebrate the start of your trip with a mezze feast – an array of small plates typically accompanied by a glass of wine or ouzo in a rustic taverna. Zucchini balls, moussaka, salads and stuffed vegetables are just a few of the flavoursome dishes that may be on offer.

Optional Activities:
-Athens - Twilight Athens Urban Adventure
-Athens - Acropolis Museum
-Athens - National Archaeological Museum
Location:
Nafpaktos
Accommodation:
Hotel
Meals Included:
Breakfast
This morning, make the drive to Delphi – an archaeological site, home to the Athena temple complex. Here, you'll take a tour with a local guide and learn more about its history as you walk by the Plestios River Valley. After, drive to your seaside overnight stop for free time exploring the traditional architecture of the town or kicking back on the beach. Maybe tuck into some fresh seafood for dinner.

Included Activities:
-Delphi - Archaeological Site Visit with Local Guide
Location:
Dimitsana
Accommodation:
Hotel
Meals Included:
Breakfast
Start your day with a drive to Diakopto, then take a scenic train journey from there to Kalavryta – a mountain village and one of the most popular ski resorts in the country. The train journey climbs from sea level to a height of 750 m through Vouraikos Gorge, so you'll get beautiful views along the way of forests, waterfalls and tunnels. When you arrive, you have the option to visit the Holocaust Museum for some sobering history. After, drive to a nearby mountainous village for the night where you can hole up in a good restaurant for a replenishing feed and a chat with the warm, hospitable locals.

Included Activities:
-Diakopto - Diakopto – Kalavryta rack railway

Optional Activities:
-Kalavryta - Holocaust Museum
Location:
Dimitsana
Accommodation:
Hotel
Meals Included:
Breakfast, Lunch
Give your legs a stretch today on a 2-hour hike along the Menalon trail. The route starts with a short, uphill section in the Lousios Valley before gently ascending to the outskirts of a fir forest. Visit a couple of monasteries along the way and stop for a picnic lunch with your group when you find a spot with great views over the river. Tuck into some fresh bread, local cheese and fruit before driving back down to Dimitsana, where you have the option to visit the open-air Water Power Museum. Tonight, return to your village accommodation and ask your leader for the best spot for dinner and maybe a few drinks.

Included Activities:
-Dimitsana - Menalon trail hike

Optional Activities:
-Dimitsana - Open-Air Water Power Museum
Location:
Nafplion
Accommodation:
Hotel
Meals Included:
Breakfast, Lunch
Today you'll visit the grand archaeological site of Mycenae – a UNESCO World Heritage Site. You'll have a local guide to take you around the ruins of the ancient Mycenaean civilisation, which once dominated the eastern Mediterranean world from the 15th to the 12th centuries BC. Continue your journey with a stop for a wine tasting and included lunch at a local vineyard. The winery was founded in 1999 and is a family business focusing on producing wines with love, quality and passion. You'll try some of their favourite dry wines, both red and white, over a traditional meal that might include beef cheeks flavoured with cinnamon and cocoa, juicy lamb or moussaka. Travel onwards to Nafplion, a gorgeous coastal city in the Peloponnese, and enjoy a free afternoon to wander the gorgeous streets, sit by the coast and people-watch or find an alleyway bar for another glass of local wine.

Included Activities:
-Argos - Wine tasting with lunch
-Mycenae - Guided Tour
Location:
Nafplion
Accommodation:
Hotel
Meals Included:
Breakfast
Today is yours to spend as you wish. You may like to spend the day cruising to the islands of Hydra and Spetses, or learning to create flavoursome local dishes in a cooking class. If you'd like to uncover more of Greece's ancient history, the fortresses of Palamidi and Bourtzi await. Or perhaps you'd like to spend the day simply strolling the picturesque streets of Nafplion, with a coffee here, a glass of wine there, taking in the buzz of the town.

Optional Activities:
-Nafplion - Fortress of Palamidi
-Nafplion - Day cruise from Tolo to Hydra and Spetses
-Nafplion - Cooking class
-Nafplion - Folklore Museum
-Nafplion - Bourtzi Island Fortress by boat
Location:
Athens
Accommodation:
Hotel
Meals Included:
Breakfast
This morning, with a local guide, you'll make your way to Epidavros for a tour of the famed theatre and its surroundings. The history of this place, once a city in ancient Greece, is associated with the healing god of Asklepios – the son of Apollo, mythology states that this was his birthplace. After, head back towards Athens, stopping to view the Corinth Canal on the way – an artificial canal connecting the Gulf of Corinth in the Ionian Sea with the Saronic Gulf in the Aegean Sea. When you arrive in Athens, you can opt to join a farewell dinner with your group to celebrate a trip well-travelled.

Included Activities:
-Epidavros - Guided Tour
Location:
Athens
Meals Included:
Breakfast
As there are no activities planned after breakfast today, your trip will come to an end. If you'd like to stay in Athens longer, just speak to your booking agent.
What's Included
Accommodation

As detailed in the itinerary

Airport Transfers at Destination

No

Fully Guided

Meals

As detailed in the itinerary
What's Not Included
Insurance

International Travel
Accommodation
The style of accommodation indicated in the day-to-day itinerary is a guideline only and may change. On some occasions, alternative arrangements may need to be made due to the lack of availability of rooms in our preferred accommodation. In these cases, we will use a similar standard of accommodation.
Throughout the trip, we request that our properties prepare rooms in time for our arrival, especially if we're arriving prior to normal check-in time. However, this isn't always possible which means we won't be able to check-in immediately on arrival at some hotels. Instead, we can store our luggage and explore our new destination or on some trips, have use of shared day rooms until all rooms are available.
EUROPEAN HOTELS
Hotels in Europe often don't have double beds, but rather two single beds that can be pushed together/apart. Rooms can be rather small, especially by American or Australian standards.
Your accommodation may not always have private en suite facilities or air-conditioning. European hotels generally don't provide kettles or fridges.
Important Information
1. A single supplement is available if you'd prefer not to share a room on this trip. The single supplement applies to all nights of your trip and is subject to availability. Please speak to your booking agent for further information.
Check out our Q&As
Will there be an escort accompanying this tour?

Are children permitted to take part in the tour?

Yes, 15 years old or above

What is the fitness level required to do this tour?

LOW - Some easy physical activities included in your trip. No physical preparation is required to make the most of the journey.

Are airport transfers included in this tour?

Is there any free time to explore places during the tour?

As detailed in the itinerary
Are all the relevant entry visa's included in the price of the tour?

Is this trip right for you

Summer temperatures in Greece can reach up to 40°C, which can be uncomfortable for those not used to the heat. In April, many businesses may still be closed, and the weather can be unpredictable. However, you may have some of the major sights almost to yourself. Please consider the time of year you wish to travel and your suitability for that season.

What policies are in place for Covid-19?

Please contact us for latest COVID-19 policies

How long has the tour company been trading?

Intrepid Travel has been taking travellers around the world for over 30 years

Will the accommodation included meet local health and safety regulations?

What Ethical Travel credentials does the tour company have?

Since 2002, The Intrepid Foundation has supported over 130 organisations across the world. We're creating positive impact through the joy of travel, community and connection.

Do you operate a "single share" option and how does it work?

Over 50% of traveller travel solo with Intrepid. You can choose to share a room with another solo travelle of the same sex for no additional charge, or choose to pay a single supplement if you'd like your own room. Please request this when booking, and we will secure you a single supplement wherever possible. Please note, if you are booking a last-minute trip, it may be harder for us to secure a single room
Reviews of this Operator
Nicole
North American Adventure
This was my first international solo trip, but I never felt "alone" - there was always someone to go shopping, hike, or grab a quick bite with. The itinerary was a great balance between organized activities, while still allowing free time for exploring. Each location was unique and charming in its own way. Spending the night in the holy city of Moulay Idriss and wandering the winding streets of Chefchaouen were especially memorable. Thank you Mustapha and Intrepid for an incredible adventure!
Ann
Amazing Guatemala and beyond tour with Intrepid
Did Guatemala and beyond trip in November 22. It was amazing, we were so well looked after by our guide Aura. She was very knowledgeable and during our bus trips she gave us the history of the 4 countries. The border crossings can be tricky but handled very well by our guide. We saw all the most interesting and beautiful places. The hotels were lovely comfortable colonial style. I will travel with intrepid again
Trustpilot
Joanne W
Wonderful Croatian tour
Our tour guide,Tamara, was the highlight of our Explore Croatia tour. She was knowledgeable, organized, and so kind and fun. Croatia is a beautiful country. I loved the people, the scenery, the food, the history. I hope to go back one day. Intrepid was perfect for me. There was group time and there was plenty of free time. It wasn't a luxury tour but all of our accommodations were clean and safe. The dinner in Hvar was SO special!
Trustpilot
Kelly
North Morocco Adventure
Touring the beautiful North of Morocco I learned far more than I'd anticipated in this 9 day tour. Interesting sights to see, with knowledgeable local guides, this tour provides a great balance of exposure to a different culture with ample time for relaxation. Chefchaouen is an absolute highlight, & not a place many Morocco trips of this kind go to. Loved it!
Sharik
Essential Morocca
Essential Morocco was an absolute dream. Every single day had such informative walking tours and tours of local facilities. Whether it was dinner with a local family or visiting a pottery factory, I learned so much about Moroccan culture. The accommodations were safe and I felt secure the entire 11 days. This trip wouldn't have been the same without one person. That person is Youssef. If you are coming to Morocco with Intrepid and you don't request Youssef, you're doing it wrong. Words cannot describe how incredible of a guide he is. There were 3 of us on our trip of 18-29 year olds and he made us all feel so welcome and safe all the time. Whether that is cracking jokes on long drives or giving us the itinerary for the next day, Youssef ensured we felt respected and seen.
Dates & Availability
Instant Booking Available
Saturday - Saturday
Apr 13, 2024 - Apr 20, 2024
Instant Booking Available
Saturday - Saturday
May 25, 2024 - Jun 01, 2024
Instant Booking Available
Saturday - Saturday
Jun 01, 2024 - Jun 08, 2024
Instant Booking Available
Saturday - Saturday
Jun 22, 2024 - Jun 29, 2024
Instant Booking Available
Saturday - Saturday
Jul 06, 2024 - Jul 13, 2024
Instant Booking Available
Saturday - Saturday
Jul 27, 2024 - Aug 03, 2024
Instant Booking Available
Saturday - Saturday
Aug 10, 2024 - Aug 17, 2024
Instant Booking Available
Saturday - Saturday
Aug 24, 2024 - Aug 31, 2024
Instant Booking Available
Saturday - Saturday
Sep 07, 2024 - Sep 14, 2024
Instant Booking Available
Saturday - Saturday
Sep 14, 2024 - Sep 21, 2024
Instant Booking Available
Saturday - Saturday
Sep 21, 2024 - Sep 28, 2024
Instant Booking Available
Saturday - Saturday
Oct 05, 2024 - Oct 12, 2024
Instant Booking Available
Saturday - Saturday
Oct 26, 2024 - Nov 02, 2024
Book with Confidence
Free Date Changes

Intrepid Travel allows you to make 10 free date changes, as long as the change is made at least 56 days before the start of the tour.

Transfer as credit to Future Tours

Intrepid Travel allows you to transfer existing payments to a future tour to avoid cancellation fees if you can't travel and inform intrepid travel, 56 days before departure.

Low Deposit

Intrepid Travel requires a minimum deposit of 200 GBP per person or the full booking value, whichever is less, with the final balance not due until 56 days before departure.

Cancellation Policy

We don't charge a cancellation fee, here is a summary of intrepid travel charges.

Up to 56 days before tour starts: Forfeit 100% of deposit.

At 55 days before tour starts: Forfeit 30% of booking price.

At 30 days before tour starts: Forfeit 60% of booking price.

At 14 days before tour starts: Forfeit 100% of booking price.

COVID Protection

Trips from 1 January 2023 onwards
From 1 January 2023, Intrepid will no longer require travellers to provide proof of vaccination against COVID-19.

However, we continue to strongly recommend that all travellers and leaders get vaccinated to protect themselves and other Specific proof of testing or vaccination may still be required by your destination or airline. Please ensure you check travel and entry requirements carefully.

This policy excludes all Polar trips and select adventure cruises, where testing and vaccination remains a requirement. Please refer to the Essential Trip Information of your chosen tour for more details.

Why book with tourhub?
Safe & Secure
Your money is protected in an external trust until you travel.
---
100% Guaranteed Refunds if your trip is cancelled.
---
The safest way to make overseas, multi-currency payments.
Guaranteed Best Value
Industry leading discounts, we won't be beaten on price.
---
No cancellation or amendment fees from tourhub.
(Operator terms may apply)
Expert Knowledge
Reliable & unbiased advice from travel experts.
---
Direct contact with the tour operator via our messaging service.
---
Inspiration & advice from a community of 6000+ real travellers, influencers & content creators.
Trusted Service
Official partners & licensed agents of 1000+ tour operators worldwide.
---
Don't just take our word for it...
"Tourhub: Friendliness, Professionalism & Integrity I would happily give tourhub a 6* review if I could..."
Similar Tours
Travel Guru Features
Our Reviews